How about that?
U.S. Open 2022: Unlikely leaders, golf ball bandits and 6 other surprises from Thursday at The Country Club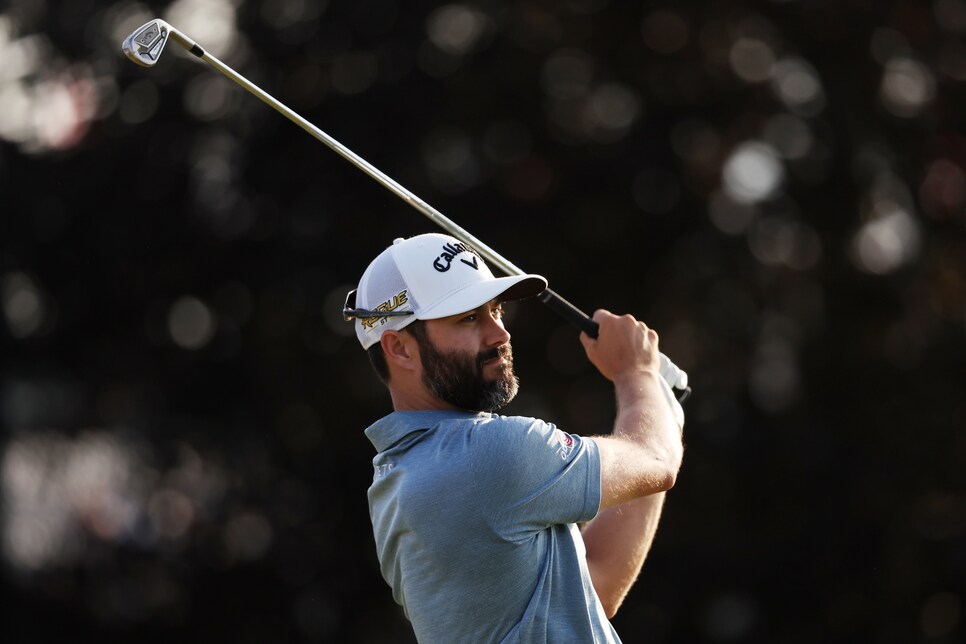 BROOKLINE, Mass. — Day 1 at the U.S. Open has come to an end, and there were plenty of things that left us scratching our heads. Here are eight surprises from the first round at The Country Club:
Adam Hadwin is your leader
Look, the guy's a PGA Tour winner and he finished T-9 at the Players Championship earlier this year. But the Canadian's record at the U.S. Open couldn't be much colder. In six previous starts, he has two missed cuts with a T-39 being his best finish. And that came 11 years ago at Congressional. And he wasn't even in the field at Brookline until Paul Casey withdrew last week with his continued back ailment. Still, there he was on Thursday going out in a scorching four-under-par 31 and finishing at that number to take a one-stroke lead after 18 holes. Not bad, eh? Sorry, couldn't resist.
Callum Tarren is contending
How under-the-radar is this 31-year-old Englishman? He doesn't even have a Wikipedia page. That didn't stop him from shooting an opening 67, which was highlighted by an eagle at the par-5 eighth hole. Tarren has six pro runner-ups, but you're probably not aware of them since they all came on the PGA Tour China. The 445th-ranked player in the world had his best ever finish—at least, in terms of Official World Golf Ranking points—with a T-5 at this year's Puerto Rico Open. So he would be quite the surprise winner. Bye the way, here's what he looks like: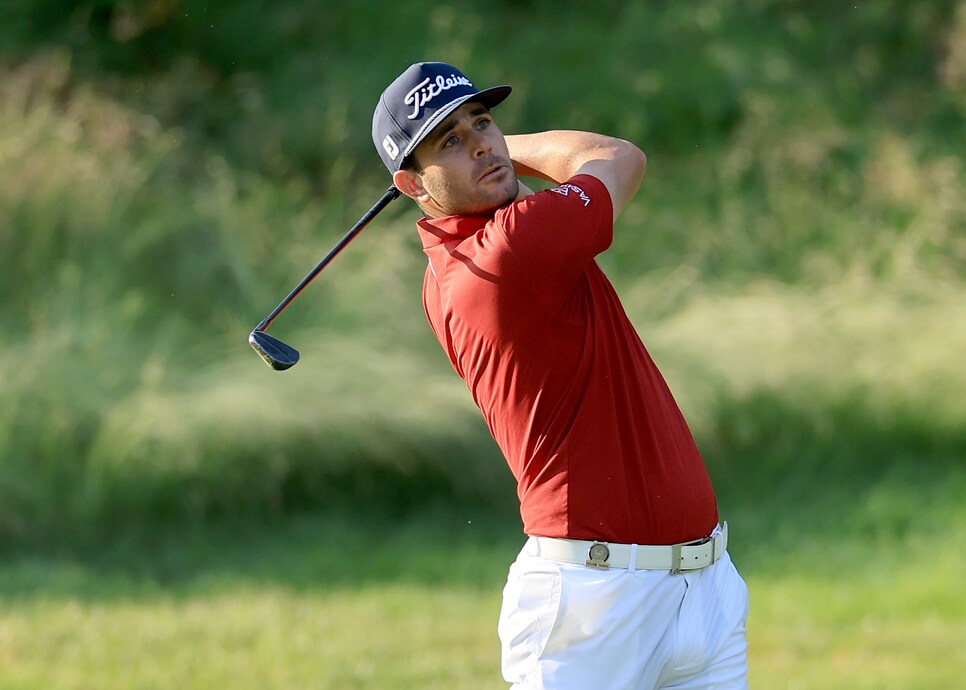 Then again, this is a place probably most known for producing a surprise winner. And Francis Ouimet didn't have a Wikipedia page when he won back in 1913. So you never know!
As they say in poker, all you need is a chip and a chair. Lingmerth, an alternate, got his opportunity when Martin Kaymer withdrew earlier this week, and so far, he's taking advantage of it. The winner of the 2015 Memorial, Lingmerth has fallen to No. 592 in the Official World Golf Ranking. But he certainly didn't play like that during a bogey-free 67. Even better, it seems as if he parlayed this week into some snazzy new clothes:
Look good, feel good, am I right?
There were no LIV-PGA Tour fistfights
At least, none that we know of. This week marks the first time PGA Tour pros and PGA Tour defectors have mingled since the inaugural LIV Golf event and several players—most notably Rory McIlroy, Jon Rahm, and Justin Thomas—have been rather vocal defending their turf/tour. Then there was this moment earlier in the week:
But for the most part, these guys all seem to be playing nice. For now.
Brooks Koepka didn't dominate
This four-time major champ hasn't been at his best for a while, hence the fact that his pre-tournament odds slipped below 50-to-1 at some sportsbooks. Still, this is a guy who has lost to a total of four players over his past four U.S. Opens. And yet he got beaten by more than half the field on Thursday after posting a three-over 73.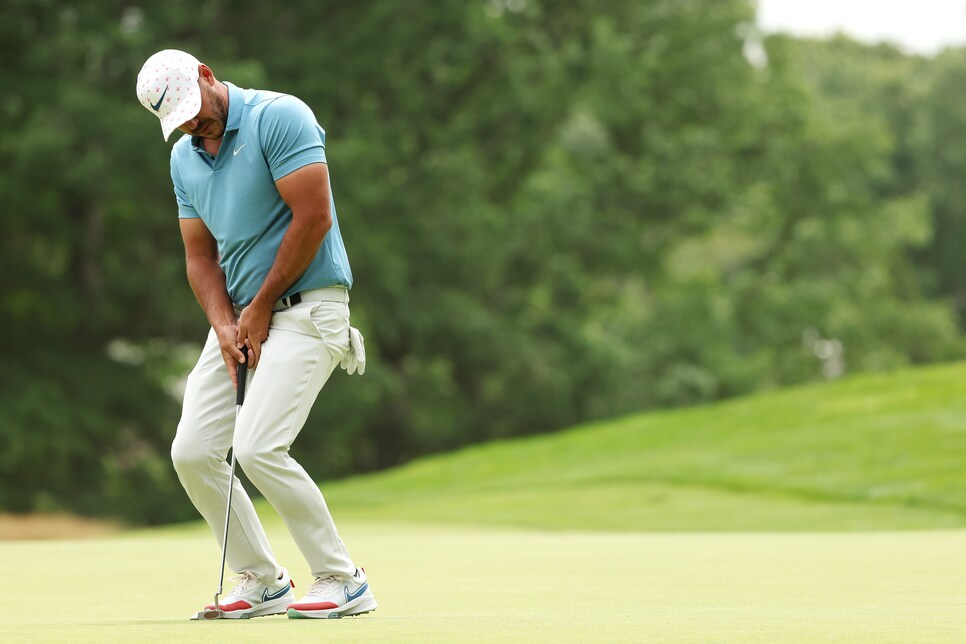 I know this will shock you, but Brooks didn't stop to chat with the media after.
Phil Mickelson barely broke 80
Let's just say Phil Mickelson didn't have his happiest birthday. The six-time major champ struggled from start to finish shooting an eight-over-par 78 that included a four-putt from 16 feet on No. 6. Let's also just say that 52-year-olds aren't supposed to play well at U.S. Opens. Still, this was a particularly rough performance for a man who has had a particularly rough go of late.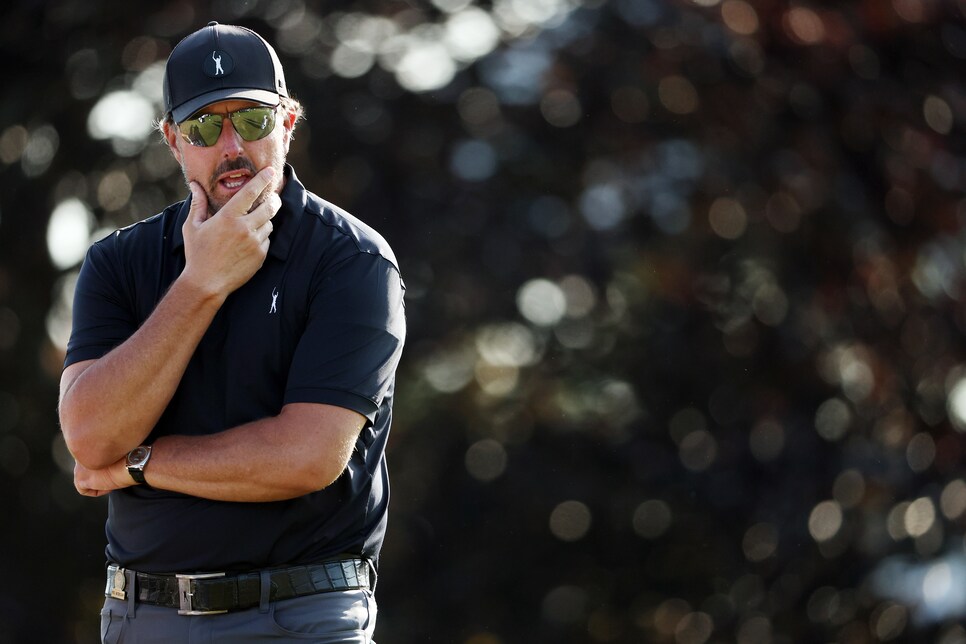 And ... let's also just say that career Grand Slam ain't happening this week.
Louis Oosthuizen didn't do much better
Remember when this guy was seemingly in the hunt at every major last year? Well, that seems like a long time ago. Oosthuizen, who finished T-2, solo second and T-3 in the final three majors of 2021, withdrew at this year's Masters before finishing T-60 at the PGA, and now he'll need a miracle to make the cut after opening with 77. You could say that the 39-year-old South African isn't LIVing at the top of major leaderboards anymore. Again, sorry, couldn't resist.
Jon Rahm had a golf ball stolen
In plain sight. On the 18th hole. Fortunately, someone had already marked it in the rough before it disappeared. And Rahm thinks he knows who the culprits are.
"Somebody—I'm pretty sure I know who it was. I recognized the two kids that were running the opposite way with a smile on their face," Rahm said laughing. "I am 100 percent sure I saw the two kids that stole it."
Despite the bizarre situation, Rahm responded by making birdie to shoot 69 and put himself in great shape to defend his title. No word on if he went to local police to help provide a sketch of the thieves.