FIghting the good fight
U.S. Open 2021: Richard Bland's out-of-nowhere showing and six other surprising rounds from Day 2 at Torrey Pines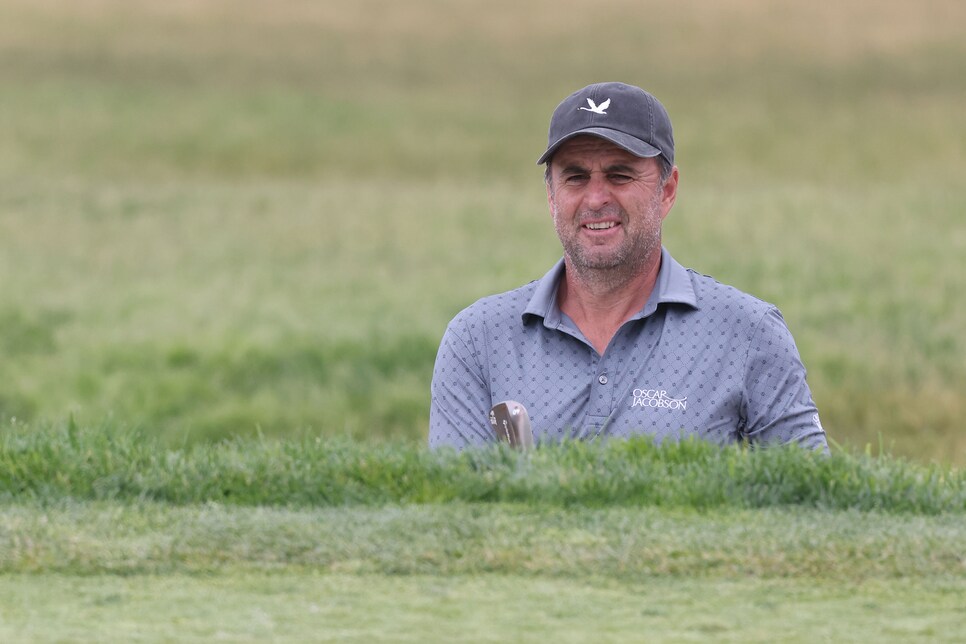 Richard Bland reacts to a shot from the bunker on the eighth hole during the second round of the 2021 U.S. Open.
Harry How
When breaking down Day 2 of the 121st U.S. Open at Torrey Pines and looking to highlight the surprise performances, you have to start with the four-under 67 shot by Richard Bland.
But we're not going to talk about Richard Bland. The one name we won't even acknowledge is Richard Bland. Nope, you won't read about Richard Bland and his 67 here that gave him a share of the halfway lead Friday with Russell Henley at five-under 137.
Hey, we have nothing against Richard Bland. That's a heck of a round by Richard Bland. But, you know what? Richard Bland, the short-hitting, 48-year-old, one-time European Tour winner, had such a surprising round that he kind of deserves his own story and not just a one-time acknowledgement here.
Good for Richard Bland. You won't see Richard Bland's name the remainder of this report. We'll give other people besides Richard Bland some ink.
Here are six more surprising Friday rounds from San Diego, submitted by guys who are not named Richard Bland:
Collateral Bland surprise: Guido Migliozzi, 70.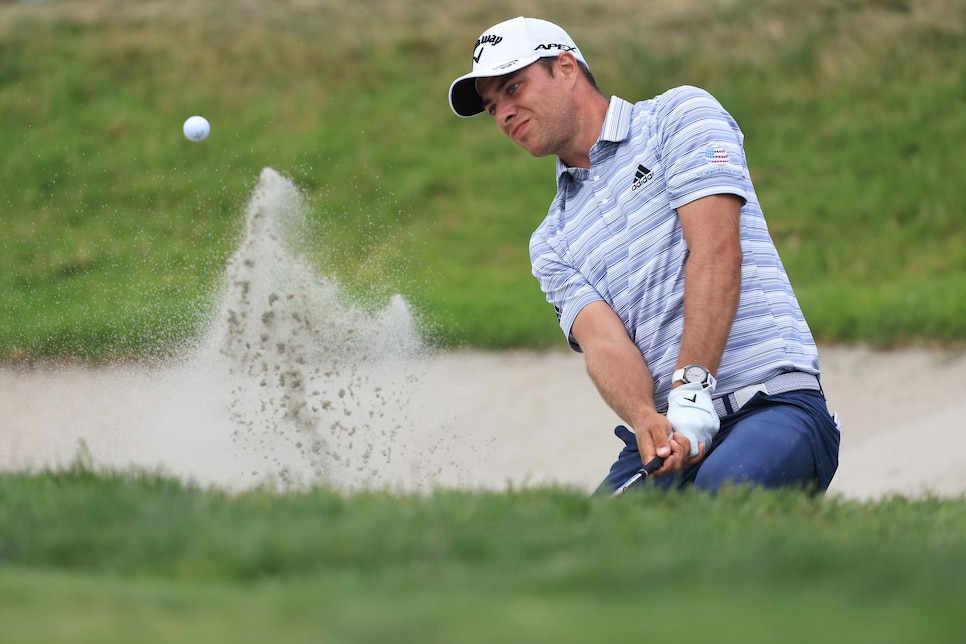 Making his U.S. Open debut, Italy's Guido Migliozzi apparently is riding the coattails of Richard Bland after losing to the Englishman in a playoff in the British Masters. But that loss assured Migliozzi a spot in the field via the three-event European Tour series, which replaced the canceled Final Qualifying site in the U.K. due to the pandemic. The surprise isn't that Migliozzi, 24, not only made the cut or that he is among the top 10 on the leader board at one-under 141. It's that he shot that 70 while finding just five fairways. Amazingly, he hit 13 greens in regulation. That's not a formula for sustained success. Richard Bland wouldn't play that way.
Self-shocking surprise: Bubba Watson, 67.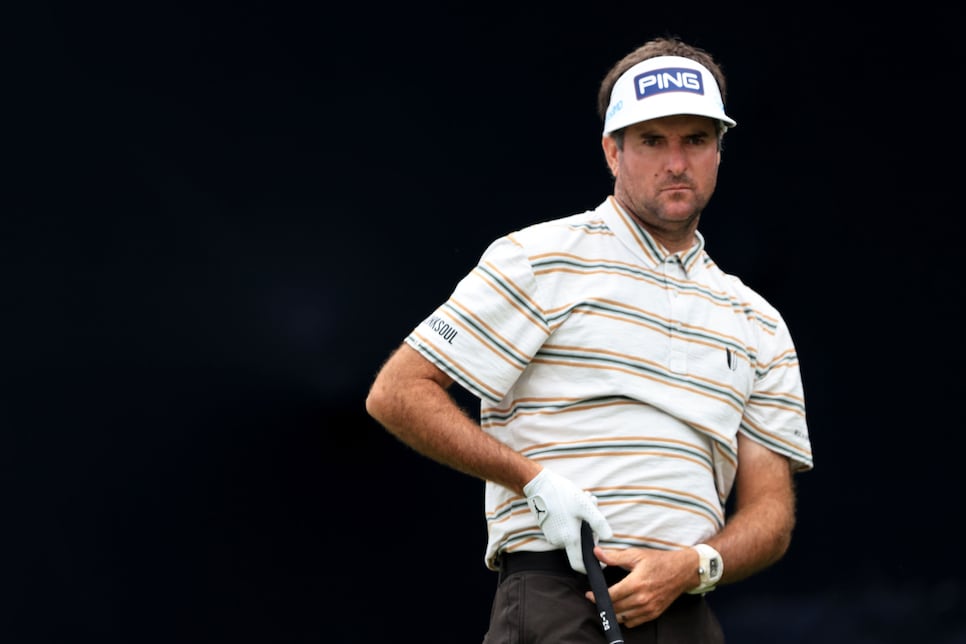 In his 15th appearance in the championship, Bubba Watson might have found a U.S. Open course he finally likes. Watson tied his career low from 2009 at Bethpage and sits T-5, the first time he has resided inside the top 10 after 36 holes since the 2007 championship at Oakmont, site of his only top-10 finish, a tie for fifth. That was just his second U.S. Open. Since then, he's missed seven of 12 cuts. He'll start the third round two shots behind Richard Bland (and Henley) with a realistic chance of winning, which he found difficult to digest. "Oh, man, the U.S. Open … I curve the ball too much, I don't putt as good as I should, heavy rough. This is the kind of golf course where I can get lucky and do it. … But I could win the lotto, too. I've never bought a lotto ticket. I guess it would be like that, like winning the lotto."
Bad surprise, but he still won the Masters: Hideki Matsuyama, 76.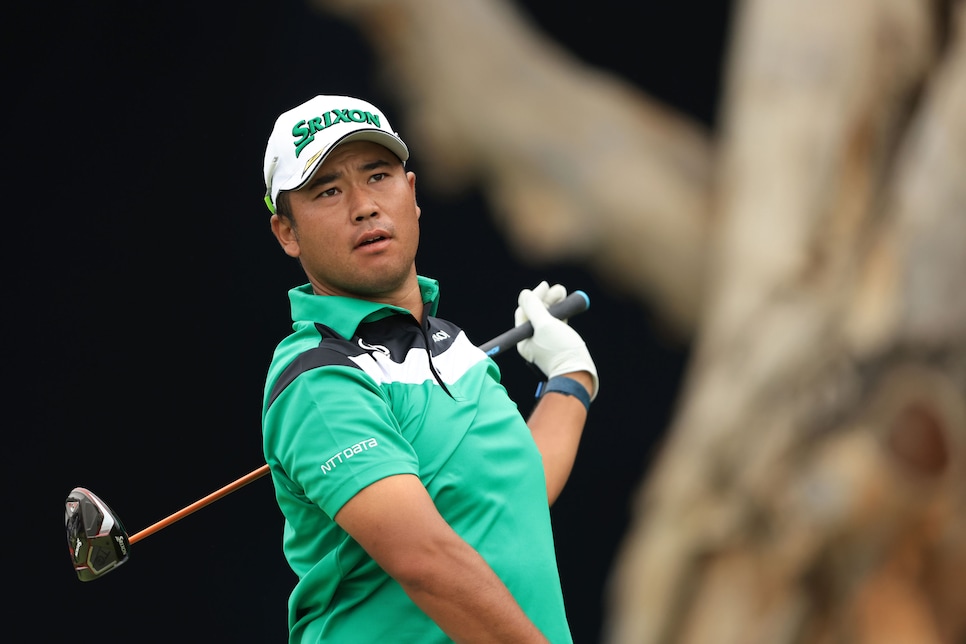 When he opened with 69, it appeared that Hideki Matsuyama was setting himself up for another major run. Then, starting on the 10th hole, he played his first four holes on Friday in six over par and fell off the board faster than Dustin Johnson can grow a beard (though, not that much faster). The Japanese star, who makes up for poor putting—181st on tour in strokes gained—with a strong tee-to-green game, gave up strokes both off the tee and on the greens at Torrey Pines, the dreaded double whammy. He is eight behind … well, you know who. But he did win the Masters.
Dustin the wind surprise: Dustin Johnson, 73.
Until two late birdies, the World No. 1 player looked on his way to the third leg of the missed cut slam. Still, while a 73 isn't a terrible score, it's surprisingly poor for the 2016 U.S. Open champion, who opened with a ho-hum 71. Johnson appeared to have worked out some kinks last week at the Palmetto Championship at Congaree, where he was T-2, but on Friday he was far down the list on strokes gained/off the tee, one of his real strengths, and struggled overall. And aren't California courses like his second home? This marks the third time in five years he failed to break par in one of his first two rounds. But, hey, the slam watch is off.
Safari surprise: Mackenzie Hughes, 67.
Good grief, is nothing sacred? You do not hit four fairways in the U.S. Open and shoot 67. You just don't. Then Mackenzie Hughes says, "Hold my Molson." Hughes hadn't made the cut in his three previous U.S. Open starts and hadn't posted a score better than 72. When he shot 73 in the opening round at Torrey Pines, the 30-year-old Canadian golfer looked like a goner again. But three straight birdies to start can put a spring in a man's step, even when he's traipsing through the rough, the gallery, the car park and maybe even nearby La Jolla. As Richard Bland says, golf is about turning three shots into two.
This ain't no Farmers Open surprise: Tony Finau, 76.
Boy, where do we start? We have questions. How does a birdie machine like Tony Finau make one birdie but bogey two par 5s when he hits it so high and far that he's pinging tee shots off UFOs? How does the world No. 14 player convert only two birdies in 36 holes? How does he do that after finishing T-2 just four months earlier here in the Farmers Insurance Open? How does he finish in the top 10 in three of his last four majors and then tell his 69.975 scoring average to prepare for unexpected and unpleasant company? And just how the hell does he finish 13 shots behind Richard Bland?