Live Blog
U.S. Open 2021: Matthew Wolff shoots 68, pulls within one of the leaders at Torrey Pines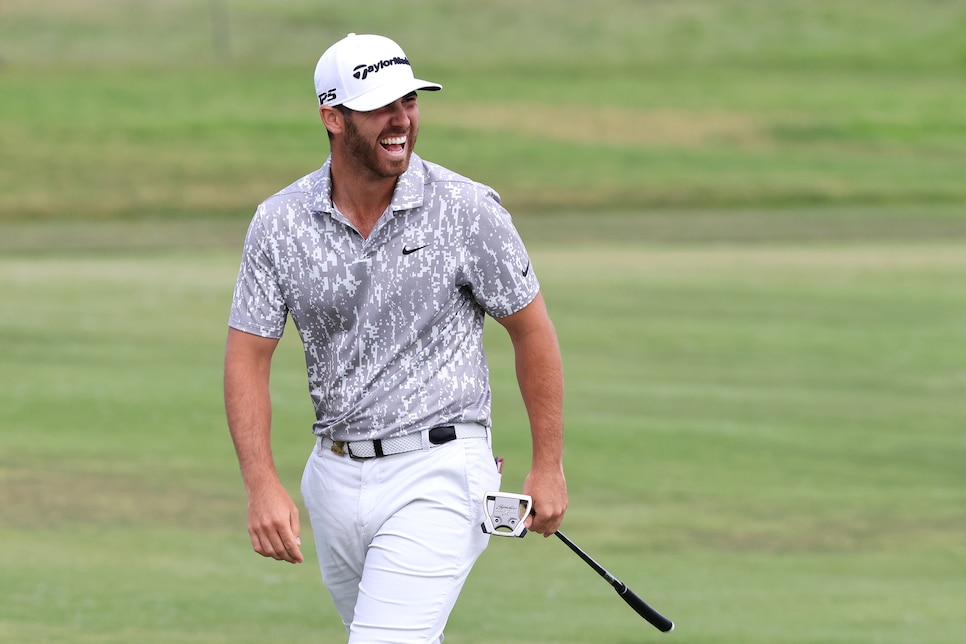 Day 1 of the 2021 U.S. Open at Torrey Pines was, let's be honest, a bit juice-less. The South Course can be a bit of a slog, yes, but even the most straightforward courses can produce a bit of elecricity on the Thursday of a major championship.
(Scroll down for the latest updates)
Of course, we've probably said something similar during the opening round of every major ever, and then sh-t quickly proceeds to hit the fan. We except a similar course of events to take place at Torrey, which should only get firmer, faster and more carnage-inducing.
Before Round 2 can begin, Round 1 still needs to be completed. Thursday morning's extended fog delay pushed the tee times back 90 minutes, and a number of players were unable to complete their rounds and have to return early this morning. Among them is Louis Oosthuizen, who is tied for the lead with Russell Henley at four under, and he still has two holes (the 8th and 9th) to play in his opening round. Sebastian Munoz (two under through 14), Patrick Cantlay (one under through 16) and Thomas Detry (one under through 14) all still have to complete their first rounds, too.
U.S. Open 2021: Here are the latest updates from Torrey Pines (most recent updates at the top, all times are eastern)
10 p.m.: Mickelson gave his 63-footer for eagle a HELL of a run, just sliding it past the right edge of the cup. He birdies for a two-under 69 to get in at two over which ... doesn't seem out of it? OK, you heard that Paul Azinger stat no less than 500 times, that 23 of the last 25 U.S. Open winners have been within two shots after 36 holes, but crazier things have happened, crazier things like a 50-year-old winning the PGA Championship. He has a lot of ground to make up and a ton of guys to leap frog, but Lefty is only seven back, one 66 or 67 from really getting back in this thing. Never say never.
No, we didn't forget about Xander, who hit a solid bunker shot to about 10 feet but couldn't convert for birdie. Through 36 holes, he's two under, three back.
9:45 p.m.: Some good action on the 18th late on Friday night. Mickelson just barely clears the water in two and has a long eagle look, all but guaranteeing himself a tee time on the weekend. Barring a five-putt, he's safe. His playing partner, Xander Schauffler, struck one pure that was all over the flag, but took two hops and found the back bunker. If he can get up and down for birdie, he'll get in the house at three under. If not, two under ain't bad heading into the weekend, either.
9:25 p.m.: After holing out for birdie at the 16th, Justin Thomas gave one right back at 17, then missed the green in two at the 18th. Instead of ending on a sour note, though, he got up and down from the right greenside bunker for a clutch closing birdie, securing a two-under 69. The World No. 2 is even par through 36, just five back. He's got 'em right where he wants 'em.
Collin Morikawa, who was playing alonside JT and Brooks Koepka, had the same putt as Thomas' to post the low round of the championship, but he just missed. Still, a four-under 67 also gets him to even par. Koepka also makes par at 18 for 73, which also puts him at even par through 36. That's a trio of seriously scary chasers on the weekend.
9:15 p.m.: Matthew Wollf. That's it, that's the update.
OK, but seriously, Wolff gets on in two with ease at the par-5 18th, setting up a 15-footer for eagle. He missed, but was able to kick in a birdie to post a three-under 68, putting him four under for the championship and just one back. From looking like he was utterly lost to in the penultimate group on Saturday at the U.S. Open, all in a span of a few months. Golf is an absolutely ridiculous game.
9 p.m.: Oh my goodness. After playing perfect golf for his last 24 holes, Russell Henley bricks a three footer for par at the par-5 ninth, his final hole of the day. It would have been for the outright, 36-hole lead in the U.S. Open. Instead, he cleans up the bogey putt for 70 and is now tied for the lead with Dick Bland. Brutal.
8:47 p.m.: How tough is torrey playing? Only a few hours ago, 70 players were at three over or better, meaning 10 players would have had to drop a shot for the cut line to move to four over. That is, incredibly, exactly what has happened, bringing the +4s back into play. There are 71 at four over or better, including 2019 U.S. Open champ Gary Woodland, who has three holes to play. Martin Kaymer, another former U.S. Open winner, just jumped safely inside the cut line with a 62-foot (!!) birdie conversion at the par-4 sixth. He also has just three to play. Jordan Spieth, sitting in the clubhose at four over, is watching the action very intently right now.
Others creeping around the cut line: Phil Mickelson at +3 through 14, Tommy Fleetwood at +3 through 16 and Shane Lowry at +4 through 17. Tense times. As for the guys at the top of the board, it's Henley at six under after his birdie at No. 8, Bland at five under and Wolff and Schauffele still on the course giving chase at three under. Canada's Mackenzie Hughes, who has the best round on the course going right now at four under after 17 holes, is two under for the tournament, four back. World No. 2 Justin Thomas also just got himself back in the mix, holing out for birdie from a greenside bunker at the 16th to get back to level par for the tournament.
8:10 p.m.: Have to just tip your cap to Russell Henley right now. Fourteen pars and a birdie through 15, keeping him in a tie for the lead. Solid, U.S. Open golf.
The only guys who can truly threaten that Henley/Bland lead right now are Xander Schauffele (-3 through 12), Matthew Wolff (-3 through 14) and Brooks Koepka (-2 through 13). Also, don't look now, but Patrick Rodgers, who had a share of the lead a few times yesterday, is clawing back after a rough start to his second round. Back-to-back birdies have him at two under with two to play.
7:53 p.m.: Bit of a lull in the action on Friday evening. Well, that was until Brooks Koepka NUKED a 300-plus yard 3-wood to 45 feet at the par-5 13th. Just an absolute monster shot. A clutch one, too, as Koepka was plus one on the day and one under overall. The two-time U.S. Open champ two putts from there for birdie to get back to two under.
7:30 p.m.: Um, this is a new one. Viktor Hovland, one of the pre-tournament favorites, has withdrawn due to . . . sand in his eye? This according to Golf Channel's Steve Sands (insert joke here) who said some flew into the young star's eye while he was warming up. He tried to give it a go, but was six over through 10 holes before calling it a day. Obviously, he wasn't going to make the cut anyway. Also obviously? This isn't great for the whole golfers-are-athletes argument.
7:27 p.m.: Rafa Cabrera Bello chips in on No. 8 to get back to three under. Up ahead, Phil Mickelson hits one off the planet on the par-3 11th. That is going to be some test of his short game coming up as he tries to stay on the right side of the cut line.
7:20 p.m.: Phil Mickelson rolls in a birdie on No. 10 to move to two over. That gives him a little breathing room with the cut line currently projected to fall at three over. Of course, Mickelson isn't just interested in making the cut. Not sure if you've heard this yet, but he's never won the U.S. Open and has finished runner-up a record six times. You're welcome for that tidbit no one has been talking about this week.
7:13 p.m.: How about Mackenzie Hughes? The Canadian is quietly three under on his round and one under for the tournament afer a birdie on the second hole. The only player on the course right now putting together a better round is Collin Morikawa at four under.
7:05 p.m.: Let's talk about the cut line for a minute. It's currently at three over and with the leaders only at five under, anyone who makes the weekend still has a chance to win. One of those players at +3 currently, Phil Mickelson, just missed a decent chance for birdie on No. 9. He'll certainly be one of those we'll be watching closely for the rest of the day/night.
6:51 p.m.: After a poor approach on No. 10, Henley nearly dunks his bunker shot. The tap-in par will keep him at five under and in a tie for the lead. Just before, Matthew Wolff birdied the same hole to move to three under. That's three birdies in the last four holes for the man who made eight during a wild first round.
6:42 p.m.: Russell Henley birdies No. 18, his ninth hole of the day, to get to five under and tie Richard Bland's lead. Henley hasn't won on the PGA Tour in four years and has never had a top 10 in a major. But hey, he's got a better career record than Richard Bland.
6:38 p.m.: Collin Morikawa is officially COOKING. He rolls in a fourth straight birdie on No. 9 to make the turn in 31—the low nine-hole score of the tournament thus far. That has him all the way back to even par and in the top 15. Playing partner Brooks Koepka makes par to shoot 35 and remain at two under.
6:25 p.m.: Oh man, Xander Schauffele had a very bad lie in the left rough at the sixth hole, only advancing it about 70 yards or so. He very nearly holed a long par save but will settle for a second bogey of the day—bringing him back to 2-under and three back of the lead.
The lead at 5-under by Richard Bland is currently safe, but Russell Henley—who has played extremely consistent golf on Day 2 to maintain his 4-under total—is playing the par-5 18th hole, which it seems like every one in the field is birdieing (not exactly true, but it's playing as the easiest hole on the course). So Henley will have a chance to join Bland atop the lead here soon.
5:49 p.m.: The Brooks Koepka charge has been subdued. That's back-to-back bogeys at 5 and 6 after birdies at 2 and 4. Koepka's back to 2-under and three back of the lead.
5:45 p.m.: Matthew Wolff keeps his hot playing going at Torrey Pines, carding a long-distance birdie at the seventh hole to get back to red numbers ... and just four back of the lead.
5:35 p.m.: Oh man, Xander just had a great chance for three birdies in a row—hitting a terrific approach to six feet below the hole at the fourth hole. But his birdie try just lips out, so he'll remain at -3. He had a chance to switch positions with Koepka on the leader board after Koepka made a bogey at No. 5. The four-time major champ had a gnarly lie after pulling his approach from a fairway bunker, leading to his first dropped shot of the day. Koepka is 1-under for the day and 3-under, just two back.
5:19 p.m.: Xander Schauffele makes it two birdies in a row with a birdie at the par-3 third hole as he gets under par for his round. The SoCal native is now 3-under and two back of the lead.
5:11 p.m.: Brooks Koepka adds another birdie—his second in his first four holes—to get within one of the lead. What a heckuva start for Brooksy—he stuck another wedge at the fourth tight like he did on No. 2.
With that, Koepka has been adjusted to be the betting favorite at current, at +300 at William Hill.
Back at the second hole, Xander knocked one tight and converts the birdie putt to get it back to 2-under—so he's three back.
4:55 p.m.: Xander Schauffele's third shot–after missing the green short from the left fairway bunker—came in a little too hot, and Xander fails to make the nine-footer for par, dropping him back to 1-under, which is four back. We're not used to seeing Xander make bogeys at U.S. Opens, but he has the easier second hole upcoming to try to get that one back.
4:43 p.m.: Brooks Koepka rolls in a birdie from eight feet after a fantastic gap wedge to get to 3-under, now just two back of Richard Bland's lead. To answer the question below, it appears the flat stick hasn't cooled off thus far at Torrey Pines.
4:29 p.m.: Brooks Koepka just started his round at the first hole with a routine par—he starts the day at 2-under and three back of the lead. By his standards, Koepka didn't hit the ball extraordinarily well—gaining just 1.72 strokes/tee to green—less than everyone else in the top 10 to start the day, per Datagolf.
Koepka did gain more than 2.5 strokes/putting, so we'll see if his flat stick remains hot on Friday.
4:20 p.m.: Louis Oosthuizen did not look sharp on Friday at Torrey Pines—missing a number of wedge shots when he had an opportunity to score. But still with a birdie at the 18th hole, Oostie carded an even-par 71 to maintain that 4-under number, which has him one back of Richard Bland.
Oostie had to show up EARLY to complete his first round this morning, so it was an absolute grind of a day, even more so than a U.S. Open normally is. The South African is contending yet again at a major after coming so close at the PGA Championship last month.
4:03 p.m.: Jon Rahm had an up-and-down day at Torrey Pines—a holed bunker shot (see below), a few (OK, maybe a handful) of burst of emotions when he got a bad bounce or missed a makable putt. In other words, just a typical day for Rahm. The Spaniard gets up and down at the par-5 18th hole to card a 1-under 70, which puts him at 3-under and just two back of Richard Bland's lead. The betting favorite is in great shape looking for his first major title.
3:54 p.m.: Bubba Watson just gave one of the best post-round interviews you'll hear. Usually when a player stops to talk after his round, he talks about birdies and bogeys and throws in a couple cliches. Bubba just poured his heart out on a Friday. He talked about how winning a U.S. Open would be akin to buying a lottery ticket and winning it—since typical U.S. Open conditions don't suit his wild game. Bubba also touched briefly on how talking to Matthew Wolff on the range this week gave him a little perspective. We're going to have an article shortly on the entirety of Bubba's interview ... man that was Bubba at his finest.
3:37 p.m.: Watch out for Bubba Watson! A closing birdie on the par-5 ninth gives him a 67 and puts him at three under heading into the weekend. Normally, a two-time Masters champ being in contention at a U.S. Open wouldn't seem like much of a surprise, but Bubba's lone top 10 in the event came back in 2007. Also, he arrived at Torrey Pines having shot 77-80-77 in his past three rounds. Golf!
3:25 p.m.: Bryson DeChambeau birdies the par-5 ninth, his final hole of the day, to shoot 69 and get to even par midway through the tournament. Considering the defending U.S. Open champ was four over after three holes, he'll certainly take it.
3:13 p.m.: And here comes Jon Rahm. It seems that sloppy bogey on No. 13 has sparked the Spaniard as he holed a bunker shot for birdie on his next hole then hit his approach to almost gimme range on No. 15. The World No. 3 is now 3 un—wait a minute! He horseshoes out the putt. Wow. Rahm remains at two under. Also at that number? Bubba Watson after a fourth birdie in five holes. And Dustin Johnson makes a birdie to get to three over—which is what the cut line is right now.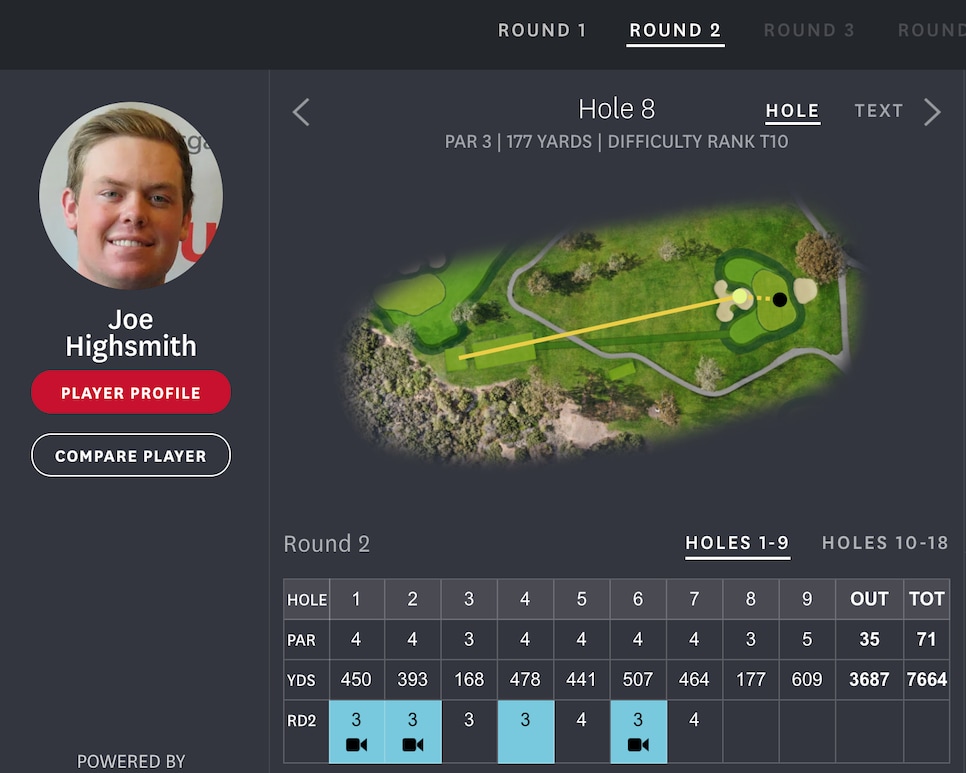 3:03 p.m.: With a two-putt par on No. 9, Richard Bland is your leader in the clubhouse at five under. And he very well could stay there heading into the third round. The 48-year-old fired a Friday 67 that included seven birdies. Bland won his first European Tour title last month in his 478th start. He also finished T-3 in his next start, so he's playing the best golf of his life. And as they just mentioned on Golf Channel, the 115th-ranked player in the world winning a major seems very unlikely—until you remember Phil Mickelson was ranked 115th when he won last month's PGA. How 'bout them apples?
2:54 p.m.: Disregard what we just said about the big names, specifically Rahm. After short-siding himself in a bunker on No. 14, the World No. 3 holes it for an improbable birdie to move back to two under. Also at two under? Two-time Masters champ Bubba Watson after making three consecutive birdies on holes 5-7.
2:47 p.m.: After a red-hot middle of the round to get into red figures, Bryson DeChambeau has given back a couple shots with bogeys on Nos. 3 and 7. In fact, none of the big names are doing much right now. DJ and Rory are a combined seven over on the day and Jon Rahm just made a really sloppy bogey on the par-5 13th after a perfect drive. Rahm falls back to one under.
2:37 p.m.: Richard Bland is human. After coming up short on the par-3 eighth, Bland fails to get up and down from the front bunker. Still, he leads at five under with just one more hole to go in his second round.
2:25 p.m.: After five bogeys on his first eight holes, Dustin Johnson has settled down. Still, at three over, DJ is flirting with something no other World No. 1 has done before: miss three consecutive cuts at majors. Johnson's MC at the PGA gave him two in a row, matching him with Greg Norman in 1997. Quite a turn of events since winning the Masters by five shots in November.
2:15 p.m.: By the way, it should be noted on cut day (hopefully) that making the weekend is even more important for guys with no status on the major tours. Sure, the paycheck is nice, but it also gets those golfers into the second stage of Q School later this year.
2:07 p.m.: Admittedly, we didn't think this would ever turn into the Richard Bland blog this week, but here we are. The 48-year-old Brit rolls in a 15-footer for birdie on No. 6, his seventh(!) birdie of the day, to get to six under for the tournament. Richard Bland now leads the U.S. Open. By two shots. Wow.
1:52 p.m.: Hey, a Jordan Spieth sighting! And of course, it's a spectacular one as Spieth holes a bunker shot for birdie on No. 12. Still, at four over, his weekend status remains in jeopardy. In case you're wondering how that cut line is determined, it's the low 60 and ties (not 70 like at the British Open and PGA) that get to keep playing after 36 holes.
1:35 p.m.: And now Richard Bland takes the solo lead after a relatively easy birdie putt to get to 5-under. Not too long after, Jon Rahm will nail a putt of his own to save par on No. 10 and stay at 2-under.
1:30 p.m.: A lot of golf happening right now. Bryson is 5-under over seven holes, Rory birdies his last hole to get back to even, Richard Bland gets back to T-1 and Jon Rahm sits at T-7 with Koepka.
1:06 p.m.: Oh, there's Bryson ... with an eagle. After a less than stellar day yesterday, that was the shot of adrenaline DeChambeau needed to get his name back into the picture. The 20-foot putt sent Bryson back to even. Just four shots back of the lead now.
12:47 p.m.: Well, Rory's drop back to even (1-over for the day) made us change our live blog headline, so that's how his day is going. After a strong start, McIlroy bogeys No. 15—about an eight feet par putt—and falls back a bit further. Not what you want but still in chase. Will be interesting to see if he can pull himself back up or if this poor play and slightly-off putting is a trendsetter.
Let's talk about Richard Bland for a second who is now 3-under for the day and tied for second place behind only Russell Henley. The Englishman bogeyed No. 18 but is still having quite the showing. Bland became the oldest first-time winner in European Tour history at age 48 last month. This is a pretty good follow-up.
12:30 p.m.: It's Golf Channel time! Just a reminder in case your Peacock app is trying to show you episodes of "The Office," which it is never not doing.
12:24 p.m.: After an impressive (and gutsy) finish with the light running out at Torrey Pines yesterday, Rory McIlroy continued his strong play earlier today, but hit a bogey snag on No. 14. A poor pitching wedge shot found the bunker and a botched 10-foot par putt leads to the Northern Irishman dropping to 1-under. Still in the mix though.
12:04 p.m.: A near miss on an eagle putt will lead to a birdie for Dustin Johnson to get back to even for the tournament. He's just four back from the lead thanks to an impressive 3 wood strike from almost 300 yards out.
There may be no moment more relatable at Torrey Pines than Jon Rahm yelling "HOW?" after an errant shot. The visible frustration and the screaming at the ball/oneself hits close to home.
11:52 a.m.: Whole lot of one unders, evens and plus ones on the course right now, and then there's amateur Joe Highsmith, who is four under through seven holes of his second round. The man is COOKING!
Impressive stuff from the southpaw amateur, who just finished his junior season at Pepperdine, where he was apart of this year's NCAA title team. Not a bad few months, we'd say.
11:41 a.m.: McIlroy immediately gets that shot he dropped back at the 12th thanks to an absolute laser beam that spun back and nearly found the bottom of the cup for eagle:
A wee bit of cleanup duty was all it took to get back to one under, which right now is tied for 11th. McIlroy is joined there by Sergio Garcia, Christiaan Bezuidenhout and Branden Grace, who just holed out for eagle at the par-4 second. Those are the only one unders on the course. Six others have yet to tee off, and among them is the young Dylan Wu, who just finished off a one-under 70 and is about to be right back on the course for his second round.
11:28 a.m.: Rory gives one back at the 11th, dropping back to even par, while DJ makes an all-world up and down par save from left of the green to remain at one over. Louis Oosthuizen, the co-leader, started his second round with a par at No. 1.
11:10 a.m.: Two of the big dogs, Rory McIlroy and Dustin Johnson, are through one, and it's Rory who makes a solid par while DJ drops a shot. He's now one over, while McIlroy remains at one under.
10:58 a.m.: Brutal turn of events for Munoz. Apparently, the USGA leader board was wrong, he did not birdie the eighth. On top of that, he doubled the ninth, dropping back to even par and finishing with 71. That escalated quickly.
Also posting even par was Belgium's Thomas Detry, who had reached three under at one point in his opening round. It's tough to keep really great rounds alive this week, also known as a U.S. Open. A number of notable names have begun their second rounds, including Sergio Garcia, who just birdied his first hole, the 10th, to get to one under for the championship. England's Richard Bland also picked up an early birdie to get to two under overall. As for Bryson DeChambeau, he is going in the wrong direction, having bogeyed his opening hole to fall to plus three.
10:33 a.m.: Munoz from DEEP at No. 8! He's now three under, just one off the lead. A birdie at the ninth would give him a share, and it would chop up the winnings on a lot of first-round leader tickets for my fellow degenerates out there. Prayers up.
10:17 a.m.: We're off and running on Friday at Torrey, and Louis Oosthuizen was able to finish off his four-under 67 with a pair of pars. He's tied for the lead with Henley, who doesn't tee off until 4:03 p.m. ET. Oosthuizen will be able to get a quick breakfast and he'll be back at it at 11:02 a.m. ET.
Sebastian Munoz has still yet to finish his opening round, and he's at two under, in sniffing distance of the lead. He just found the green at the par-3 eighth. Should be able to make par at worst, and then he has the monstrous par-5 ninth left.
9:04 a.m.: We're still about 40 minutes from getting underway, but we've got just the thing to pass the time - hole locations for Round 2:
Hooo baby. Some of those are TUCKED. Should make for some fascinating cut-line drama, in primetime no less. Got to love West Coast golf.
As of now, the weather seems to be just fine this morning in San Diego, so we should be starting and time and should play without any stoppages. Here are the Round 2 tee times.