Here We Go Again
U.S. Open 2021: Like clockwork, Brooks Koepka takes up residence on a major leader board again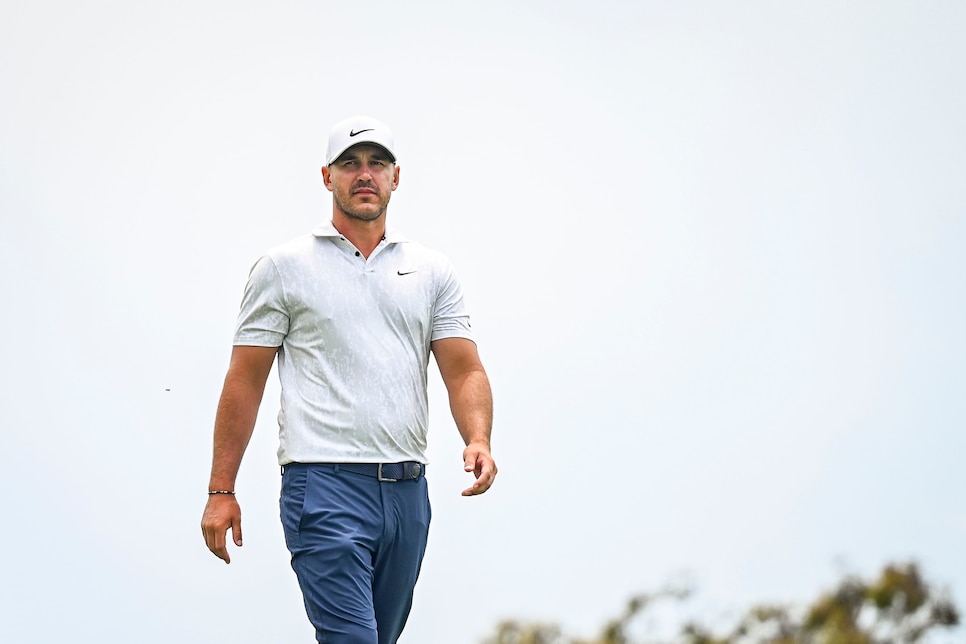 He does what he can to make us question him. We should know better than to doubt Brooks Koepka at the majors—but man, does he make it tough. He'll miss the cut the week before, as he did six days ago in South Carolina. He'll geezer-limp up the stairs, his right leg looking distinctly noodle-like, as he did Wednesday in San Diego. Toss in a headline-hogging feud with a fellow beefy golfer, and you'd be excused for thinking this might be the major that Koepka finally puts up a clunker.
You'd also be wrong to doubt, of course. Flagrantly so.
Koepka put himself in the thick of yet another major championship on Thursday, briefly holding the lead at the U.S. Open before a few late bogeys forced him to settle for a two-under 69. It was his sixth consecutive under-par round at the U.S. Open—he missed last year's event at Winged Foot with a knee injury—which ties Sam Snead's all-time record. In more immediate matters, it left him two shots behind Russell Henley's pace-setting 67 when he headed into the scoring tent.
"You can't win it today, but you can definitely lose it," Koepka said. "It was nice to get off to a good start, putted well, drove it well on the back nine, my front, but missed a couple fairways there. I missed them on the correct side, which is what you've got to do, depending on where the pin location is. Get lucky enough where you've got a decent lie and get it there.
"Pretty pleased. Not the best, but I'll definitely take it."
Koepka knows better than to concern himself with the lead on Thursday afternoon. He's said multiple times that he doesn't think much about his standing in the tournament until the back nine on Sunday—when, more times than not at these things, he's within whisper's distance of the lead.
It's not just his major victories, which number four. Koepka has finished seventh or better in 10 of his last 14 major starts, an unparalleled stretch that has seen him emerge as the sport's alpha male. He is not, of course, the only player who shows up at the game's biggest events. Tony Finau peppers the front page of leader boards, as does Xander Schauffele. But those players are, more or less, the same player in majors as they are in non-majors. Koepka doesn't hide his apathy for the non-majors. At last week's Palmetto Championship, he openly admitted his focus had shifted to Torrey by noon on Friday. That makes him something of a unicorn in this game. He's missed the cut in five of his nine starts this calendar year, and yet it made no difference at all when he stepped to the first tee at Torrey Pines.
Asked about his major strategy by Golf Channel's Steve Sands after the round, Koepka did not waste words: "I guess I just have it figured out."
Indeed, he does. Teeing off the back nine alongside Justin Thomas and Collin Morikawa, a grouping of the PGA Championship winners from 2017 to 2020, Koepka birdied his third hole of the day and added another at 17. When he nipped a wedge to tap-in range at 18 to make the turn in three-under 33, Koepka summitted the leader board and sent a message to the 155 other players in the field: Nothing has changed. It's a major. I'm here.
"I've just got a good game plan, focused. I know what I'm doing, and I don't try to do anything I can't. It's just all about discipline in a U.S. Open. That's I guess the gist of it."
Koepka briefly reached four under before two bogeys put something of a damper on the round—and it could have been worse, if not for a faith-affirming par save at the eighth. He's played three times since, so it's not exactly top of mind, but Koepka is still just three months off a knee surgery that normally demands a six-month recovery period. His performance at last month's PGA Championship assuaged any injury concerns, but a rather concerning video surfaced on Wednesday showing Koepka struggling mightily to get up the stairs. He still cannot bend his right knee to read putts. All this made his stance on the par-3 eighth a bit dicey—with the ball well above his feet, he had to trust the leg to hold firm as he hacked it out of the cabbage. He judged it perfectly and hearted the four footer for par.
"It feels good," Koepka said of the knee. "I felt great. My movement is as good as it's ever been."
Translation: Ignore that video, just as you should ignore the missed cut last week. When it comes to Koepka, ignore everything that happens outside the ropes at a major championship.
MORE U.S. OPEN 2021 STORIES FROM GOLF DIGEST: