LA JOLLA, Calif.—The vagabond nature of major championships often presents us with an opportunity for reflection. Last month's return of the PGA Championship to the Ocean Course offered a meditation on how Rory McIlroy has evolved since his previous win there, just as last year's U.S. Open at Winged Foot threw into sharp relief Phil Mickelson's defining frustrations at the national championship.
But the U.S. Open revisiting Torrey Pines is an event of a far greater magnitude. We didn't know it at the time, but the 2008 U.S. Open at Torrey dropped the curtain on the Tiger Woods Era (though he did enjoy rousing encores in 2013 and 2019). How much the game has changed—in ways large and small—was on graphic display this week. The average Tour player at Torrey was younger, taller, richer and swings the club faster. They toted launch monitors, which were exotic curiosities 13 years ago, as casually as iPhones. The players could tamp down spike marks and putt with the flagstick in, but hazards are no longer called hazards and if you hit into one you better drop at knee height.
The field at this U.S. Open was full of graduates from the Latinoámerica and China PGA Tours, which did not exist in 2008 (at least in their current, highly-efficient forms.) And yet for all the evolution of the game, some things never change: Lee Westwood is still out there hitting beautiful high draws; Ian Poulter's pants are loud; Zach Johnson's brow is furrowed. Golf's immutable challenges remain. Halfway through the last Torrey Pines Open the leader (Stuart Appleby!) was three under, while this year that number has been nudged down to only five under despite a wealth of technology and information and new-school training methods available to the players.
"Man, 13 years has gone by in the blink of an eye," says Charley Hoffman, 44, who in that time has lost a mullet and 15 lbs. but not his sweet swing. "The fields are deeper, guys are hitting it a lot longer, they're drinking more water than beer. Back then…" Here his voice trailed off dreamily.
Hoffman had no trouble identifying the single biggest difference between the 2008 and '21 U.S. Opens: "Tiger Woods isn't here so we all have a chance."
We are in a new age of parity, absent a clear-cut favorite from week-to-week and with dangerous players coming from seemingly out of nowhere on a regular basis. (Nice of you to drop by, Russell Henley and Richard Bland.) Kevin Streelman, tied for seventh through two rounds of this Open, has made a great career of grinding out high finishes but he recognizes that gets tougher every year. "The 50th player [in the world] today is a whole 'nother level than he was in 2008," says Streelman, 42. "The 100th player, 150th, it's just so much deeper. It's obviously faster and stronger and younger, too."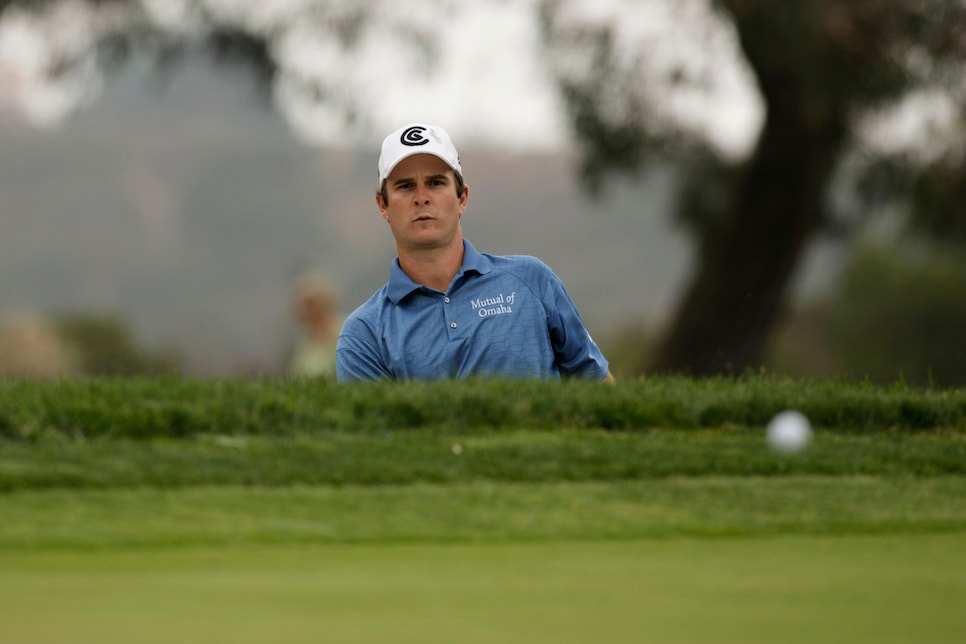 Kevin Streelman contended briefly at the last U.S. Open at Torrey Pines.
Paul Mounce - Corbis
According to stats wiz Lou Stagner, in 2008 less than a quarter of the field at Tour events was under 30; last year the kids comprised over 40%. Not surprisingly, the percentage of tee shots with over 175 miles per hour of ball speed has spiked from 7% to 21%, in part because 29% of the Tour is 6'2" or taller (up nearly seven percentage points since '08). "In my day, the U.S. Open was about precision and control," says Andy North, who won the tournament in 1978 and '85. "Now it's about power. Look at this leaderboard – a lot of these guys just smash it as far as they can. That's pretty much their whole game plan." Through two rounds, young bombers Jon Rahm, Matt Wolff, Xander Schaueffele, Patrick Rodgers, Brooks Koepka and Bryson DeChambeau and Justin Thomas were all at par or better, following the smashmouth template that has seen Koepka, DeChambeau, Dustin Johnson and Gary Woodland win the last five U.S. Opens.
Woods favored control over raw power, though he was capable of both. The physicality he brought to the game was on display at Torrey everywhere from Wolff's freewheeling action to Koepka's bulging biceps. But how the game is now played goes far beyond clubhead speed. For all of his gifts, one of Woods's greatest advantages was his mastery of strategy. Now, with advanced metrics, satellite imagery of golf holes and paid statisticians, every Tour player has the ability to game the system. That was evident this week as players attacked Torrey Pines in ways that would have been unthinkable even 13 years ago, when Phil Mickelson famously elected to not carry a driver. "Even at the U.S. Open, where par is still a good score, these players are thinking birdie on almost every hole," says North. "The mentality has shifted."
And that's largely because the math has proven definitively that laying up and playing cautiously is folly, even at the national championship. On Friday afternoon, on the 620-yard par-5 9th hole, the threesome of Matt Jones, Cam Smith and Brendan Steele all hit driver off the deck, trying to get home. The crowd was lusty in its approval.
Of course, that fairway is adjacent to a beer garden where fans could order $9 brews from the QV code affixed to the wooden benches. The fan experience has certainly evolved: In 2008 you would get scolded for pulling out a cell phone in the gallery but this week every fan is a latter-day Chirkinian. Up in the air, paragliders are now vying for airspace alongside the fleet of drones being used for the telecast. In 2008, Golf Twitter was basically non-existent; this week, the commentary there was livelier than much of the actual golf.
But what is old is new: the Open has a history of serving up surprise leaders in the early rounds, and this year Bland has made a star turn. He is 48, a lifer with dad-bod and minimal social media presence, but his fine play through two rounds is proof that well-executed old-school golf is still rewarded. "It has all changed so much but the game is still the game," Bland said after a long Friday afternoon practice session. "Golf has always evolved – just look at the old black-and-white photos. It's going to keep changing in ways we probably can't even imagine. But deep down at the core you still have to hit good shots and make the putts. That's all there is to it."
MORE U.S. OPEN 2021 STORIES FROM GOLF DIGEST: