Reunited and it feels so good
U.S. Open 2021: Why this week at Torrey Pines is extra special for the Molinari brothers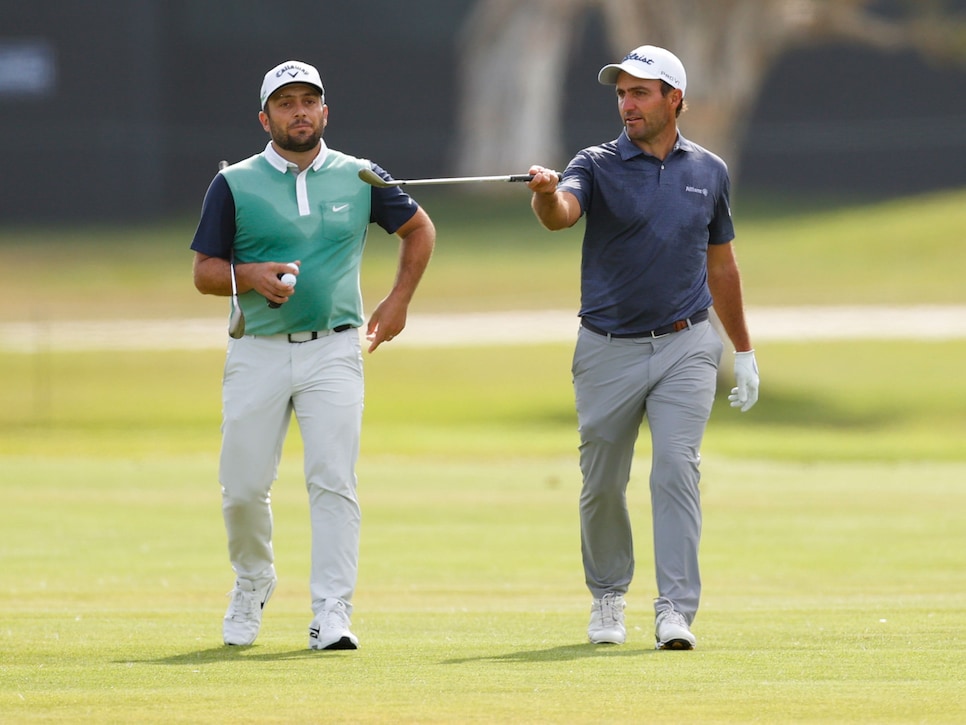 Francesco and Edoardo Molinari walk up the first fairway during a practice round at the 2021 U.S. Open.
Chris Keane
US. Opens are not typically venues for heartwarming stories—it's usually heartbreak, given the 10,000-yard courses and six-inch rough and concrete greens. Still, the Molinari brothers managed to deliver an awww moment on Thursday at Torrey Pines.
First, some background. You know Francesco well. He's the major winner, former top-five player and Ryder Cup record-setter. The diehards will know Edoardo, too, for he has also played in a Ryder Cup and has three European Tour wins to his name. Recently, he built quite the side-hustle as a statistician, notably helping Matt Fitzpatrick chart his own game in forensic detail. He estimates he has 15 or so players using his stats program in Europe and another six or seven in America.
The Molinaris go way back, sharing DNA and all. (Edoardo, 40, is older by 21 months, and Francesco caddied for his big brother in the 2006 Masters after Edoardo won the U.S. Amateur.) But, coming into this week, they hadn't seen each other in quite a while—the product of a pandemic and some big life changes. Francesco was in the United States when COVID-19 halted play on the PGA Tour. And while he managed to fly back to London, his home at the time, travel restrictions prohibited him from returning to his native Italy, where Edoardo still lives. Then, in July, Francesco moved his family to Los Angeles and hadn't been able to return home since.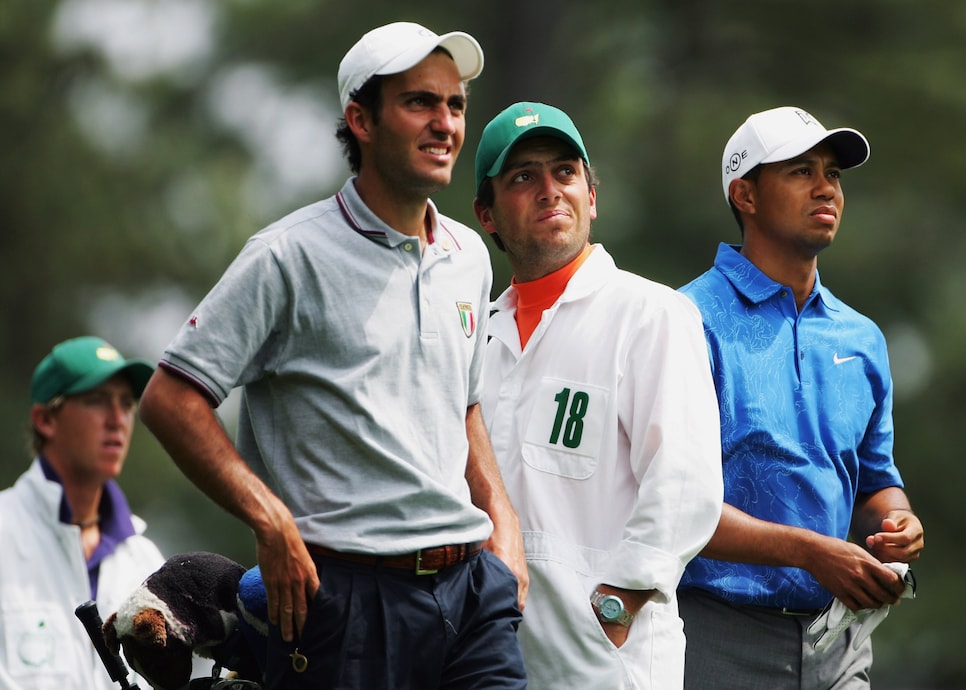 Francesco caddied for his big brother at the 2006 Masters when Edoardo qualified after winning the U.S. Amateur the previous August. The Molinaris played in the same group as Tiger Woods for the opening two rounds.
Andrew Redington
This U.S. Open, then, was a proper reunion—and a somewhat unexpected one, at that. Edoardo had dropped all the way outside the top 600 in the World Ranking after missing six straight cuts in Europe. He then summoned some form out of nowhere, finishing T-8 at the British Masters and then T-2 at the European Open to get a spot at Torrey Pines through the European Tour's three-event qualifying series, a one-time exemption change for the USGA to offset the impact of canceling the Final Qualifying site in the UK. This marks his first start in a major since the 2015 Open Championship. Francesco is in the field by way of his victory at the 2018 Open at Carnoustie.
"The last year and a half has been very difficult," Edoardo said. "I hadn't seen Francesco since the week before Christmas in 2019, up until last week. So, like a year and a half. So that's why I came up a day early and I went to visit him Sunday in L.A. where he is now living with the family, and we had a good time and then we played a practice round together on both Tuesday and Wednesday. And we're going to have dinner tonight. It's just nice to get the chance to speak with him, see him again and just spend time with him."
The vibes at that dinner should be positive, given both Molinaris played rather well on Thursday. Francesco, who has struggled mightily over the past two years, shot a three-under 68 to sit one shot off the pace after the morning wave. And Edoardo managed six birdies en route to a 71.
Francesco was asked if he could recall the last time two Molinaris were inside the top 10 in a major.
"I don't know. He's the statistician. You need to ask him."
Brothers needling brothers. Classic stuff.
MORE U.S. OPEN 2021 STORIES FROM GOLF DIGEST: