Stats
Players 2021: If it seems like Matthew Fitzpatrick is always scribbling in a notebook on the course, here's why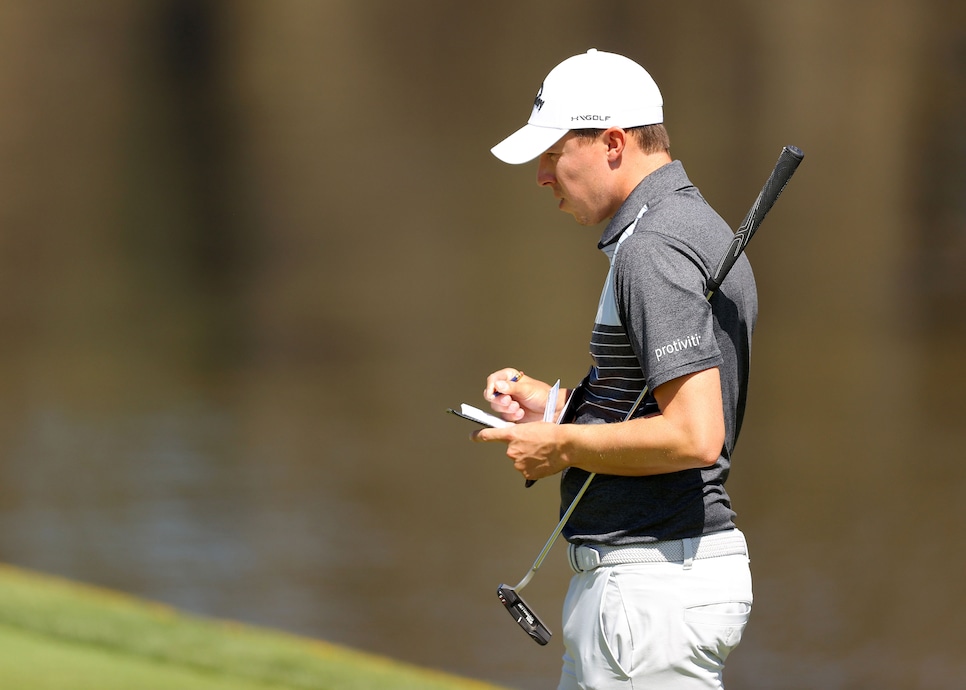 Matthew Fitzpatrick is methodical in tracking every shot he hits on the course.
Kevin C. Cox
PONTE VEDRA BEACH — If you watch Matthew Fitzpatrick on PGA Tour broadcasts—and he's been shown quite a bit recently, given his strong run of form that has continued through the first two rounds of the Players Championship—you'll notice he's constantly pacing shots off and jotting down notes in his yardage book.
The reason why is pretty interesting. The 26-year-old from England manually charts every single shot he hits, all year, including practice rounds. Why do this, in an era when every shot on the PGA Tour is documented by Shotlink and then automatically uploaded into the strokes-gained ecosystem? Simply put: The Shotlink info is good, but it's not precise enough.
Specifically, Shotlink/strokes gained does not account for where a player was aiming and what club he was hitting. For example, say Fitzpatrick has 156 yards to the flag for his approach shot. He decides that he wants to hit a 9-iron, aim it five yards left of the flag and land it 150. But it lands two yards left of the flag and flies 153. That will go down in Shotlink/strokes gained as a fantastic shot, but Fitzpatrick will know that it's actually a three-yard miss right, and a three-yard miss long. In turn, he will write it down in his notebook as such.
Then, at the end of every round, Fitzpatrick manually inputs this data into a computer program. He will use the data to create hyper-personalized, club-specific dispersion reports for himself, which will inform his practice and future on-course strategy.
Fitzpatrick started this granual stat-tracking in 2015, in part because while playing on the European Tour he did not have Shotlink data to fall back on when analyzing his performance. He since incorporated it into all the rounds he plays.
Over the past two years, Fitzpatrick has put on significant weight, but at 5'9" and roughly 160 pounds—and not blessed with Rory McIlroy's natural speed—he knows he will never be a player who can overpower courses with his length. So he goes the tactician route, because, he says, it's the best way he can maximize his natural ability and gain a slight edge on his competitors.
It's not a method that works for everyone. Plenty of players on tour hardly look at stats at all, and rely on their team/coaches to filter the relevant data and relay it to him. But Fitzpatrick is constantly analyzing his performance. It's working thus far—he's up to a career-high ranking of No. 16 in the world, and he had three straight finishes of T-11 or better coming into the Players, where he shot 68-68 to enter the weekend in solo second.
Keep on writing, Matthew.