ROME — They floated around like ghosts, knowing they were once of this world but seemingly no longer part of it and unable to leave, forced to watch others do the things they were supposed to do. This is no eulogy because those are for the dead, and despite how dead they looked on Friday the Americans are still alive. But the U.S and their Ryder Cup aspirations are on life support, and the priest is on call for last rights.
The thing that was not supposed to happen happened again, as the Americans were trotted out in a makeshift Colosseum and fed to the lions, the Europeans leading by a whopping 6½-1½ score after Day 1 at Marco Simone.
"It's a bummer," conceded Justin Thomas. "It's not the start we wanted, but fortunately for us we've got a lot of golf left. We'll just go get some sleep, regroup and go try to win as many points as possible tomorrow."
This was bad. Historically bad. Presidents Cup bad. The Europeans swept the morning session with zero matches reaching the 18th. The afternoon was better for the Americans and at one point threatened a 3-1 session retort. However, the comeback was quelled thanks to 18th-hole theatrics from Hovland and Rahm and Justin Rose, instead managing just 1½ points. The day ended without the Americans winning a single match, a Ryder Cup first.
Wasn't there a task force assembled to make certain the mistakes of the past stayed there? Doesn't this version of American superstar "get" the team and Ryder Cup dynamic better than his predecessor? Wasn't this supposed to be a transition year for Europe? That's a lot of rhetorical questions, but the performance turned in Friday warrants questioning.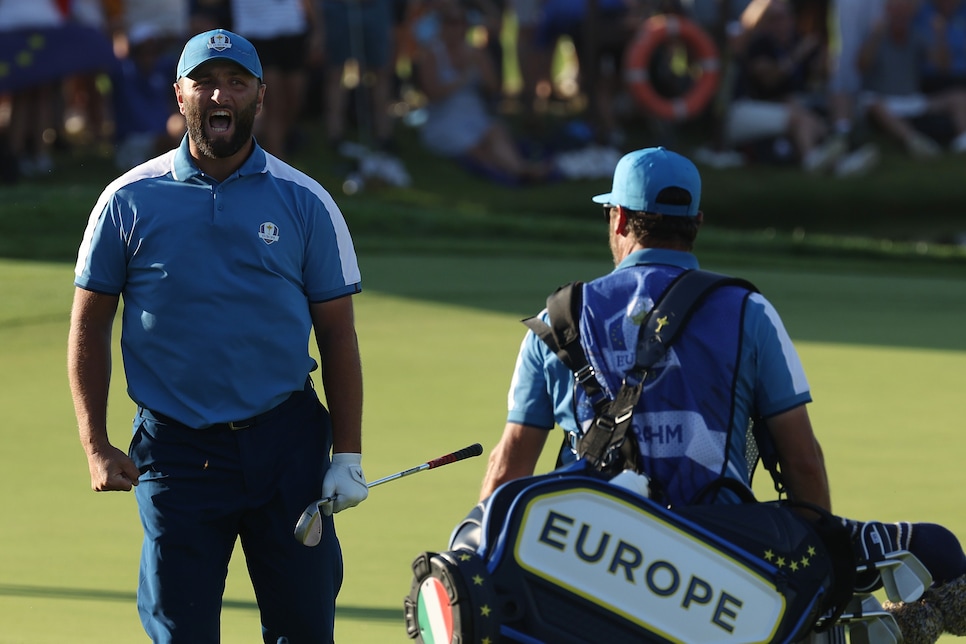 The Ryder Cup has some systematic flaws, but to blame Friday's results on home-field advantage or course set-up is wildly obtuse. So before we go any further, credit where credit is due. Jon Rahm continued to be a destroyer of worlds in this event, winning his morning match with Tyrrell Hatton and dropping a 30-foot eagle on the 18th to salvage a tie with Scottie Scheffler and Brooks Koepka. Rory McIlroy might be the team's heart and soul, but Rahm is the fire that makes the engine run. Speaking of McIlroy, the Ulsterman broke out of his Ryder Cup slump with two wins on the day. Viktor Hovland was lights-out in the morning and made a 25-footer on the final hole disappear for a tie against Justin Thomas and Jordan Spieth. Matt Fitzpatrick birdied five of his first six holes in fourball with McIlroy; rookies Sepp Straka, Ludvig Aberg and Nicolai Hojgaard didn't play like neophytes. Every move Luke Donald made worked, and just as importantly, didn't backfire. Up and down the roster, nothing but class from the Europeans.
While we're here, a golf clap to those in the gallery. European crowds are known for their zeal and Friday did nothing to hurt that reputation. Walking with Thomas and Jordan Spieth on the ninth a roar emitted from the seventh green, and given its ferocious tenor it didn't take much guesswork who the cheer was for. As soon as Spieth hit his approach another boom came from behind, this time toward the eighth. "What the hell is happening?" someone in the U.S. entourage said with a twang of fear, rattled at the sounds bouncing off the property. Friday was loud, and with the current margin Saturday should be louder.
However, a five-point margin isn't built off excellence alone. U.S. captain Zach Johnson alluded to the team dealing with an illness of sorts, although he didn't elaborate. That may be the best reason why the Americans seemed discombobulated and asleep, almost like they had showed up for a 7 a.m. shuttle to find it had already departed. (Which, to be fair, has happened a lot this week in Rome.)
The buddy-buddy pairing of Scheffler and Sam Burns continued to produce unfriendly results, proving their 0-2 foursomes record in last fall's Presidents Cup was no fluke as they duo lost 4 and 3 to Rahm and Tyrrell Hatton. Xander Schauffele, inarguably one of the most dependable Americans in team events over the last three years, was bodybagged twice by McIlroy. Schauffele is fourth on the PGA Tour in putting; on Friday Schauffele's putting was as inspired as his infamous DraftKings promo. Brian Harman looked overmatched on a course that theoretically plays to his strengths. Jordan Spieth was in his pocket on his final four holes. Brooks Koepka went on a 10-hole stretch without his score counting, and though he did finish strong that finish was muted by Koepka attempting to throw shade at Rahm afterward.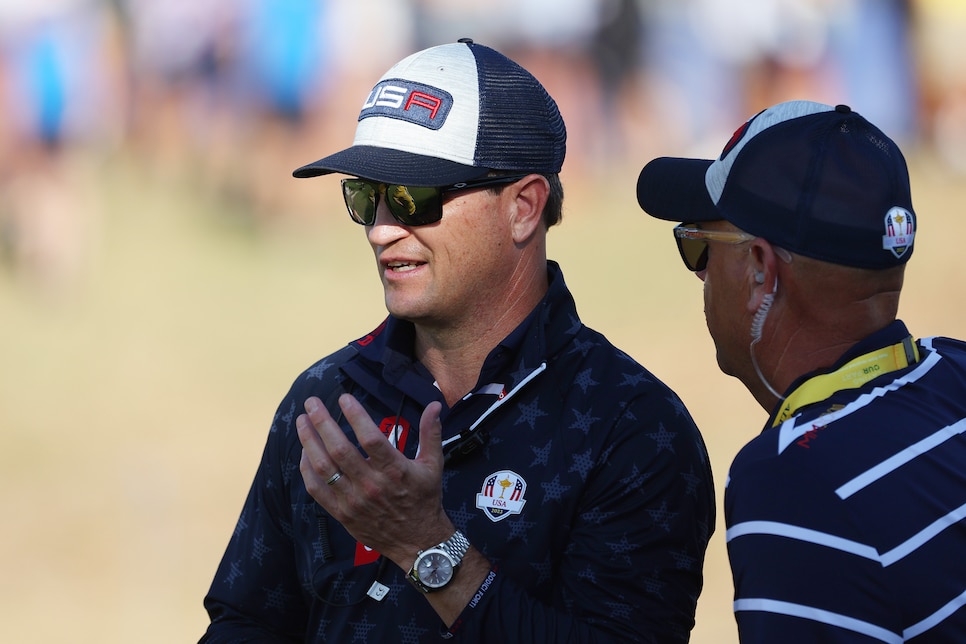 Johnson is not without blame. Sitting Spieth and Thomas in the morning felt bad in the moment and worse in hindsight. To continue with Burns-Scheffler when the analytics departments say otherwise is indefensible. There were more than a few rumbles that he didn't adjust his afternoon pairings enough based on the events of the morning.
"I don't know if I have any regrets. That's sport," Johnson said. "This is golf. I mean, this happens. I mean, it's, these guys are athletes on both sides. Anybody can beat anybody at any given moment. So to say I have a regret, I've trusted in my process. I feel like it still works. It did not go in our favor today. It does not mean it can't tomorrow, and certainly on Sunday."
In that same breath the failure was so total and absolute that to blame Johnson is to miss the point. Because no-shows and stumbles happen, those bad days at the course where it seems like there are higher forces at work and for some reason they are working against you. But, save for a miraculous weekend, the Ryder Cup road slump will reach 34 years. Why this continues to keep happening is a point of great consternation for those around the American club, for there's no easy answer … and maybe there's no answer. If there was, it would have been answered long ago.
That in itself is problematic, and it has nothing to do with rooting interests. The American road existential crisis has an expiration date, and at some point in the very near future if that crisis isn't rectified it begs the question why it's worth caring about a result that seems preordained. The next few days, the very essence of the Ryder Cup—what it is, where it's going, what it means—will be put to test.
For what it's worth, the Americans were not signaling surrender on Friday night. "Just keep fighting. You never know what's going to happen," Koepka said. "Still got a long day tomorrow. You never know what can happen. I mean, the same thing could happen, I guess it's just a matter of momentum. But we've got to go out in the first session and play well, that's for sure."
Added Johnson: "Today's done, and there's more opportunity out there, 28 percent-ish of a tournament is done, so we've got 72 percent left. That is a lot of opportunity, which makes for, you know, I would say just an ability to go out and show off and show the true character of this team, which I've been very proud of since the very beginning."
Following his round Spieth went to the range to chase the sun. He was a man at work, a man trying to chase away the demons we all saw but only he knew, a man doing whatever he could in the face of the inevitable. He was there until the sun told him to go home. As Spieth left he was serenaded by the sounds of a deejay less than 200 yards away in the fan village, who was playing "Mr. Brightside" with the volume turned to 10.
MORE FROM GOLF DIGEST @ THE RYDER CUP