Memory Lane
Ryder Cup 2023: The biggest hotheads in Ryder Cup history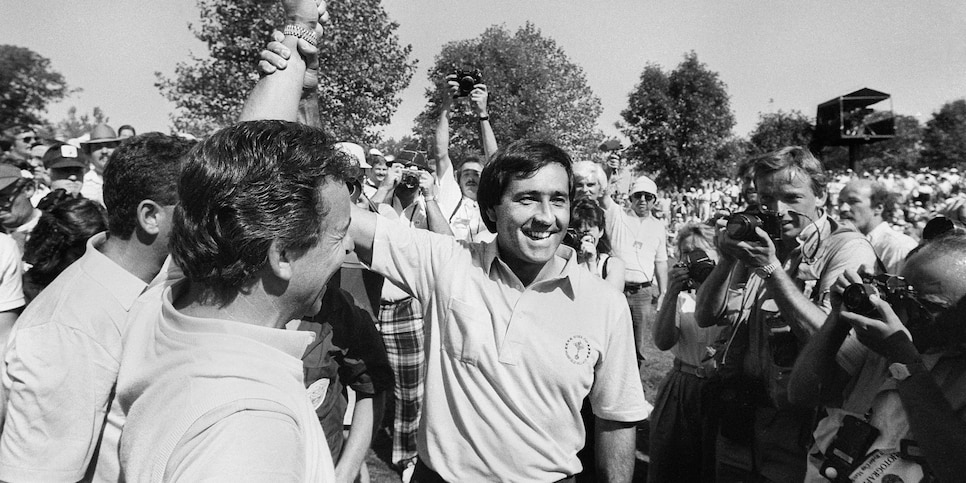 First things first, let's define the term "hothead." According to the Oxford Dictionary, it means "a person who is impetuous or who easily becomes angry and violent." That only helped to a certain extent because then I had to look up "impetuous," which means "acting or done quickly and without thought or care" or "moving forcefully or rapidly." Thank goodness I never have to take the SAT again.
For the purpose of this list, we're going to expand those definitions to basically the players who have gotten worked up the most during the Ryder Cup—both for bad and good. Because while the term "hothead" has a mostly negative vibe, we acknowledge that this biennial event has achieved such an elite status in golf in part because of these extra-animated characters.
As you'll see, a couple of these "hothead" stalwarts (side note: Is the word "stalwart" used anywhere other than describing a Ryder Cup player?) won't be in Rome this year. But that doesn't mean they won't be missed. Well, except by their opponents, of course. Anyway, here's the list in as best of a chronological order we could come up with.
Let's start by going old school with a guy my grandpa used to always reminisce about (true story) for being a bit of a lunatic on the course. And with nicknames like "Thunder" and "Terrible Tommy" that checks out. Bolt played in only two Ryder Cups (1955 and 1957), in large part because he didn't even turn pro until 1946 at age 30. But he managed to tick off at least one oppenent, Eric Brown, by purposely playing slow in a 1957 singles match.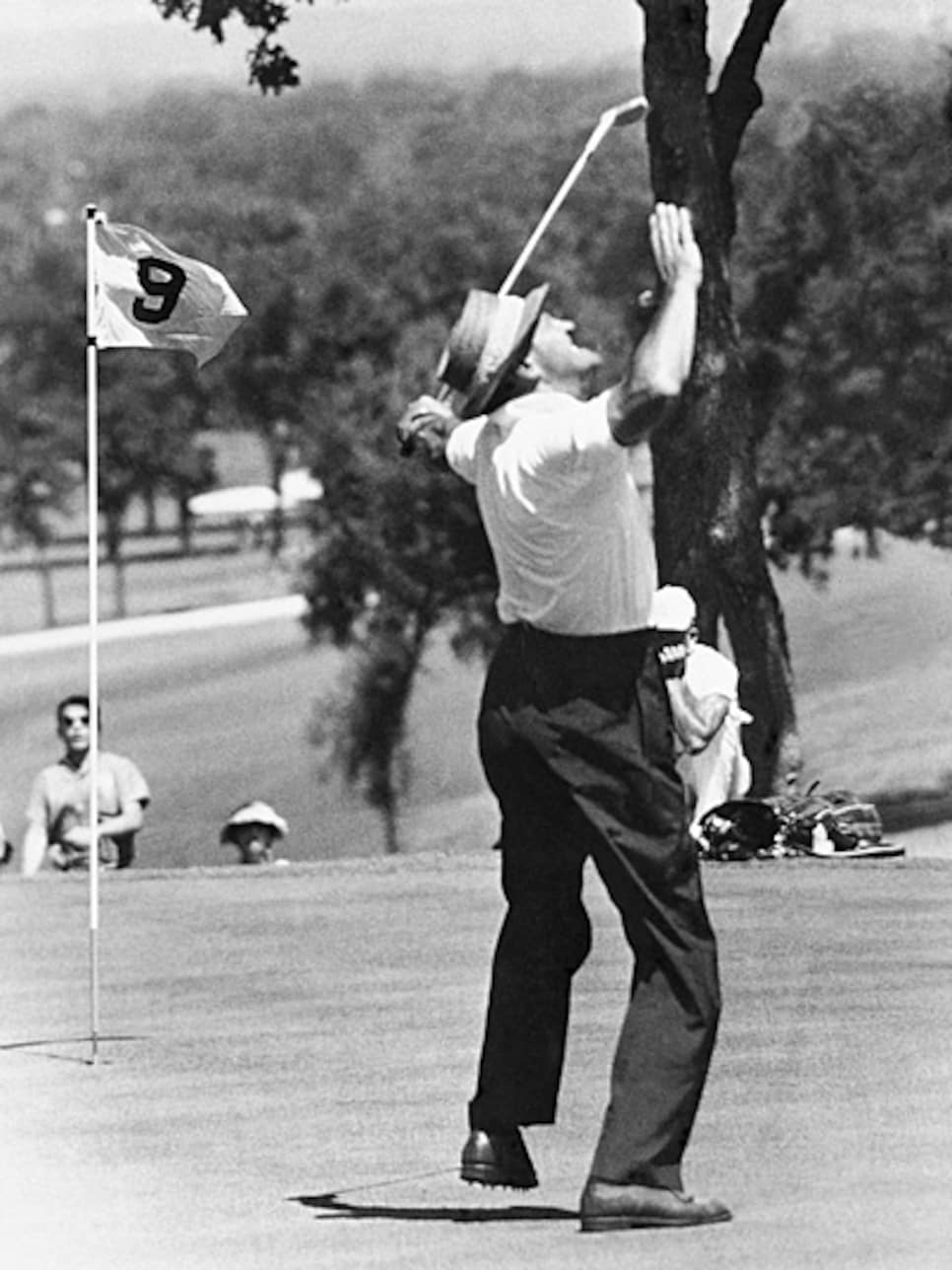 It didn't work as Bolt lost—and so did the Americans for the first time in 24 years. After, Bolt called the British fans "the most miserable bunch of people you could ever have the misfortune to run into in a supposedly civilized world." Hey, they didn't call him "Sunshine Tommy."
To be fair to Tommy, it seems like he met his match in more than one way in this red-headed Scot. To combat Bolt's slow play, Brown had his caddie go get a chair(!) so he could sit down in between shots. After the two didn't shake hands, Bolt said something about not enjoying the match, and Brown replied (to Sam Snead's right in the photo below), "I imagine not … you had no hope of beating me."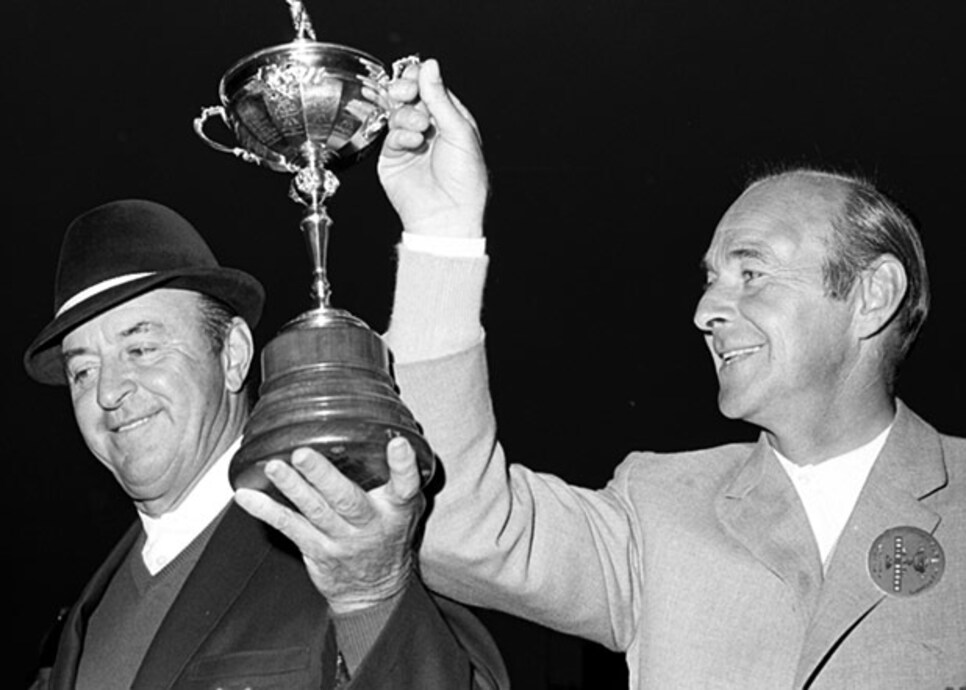 But Brown saved his best hotheaded moment for more than a decade later when he returned as Europe's captain at the 1969 Ryder Cup and instructed his players to not help the Americans look for lost golf balls. Man, it's a real shame Golf Twitter wasn't around for this guy. Or for Terrible Tommy.
The Amercian played against captain Brown during that 1969 Ryder Cup, which is also famously known for ending in a tie after Jack Nicklaus conceded Tony Jacklin a putt on the 18th green in their singles match (The U.S. still retained the cup). But things got contentious between the two teams, most notably a couple minor incidents leading to Hill saying to Bernard Gallacher: "If you say one more word I'm going to wrap this 1-iron around your head."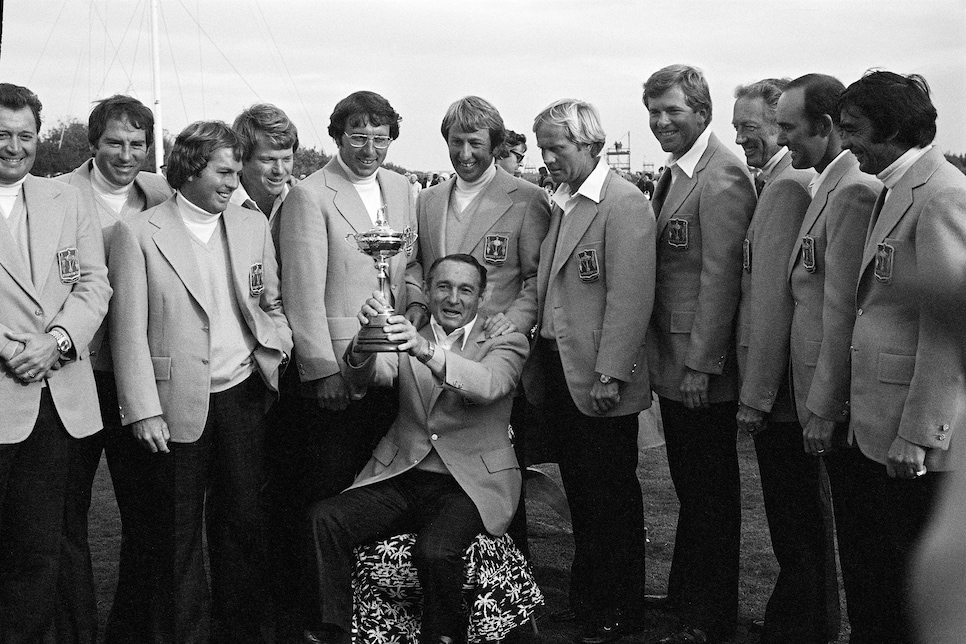 No punches—or golf clubs—were thrown, but imagine a bench-clearing brawl at the Ryder Cup? Talk about great TV ratings!
This guy's antics—sorry, GAMESMANSHIP—in this event were as legendary as his play. And yet everyone loved him and still gushes about him to this day. There are so many great stories to tell, but let's focus on a 1991 match during the "WAR ON THE SHORE" in which he and teammate Jose Maria Olazabal got into it with Americans Paul Azinger and Chip Beck for switching golf balls during play. "He was absolutely frothing at the mouth raging," Seve's caddie, Billy Foster, said of that exchange.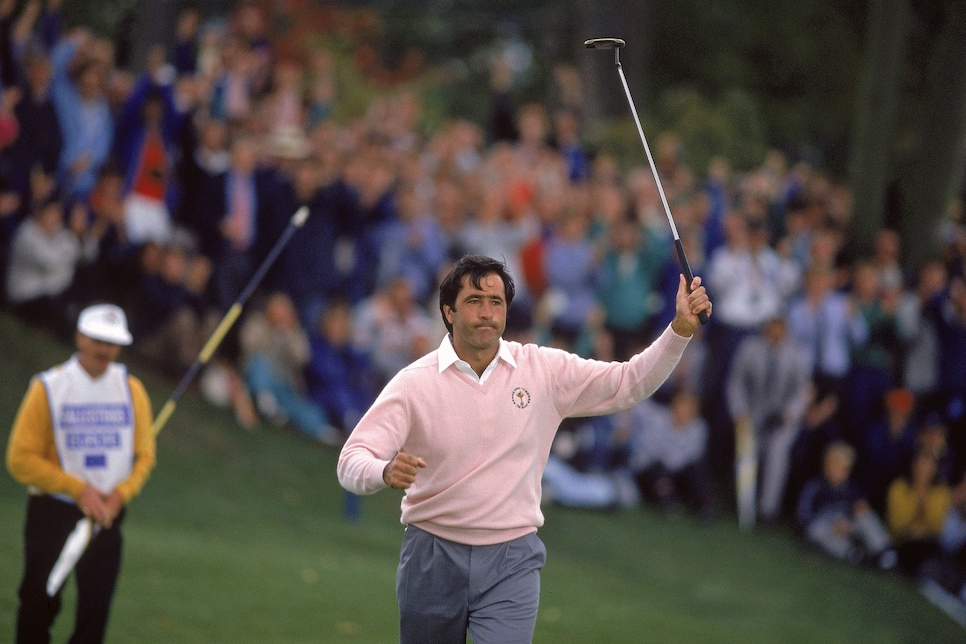 Bob Martin/Allsport/Getty Images
Well, it worked. Because Ballesteros' side came back from 3 down to win the match and then they beat the American duo again in the afternoon. Then again, Seve hardly ever lost in the Ryder Cup.
Seve's main nemesis called Ballesteros "The King of Gamesmanship," but you could easily argue Zinger started their rivalry two years earlier. During their singles match at The Belfry, Ballesteros asked for permission to change his golf ball due to it being damaged. But after examining the ball, Azinger said he didn't see a reason to change and a rules official agreed.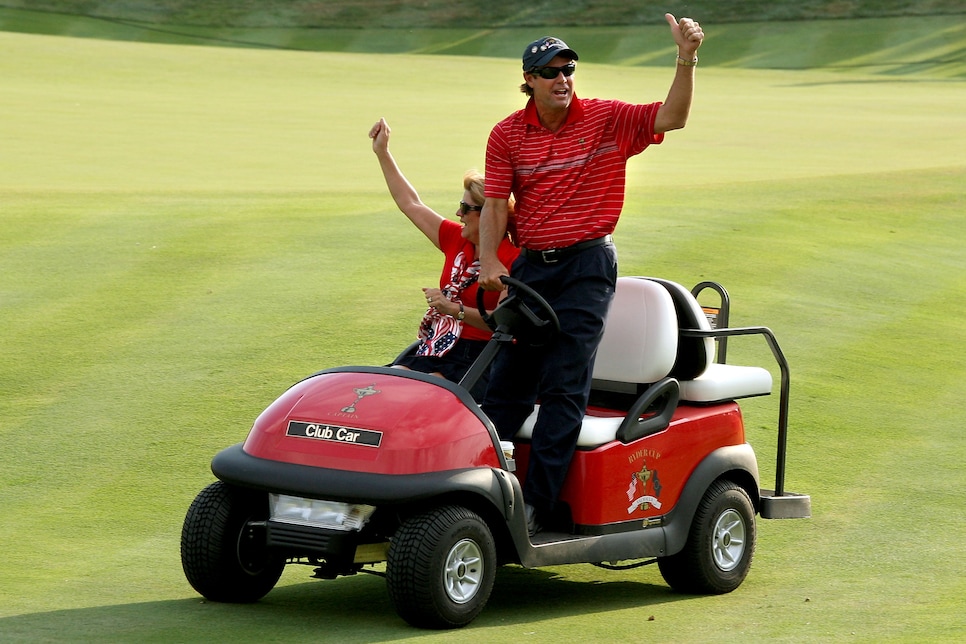 The Spaniard famoulsy responded, "Is this the way you want to play today?" And later, he described the American squad as "11 nice guys and Paul Azinger." Ouch. A couple decades later as captain, Azinger encouraged fans at Valhalla to root against Team Europe. Despite what the British press will have you believe, this happens on both sides of the pond, but Zinger went above and beyond when it came to riling up some hotheads in the home crowd.
One guy who didn't take any crap from anyone, including Seve, was this four-time major champ. This was never more apparent than during a 1991 Saturday foursomes in which Floyd and Fred Couples were paired against Ballesteros and Olazabal at Kiawah. Apparently, Ballesteros had developed a small "cough," which just so happened to come out at times during the backswings of some American players. But Floyd wasn't having it.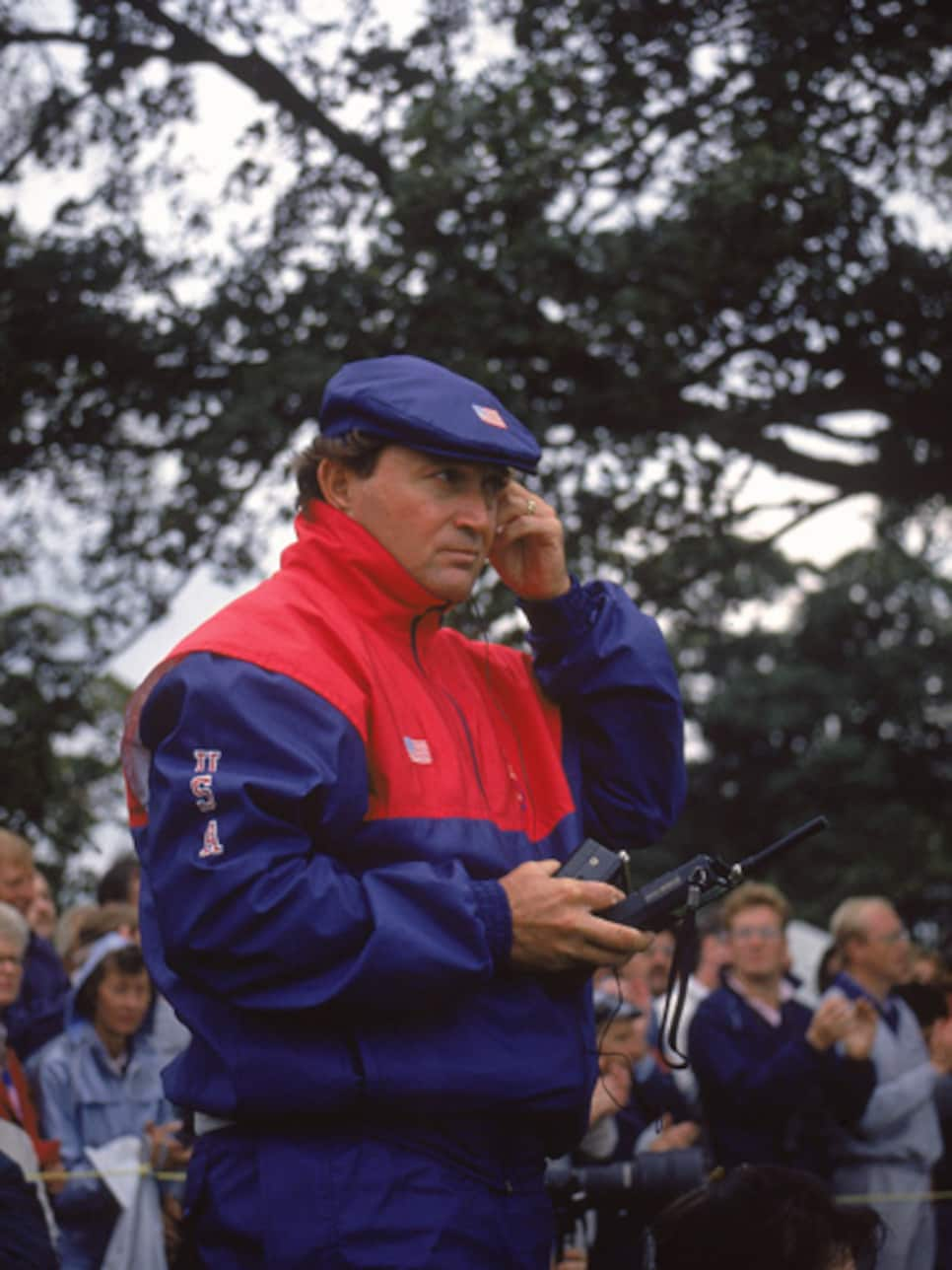 As Couples tells it, Floyd walked ahead with Ballesteros after they teed off on No. 2. When he came back, he said, "We're all good. That'll never happen again." So what had he said to make the "cough" stop? "Seve, you can keep doing what you're doing, but I'm way better at this than you'll ever be, so my suggestion would be to stop." The moral of the story? Don't mess with Ray Floyd.
To be fair, breaches in golf etiquette have been made by both sides, and none was more glaring than what happened at The Country Club in Brookline in 1999. Justin Leonard drained a 45-footer for birdie on No. 17 that seemed to clinch an incredible comeback for the U.S. team, but his opponent, Olazabal, still had a 25-footer to keep things going. The Spaniard missed, but only after a celebration of U.S. players (including Tiger!), captains and wives that may have stepped on Olazabal's line, and certainly caused an undue delay.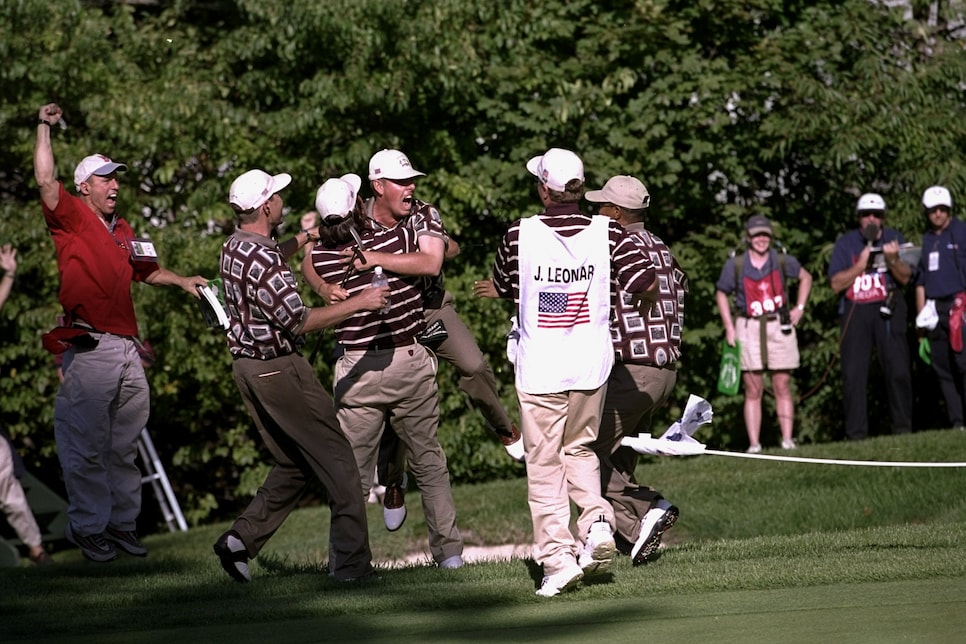 It's a good thing everyone involved has long let that incident go. Kidding! The Europeans are still ticked about it!
There's a reason why this guy was a captain's pick a record five times. Like his nickname, "The Mailman," suggests, the guy always seems to deliver in this event. And in fiery fashion.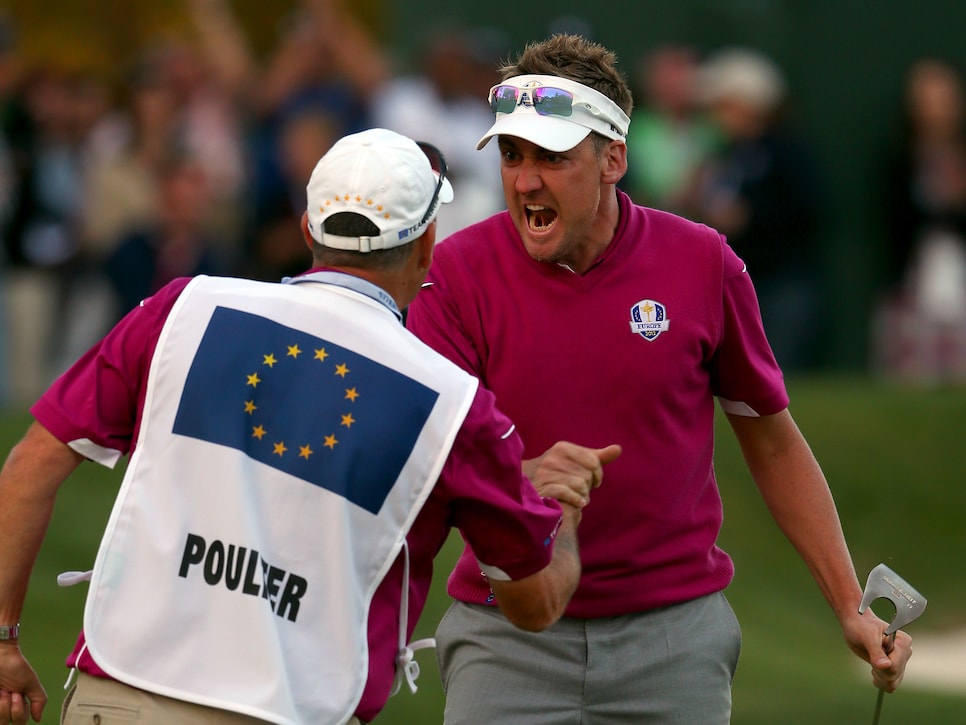 As is the case with Ballesteros, there are so many stories of Ryder Cup heroism with Polts, but none stand out more than Saturday at Medinah in 2012. With Europe on the brink of a lopsided loss, Poulter put partner Rory McIlroy on his back and birdied the final five holes of a Saturday afternoon four-ball match to keep Europe within four points. And the Europeans kept that momentum going on Sunday, completing an epic come-from-behind win. Sadly, thanks to his transition to LIV—and getting old—Poulter's playing days in this event are behind him. But that doesn't mean he still couldn't be a real thorn in the U.S. team's side as a captain down the road.
Like Tiger Woods, Mickelson was always knocked for his Ryder Cup record that supposedly stemmed from a lack of passion for the team event. But he's the only player who ever started an actual mutiny with his captain sitting next to him when he open criticized Watson's captaining during the closing press conference of a very lopsided U.S. loss in 2014.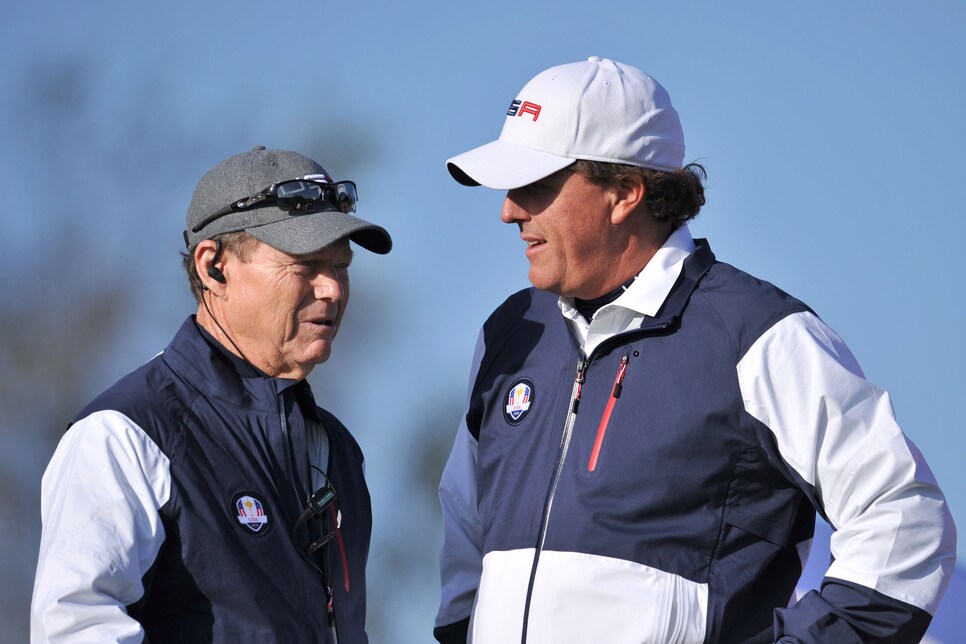 Glyn Kirk/AFP/Getty Images
Talk about going off in bold fashion. Not that we condone openly undermining your leaders (and elders), but it did lead to major changes in how the American side handles all aspects of the matches.
Before Patrick Reed came along, AK looked to be on his way to "Captain America" status after a sparkling Ryder Cup debut at Valhalla in 2008. That week, however, Poulter accused Kim of "body-checking" him on Saturday. And on Sunday, Kim was so locked in that he had no clue he had beaten Sergio Garcia in singles.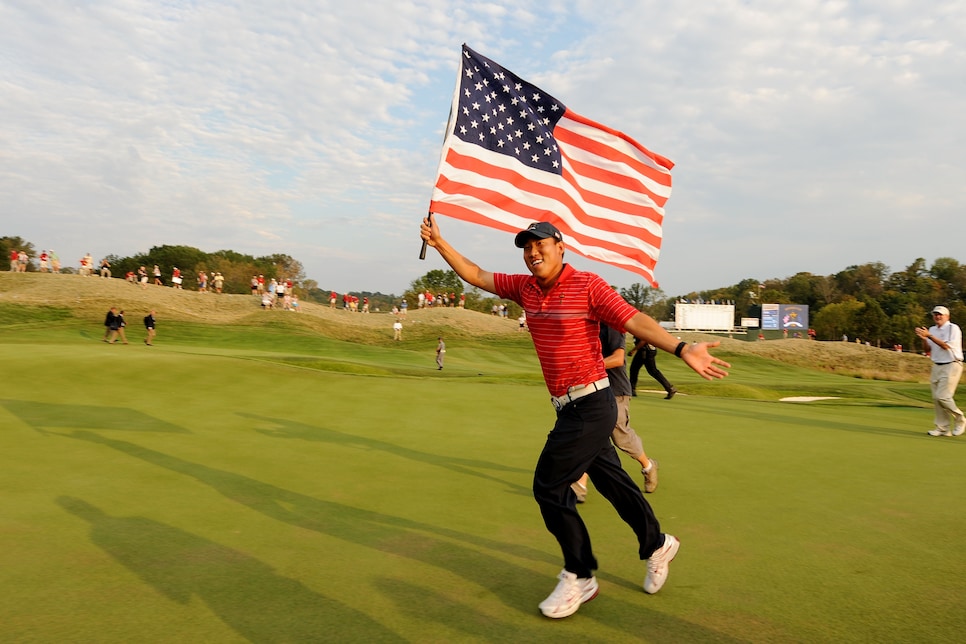 It's a real shame he never got to rep the red, white and blue again.
The guy played in only one Ryder Cup, but he'll be forever remembered for screaming two words: BOOM BABY!!!
What a reaction. What a moment. Just an instant classic.
Say what you will about this controversial golfer, but no one on the U.S. team matched his play—or his intensity—during his three Ryder Cup appearances. All golf fans remember his famous shushing of the Gleneagles crowd in 2014, but you might not remember that was Reed's rookie Ryder Cup! And he seemed to play his best when he was most riled up with Exhibit A of that being his epic Sunday singles win in 2016 against McIlroy at Hazeltine National that cemented his status as "Captain America."
Even if it was a relatively short-lived captaincy. Exhibit B would probably be him throwing his teammates, including Tiger Woods, under the bus after that 2018 loss in Paris. And there's a very good chance that's the last time he ever tees it up for the U.S. as a result.
From channeling Terrell Owens quotes (technically, at a Presidents Cup) to pounding celebratory beers, JT gets as pumped up as anyone in team events. And like Reed, it has led to him posting a terrific record. Unlike Reed, his teammates actually like him, though, which is why Zach Johnson made him a captain's pick this year despite his well-documented struggles. But what puts him particularly high on this list are his reactions when he isn't given a putt he thinks should be good.
Again, technically, that was the Presidents Cup, but no one gets more pissed at this perceived slight. No one. So there could be some potential fireworks in Rome.
Whether it's screaming at opponents (well, at least P-Reed) or screaming at fans, or shushing fans, McIlroy morphs into a different person at this event. Specifically, when he ditches the hat.
According to McIlroy, he goes hatless because of his small head. And while it's hard to believe that European Ryder Cup officials can't get him a hat that fits, maybe it's for the best.