Ryder Cup
Ryder Cup 2023: How Matthew Fitzpatrick rendered Rory McIlory his 'useful sidekick'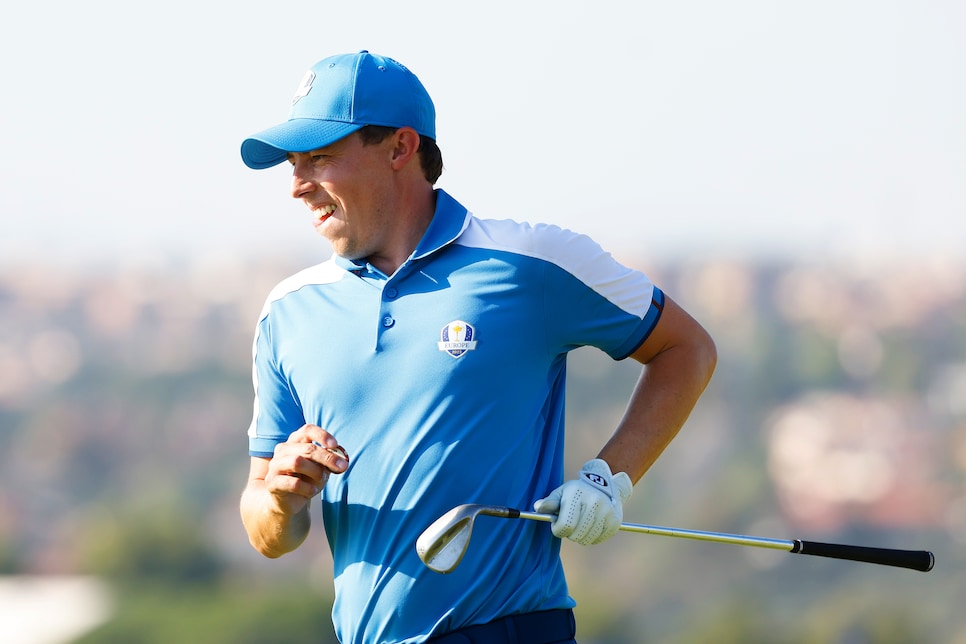 ROME — Rory McIlroy walked along a footbridge between the ninth and 10th holes at Marco Simone Friday when he caught up to his father, Gerry, who was supporting from inside the ropes. Gerry asked how his son was doing, having witnessed his fourball partner, Matthew Fitzpatrick, win five of the first six holes during their eventual victory over Collin Morikawa and Xander Schauffele.
"I'm just trying to be a useful sidekick," McIlroy responded to his dad.
Fitzpatrick, seven times a champion on the DP World Tour and twice on the PGA Tour, had never won a point for Europe in five matches across two Ryder Cups until Friday's fourball reckoning, after having sat out Friday morning's foursomes session. His scorecard from the second hole through the sixth read birdie-birdie-birdie-eagle-birdie. He drained birdie putts of 21, 14, and 14 feet before a 13-foot eagle, then followed with another birdie..
"[McIlroy] said to me, 'Sorry I couldn't be more help.' When I made the eagle putt on number five, he just laughed," 2022 U.S. Open champion Fitzpatrick said.
McIlroy and Fitzpatrick raced to a 6-up lead through 10 holes. They lost Nos. 11 and 12, but it only delayed the inevitable victory, which was secured 5 and 3. "It was absolutely amazing," McIlroy said of Fitzpatrick. "In the first nine holes I was hanging on to this man's coattails. It was a great day in front of some home fans, and for [Fitzpatrick] to get his first point for Europe I'm happy I was the one who played with him."
Added Fitzpatrick: "It's very special, and to play with this man, to get out to the start that we did, it was just phenomenal."
Having swept the foursomes 4-0, Europe claimed 2½ points from the fourballs thanks to a win and 3½ points. Fitzpatrick and McIlroy's gallery looked and sounded more like an AS Roma soccer match than a Ryder Cup fourball.
"I'm a big football fan and it's what football players must feel every week," Fitzpatrick said.
The home side leads the U.S., 6½-1½, after Day 1. It was the first time the U.S. failed to win a single match in a day at the Ryder Cup.
Fitzpatrick was McIlroy's ninth different partner from his seven Cups, which followed a Friday morning match alongside Tommy Fleetwood in foursomes. Before that, McIlroy's partners included Graeme McDowell, Ian Poulter, Sergio Garcia, Thomas Pieters, Andy Sullivan and Shane Lowry. The former World No. 1 had played 22 matches with a partner before the Rome edition and was only just above .500, with 10½ points in that span. Now, he has 12½ points in 24 matches. It was also the first time in McIlroy's Cup career that he won both Friday matches.
Fitzpatrick was asked if he felt bulletproof next to the four-time major winner McIlroy. "[It was my first ever] better ball [session at Ryder Cups], but with Rory being the guy next to you, you feel he is going to save you, even if you hit a bad shot and are out of position," he said. "I think it's a massive confidence boost to hit better shots. I spoke to Rory [on the first tee] what order he'd like to play in, and he gave me the option. I felt I could lead the way, try to hit fairways first and try to give us some freedom."
A five-point lead for Europe is a lot of freedom.
MORE FROM GOLF DIGEST @ THE RYDER CUP