In just a few days, we'll be into the thick of the Ryder Cup at long last, and both Luke Donald and Zach Johnson, the captains of their respective teams, will be under the microscope. They'll be judged on several factors, but the easiest is also the most obvious: captain's picks. Each captain added six players to his roster—fully half the team—and while some were no-brainers, others (Justin Thomas, Sam Burns, Shane Lowry, Nicolai Hojgaard) have already come in for a fair amount of scrutiny. The success or failure of those picks will help define the legacy of each captain. successful
With that in mind, let's take a tour through history and revisit the 15 best captain's picks ever made, based partly on record and partly on circumstance. Keep in mind that although the Ryder Cup has been around since 1927, Europe didn't start using captain's picks until 1979 (and took a year off in 1983), while the U.S. didn't make its first captain's picks until 1989.
15: Jose Maria Olazabal, 1987
Record: 3-2-0
3-2-0 is the worst record of any player on this list, but the reason Jose Maria makes the No. 15 spot is that Tony Jacklin had the wits to take him as a rookie, and then to pair him with Seve Ballesteros in a duo that never accomplished much … except to become, by far, the greatest twosome in Ryder Cup history. Here, they won their first three matches, with Olazabal sinking a bevy of clutch putts as Ballesteros guided him around the course. He lost his final two matches, but it was enough to give Europe its first win on American soil, and to launch the Spanish Armada that would give the Americans fits for years.
3-1-0
In the "glory amid a stomping" department, we offer Garcia, who won all three pairs matches with Jon Rahm in the latest installment of the Spanish Armada at Whistling Straits. The end result of the event was an historic 19-11 drubbing by the Americans, but Garcia came through for Padraig Harrington and managed to defeat players like Brooks Koepka and Jordan Spieth twice each.
13: Jose Maria Olazabal, 1991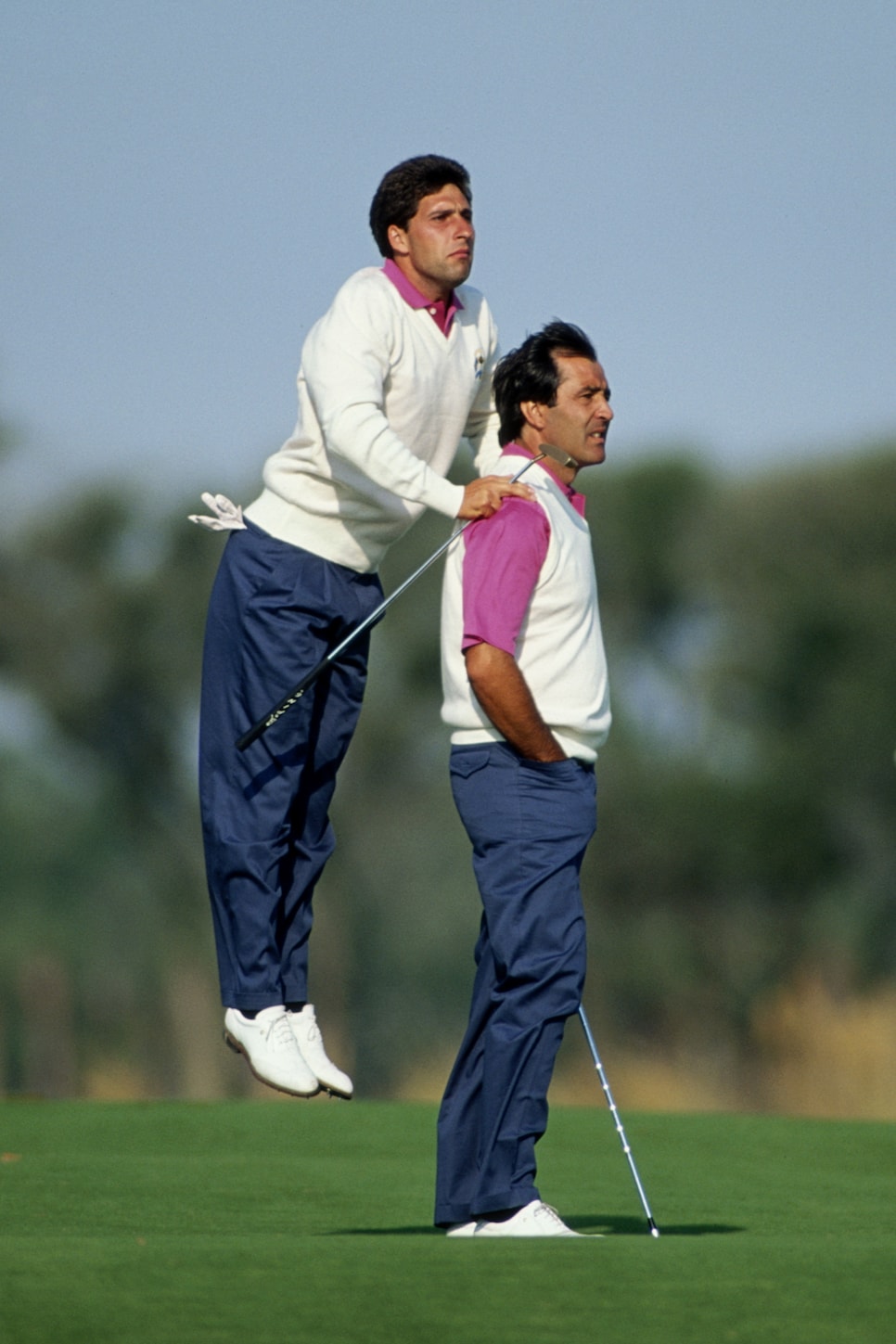 3-1-1
Three Spanish players in a row? That's right, we're going right back to Olazabal. For Bernard Gallacher, it didn't take a lot of brains to pick Olazabal, who was next in line on the points rankings and literally ranked second in the world, so this one is more about performance than surprise. In any case, he teamed with Seve yet again to win 3½ points in four matches, and also dealt Paul Azinger two Friday losses that remain among the most memorable—not to say bitter—of his career. The post-script here, though, is that Azinger got his revenge with a win against Olazabal in Sunday singles, and the Americans squeaked out an important win at the "War by the Shore."
12: Xander Schauffele, 2021
3-1-0
Let's go right back to Whistling Straits, where Schauffele cemented the brilliance of his partnership with Patrick Cantlay by winning two foursomes matches—including a statement drubbing of Rory McIlroy and Ian Poulter in the anchor match of the first session—and also won a four-ball match with Dustin Johnson before getting a deserved rest on Saturday afternoon. He got beat by McIlroy on Sunday, but at that point, it didn't matter; the lead was so massive that the Americans couldn't lose, and Schauffele played an integral role in getting them there.
4-1-0
It's so easy to forget that anything good happened for the Europeans at Valhalla, but one of the most sneakily significant lines on Poulter's Ryder Cup résumé is that even in the face of an American annihilation, he was brilliant. After a narrow 1-down Friday loss, he proceeded to win four straight matches, teaming with Justin Rose twice, Graeme McDowell once, and then beating fellow captain's pick Steve Stricker in singles. The Postman always delivers, even when the rest of his continent is shut down.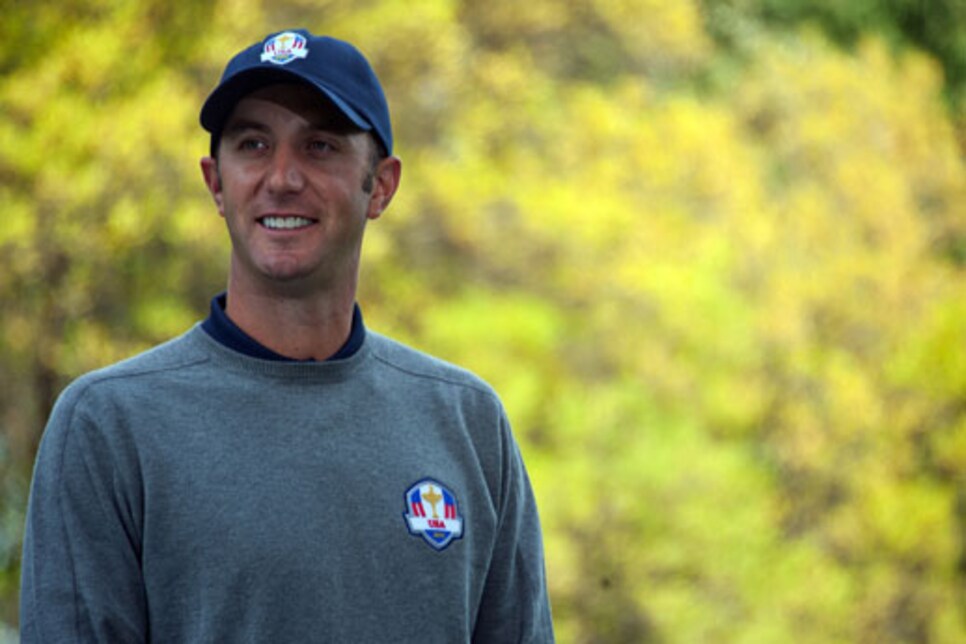 3-0-0
In a lot of ways, this was really the perfect use of a captain's pick by Davis Love III; he had a "role player" vision for DJ, and it worked to perfection. He teamed with Kuchar to win a match in both four-ball sessions, including a win over the tough Rose/Kaymer win on Day 1, and then dusted Nicolas Colsaerts in singles—a rare bright spot in one of the worst days in Ryder Cup history. Love doesn't get enough credit for how well we managed the team those first two days, and the way he used DJ is the shining example of a strategy gone right.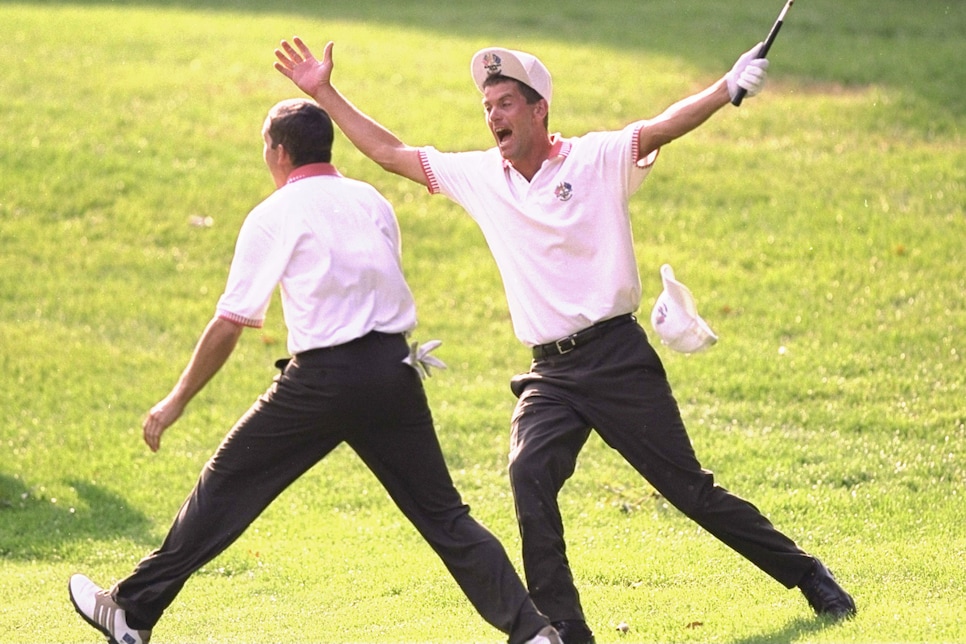 3-1-1
Everything I just wrote about DJ has a slight echo with Parnevik's 1999 campaign, right down to the massive comeback by the other team on Sunday. Mark James tried a renegade strategy of benching a shocking number of players before Sunday singles, hoping to establish a big enough lead in pairs by avoiding his weakest players in order to safeguard against a Sunday collapse, and it almost worked. A key part of that plan was Parnevik, who teamed with Sergio Garcia four times in the first two days to earn 3½ points. Among his victims were Tiger Woods, Phil Mickelson, and Jim Furyk, and if things had gone differently at Brookline on Sunday, he'd be remembered as one of the most important cogs in a brilliant plan by James.
4-1-0
Speaking of valiant efforts in losing causes, it's easy to forget how brilliant Pieters was at Hazeltine National, becoming just the second player after Ian Poulter (twice) to claim four wins. His first match with a struggling Lee Westwood was disastrous, but after that, he teamed with Rory McIlroy to beat anyone the Americans could throw at them, including the powerhouse Dustin Johnson/Brooks Koepka team on Saturday afternoon. He went on to beat J.B. Holmes in singles, but this was America's Cup to win.
7: Darren Clarke and Lee Westwood, 2006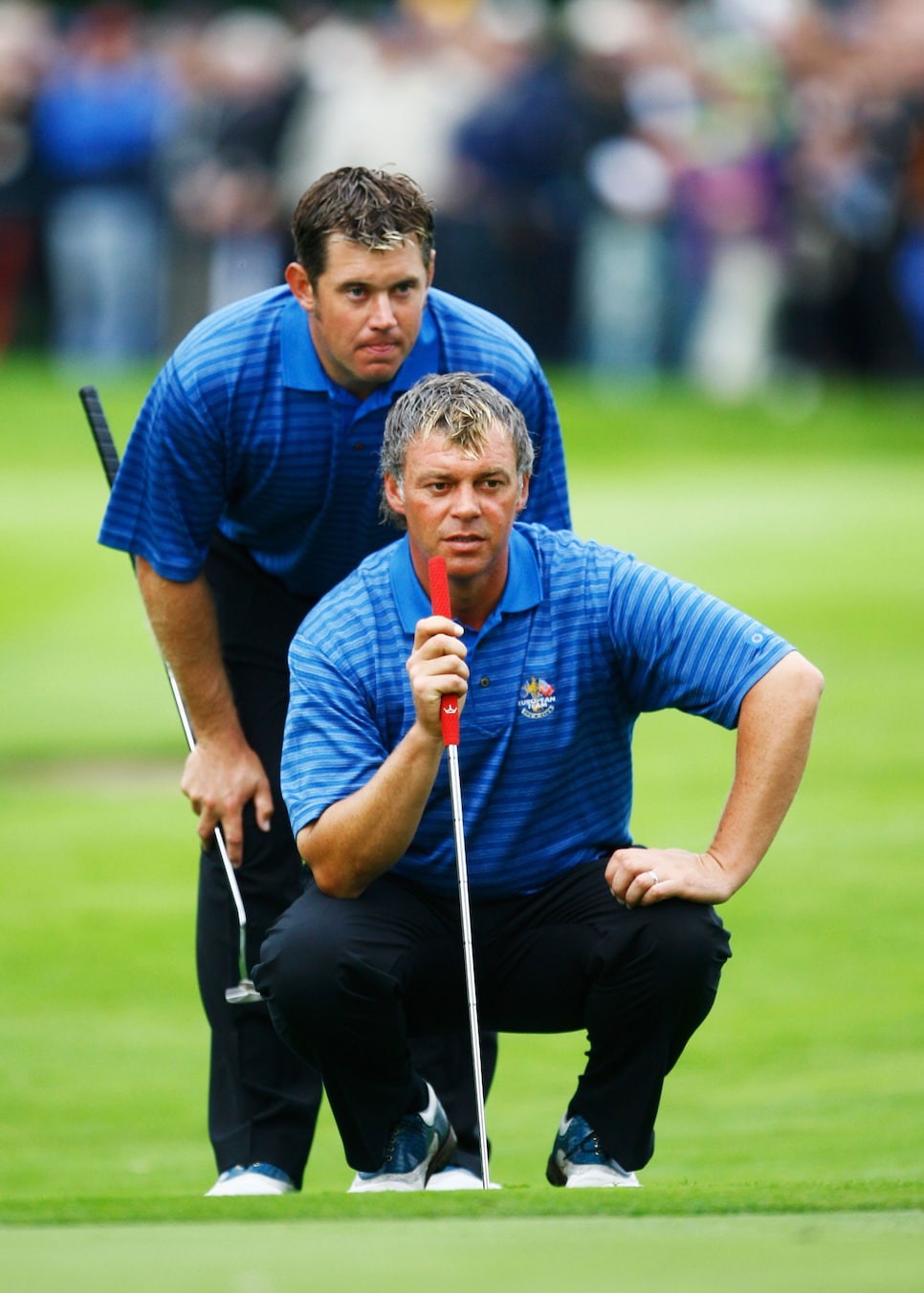 DC: 3-0-0/LW: 3-0-2
This was the height of European power in the Ryder Cup, and though they may not have strictly needed this famous Ryder Cup pairing to beat the Americans at The K Club, they nevertheless added to their collective legacy by winning two four-ball matches together and then grabbing another win in singles. Westwood added two halves and, considering that they were the only two picks allotted to captain Ian Woosnam that year, it's hard to imagine how it could have gone any better.
3-1-0
Celtic Manor goes down as one of the strangest Ryder Cups in recent memory, due to weather more than anything else. Donald, a former World No. 1, got the nod from captain Colin Montgomerie, and as the format was changed to accommodate the many delays, he won two sessions on Saturday and beat Jim Furyk in an early singles match on Monday. This Cup ended with a one-point win for the Europeans, and with all the small margins making such a difference, Donald justified Montgomerie's faith.
5: Sergio Garcia and Henrik Stenson, 2018
SG: 3-1-0/HS: 3-0
Somewhere, you can find an article I wrote back in 2018 questioning Thomas Bjorn's captain's picks, and his tactic of going with veteran leadership over players on better form. I refuse to link it, but it exists out there. Boy, was I wrong! Paul Casey and Ian Poulter performed admirably, but it was these two picks, Garcia and Stenson, who really lit it up. Stenson teamed with Justin Rose to reprise their fantastic Gleneagles pairing and win both fourball matches, then smashed Bubba Watson in singles, while Garcia teamed with Alex Noren and Rory McIlroy to win two pairs matches, then beat Rickie Fowler in a crucial singles match. Sorry, Thomas!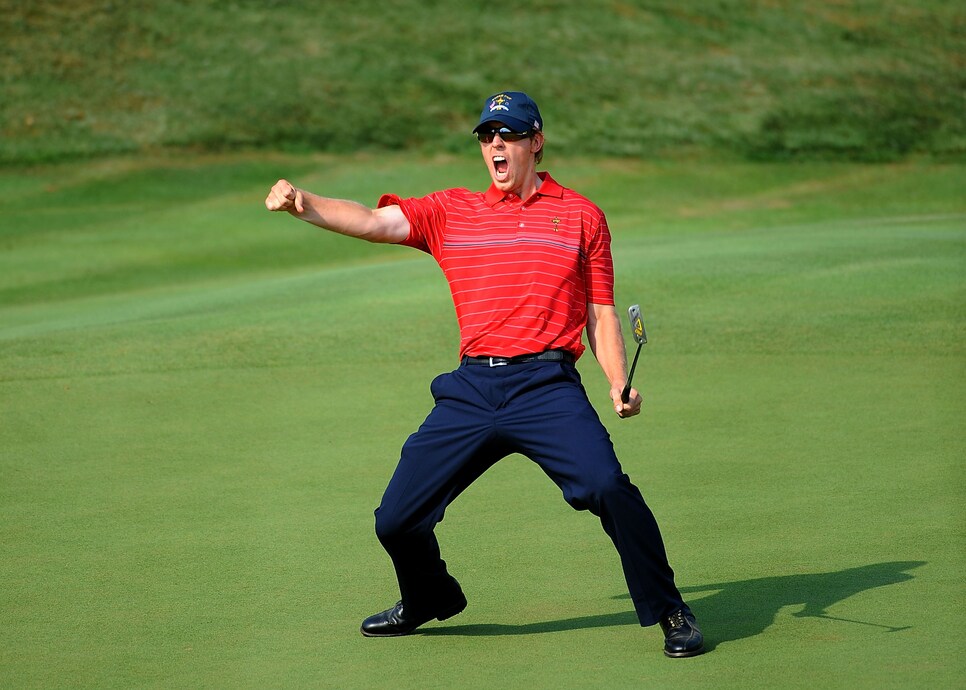 2-0-3
Paul Azinger didn't tell anyone he was doing it until after, but part of his revolutionary pod system in 2008 was that the pods of three players who qualified automatically would get to choose their own captain's pick. That means that this pick actually came down to Phil Mickelson, Anthony Kim, and Justin Leonard, who chose Mahan as a group. In the end, Mahan played all five sessions—extremely rare for a captain's pick—and came away with two wins and three halves. Session after session, he was setting the tone, and his 3½ total points were crucial in spurring the Americans to a massive win.
3-1-0
Context: This year's American team will be trying to win in Europe for the first time in 30 years, and the last time they made it work was in 1993. Tom Watson was captain, and though American fans have bad memories of him operating on gut instinct many years later in Gleneagles, in '93 he made the controversial choice to pick the 51-year-old Floyd—who had actually been a captain four years earlier!—as his final pick. This was the ultimate instinct pick, because Floyd had won just once in the last seven years, and never in '93. But after getting blanked in one match Friday, he won twice with Payne Stewart on Saturday and beat Jose Maria Olazabal in what turned out to be the clinching match. All things considered, this wild pick couldn't have turned out any better.
3-1-0
The record may not be as spectacular as some, and he didn't win his singles match, but it's important to keep in mind here that in '87, Europe was attempting the seemingly impossible task of winning for the first time on American soil. In the first session, Bernhard Langer teamed with Ken Brown, but lost, and Tony Jacklin needed a partner for his German star. He went to Lyle, who proceeded to win three straight pairs sessions with Langer and lead Europe to a 10½ -5½ lead. Even better for the Europeans, they beat the pairing of Lanny Wadkins and Larry Nelson twice on Saturday, a team that had been among America's best historically. They needed every bit of that lead, too, because America trounced them in singles, almost erasing the entire deficit. But Lyle's three wins with Langer helped Europe establish a cushion that was too much to overcome, and that's how they made history.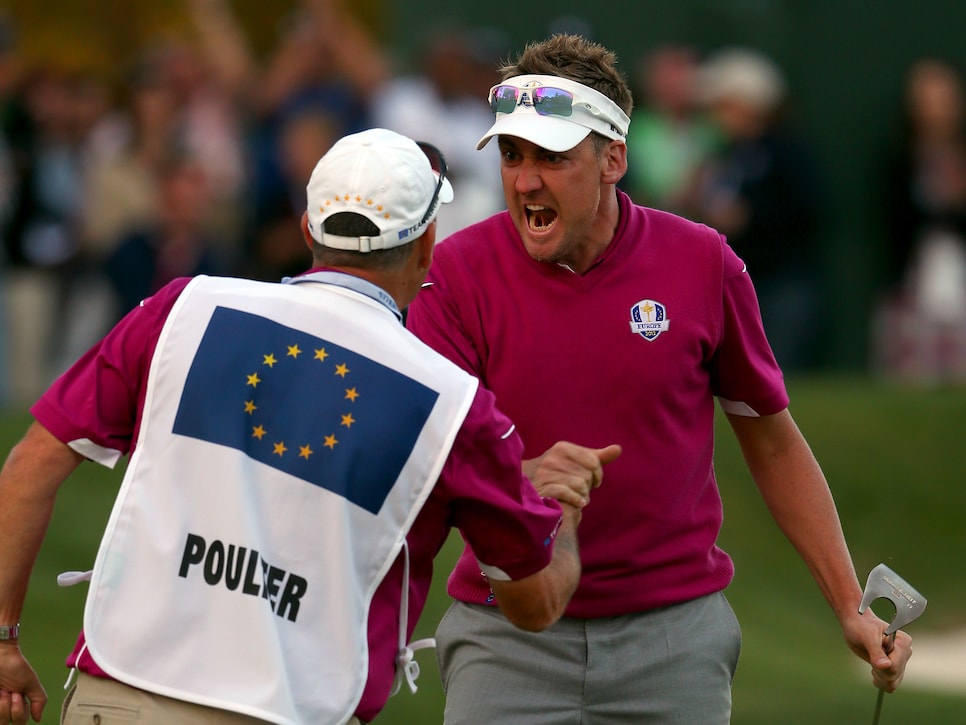 4-0-0
Call me biased if you want, but the Medinah Ryder Cup was the first tournament I ever covered, and I will absolutely never forget Poulter's brilliant one-man stand in four-ball as Saturday afternoon became Saturday night (this video is Ryder Cup 101), which I'm still convinced infused the Europeans with the energy to stage the brilliant comeback on Sunday … a comeback in which Poulter played an integral role, beating Webb Simpson, 2 up, in the second match. All in all, he finished a perfect 4-0-0, and despite the fact that picking Poulter was painfully obvious for Jose Maria Olazabal, it still goes down as the greatest performance by a captain's pick in the history of this event.