Road Trip
The secret to a U.S. Ryder Cup win in Rome? It may lie in the lessons learned by these 5 American captains who lost in Europe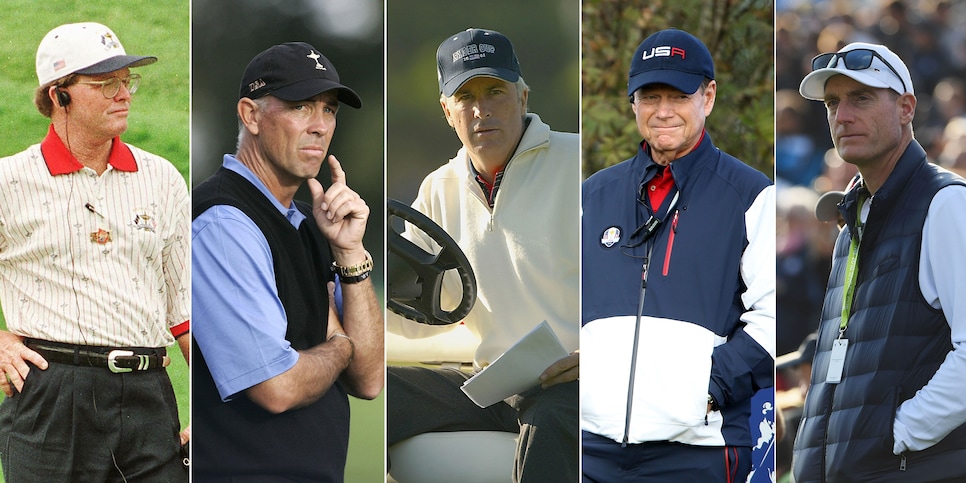 America's well-documented road woes in the Ryder Cup are worse than you might realize. It's not just that the U.S. team has failed to win in Europe since 1993. Rewind the tape back to 1979, when European players were added to the biennial competition, and you can see that only twice has the U.S. triumphed abroad while getting summarily thumped on several other occasions.
The 1981 U.S. team populated by the likes of Jack Nicklaus, Tom Watson, Lee Trevino, Ray Floyd and Hale Irwin was the '27 Yankees of golf, and they proved it by walloping the Europeans by nine points at Walton Heath. Since then, America has ventured across the Atlantic nine times and eked out a tie in 1989 to go along with that come-from-behind win in '93, both coming at The Belfry.
Sure, there have been a few close calls. American teams could have pulled out wins in 1997, 2002 and 2010. But the U.S. side also has lost by seven, five and nine points, respectively, in three of the last four matches in Europe. Granted, recent home wins by Uncle Sam's side also have been lopsided, including, of course, the record 10-point Euro shellacking at Whistling Straits two years ago. But Europe also owns three wins in the States since the last U.S. victory abroad, including its own nine-point demolition of the Yanks in 2004 at Oakland Hills and its Miracle at Medinah comeback in 2012.
U.S. captain Zach Johnson will lead a star-studded squad into next week's 44th Ryder Cup at Marco Simone Golf & Country Club outside Rome. The American contingent features seven players who helped deliver that haymaker to Europe two years ago in Wisconsin: Scottie Scheffler, Jordan Spieth, Patrick Cantlay, Justin Thomas, Xander Schauffele, Brooks Koepka and Collin Morikawa. The team also features winners of three of the four major championships in Koepka (PGA), Wyndham Clark (U.S. Open) and Brian Harman (Open Championship).
America is talented and deep. Nevertheless, other American teams with impeccable collective résumés have marched into the Old World with confidence and high hopes and left mumbling to themselves in disappointment. In talking with past captains who have faced the unenviable task of leading American teams in Europe, two overriding factors prevail in favor of the home team: the crowds and the courses.
One could argue that the U.S. enjoys the same advantages on its home soil, but, apparently, an apples-to-apples comparison isn't applicable. On the first point, European fans aren't necessarily more enthusiastic than American fans, but their approach seems to have a more favorable impact on their players.
"They have a different way of doing it that's very unifying with their teams," said Watson, the last American captain to win in Europe after his team rallied for a 15-13 victory 30 years ago. "There's all the singing and the coordinated support, and the European players respond to that very positively. It's a football mentality where the fans are all in as investing in their teams. But when you have Chelsea against Liverpool, you have two sides that are highly partisan, but they are of equal enthusiasm and strength of support. The Ryder Cup isn't like that; there's no matching response for our guys."
"I agree with Tom on that," added Tom Lehman. "They are not more passionate than our fans, but their approach is very effective. It resonates with their players and then what we see is that the sum of the parts of the European team becomes two plus two equals five. They become more than who they are otherwise."
That said, to a man past captains pointed to the setup of European courses as an even bigger barrier for U.S. players to overcome. Invariably, Euro layouts feature heavy rough, which negates America's perceived advantage off the tee. Jim Furyk's 2018 team was stymied by the rough at Le Golf National near Paris, but that setup might seem tame compared to Marco Simone. One of Johnson's assistants, Furyk said that on the recent U.S. scouting trip to Italy, they didn't just have trouble hitting out of the rough but often struggled to even find the ball.
But setup is only part of the equation in Europe's favor. "Their familiarity with their courses is not just good, it's intimate," said Lehman, who served as captain in 2006 at the K Club in Ireland. "They put their Ryder Cup courses in their rotation on the European Tour for years ahead of time. They learn every nuance. They know where they can miss and where they can't. They know how every hole plays in every kind of wind. They've experienced it in competition. Yes, we just went over there, but we can't learn everything that they know in a few days. It's a tremendous advantage."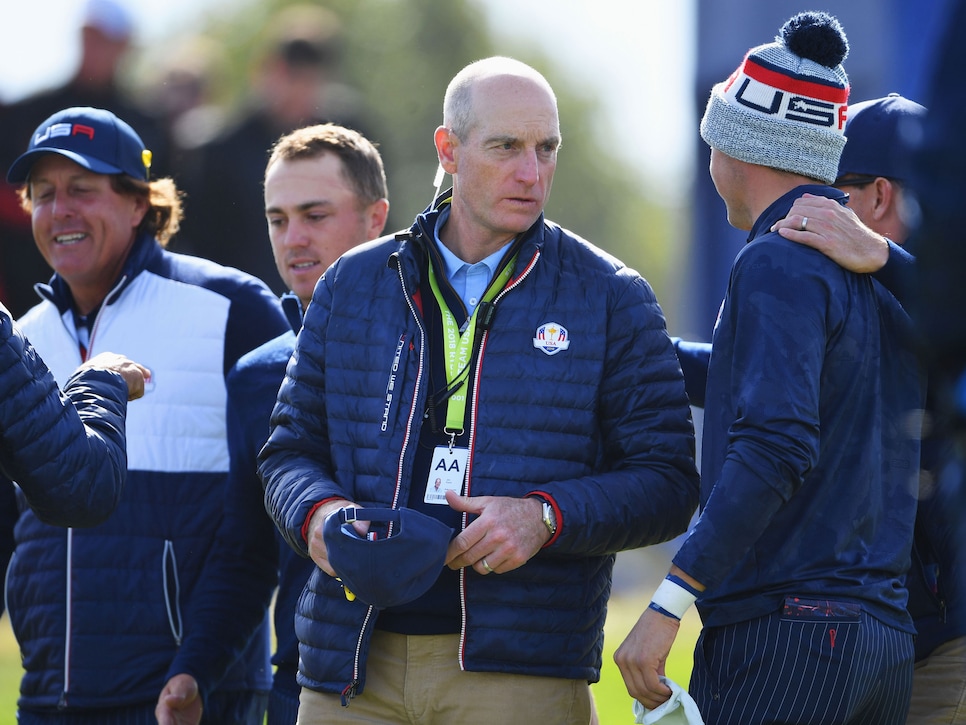 Jim Furyk said that dealing with the course setup is a particularly tricky thing for road American teams, but hopes the early scouting trip to Marco Simone can help the U.S. with that issue.
Stuart Franklin
Tom Kite, a member of that '81 all-star band and captain of the 1997 U.S. team that nearly stormed back from a five-point deficit at Valderrama, cites one more element that not only contributes to America's struggles on the road but also Europe's ability to steal a few decisions in the U.S.
"I think that one of the biggest factors in Europe's success over here and our lack of success over there has to do with how the game has evolved and that almost all of the best players in the world are playing on the PGA Tour," Kite said. "Europe's best players play more over here, and, of course, a lot of them live in the U.S. now. They are acclimated to things here, our golf courses, course setups, our way of life, time zones, etc. So a Ryder Cup over here isn't really as much of an away game, if you will, compared to when we play in Europe."
Since its '93 triumph, American teams have been led in Europe by Kite, Curtis Strange (2002), Lehman, Corey Pavin (2010), Watson again (2014) and Furyk (2018). Each has learned a thing or two from the experience, and in the case of Furyk, whose team lost by five points at Le Golf National, "there are probably five or six things I took away from that loss," he said.
"The one question I heard the most in the year after Paris was, 'Would I do anything different?' Well, how much of an arrogant SOB would I have to be to say, 'No, I wouldn't change a thing!' Of course there are things I would change," Furyk added. "There were probably a handful of lessons I learned that I tried to pass on to Strick [Steve Stricker, the 2021 captain] and to Zach. Just as things come up, different scenarios. There's one particular thing that I will share with Zach when we get to Rome that I don't want to tell anyone else."
In reaching out to other U.S. captains who led teams "over there," each dispensed, when prompted, one piece of advice that might be useful to Johnson and his charges at Marco Simone. Here is what they had to say:
KITE: "Stick to your game plan, whatever it is. If you've done your homework and feel good about what your plan is, then don't panic. I had done a lot of research on my own leading up to Valderrama, and my intention was that no one would play five matches. The stats told me that players who play all four team sessions or, on the flip side, they didn't play any or maybe just one time, were overwhelmingly likely to lose in singles. I can't remember what the percentage was, but it was 80 or 90 percent. Well, Tiger ended up being the only one who played five times. I subbed him for Brad Faxon on Saturday afternoon. Brad was struggling with a lot of things at the time, so I paired Tiger with Justin Leonard in foursomes, and I think they halved their match. But what happened the next day? We won eight of 12 points in singles. But Tiger [playing in his first Ryder Cup] got beat by Costantino Rocca. We lost by one point."
STRANGE: "Dealing with the fans in that environment, where they are cheering hard against you, that takes a lot of mental strength. I'll admit that I had to learn to deal with it. I knew what fans were doing, trying to get under my skin, but instead of using that, I let it get to me, and I was pissed off knowing what they were doing and more pissed off letting it get to me. So the key is to prepare the young guys who haven't played over there for what they are going to encounter, and then tell them the best way to handle it all is simply to look at the grass all week long. Don't pay attention to the crowd, don't respond to anything. Be with your partner and appreciate where you are. This is not my idea. It was Ben Hogan who said it. That was his advice to Claude Harmon at the U.S. Open at Winged Foot [in 1959] when Claude was the pro there and how he should handle the crowd. He told him, just look at the grass, don't make eye contact with anyone and play the game. Shut yourself off from everything and just play golf. Claude finished third in that U.S. Open."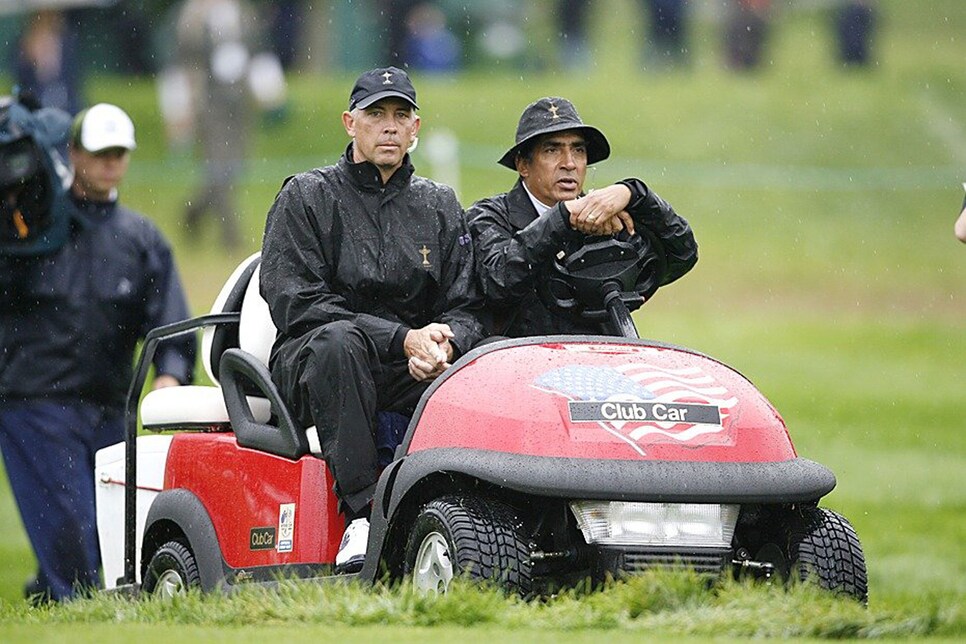 Tom Lehman says that Zach Johnson can't play favorites with the guys on his team, but rather treat them equally and rely on those who are playing the best that week.
Simon Bruty
LEHMAN: "My advice for Zach is simple: you can't pay attention to who the guys are. Forget personalities, reputations and records. You have to have that conversation beforehand. Each guy is your favorite player, but no one can be favored. It's almost like if you just gave every player a number it would be easier to make your decisions on who plays. Everyone is equal and then you put the guys out there who are playing the best, and that has to be the guys who are making putts. The reason why is that momentum can get away from you very quickly over there, and it's hard to get it back. It gets to be a difficult environment to play golf in when they have it. Putting is the great equalizer. Eventually, most matches come down to that."
WATSON: "I would tell Zach to stress to his players that there can't be any give up at any time. Fight for every hole, no matter what the score is. That would seem obvious, but there's a psychological reason for doing that, even if you might be getting beat decisively. It's easy to get down and the crowd is against you, but if you can win one more hole, if you can extend the match one more hole, you can start to frustrate your opponents. You take away the crowd for one hole as opposed to if they keep winning hole after hole their crowd gets louder and louder. It might not change the outcome—though maybe you do. Look at Colin Montgomerie winning the last four holes to tie Mark Calcavecchia at Kiawah [in 1991]. But even if it doesn't change the result, it could change the complexion of things from one match to the next. You might gain confidence from that. Your teammates might gain some confidence. Anything you can do to make their task harder just might mean something in the end."