TAKEAWAYS
Hatton has 'no idea' why he plays well on hard courses, JT turns to AimPoint, McIlroy makes cut on the number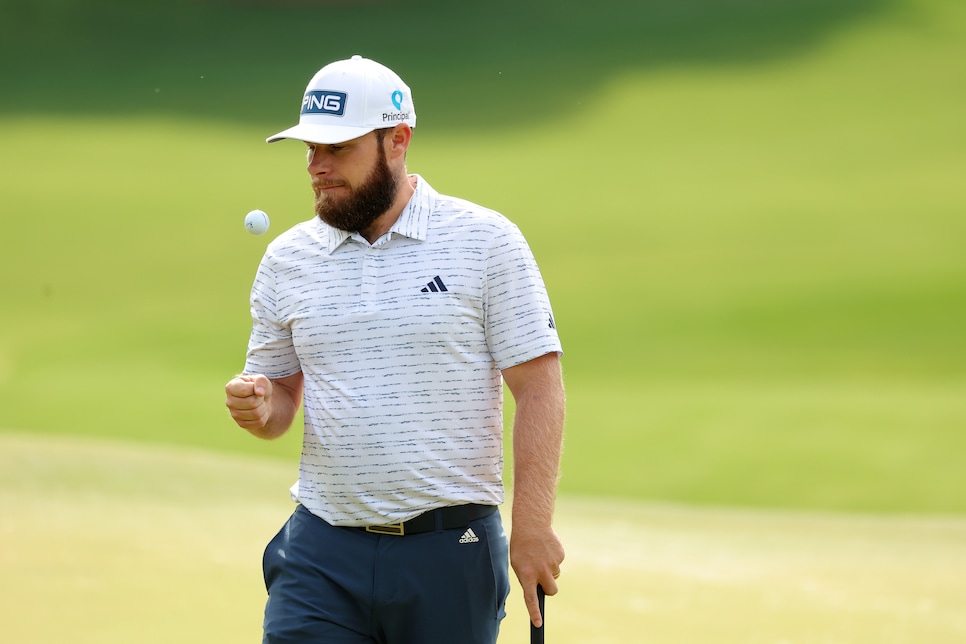 Tyrrell Hatton is tied for the lead after two rounds at the Wells Fargo Championship.
Kevin C. Cox
Tyrrell Hatton doesn't know why he plays well at hard golf courses. Yet after a second-round 65 to post eight under and grab a share of the 36-hole lead at the Wells Fargo Championship, Hatton is once again in contention at Quail Hollow, one of the toughest tracks on the PGA Tour.
The fiery Englishman's lone tour win in the U.S. came in early 2020 at Bay Hill, a stout test made even tougher that week with gusty winds. One player broke par in Saturday's third round that week. Hatton, a six-time winner on the DP World Tour, finished runner-up at the Players Championship in March, closing with seven-under 65 at TPC Sawgrass, just one week after another top-five finish at Bay Hill. The premise, then, is confirmed: Hatton plays well at tough courses, perhaps more than at more pedestrian tour stops. But why?
"I have no idea," the co-leader said after capping his second round with a birdie on the ninth, part of a four-under stretch over his final four holes. "I mean, I guess with my mental approach from the outside looking in, you'd suggest that they wouldn't be great for me, but I always try my best and yeah, this week and a tough golf course is no different."
That Hatton's mental approach suggests he wouldn't play well at tough courses is as understated as it is introspective. Over the last few years, the World No. 18 has doubled as a professional content creator on Golf Twitter with his outbursts and not-so-kind words for some of golf's most famous courses. To briefly summarize, he has called the home of the Masters and second-ranked course on our America's 100 Greatest Golf Courses, Augusta National, "unfair at times." He has likened the 10th hole at Riviera Country Club to, well, a four-letter synonym of excrement. And he blasted the setup at last year's PGA Championship at Southern Hills.
What gives? How does Hatton maintain such a disdain for some of the toughest setups while simultaneously playing some of his best golf on them? The answer might be in his own words. After his round on Friday, the 31-year-old was asked if there's anything he'll look to improve on over the next two days or if he'll try to keep doing what he's doing.
"To be honest, I won't really think about it until we start hitting balls 40 minutes before our tee time tomorrow," Hatton said. "Tomorrow's a new day. You have new feels; try and get comfortable again and go out there and try our best."
Whereas a tougher course might tempt some players to overanalyze, Hatton takes an approach that is refreshingly simple. Don't think about it. Paired with this present mindset is Hatton's admission that each day brings new feels, and you can't force yourself into replicating the same things that had worked a day before. You don't need to be a mental guru to know that's a world-class approach.
So don't be fooled by Hatton's on-course antics should he lash out at Quail Hollow over the weekend and expect "The Angry Golfer" to stay near the top of the board in the tour's seventh designated event of the season. He'll start the third round tied with Nate Lashley and Wyndham Clark, one better than a host of stars at seven under.
Here are three other takeaways from Day 2 at Quail Hollow:
Justin Thomas' diet dividends and putting tweak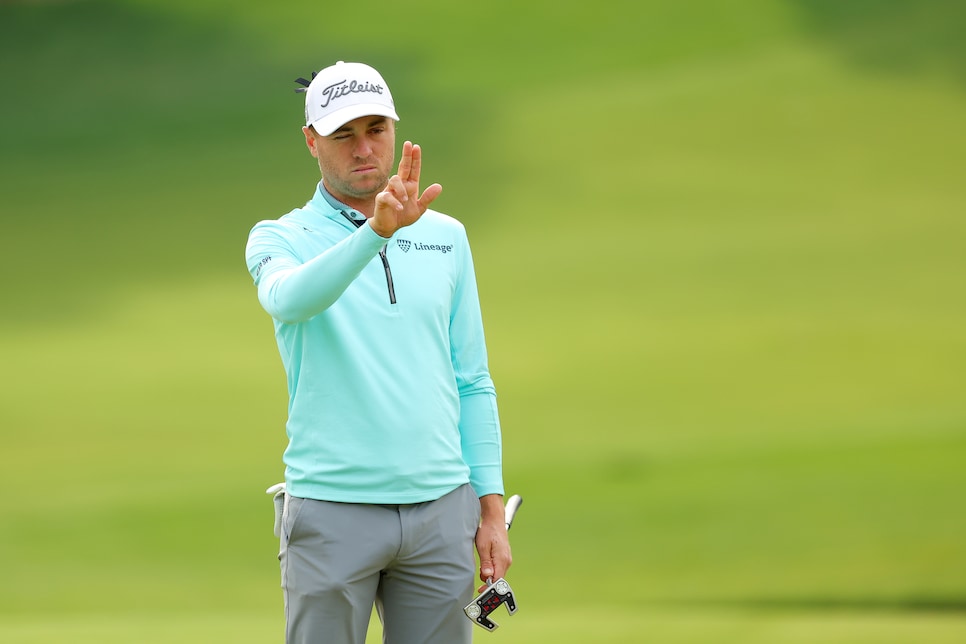 Justin Thomas uses AimPoint Express to read a putt during the second round of the Wells Fargo Championship.
Kevin C. Cox
Head to any gym in January, and you'll be swarmed by the flocks of people clinging to their New Year's resolutions of clean eating, cardio and weightlifting. Come back in March and you've got the place to yourself, as the healthy hopefuls abandoned their resolutions because they weren't seeing results.
Over the last few months, Justin Thomas might be battling a similar dilemma as he's adopted a strict gluten-free, dairy-free diet to address the lack of energy he had last year. But with just two top-10s in 2023 and yet to be in serious contention on a Sunday, Thomas hasn't seen the diet dividends so far, at least in his on-course play. We're not suggesting Thomas, a world-class athlete, might succumb to the same lack of discipline that plagues the commonfolk, but sticking with such a strict diet when it's not clear it's helping win tournaments is not easy.
Yet Thomas might be starting to see some results this week in Charlotte, where he opened with rounds of 68 and 67 to sit seven under and tied for fourth place. The solid first two days bucks a trend of average starts for Thomas since his win at the 2022 PGA Championship. Since then, Thomas had been inside the top five after two rounds just once. It's now twice with his nice start at Quail Hollow.
Part of the reason for his uncharacteristic year so far is his struggles on the greens. Entering the week, he sits 152nd on tour in strokes gained/putting. To address the weakness, Thomas has started to use AimPoint Express, the increasingly popular method of reading greens. Last week, Thomas spent time working with his putting coach, John Graham, and learning the method from its inventor, Mark Sweeney.
"Yeah, I learned it last week, or I guess had a lesson with it," Thomas said. "I felt like it was something that maybe it's the missing piece, maybe it's not. Like I said, I feel like I've been putting significantly better than the putting results have shown and a lot of it, at least I've noticed these last two days is it just takes a lot of the guessing out and simplifies it."
Thomas has been solid on the greens so far this week, he's 21st in strokes gained/putting, which for an elite ball-striker like Thomas, is more than enough to keep him in contention.
"It's really just, it's actually sped everything up for me. It's sped my process up and simplified it. I've really liked it the last two days," Thomas said of the new method. "At the end of the day whether it's AimPoint, whether it's reading the greens, it's a guess. It's just your best guess and I need to have more faith that my guess is really good."
Rory, Jordan, Day all struggle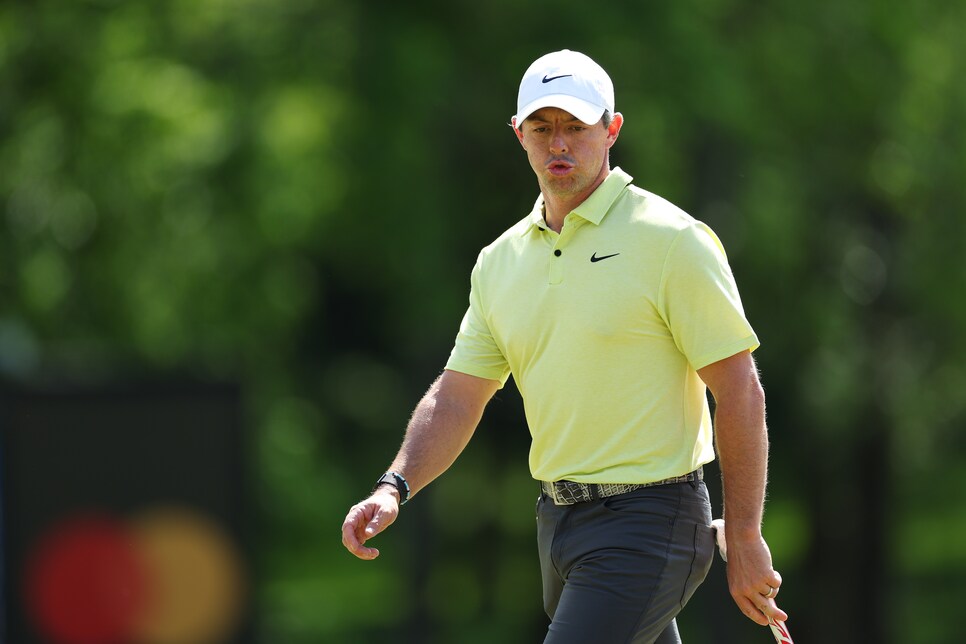 Rory McIlroy didn't have his best stuff Friday and made the cut right on the number.
Mike Ehrmann
Though many top players sit near the lead heading into the weekend, several notable names struggled on Friday in North Carolina. A day after his 34th birthday when he looked sharp in opening with 68, Rory McIlroy struggled with all parts of his game as he limped to the clubhouse for a 73, making the cut on the number at one under. He showed signs of rust, particularly off the tee and with the wedges in just his second round since missing the cut at the Masters nearly a month ago.
The Quail Hollow savant who has won three times around the Charlotte track started Friday with a birdie at the third before three straight bogeys on Nos. 5, 6 and 7. McIlroy dropped shots on two of the three par 5s, both due in large part to wayward drives—well right into the penalty area on seven and left into the trees on the 10th. Coming up the last hole needing a par to avoid a second straight missed cut, McIlroy pulled his tee shot toward the edge of the creek, leaving an awkward approach. After finding the green, some 70-plus feet away, McIlroy made a five-foot tester for par to make the weekend on the number.
Playing alongside McIlroy, Jason Day was not so fortunate with his finish. Working on a bogey-free round of three under to sit one inside the cutline, Day overdrew his tee shot on the difficult par-3 17th. Despite landing on the green, the slope and draw spin fed the ball into the water, leading to a double bogey to knock the Australian back to even par, one outside the cut line. After failing to make birdie up the last, Day missed his first cut since November at the RSM Classic. The cut snaps a streak of solid play for the resurgent Day, who came to Charlotte with four top 10s in his last six starts.
Jordan Spieth was out early on Friday and struggled with his ball striking all day en route to a six-over 77 and a missed cut. Coming off a top five at the Masters and a playoff loss at Harbour Town a couple weeks ago, Spieth looked lost with the longer clubs, losing over three shots to the field with his approach play and finishing near the bottom of the field in strokes gained/off-the-tee in the second round. The disappointing round came after Spieth closed his first round with a triple bogey at the par-4 18th on Thursday. The 13-time tour winner came to his 18th hole of the week in nice position at two under par but finished with a 36-hole total of seven over.
Why Xander Schauffele is trying to 'do less'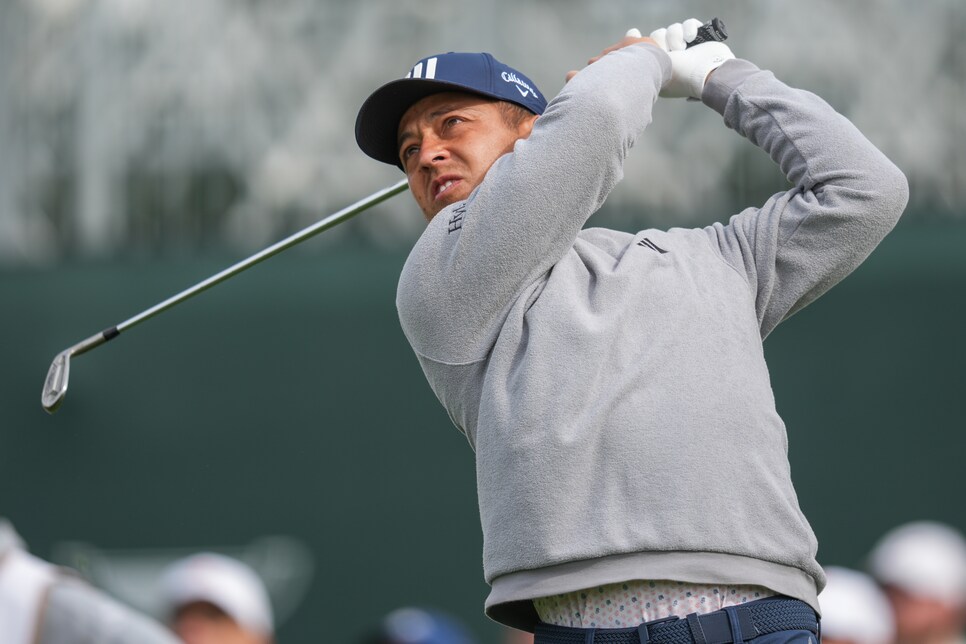 Xander Schauffele watches his tee shot on the 17th hole during the second round at the Wells Fargo Championship.
Jason Allen/ISI Photos
Logic figures that if you want to be the best golfer in the world, you want to be the best at each individual part of the game. But if you hadn't heard, golf is an illogical game and sometimes trying to max out each part of the game can have negative effects.
Sitting at seven under, just one shot back of the lead entering the weekend, Xander Schauffele is well positioned to win his eighth career tour title and first since going back-to-back at the Travelers and Genesis Scottish Open last summer. The strong start continues a stretch of great play for the 29-year-old, who is coming off consecutive top-five finishes and four-straight top 10s. Yet Schauffele says the great play is the result of what he's not doing.
"For a little bit I was trying to sort of learn how to be optimal in every category of your game, it's a little bit different," Schauffele said. "Like the best bunker players, the best chippers, the best wedge players, mid-iron players, long-iron players, drivers, it's just a slightly different delivery to all those things.
"Just as of late, I've been trying to just not tinker too much with everything. As weird as that sounds, just trying to do less and getting more out of it. I like to fiddle a little bit too much, which I get criticism for from my own team, and just a little bit less of that has been helpful."
Given that each part of the game requires a subtly different technique, rather than tinker with each part of his game to optimize it, Schauffele is finding more success sticking to what he's got. Turns out, what he's got is a game that's top 10 in strokes gained/tee-to-green and top 25 in strokes gained/putting.
When asked what he needs to focus on this weekend to stay in contention, Schauffele said, "Yeah, just upstairs. You know the deal."