Not Holding Back
Masters 2022: Tyrrell Hatton might hate Augusta National more than any other person on Earth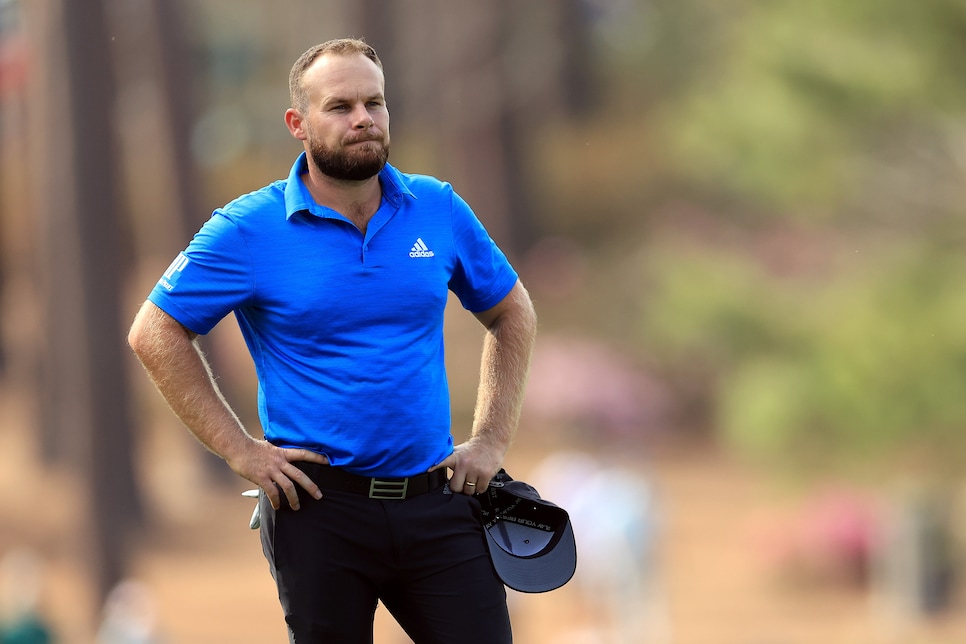 AUGUSTA, Ga. — Tyrrell Hatton isn't the first golfer to express a strong dislike for Augusta National. In fact, he's not even the best to do it (Lee Trevino owns that distinction, having gone as far as to skip the Masters three times during the prime of his career). But it's possible that no player has ever ripped into the course quite like the 30-year-old Brit did on Sunday.
As you can probably surmise, it was a rough final-round for the, um, expressive Hatton. Actually it was a really rough weekend as Hatton shot 79-80 after comfortably making the cut. And after finishing in last place among those who made it to the weekend, he couldn't wait to get away.
Well, after firing a lot of parting shots at the Masters venue.
"Yeah, but you can hit good shots here and not get any reward for it," Hatton said. "It's unfair at times. I don't agree with that."
"If you hit a good shot, you should end up near the hole. Not then short-sided into a bunker because of the slopes that they've created and stuff. Yeah, I don't think it's a fair test at times, and when you hit good shots and you're not rewarded for it, it shows."
Jeez, Tyrrell, tell us how you really feel! Anything else?
"I think it's how the course is set up in general," Hatton continued. "You don't really have to miss a shot, and your next one you'll have -- you're really struggling to make par. With how it runs off the greens here and the slopes that you are then chipping into and how obviously it's cut, it just makes it really hard to even get chip shots close. I think everything is exaggerated here."
"Yeah. I haven't enjoyed it. . . .
"When you are clearly bottom of the field during the weekend, even if I feel like I've hit good shots out there, I've not been rewarded for them, so it's a case of just lose a bit of interest. Certainly with the scores I had going, I'm kind of just -- it's not even trying to build on anything for next week. I'm just trying to ideally get off the golf course as fast as possible."
Hatton, playing alongside Billy Horschel, who shot a final-round 70 to extend his own frustrating streak at the Masters, was part of the tournament's featured groups coverage. So those watching saw plenty of angry reactions, but none more animated than when he appeared to mimick firing a gun around the property on the 13th hole during Saturday's third round on his way to making a triple bogey.
Wow. By the way, Hatton has made the cut in four of six career Masters starts, including a T-18 last year. So it's not even like he's played that bad around here! And yet, well . . .
"I'm glad it's over. I think that's a pretty good way to sum it up. Obviously, disappointed, but I just never do well here," Hatton added. "This course doesn't really suit my eye, to be honest, so, yeah, it's just one of those weeks that I feel like if I come back in the future, it's just a case of trying to get through the best that I can."
If I come back in the future. It wasn't clear if Hatton was referring to possibly skipping the event—or, perhaps, wondering if next year's invitation will get lost in the mail.