High Marks
Players 2023: BREAKING: Tyrrell Hatton has found a golf course he likes!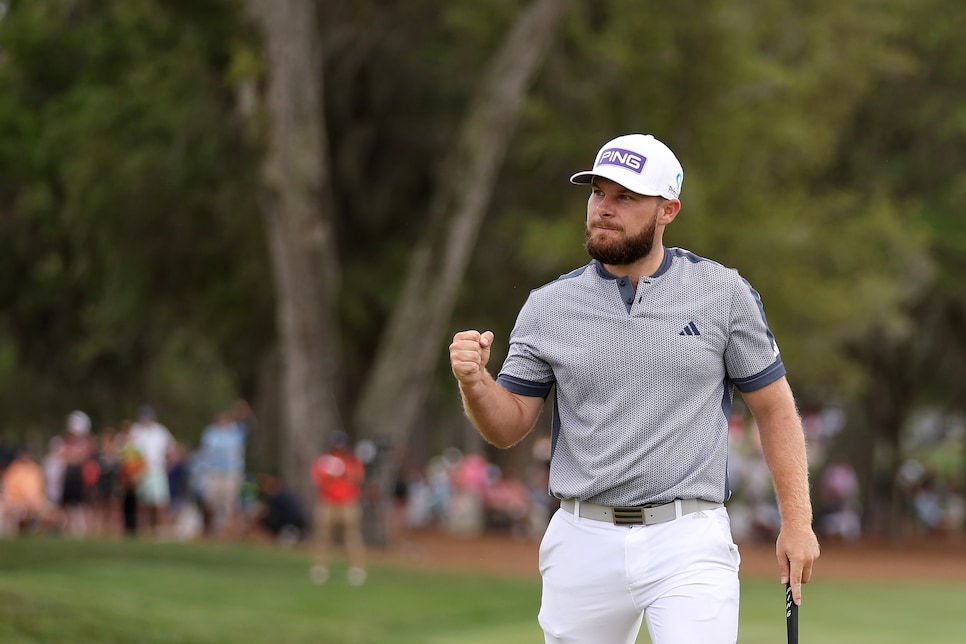 PONTE VEDRA BEACH — Let's start with some much-needed context—Tyrrell Hatton shot a back-nine 29 on Sunday at TPC Sawgrass. Generally speaking, it's very easy to say nice things about a golf course when you just shot a back-nine 29.
But remember, this is Hatton we're talking about. A man who has been unafraid to slander some of the most iconic golf courses on the planet. Last April, following a 79-80 weekend at Augusta National, the Englishman called the home of the Masters "unfair at times," adding that he hasn't really enjoyed any of his six career trips there. A month later, he ragged on the course setup at the PGA Championship at Southern Hills. Just a few weeks ago, he took a flamethrower to Riviera's 10th hole, a Golf Twitter favorite, calling it "sh-t" as he walked to the 11th tee after a bogey. He parred the par-5 11th right after, then muttered "god, this place is f---ing sh-t" as he walked to the 12th.
If there were ever a course to draw similar ire from the permanently feisty 31-year-old, it would be TPC Sawgrass, a place that often gets labeled as "tricky" by tour pros, and not in a good way. And not just the ones who struggle here. Jordan Spieth, who shot rounds of 69 and 66 here this week, said on Friday "I don't particularly love this place." Rory McIlroy, who won here in 2019 but has since missed two of his last three cuts, called the Pete Dye layout "a bit of an enigma" on Friday.
As for Hatton? He actually likes it! Again, it's easy to shower Sawgrass with praise after a final-round 65 that will earn him a small fortune, but he could have just as easily pointed out all the things wrong with it, especially considering he missed three of his first four cuts in this event. But Hatton had very nice things to say about the place ... for the most part.
"It's funny, it sounds horrible to say something positive, I guess," said Hatton, who is well aware of his course-hating persona. "But it's one of my favorite golf courses. Although I haven't generally, apart from this week and last year, I guess, I haven't really done that well here in the past.
"There's a couple of tough tee shots for me, like the tee shot on 2, it's hard," he added. "Like I always—with the woods, it's always a left-to-right, and I don't ever try and shape it, so naturally I'm a little bit uncomfortable with those kind of shots. Then 18 visually is not a nice tee shot, again, if you fade the ball. So there's a couple of tee shots that I probably struggle with more than other lads that have a more natural right-to-left or drawers of the ball.
"But I think it's such a pretty golf course, visually on the eye."
Of course, Hatton simply could not help himself, offering one subtle shot at a certain mega-long par 3.
"I mean aside from 8," he said. "We don't need 235 yard par-3s. That kind of ruins it a bit. I got to say something negative, obviously."
That's one thing we can literally all agree on. As for his Augusta and Riviera takes, those are a much tougher sell.