PGA TOUR
Tom Kim returns to the scene of his breakout more comfortable than ever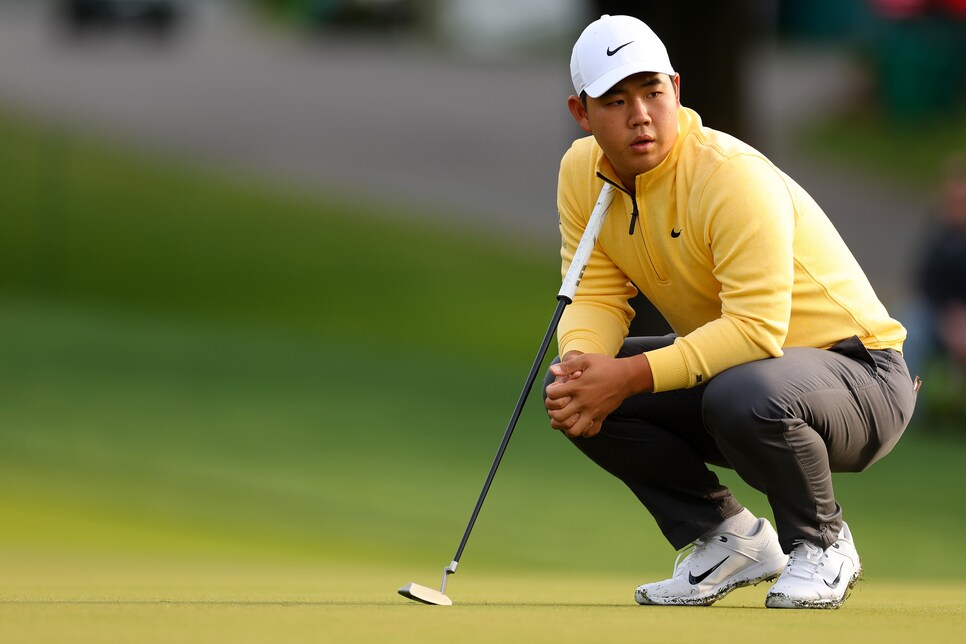 CHARLOTTE — Last fall, at the Presidents Cup at Quail Hollow, the U.S. staging another comprehensive win was the second-biggest story of the weekend. No. 1 belonged to 20-year-old Tom Kim, who did everything from splitting his pants—twice!—to riling up the crowd Bubba-style while teeing off, to burying important putt after important putt (one of them a walk-off) in what felt like a wild one-man desperado play to bring the International Team back into contention. I wrote an ode to Kim on Saturday covering all those things, but somehow the best, most electric moment of the weekend was still to come:
That gave the Internationals a late win over the American super-team of Patrick Cantlay and Xander Schauffele, plus a credible hope of winning on Sunday, and made certain that Kim became a household name even among American golf fans.
Now, seven months later, he's returning to the scene of his triumph, and it's the first time he's playing a repeat venue on the PGA Tour aside from his dual appearances at the American Express in 2021 and 2023, where the courses changed due to COVID and Kim didn't feel like he was returning to a familiar scene. Now, after a 67-73 start that leaves him inside the top 30 heading into the weekend at the Wells Fargo Championship, he's beginning to feel at home.
"North Carolina has always been nice to me," Kim said, referencing both the Presidents Cup and his first ever PGA Tour win at last year's Wyndham Championship in Greensboro, "and it's obviously nice to be back. Being somewhere where I've played before frees me up to know where the misses are, and I'm more comfortable out there than a lot of places."
Kim's start could have been even better after his opening 67, but a rough stretch of four bogeys in five holes on Friday's back nine dropped him off the front page of the leaderboard. He's through to the weekend easily, though, and even with the late stumble, he reveled in the Presidents Cup memories. As fate would have it, he was paired with Schauffele when they came to the ninth hole (their last hole of their round, but the 18th hole last fall), the flag was in a similar spot, and Kim couldn't resist tweaking his former American foe.
"Remember this pin?" he asked.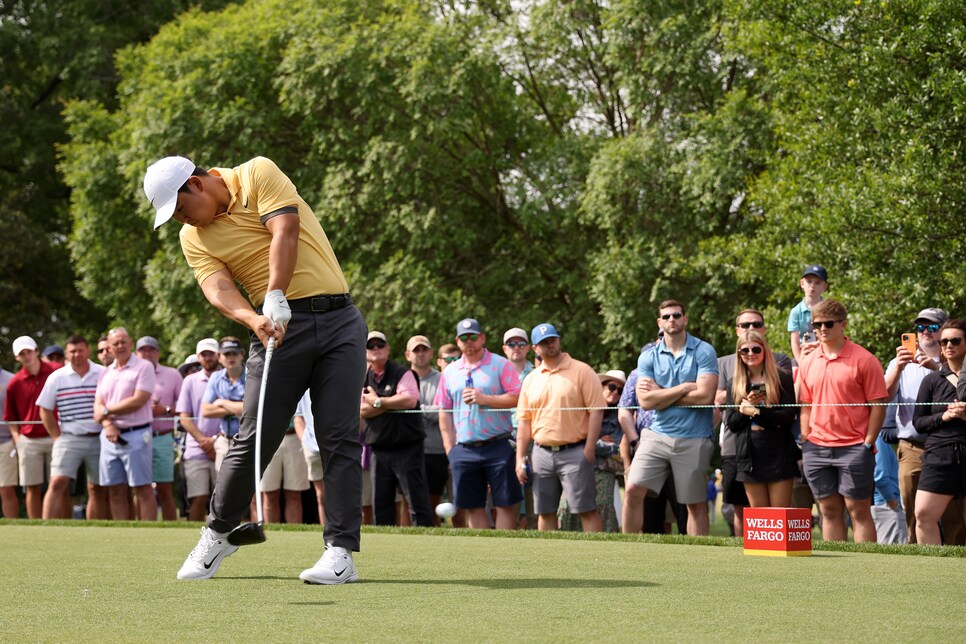 Despite the familiar surroundings, and all the fan support, certain things have changed for Kim. He's committed himself to getting stronger and is seeing significant speed and distance gains; for his approach into the ninth hole, what had been a 2-iron last fall was a 5-iron Friday from a similar tee. That increase in strength has led to some growing pains; he has only missed one cut in 2023 (Sony Open) but aside from a T-6 at the American Express, he's had a series of low finishes, though he put together a solid Sunday at Augusta to finish T-16. Still, he's feeling more comfortable with each successive week.
"Next week will be my first full year playing on the PGA tour," he said. "Last year, that's where I started. It's still so fresh to me, playing with these guys, learning from these guys, and it just feels like yesterday when I was watching them on TV or YouTube. Now I feel like when I play with them, I can compete out here. I can put on a good score and I can beat these guys. That's the biggest thing."
Even amid his rough back nine Friday, the North Carolina fans got to experience a moment that might have reminded them of his theatrics from the fall. After pushing his drive into the water on the par-5 seventh, Kim blasted his next shot into the intermediate rough, leaving himself a tough chip 46 feet from the hole. What happened next shouldn't be any surprise:
Amazingly, he almost did it again on the next hole. Tom Kim and North Carolina are a can't-miss combination, and even the mediocre rounds come with their fair share of thrills.