PGA Tour
'I would do some messed up things for pizza': Justin Thomas talks about his new healthy-living diet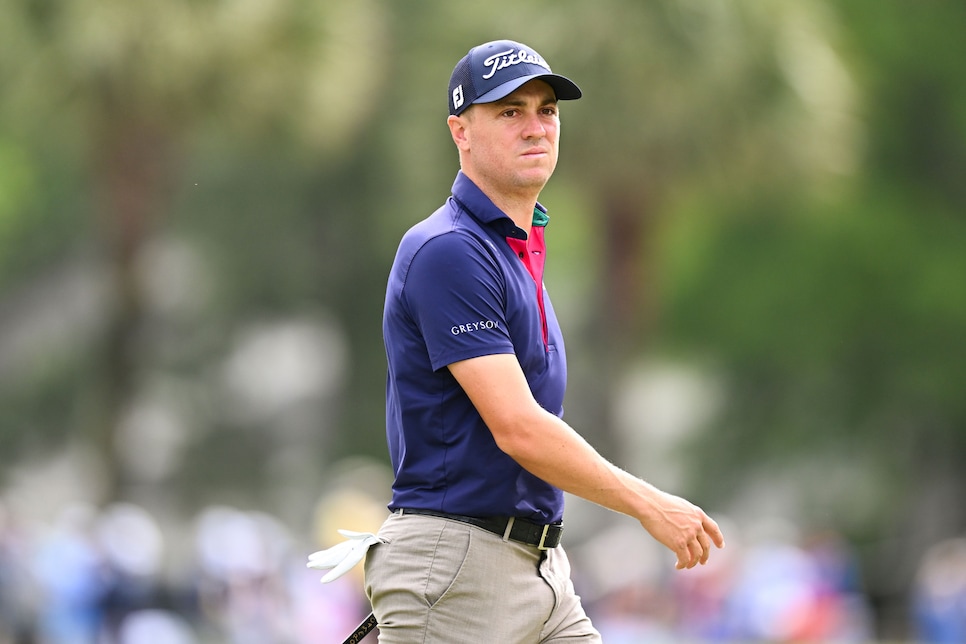 CHARLOTTE — If you've ever attempted a gluten-free, dairy-free diet even for a month, you probably have a sense of what Justin Thomas is going through right now. The difference for Thomas is that he's been doing it for three months, and on Tuesday at the Wells Fargo Championship, the way he spoke about pizza brought to mind a cartoon wolf with its tongue hanging out and an apron around his neck. Or perhaps Homer Simpson drooling while he dreams of a cold Duff beer.
Aside from a melanoma scare in 2019, Thomas had always been in relatively good health, which is what made it so scary for him last year when some combination of heat and illness laid him low week after week. One of the worst times, ironically, came at the start of the week in Tulsa, Okla., at the PGA Championship—a tournament he went on to win. It didn't stop there.
"Mexico was really hot and I'm sure I had something there that messed with my stomach anyway," he said, "but just super dehydrated and just felt off. And then again in Atlanta kind of to end the year, that Sunday when I got done, I got in the locker room and I just threw up everything I had eaten the entire day."
Every time he was exposed to heat, the same thing happened—he would finish the day incredibly fatigued and wake up with no energy the next morning. He decided he had to get it checked out and went to Dr. Ara Suppiah for blood work and advice. Based on his food sensitivities, Thomas opted to go a full year on a gluten-free diet, and six months with no dairy.
Now, three months into that journey (and just past celebrating his 30th birthday), Thomas feels more healthy and more energetic, and believes his movement has improved. That doesn't mean he's escaped the cravings. "I want a pizza like you cannot imagine," he said. "Like, I would do some really messed up things for a pizza just doused in ranch."
(Inevitably, he will be attacked for the ranch dressing part of that statement, even though he's completely correct.)
Unclear is whether it's translated into helping his game at all. During the 2022-23 season he's missed just one cut in 10 starts (the Masters), but also only had two top-10 finishes and currently sits a surprisingly low 71st on the FedEx Cup points list. Thomas believe good results are close at hand, and that what he's lacking at this point is mostly momentum and a couple good breaks; he brought up Jon Rahm, who was having a disappointing stretch by his standards before he caught fire in 2022.
Back to the diet: When asked if he's found any new foods he liked, his expression made it immediately clear that nothing can make up for what he's lost. "Sometimes I'll just suck in and get a nice breath of fresh air," he joked.
The services of chef Michael Parker have made things easier for him, though he still finds it difficult on the road or vacation. "I have to be that guy that tells the waitress or waiter what's going on," he said.
These days, Thomas eats a lot of steak, chicken, fish, rice, vegetables and salad. At his upcoming Champions Dinner at the PGA at Oak Hill, he will have separate options to suit his diet. He's going to go the full six months before any retesting is done, but his sacrifice has almost forced him to be hopeful.
"Obviously I'm hoping it works because it sucks not being able to eat anything good," he said. "But if I don't try it, I won't know if it works, you know what I'm saying?"