PGA Tour
Joe LaCava, Tiger Woods' longtime caddie, set to work full-time for Patrick Cantlay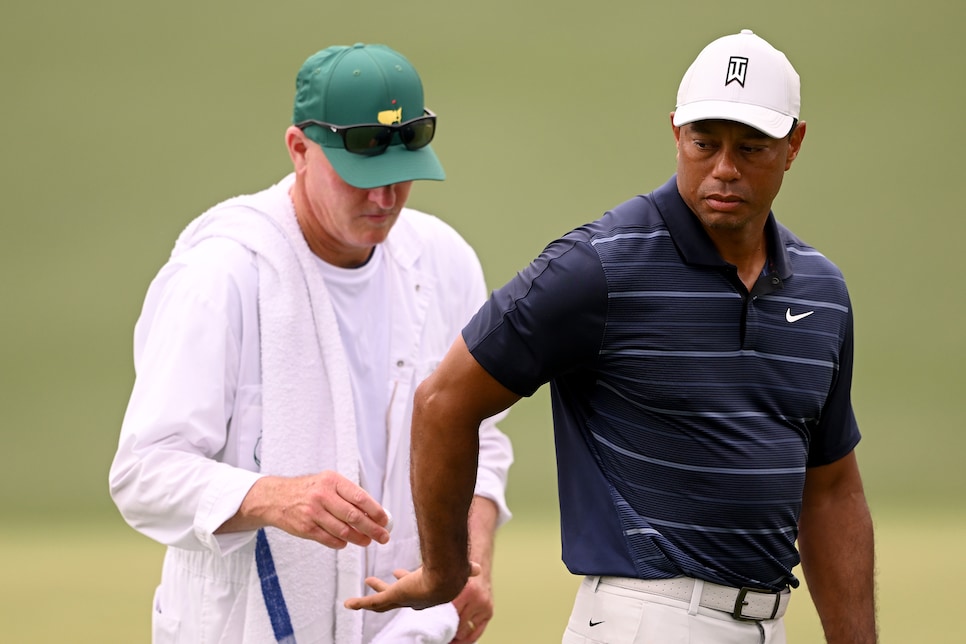 With another surgery sidelining Tiger Woods for the foreseeable future, his longtime caddie Joe LaCava has made a move that will keep him employed for the foreseeable future.
At the Zurich Classic of New Orleans just two weeks ago, LaCava looped for Steve Stricker, a good buddy of Woods' who LaCava jumped at the opportunity to caddie for. Apparently, though, LaCava was angling for something a little more permanent, and he's found exactly that in one of the best players in the world, Patrick Cantlay.
The news was first reported on Tuesday by Golf Channel's Todd Lewis, who snapped a photo of LaCava at the range alongside Cantlay at the Wells Fargo Championship. LaCava has caddied for other players during his tenure on Woods' bag before—including Cantlay, who used him at the 2021 Northern Trust—a necessity given how infrequently Woods plays even when healthy. But he's always still gone back to Woods whenever the 15-time major champion tees it up.
That does not appear to be the case this time, with Lewis reporting this is a "permanent" move and not a one off at Quail Hollow:
LaCava confirmed that he'll be working full-time for Cantlay. "Tiger and I have talked about if something were to come up, feel free to do something. 'I know how much you miss it, how much you love caddieing,' " LaCava told Sports Illustrated on Tuesday. "And when this opportunity arose, I checked with Tiger. And he said you're crazy not to take the job, go forward, go win some tournaments, go have a great time."
This news comes just 12 days after Woods announced that he underwent a subtalar fusion procedure to address post-traumatic arthritis from the injuries to his right foot suffered in a car accident two years ago. That all but ended his 2023 season before it even really got started (Woods competed in just two events, the Genesis Invitational and the Masters), with one doctor stating he could be anywhere from six months to a year away from actually teeing it up again.
"Joe called Tiger to ask him and get his approval," Mark Steinberg, Woods' agent, told ESPN. "Of course, Tiger gave it. Tiger and Joe are like brothers, tremendous friends. You shouldn't read anything more in to that other than Joe wants to caddie. He loves it. It's his passion. He's great at it and one of the best.
"Tiger said repeatedly he's going to play a very limited schedule around the majors, his events, the father-son, assuming that everything goes well in the rehab and recovery," Steinberg said. "Joe wants to work, and so I think Tiger got that. We're just moving on."
LaCava, 59, first started caddieing for Woods in 2011 after stints with various tour pros, most notably Fred Couples and Dustin Johnson. With LaCava on the bag, Woods won 12 tournaments overall, including his 15th major championship, the 2019 Masters. LaCava also caddied for Woods when he won his last PGA Tour event, the 2019 Zozo Championship, which tied Tiger with Sam Snead for the most career PGA Tour titles at 82.
No doubt, getting on the bag of Cantlay, the No. 4-ranked player in the world, was an offer LaCava couldn't pass up. Unfortunately, this does mean that Matt Minister, Cantlay's longtime caddie, is now out of a job. (A source tells Golf Digest that Cantlay let Minister go after the Zurich Classic of New Orleans.) Considering his résumé, which includes working with Nick Price, Jeff Sluman, Chris Kirk and Sangmoon Bae, he should be able to get on to another bag soon.