Viral Videos
Tony Romo gets roasted for slow play, fails to advance at U.S. Open local qualifier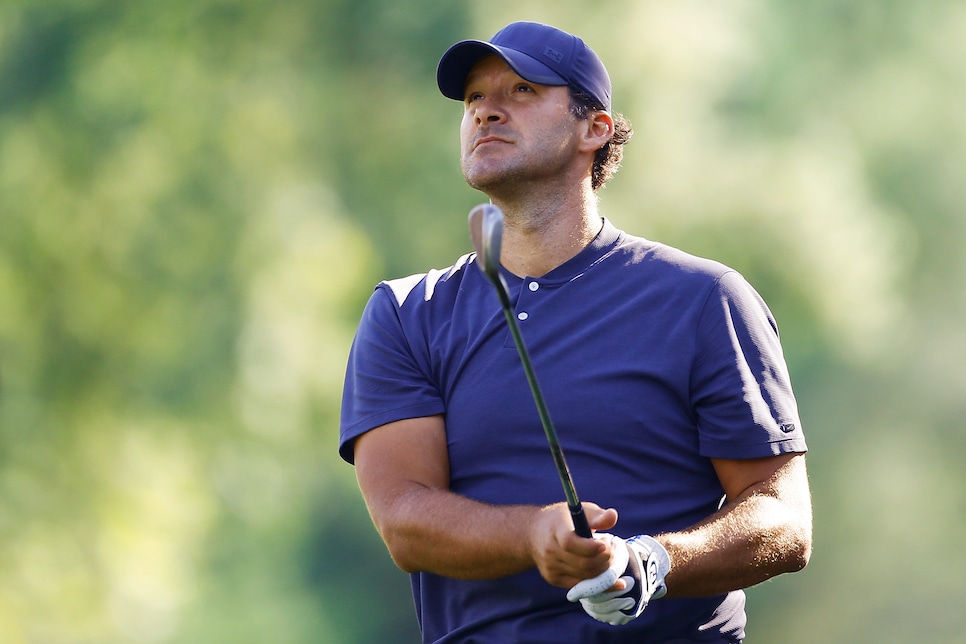 Tony Romo is certainly no stranger to hearing criticism. That's just part of the gig when you're the quarterback of AMERICA's TEAM or you're an announcer for the most-watched football games in the country. But now the former Cowboy has a different digital posse after him: Golf Twitter.
On Wednesday, the noted celebrity golfer Romo failed to advance from a U.S. Open local qualifier in Odessa, Texas, but that's not why he became a Twitter target. Instead, it's for a video of his opening tee shot at the event. A tee shot that took, well, a bit of time to actually happen.
Check it out as Romo gets announced on the first tee. He quickly walks onto the box, but then uses a rangefinder and confers with his caddie. This despite the fact it's a par 5 and he's hitting driver. And we're guessing he had some sort of plan of attack for the first hole before he got to the tee box. From there, the rest of his pre-shot routine doesn't actually take that long, but nearly a full minute passes from the time he's announced to the time he finally pulls the trigger:
There were times it felt like Romo had an eternity in the pocket with some of those great Cowboy offensive lines, but nothing like that. And not surprisingly—especially with slow play being a HOT topic again these days—there were plenty of takes:
"Tony SLO-mo"! Sorry, Tony, but that's amazing. Golf Twitter doesn't hold back.
As for the golf itself, Romo got off to a quick two-under start through three holes, but wound up shooting a one-over-par 73 to miss advancing to sectional qualifying by four shots. Texas Tech's Ludvig Aberg, the world's top-ranked amateur golfer, was medalist with a 67. According to GolfChannel.com, it was Romo's first attempt at qualifying in two years.
Despite more than a decade of attempts, the avid golfer has only made it past local qualifying (which is no small feat, mind you) one time in 2010. And this year he came in off a come-from-behind win in the celebrity division of the PGA Tour Champions' Invited Celebrity Classic.
Romo is also the reigning champ—and a three-time winner—at the American Century Championship at Lake Tahoe. So the guy is still the current King of the celebrity golf circuit, but he's just also the latest high-profile golfer to get knocked for slow play. And Patrick Cantlay might want to toss the former QB a thank-you note for that.