Jim Nantz: Tony Romo's golf pursuit is more than a novelty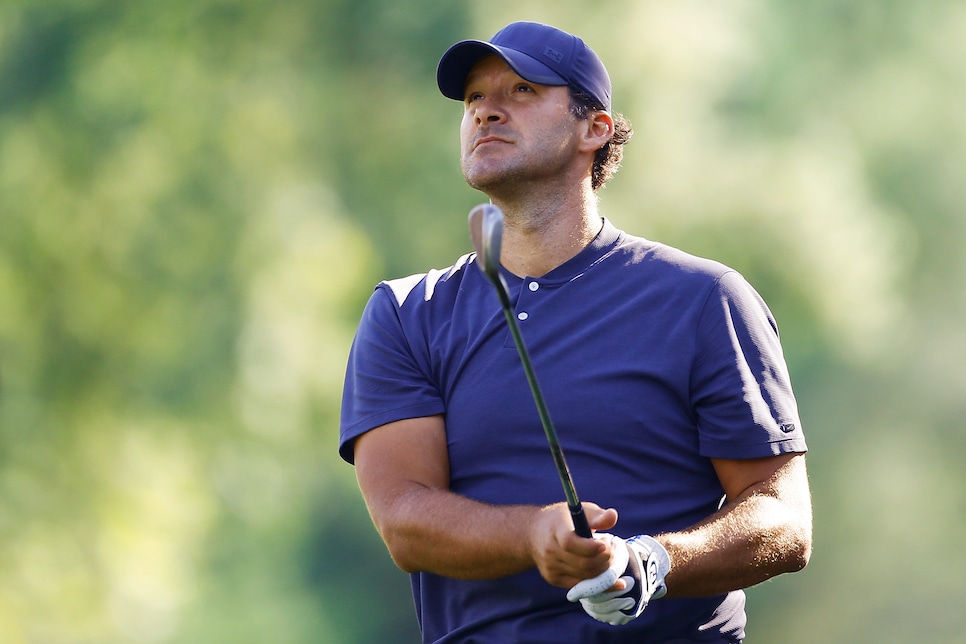 The par-5 eighth hole at famed Bel-Air Country Club in Los Angeles is the scene of some of the more bizarre, albeit trivial, moments in history. It was there that Howard Hughes, a 2-handicapper, landed his single-engine plane in the middle of the fairway, exited and joined the woman he hoped to court—Katharine Hepburn—for a few holes. Club officials, needless to say, were not amused.
The eighth also is where Barron Hilton, playing with his friend Alex Spanos in 1981, mentioned on the tee that he was interested in selling the last portion of his professional football team, the San Diego Chargers. By the time they walked off the green 15 minutes later, the two had a handshake deal that led the way for the Spanos family to one day take over the franchise.
Then there's my experience at the eighth, which frequently comes to mind on fall Sunday afternoons when I walk into the CBS broadcast booth to call NFL games. In 2014, I was playing Bel-Air with renowned broadcaster and my treasured friend Al Michaels. As we stood on top of the hill where Hughes had landed his plane, Al asked innocuously, "What active NFL player do you believe will be a great television analyst? Because there is one." I couldn't resist surprising him with my answer, "I've got one, too, and you will never guess my guy. But you first."
"No," Al said. "I wanna hear yours."
Al shook his head in disbelief, "That's the guy!"
These days it's clear that our instincts were spot on. We both had recognized that Tony has a rare gift for explaining football with a magnetism and energy that few have possessed. He joined CBS in 2017 and has since provided me with the most enjoyable TV football experiences of my 35-year career.
What Tony has done in the booth is far more complicated than it looks. It's kind of like another game we know that talented people have a knack for simplifying, but which is massively difficult. I'm talking about golf, which I dare say is a bigger passion for Tony than football. In fact, in late September he almost missed his broadcast "tee time" for the Minnesota-Chicago game. For the fourth time in two years, Tony had been given a sponsor's exemption into a PGA Tour event—in this case, the Safeway Open in Napa. CBS granted him permission to play in the tournament with contingency plans in place had he made the cut. His opening-round two-under-par 70 opened a lot of eyes. After the first 18, he was one better than the likes of Justin Thomas and Jim Furyk, two clear of Hideki Matsuyama, and five shots lower than Phil Mickelson. Tony was tied for 28th in a field that had many big names. Although he missed the cut the next day, the message had been sent: Tony is no longer a novelty act in golf. By the way, he made it to Chicago in plenty of time for the Sunday show.
Tony's love affair with the game began on Christmas morning, 1988. Santa left a starter set of clubs at the Burlington, Wis., home of Joan and Ramiro Romo. Their 8-year-old son ran outside to take a swing in the snow, his first shot breaking a neighbor's window. Ever since, Tony has been shattering expectations.
You might recall that final round at the AT&T Pebble Beach Pro-Am in 2012 when Phil shot 64 to overtake Tiger. Tony played in Phil's group that day—as Tiger's partner. It was the first time the nation realized he had serious game. Since then he's won the Lake Tahoe celebrity event in back-to-back years and taken a smattering of amateur events. His love of the game and competitiveness comes, I believe, from Ramiro, a two-time winner of the Wisconsin State Senior Amateur.
Recently we were at Bel-Air and stood at the same spot where Al and I had discussed Tony years ago. I asked him, "What are your goals in the game?" With a wry smile, Tony replied, "To win four majors in a row." Then he turned serious. "Honestly, I want to be better each year than the last," he said. "That's my ultimate goal."
I'll go Tony one better: I wouldn't be surprised to see him make a cut on the PGA Tour in 2020. As we've all seen, he has a knack for making hard things look easy.