Fantasy Advice
Travelers Championship DFS picks 2022: Why this rising star is set up perfectly for his first win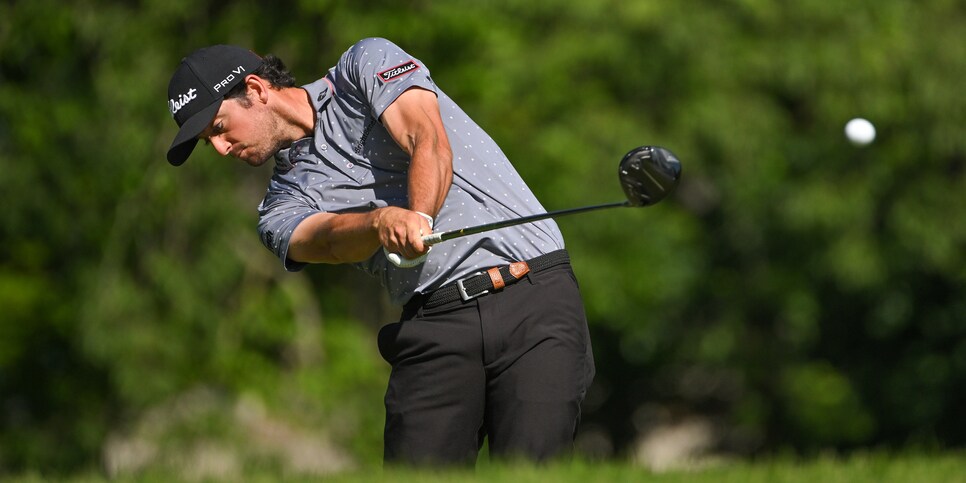 With the extended history at TPC River Highlands, having hosted the Travelers Championship every year since 1984, the data is very strong. The key stats model at RickRunGood.com gives a nod to strokes gained/off the tee as the most important stat this week, ranking in the top third of courses where the stat is as important.
It's the shortest par-70 layout on the PGA Tour schedule and the second-shortest course in general. Though distance is absolutely an advantage, players who favor accuracy can also contend on the 6,852-yard design, as we've seen with winners like Chez Reavie and Ken Duke, but we've also seen bombers like Dustin Johnson and Bubba Watson earn the title.
Here are my favorite plays and fades this week at the 2022 Travelers Championship.
Price range: $9,000 and above
High Upside: Joaquin Niemann ($9,600 DraftKings | $11,100 FanDuel)
The finish (T-47) for Niemann at the U.S. Open wasn't great but the advanced metrics were sublime. He gained 5.12 in the ball-striking categories (off-the-tee plus approach) but gave back 3.72 in the short-game categories. I'm optimistic he can figure out the putter considering he'd gained multiple strokes with the flatstick in four straight before Brookline. He's never missed a cut in three trips to Hartford with a T-5 in 2019 as his best finish.
Safest Option: Xander Schauffele ($10,000 DraftKings | $11,300 FanDuel)
It was clear that Schauffele didn't have his best stuff last week in Brookline. He didn't drive it well and was a bit more reliant on his short game than we normally see. He also spent a few nights after his round on the range looking for something … anything. Despite all that, he finished T-14 at the U.S. Open. That alone should illustrate his high floor.
Most Likely To Disappoint: Tony Finau ($9,500 DraftKings | $11,200 FanDuel)
Last week at the U.S. Open, Finau missed the cut on a course that should have really magnified his strengths. He struggled off-the-tee and gave strokes back to the field with his putter. That was a seriously disappointing result and now he has to go directly to TPC River Highlands, where he's missed the cut in three consecutive years.
Pick To Win: Scottie Scheffler ($11,200 DraftKings | $12,000 FanDuel)
It's been a historic season for Scheffler, who has already earned more money this season than any golfer in any PGA Tour season. He gained 9.21 strokes on approach last week, second to only Keegan Bradley, per the RickRunGood.com golf database. He gained another 4.39 strokes off-the-tee, fourth-best in the field. It's hard to describe how dialed-in he is at the moment, but he's most likely to be in contention on Sunday afternoon.
High Upside: Aaron Wise ($8,800 DraftKings | $10,400 FanDuel)
Wise has made tangible improvements to his game for the better part of a year. His tee-to-green game has always been sharp—ranking inside the top 25 this season. His putter has always held him back but now he's gained strokes with the flatstick in five his past six events.
Safest Option: Brian Harman ($8,600 DraftKings | $10,100 FanDuel)
TPC River Highlands is one of the shortest courses on the PGA Tour schedule, asking for precision rather than power. That should be music to the ears of Harman, who is 12th on tour in driving accuracy but 180th in driving distance. That blueprint has worked well for Harman in the past, nothing three top-eight finishes in his last four trips to Hartford.
Most Likely To Disappoint: Denny McCarthy ($8,300 DraftKings | $9,700 FanDuel)
McCarthy is coming off a magical week at Brookline—finishing T-7—his best-ever major finish. Now we're seeing a significant price increase, which is always scary, and heads to TPC River Highlands, where his best finish in the last four years is a T-47.
Pick To Win: Davis Riley ($8,900 DraftKings | $10,600 FanDuel)
Since the Zurich Classic, Riley has been one of the best players on tour and that is not an exaggeration. Per the RickRunGood.com golf database, he's gained 2.14 strokes per round over his last seven starts—which is an eye-popping number that is challenged by few of his peers. He gained 6.73 strokes on approach last week, which is becoming commonplace and will be very valuable around TPC River Highlands.
High Upside: Nick Hardy ($7,800 DraftKings | $8,300 FanDuel)
Hardy notched an impressive 14th-place finish last week at the U.S. Open and earned a T-35 the week prior in Canada. That shouldn't have been a big surprise considering he was victorious on the Korn Ferry Tour just a few weeks ago. He's confident and playing well, an excellent combination.
Safest Option: Joel Dahmen ($7,700 DraftKings | $9,800 FanDuel)
Dahmen led the U.S. Open on Friday night before falling to 10th. An impressive finish no matter how you slice it, considering he gained over 10 strokes via the ball-striking categories. Dahmen is one of the most accurate drivers on the tour, which should give him a chance to continue the great run here in Hartford.
Most Likely To Disappoint: Harris English ($7,600 DraftKings | $8,900 FanDuel)
We've had a few golfers successfully defend their title this year, but English would be a big surprise if he were to accomplish the feat. He's lost strokes to the field in nine consecutive events, which includes every start this season. He's battled injury, which is likely the reason for his poor play, so we will enter a "wait and see" approach on English.
Pick To Win: Cameron Davis ($7,500 DraftKings | $9,300 FanDuel)
Davis is known for his ability to hit it far, but he's actually been better on short courses during his career. He's able to "club down" and be more accurate off-the-tee—something that will be crucial this week. He earned a seventh-place finish at Colonial and a T-3 in Harbour Town, which should provide plenty of optimism.
High Upside: Lucas Glover ($6,800 DraftKings | $8,200 FanDuel)
Glover is playing well coming in and it couldn't come at a better time. With three straight weekends, including a T-23 at the PGA Championship, Glover heads to TPC River Highlands which should support his "accuracy over distance" style. He turned that blueprint into a T-20 here in 2020, his last trip to Hartford.
Safest Option: Adam Svensson ($6,800 DraftKings | $7,700 FanDuel)
Svensson plays out of the fairway more often than many of his peers, but he doesn't give up as much distance to them in the process. He's made four straight cuts with a T-21, his best finish in that stretch, coming in his most recent start.
Most Likely To Disappoint: Scott Stallings ($6,900 DraftKings | $8,500 FanDuel)
Stallings only has one gear—"bombs away!" He's the 10th least accurate driver of the ball of the 80-plus golfers in this price range. He has a few decent finishes like a T-4 at Colonial and T-25 at the AT&T Byron Nelson, but he has missed the cut in six of his last eight.
Pick To Win: Joseph Bramlett ($6,700 DraftKings | $8,400 FanDuel)
Speaking of bombers, Bramlett is certainly that. However, he's "much" more accurate than his long-hitting friends and Bramlett has been flashing some impressive metrics. He gained 13.1 strokes from tee-to-green last week, second-best to only Matt Fitzpatrick. He did give back 9.72 of those strokes with the putter, the worst putting performance of his career. I'm hoping he can keep up the great long-play and just putt to a zero this week.