The Grind
Tony Finau's special milestone, a celebration fail, and a sad, abrupt goodbye to a golf legend
Welcome to another edition of The Grind, where we really, really hope this prediction doesn't come true:
Sure, Twitter has its problems—and I'm certainly not paying Elon Musk $8 per month to keep my blue checkmark—but I'd be lying if I said it wasn't an important part of my life. And a vital part of this column for nearly 10(!) years now. I mean, where else would you find things like this viral video of the guy showing a girl his Costco card?
Just an amazing clip. Especially because he's only a Gold Star member. Not to brag, but I'm an Executive Member. Sure, it costs more, but if you go as much as I do, you make your money back and then some. Just saying. Anyway, I love Twitter—particularly Golf Twitter—and I hope it's not going away anytime soon. But in case it does, let's make the most of it and pepper the heck out of this column with tweets while we still can as we run through a surprisingly eventful week in November.
Tony Finau: Finau's inability to win tournaments was a hot topic on Golf Twitter for years, but now he can't seem to lose. A victory at the Cadence Bank Houston Open gave him three victories in his past seven starts.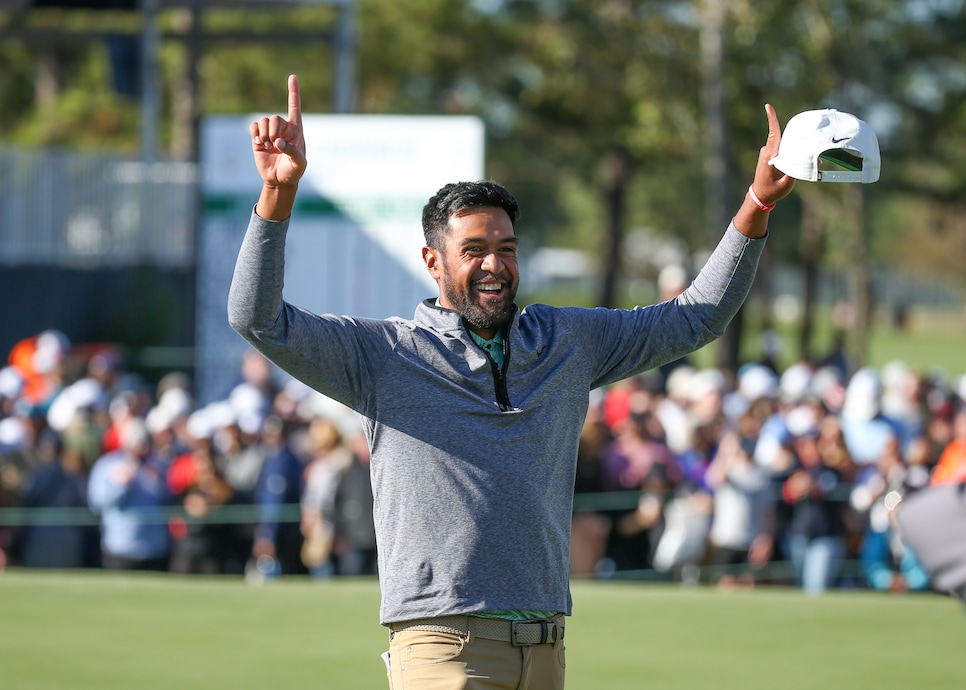 It could be pointed out that Tony didn't top the toughest field in Houston, but he also cruised to a four-shot win, grabbing an eight-shot lead at one point on Sunday. It was certainly the least I've ever sweated over a golf bet. I didn't even tune in to watch the final round. Thanks for taking care of business, Tony. And here's the obligatory Twitter clip to play anytime Tony does something good:
Finau suddenly has five career PGA Tour titles, or one for each of his kids. What a milestone! And that's a really good thing, because kids are really freaking expensive.
Nelly Korda: It was great seeing Korda win again on Sunday at the Pelican Women's Championship, where she grabbed her last LPGA victory a year ago, and move back to No. 1 in the Rolex Rankings. In February, a blood clot was discovered in Korda's left arm that forced her to miss four months. "There has been more downs than ups this year I think, and I think that that's what makes this so much sweeter to me," Korda said after beating Lexi Thompson by a shot.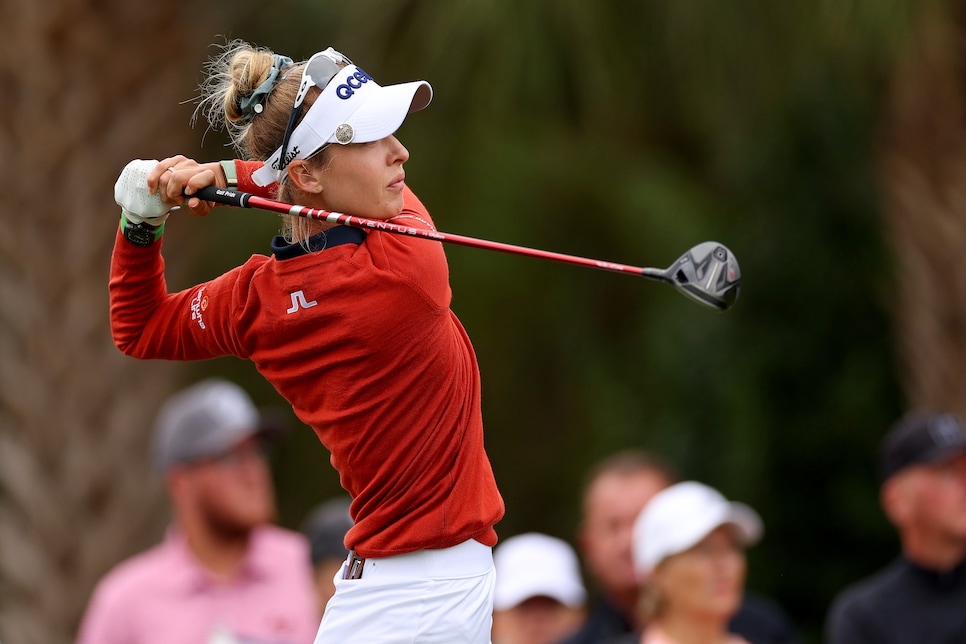 Korda can't win LPGA Player of the Year at this week's finale, but she's already wrapped up the unofficial Comeback of the Year honors.
Tommy Fleetwood: In what has to be one of the craziest title defenses ever, Fleetwood successfully went back-to-back at the Nedbank Golf Challenge three years after he won in 2019 due to COVID-19 cancellations. What made the situation even more unusual is that this was his first win anywhere since—which led to the tears flowing: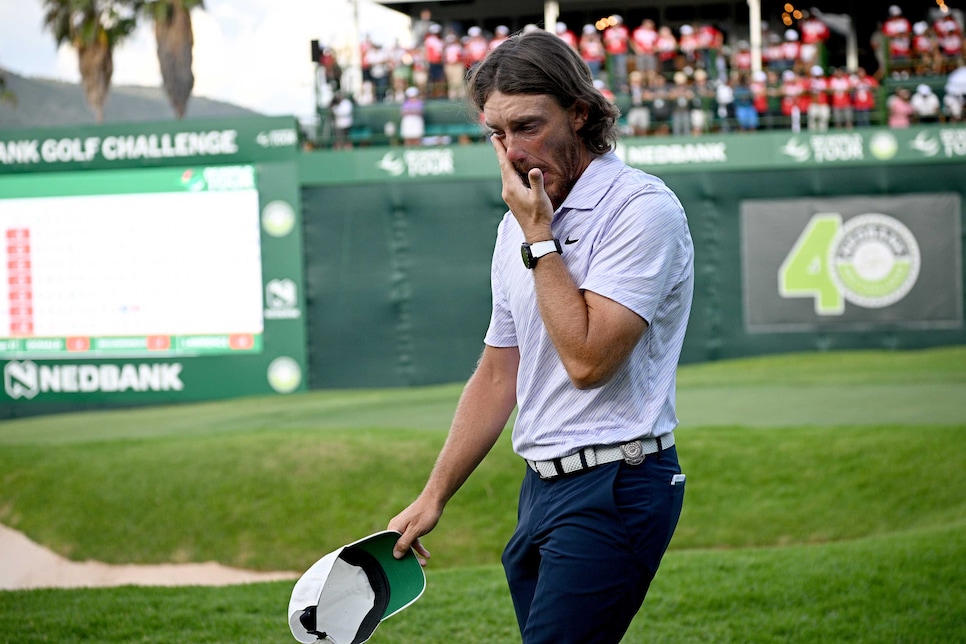 Speaking of flowing, it's hard to imagine a guy with that flowing golf swing—and that flowing hair—going three years without winning. We're guessing he won't have to wait nearly as long for his next victory. Although, he might need a haircut before then.
Steven Alker and Padraig Harrington: The PGA Tour Champions had it's Oprah "You get a car! And you get a car!" moment with both these guys claiming huge prizes on Sunday. Paddy won the season finale in dominant fashion and by setting several senior tour scoring records, while Alker's solo third was enough to give him the season-long Schwab Cup: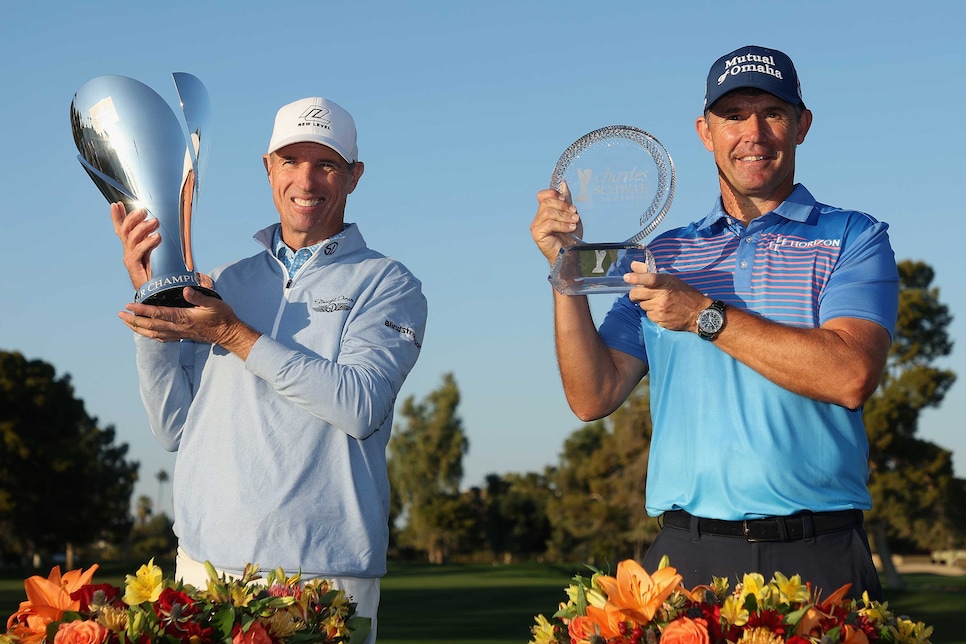 Both finished the season with four victories, but only one could claim that coveted cup. And as much as we love Paddy (have a listen to him on a recent episode of The Loop podcast), there is no better story in golf than Alker, who went from Monday qualifying at PGA Tour Champions events 15 months ago to being the King of the Old Guys.
Roger Maltbie: It's the end of the Roger Maltbie (and Gary Koch) Era for NBC Sports as the network announced the legendary on-course reporter and analyst won't be coming back next year. Although Maltbie, also a five-time PGA Tour winner by the way, has been hinting at walking away for years, this abrupt ending is still sad for golf fans. After all, there might not be a more unanimously beloved figure in golf. But I prefer to think of the good times we had, including a memorable day in 2015 when I got to ride around on the back of Rog's golf cart during the second round of the 2015 Players Championship.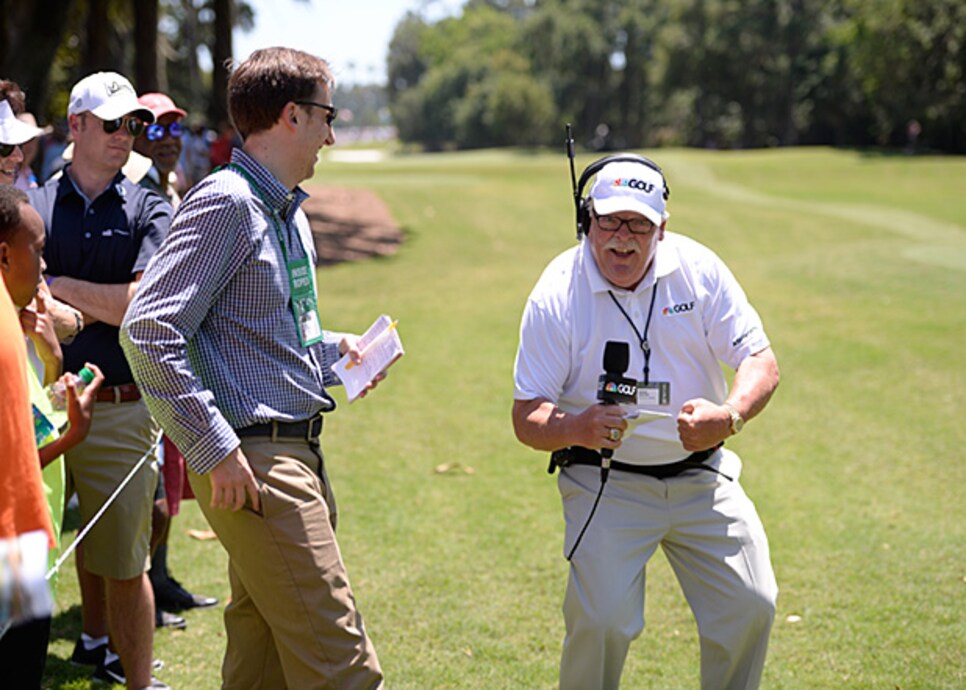 Enjoy retirement, Rog. And enjoy speaking in a normal volume again. After walking—and driving—all those miles, you deserve it.
Mark Hubbard's DQ: This is a wild one because we've seen other people get penalized for having 15 clubs in their bag, but it's usually a mistake. Instead, Hubbard decided he wanted to try out a different driver mid-round and thought he would only get hit with a two-stroke penalty for each offense. Whoops.
The DQ wasn't a huge deal; he wasn't going to make the cut anyway. And at least he got a couple game-time reps with that other driver.
The Schwab Cup: Not the season-long race on the PGA Tour Champions, but the trophy itself. It's a pretty looking thing, and it's certainly more of a cup than that CJ "Cup" trophy, but if you're going to hand out a cup, it needs to be an actual cup people can drink from. And as Steven Alker proved, it's not:
Say what you will about the FedEx Cup, but at least you can drink out of it. All Alker wanted to do was enjoy a celebratory beer from his fancy new trophy and instead he flooded the clubhouse with booze. Poor guy. And poor whoever had to clean up that mess.
The PGA Tour heads to Sea Island for the RSM Classic, AKA that one that prompts the Sea Island Mafia jokes and used to feature a capsized cargo ship as a backdrop. Meanwhile, the LPGA season wraps up with the CME Group Tour Championship. Thursday is also the date for Golf Digest's annual Seitz Cup, which pits young employees against old ones like myself (sigh), and will be held at Mountain Ridge Country Club for the first time. I've heard great things about the course, which is why I've agreed to play in such cold conditions.
Random tournament fact: Talor Gooch is the defending champion having won his lone PGA Tour title at Sea Island last year. For obvious reasons, the LIV antagonist won't be back to defend his title this year.
RANDOM PROP BETS OF THE WEEK
—Tony Finau will win again this week: 8-to-1 odds (Actual odds, favorite)
—Brian Harman will win this week: 18-to-1 odds (Actual odds, favorite among Sea Island Mafia members)
—Golf fans will miss Roger Maltbie next season: LOCK
We had a pretty neat moment on the Ladies European Tour as 16-year-old phenom Chiara Noja took down her idol, Charley Hull, in a playoff. Check out this photo of the two from a few years back:
Aww. You love to see it. Well, unless you're Charley Hull, maybe.
Padraig Harrington is such a class act that after asking some fans to shift over because they were casting shadows on the tee box, he went over and bought them beers.
THIS WEEK IN PUBLIC DISPLAYS OF
AFFECTION

OBSESSION
Shout-out to my guy Barry Gibbons, who has been reinstated as the record holder for most golf played in a calendar year. At least in my book even though the Guinness Book of World Records won't recognize him.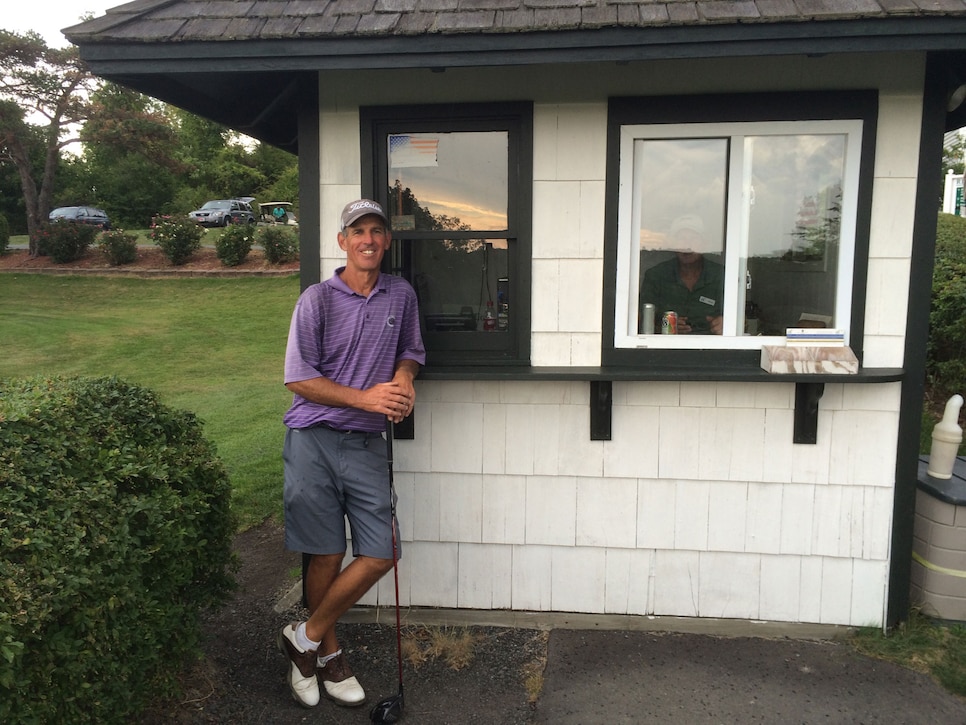 I played with Barry back in 2016 when he walked 878 rounds, but after hearing about Nolan Krentz setting the record for holes played last year, Barry confirmed he actually played 1,235(!) rounds or 22,230(!) holes in 2020. You won't be surprised to learn he's retired, and you may be surprised to learn he has a wife and four (adult) kids. And again, he walked and carried his bag for all of it. What a legend.
"When it comes to Phil, I have a different hate for Phil than most people," Pat Perez told Claude Harmon on the "Son of a Butch" (Great name!) podcast. "People won't know the story—I'm not going to go into the story again—but Phil crossed the line with me that is just uncrossable and unforgivable. He knows that he screwed up. He apologized for the action, but I cannot forgive him for it because I've known Phil for a long, long time. I've known the guy forever. And the fact that when he made this action, not only was it—he had intentions of doing it; he knew it was going to happen before it happened and when he did it—I was hurt, for one. I was like 'How can this guy do this?'" Wow. We used to ask, "What will Phil do next?" But now we're wondering, "What did Phil DO?!"
Ryo Ishikawa (remember him?) won on the Japan Golf Tour for the first time in three years and for the 18th time overall. The most amazing part? The dude is still only 31. … Andy Ogletree is only 24 and he's already suspended from the PGA Tour, but that didn't keep the 2019 U.S. Amateur champ from winning his first pro title on the Asian Tour. I don't care where you play, if you shoot a final-round 62 to win, that's impressive. … Speaking of the Asian Tour, if you don't do a "proper" rake job at this week's Asian Tour Q School, you will be fined $300! That's the cost of about six holes at TPC Sawgrass! … The PGA Tour's app and website are getting a complete overhaul ahead of 2023. This is great news, and it's about time. … And, finally, found a trampoline place closer to home that the kids like: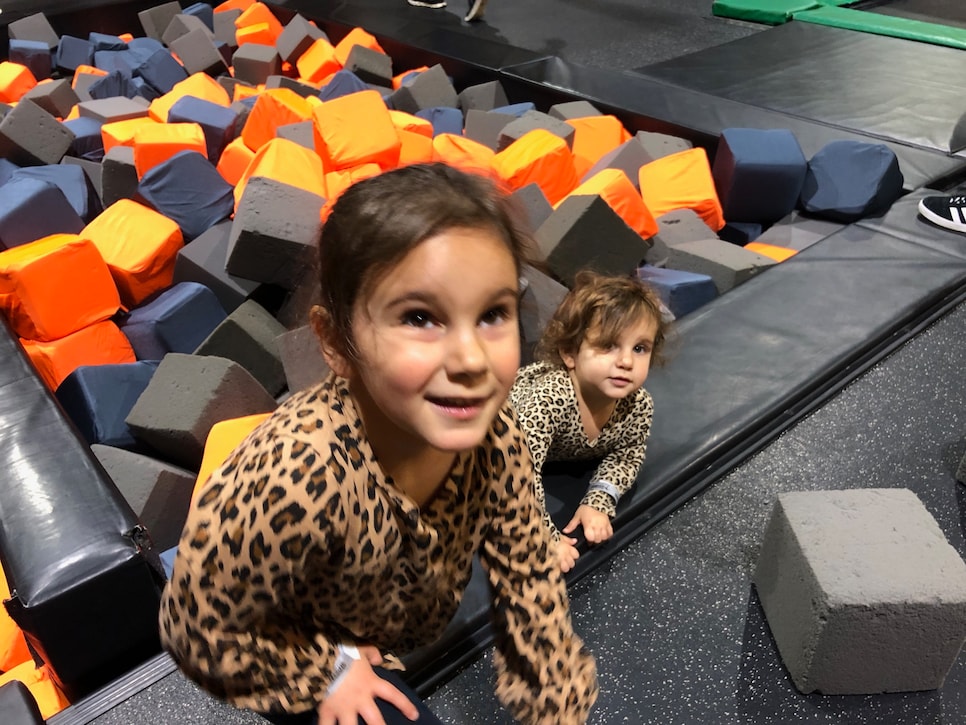 I'm also happy to report that I didn't suffer any season-ending golf injuries. For next season, that is. Phew.
RANDOM QUESTIONS TO PONDER
What's the most rounds of golf you've played in a year?
What the heck did Phil Mickelson do to Pat Perez?
What's going to happen to (Golf) Twitter?