Cadence Bank Houston Open
Tony Finau flips the script with his third title in 2022: Is there anything he can't win?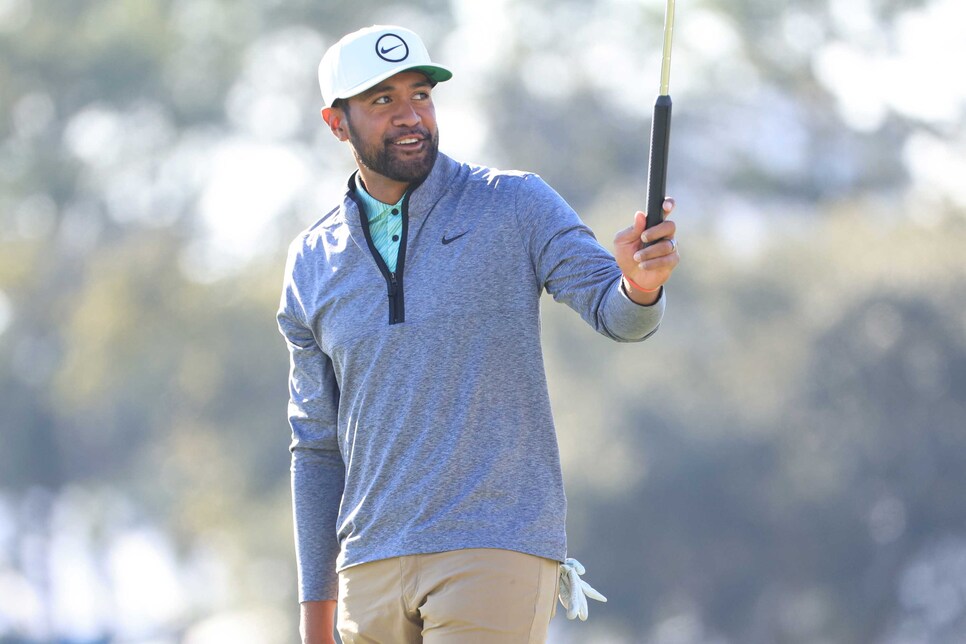 If Ben Taylor had a prayer of catching Tony Finau on Sunday at the Cadence Bank Houston Open, his rally from four shots back needed to happen early. Instead, Finau shot a 31 on the front, Taylor made nine straight pars, Justin Rose in a distant third fared even worse, and the symbolic entity known as "drama" was last seen floating out of sight on a raft somewhere in Galveston Bay, bound for the Gulf of Mexico.
You could almost skip the rest of the story, and if you're Finau, you might want to; the man who had made just three bogeys in his first 63 holes made three more on the final nine at Memorial Park Golf Course in a slightly shaky march to the finish. Didn't matter, his lead was so massive—eight shots at one point—that he still won by four, capturing his third title of the calendar year and inching ever closer to the world top 10 that he cracked just once, briefly, in late 2021. Nobody remembers if you stumble on a victory lap.
It wasn't long ago that the main narrative around Finau was whether he had a winning problem. After his first tour win at the Puerto Rico Open in 2016, Finau surprisingly fell into a long losing drought made remarkable by the fact that he seemed to contend at least once a month. Five years passed without a victory, and by February 2021, he had accumulated 36 top-10s since Puerto Rico. That sounds like a lot without any added details, but when you consider that the next-highest total among winless players was 16, it's almost too wild to process. (Two weeks after that article was written, he lost in a playoff at Riviera to Max Homa.)
The debate about whether the Utah native, considered by name the nicest guy on the PGA Tour, lacked nerve because he couldn't win or if he had a ton of nerve because successive failures never seemed to stop him from contending … well, that ended for good last fall, when he won the biggest event of his life at The Northern Trust, outlasting Hurricane Henri to defeat Jon Rahm in the FedEx Cup playoff event. After that, the floodgates were open, the monkey was off his back and insert your other favorite winning cliché here. He followed up that victory with triumphs at the 3M Open and Rocket Mortgage Classic in back-to-back weeks this July, and now this—the 2022 curtain call in Houston.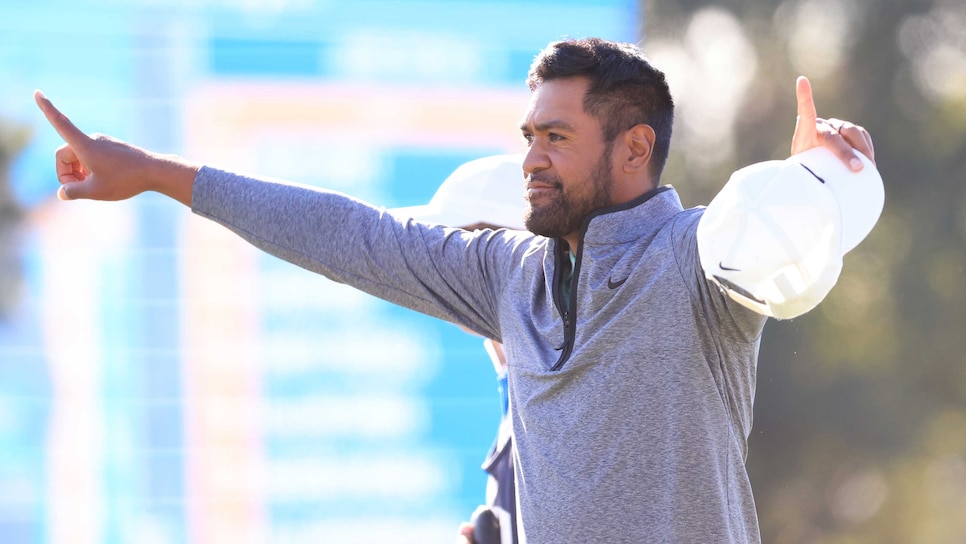 After going five-plus years between his first and second wins on the PGA Tour, Finau has now claimed four titles in 15 months.
Carmen Mandato
"I've always had belief, but the confidence when you win is contagious," he said after his win, trying to explain the 14-month tear that he called the most important stretch of his career. "I've just always been a hopeful person, and I work extremely hard on my body and my game. And now I'm starting to bear the fruits of that labor, of all that work. It feels amazing … I'm starting to put together a pretty full package game."
As far as that "full package" goes, the best way to sum up Finau's week is to look at the strokes-gained stats for the entire field. By those numbers, Finau was second off the tee (gaining more than four strokes on the field), second in putting (7.9 strokes) and ninth in approach (5.3). Yes, his 65-62 start was wildly impressive, especially on a course that didn't play that easy by tour standards—only three players reached double digits under par—but when it comes down to it, any time you finish as both the second-best driver and putter in a single tournament, you've got a great chance to win that tournament. (As if that wasn't impressive enough, he also led the field in driving accuracy and greens hit.)
Finau took a month and a half off after the Presidents Cup in September to recharge, then missed the cut last week in Mexico in his return to the tour. To go from that to a blowout victory was at least a little unexpected, but to hear Finau tell it, Sunday wasn't as easy as it looked from the outside.
"Honestly, on the first hole I didn't know if I had it in me today," he said. "It was one of those days where I just fought and fought and I made a lot of nice putts on the front nine to kind of calm into things. … I've never been in this position before, being in that big a lead with nine holes to play, so a lot of new nerves."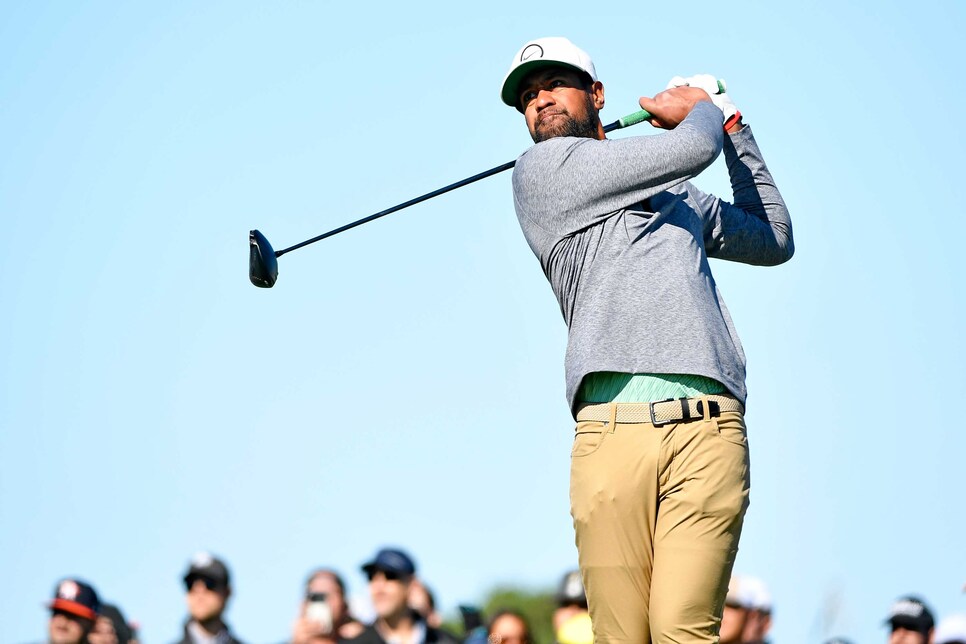 Tony Finau has always been long off the tee, but accuracy was big in Houston where he finished second in the field in fairways hit.
Logan Riely
That might explain the late hiccups, but you wouldn't have noticed any tension on the front, where he made his first birdie with a 15-footer on the par-3 second, had tap-ins for par on the next two holes, then stuck his approach to seven feet for another birdie on 5. He put the tournament away for good with back-to-back bombs to close out the front, burying a 39-footer on eight and a 19-footer on nine.
As the final holes played out, the real drama came in who would finish second, and that was settled decisively by Tyson Alexander with this massive putt on 18 that broke a tie with Ben Taylor at 11 under:
For the 34-year-old Alexander, it was his first top-25 finish on tour. The son of longtime University of Florida coach and former U.S. Amateur champion Buddy Alexander, Tyson earned his tour card for the first time off the Korn Ferry Tour this summer, and will earn a massive $915,000 for his troubles. That's around $168,000 more than he would have made had he not made the putt on 18. His Sunday 66 was the second-best round of the day (Sahith Theegala shot a 64), and it was by far the most lucrative day of his career.
"I wish Tony would have taken the week off," Alexander joked, "but yeah, you know, 132 players, I think one guy's going to beat me, so that's what it's all about. … I'm proud of the way I hung in there today. I was trying to hit the gas today, I wasn't trying to back up or hold on."
When the final group played 18, Taylor failed to catch Alexander, Rose made a birdie to sneak back into the top 10 after a rough day, and Finau marked his par putt from one inch so he could hit the winning stroke with all eyes on him. His wife and son greeted him on the green, and on the broadcast, you could hear him say, "How about that? Was that pretty good?" to his son.
It was more than just "pretty good," and Finau's fifth career win will start raising new questions about what he's capable of as he enters his mid-30s. Considering the quality of his game, his work ethic, and his newfound comfort with winning, the expectations must encompass the major championships. Little more than a year ago, some wondered if he could overcome the mental hurdles to win anything; now, the question is whether there's anything he can't win.