Payday in Houston
Here's the prize money payout for each golfer at the 2022 Cadence Bank Houston Open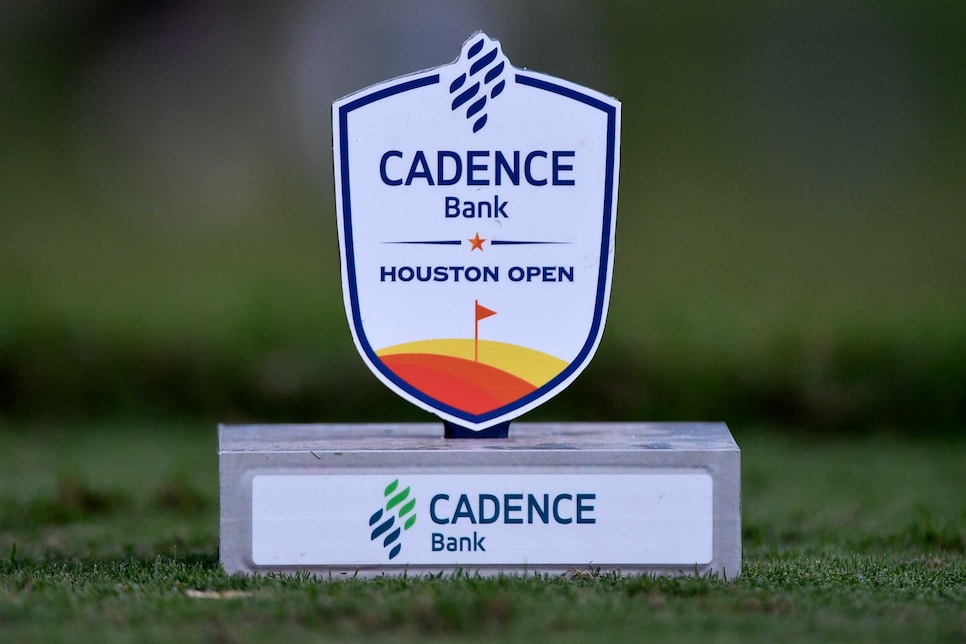 With back-to-back wins at the 3M Open and Rocket Mortgage Classic in July, Tony Finau had started re-writing the narrative about his PGA Tour career, unwinding some of the commentary about being unable to close out titles when he's got the chance.
On Sunday at the Cadence Bank Houston Open, the 33-year-old was busy doing more editing.
After starting the final round at Memorial Park Golf Course in Houston with a four-shot lead over Ben Taylor and seven shots clear of everybody else in the field, Finau stretched it to eight with four birdies on the front nine. It allowed him to make three bogeys on the back nine—his first three since Friday—and still cruise to a four-shot win over Tyson Alexander with a final-round 69.
Finau grabbed his fifth career title but won for just the second time in seven tries after taking the lead heading into the final 18 holes. Mind you, it wasn't as if he was stumbling all those Sundays; in June at the RBC Canadian Open, he shot a closing 64 but got passed by Rory McIlroy's 62. And a final-round 68 at the 2021 American Express was overshadowed by Si Woo Kim's 64. Finau's worst final-round score in those six starts was a two-over 72 at the 2018 U.S. Open, he ultimately finished runner-up three time and walked away no worse than in fifth place.
"Winning breeds confidence, but I think also you have to make it happen and I was able to make it happen a couple weeks in a row last year with the lead, and I'm sitting on another lead, sleeping on another lead tonight," Finau said on Saturday. "I'm looking forward to the challenge. It's going to be a challenge; it's not easy to win on the PGA Tour. As easy as some guys make it look, it's just not easy."
With the wire-to-wire victory, after missing the cut last week in Mexico while making his first start in the 2022-23 PGA Tour season, Finau secured the first-place prize money payout of $1.512 million from an overall purse of $8.4 million. This is now the ninth straight season that Finau has won more than $1 million on tour and he's now increased his career earnings to $33 million, jumping to 27th place on the tour's all-time money list.
Here's the prize money payout for each golfer who made the cut in Houston. Come back shortly after the end of the tournament and we'll update the list with individual names and specific payouts.
Win: Tony Finau, 264/-16, $1,512,000
2: Tyson Alexander, 268/-12, $915,600
3: Ben Taylor, 269/-11, $579,600
T-4: Trey Mullinax, 272/-8, $353,500
T-4: Alex Noren, 272/-8, $353,500
T-4: Alex Smalley, 272/-8, $353,500
T-7: Adam Hadwin, 273/-7, $273,000
T-7: Aaron Rai, 273/-7, $273,000
T-9: Joseph Bramlett, 274/-6, $196,500
T-9: Joel Dahmen, 274/-6, $196,500
T-9: Stephan Jaeger, 274/-6, $196,500
T-9: Keith Mitchell, 274/-6, $196,500
T-9: Justin Rose, 274/-6, $196,500
T-9: Scottie Scheffler, 274/-6, $196,500
T-9: Gary Woodland, 274/-6, $196,500
T-16: Wyndham Clark, 275/-5, $123,900
T-16: Jason Day, 275/-5, $123,900
T-16: Ben Griffin, 275/-5, $123,900
T-16: Mackenzie Hughes, 275/-5, $123,900
T-16: Scott Piercy, 275/-5, $123,900
T-16: Patrick Rodgers, 275/-5, $123,900
T-22: Martin Laird, 276/-4, $84,420
T-22: David Lipsky, 276/-4, $84,420
T-22: Sahith Theegala, 276/-4, $84,420
T-22: Aaron Wise, 276/-4, $84,420
26: Callum Tarren, 277/-3, $67,620
T-27: Ryan Armour, 278/-2, $56,332.50
T-27: Austin Cook, 278/-2, $56,332.50
T-27: James Hahn, 278/-2, $56,332.50
T-27: Cole Hammer, 278/-2, $56,332.50
T-27: Russell Knox, 278/-2, $56,332.50
T-27: Maverick McNealy, 278/-2, $56,332.50
T-27: Davis Riley, 278/-2, $56,332.50
T-27: Kyle Westmoreland, 278/-2, $56,332.50
T-35: Eric Cole, 279/-1, $42,735
T-35: Si Woo Kim, 279/-1, $42,735
T-35: Andrew Putnam, 279/-1, $42,735
T-35: Carl Yuan, 279/-1, $42,735
T-39: Harris English, 280/E, $36,540
T-39: Harry Hall, 280/E, $36,540
T-39: Adam Svensson, 280/E, $36,540
T-39: Travis Vick, 280/E, Amateur
T-43: Erik Barnes, 281/+1, $30,660
T-43: Will Gordon, 281/+1, $30,660
T-43: Davis Thompson, 281/+1, $30,660
T-43: Kevin Tway, 281/+1, $30,660
T-47: Zack Fischer, 282/+2, $23,704.80
T-47: Michael Kim, 282/+2, $23,704.80
T-47: S.H. Kim, 282/+2, $23,704.80
T-47: Francesco Molinari, 282/+2, $23,704.80
T-47: Justin Suh, 282/+2, $23,704.80
52: Robby Shelton, 283/+3, $21,084
T-53: Byeong Hun An, 284/+4, $20,118
T-53: Denny McCarthy, 284/+4, $20,118
T-53: Matthew NeSmith, 284/+4, $20,118
T-53: Nick Watney, 284/+4, $20,118
T-57: Stewart Cink, 285/+5, $19,236
T-57: Zach Johnson, 285/+5, $19,236
T-57: Luke List, 285/+5, $19,236
T-57: Taylor Montgomery, 285/+5, $19,236
T-57: Sam Stevens, 285/+5, $19,236
T-62: Paul Haley II, 286/+6, $18,648
T-62: Brandon Wu, 286/+6, $18,648
T-64: Seung-Yul Noh, 287/+7, $18,312
T-64: Matthias Schwab, 287/+7, $18,312
66: Taylor Pendrith, 288/+8, $18,060
67: Max McGreevy, 291/+11, $17,892
68: Zecheng Dou, 293/+13, $17,724