Voices
The strange, repeating case of Tony Finau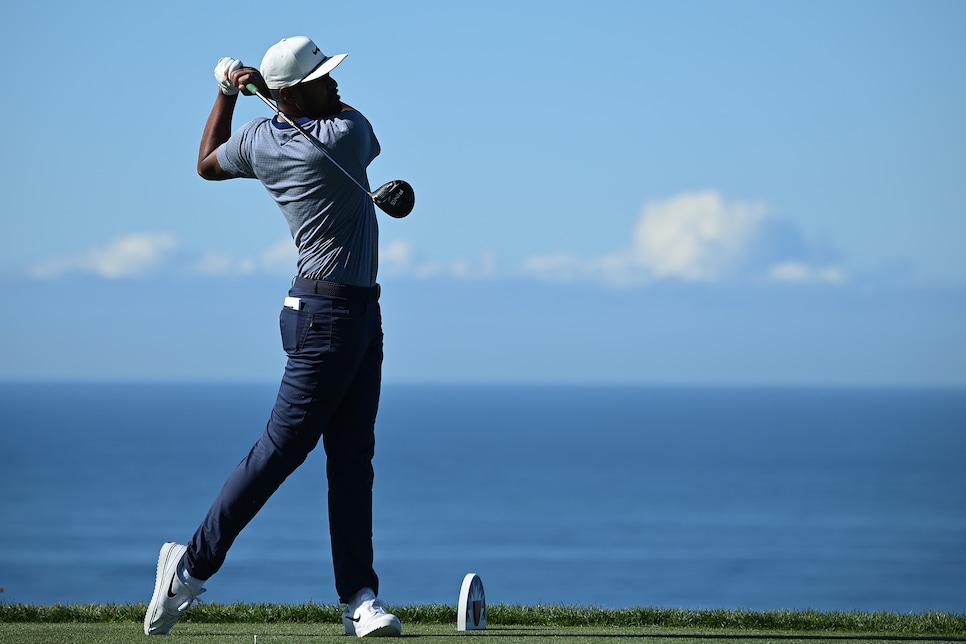 If you knew nothing about golf but a little something about math, and someone came to you with a printed stack of advanced stats—strokes gained, especially—it would be simple to identify the good players, and even simpler to identify the great ones. At some point, you would come across Tony Finau's stats, and you'd conclude that if he wasn't undeniably great, he was at least on the threshold. Year after year, he's among the best in his sport, routinely securing top-10 finishes and putting himself in position to win.
But there's the rub—that thorny word, "win." What the stats wouldn't show you is the increasingly obvious mental block that is keeping one of the game's best players from the winner's circle. It's no secret, least of all to Finau himself, who is repeatedly asked about the drought each time he finds himself in contention, which is a lot.
"Yeah, thanks," he said last year before the PGA Championship, in response to the latest salvo. "I think there has been a little talk about that and my ability to finish, and it's definitely not anything I shy away from. My coach and I have done our homework on my finishes, and I've actually got a great record on Sunday. It seems to be one guy always plays better than I do. That's the luck of the draw, it's been up to this point in my career."
The most recent "true" near miss (he had another runner-up finish last week at Torrey Pines, but there was never a point where you felt like the tournament was his to take) came two weekends ago at The American Express. In the California desert he had a share of the lead after finishing play on Saturday and in his post-round press conference was asked seven questions about his inability to win, including "How much do you sort of get tired of us asking about when the next win is going to be?" Then Sunday came, and as usual, he did not win. He finished solo fourth with a final-round 68 while winner Si Woo Kim shot a 64.
Which brings us to this week's Saudi International, where once again Finau is in the mix entering the final round, just three back of leader Dustin Johnson in a tie for third place. It's a European Tour event, so Finau can't influence his PGA Tour streak, but pulling out a win would be a confidence-changing experience regardless of where it comes.
Finau is, no doubt, a victim of his own success; if somebody emerged from the depths of the any tour event to contend on a given week and then flamed out on Sunday, we wouldn't really bat an eye. But when someone is there all the time, that's a story.
The remarkable number here is 36. That's the number of top-10 finishes on the PGA Tour that Finau has accumulated since his lone win—the 2016 Puerto Rico Open—without sealing the deal. If that sounds like a lot, consider the fact that the next-highest total among any player who hasn't won is 16. He's doubling that, and it's reached the point that his failure to close can't be anything but a capital-N Narrative.
On the surface, it would be easy to take Finau at his word that he's not playing that poorly on Sundays, and he is the victim of a little bad luck and the fact that it's just really difficult to win. The problem comes when you look at final-round averages. Last year, Finau finished T-129 in that metric on the PGA Tour among his fellow pros, compared to seventh, T-24 and 17th in the first three rounds. No matter how you spin it, that's a significant drop, and the kind of performance lag that's going to produce the exact résumé he currently holds. It's not an isolated incident, either. In 2019, you see the same exact story, ranking T-102 in final-round average compared to ranking T-19, T-46 and T-16 in the first three rounds.
If you needed more evidence beyond the eye test, there's confirmation of a measurable problem that transcends luck. And truth be told, while some of the near-misses have featured decent play on Sunday, some haven't, like his final-round 78 at the Memorial in July. After that disaster, he fired his caddie Greg Bodine, and though Finau was very tight-lipped on his reasons—"on a business level I felt it was time for a change in my situation"—the timing made it seem that the stress of failing to win played a prominent role in the dismissal.
We'll probably never have any idea why Finau struggles to win, because psychology is tricky and, who knows, Finau himself may have no idea. At this point, though, it's fair to speculate about Finau's response to the central issue of his career. On one hand, you see his quotes about bad luck and the firing of his caddie and wonder if there's a certain amount of denial happening here, and if that denial might be keeping him from some kind of breakthrough. On the other, blaming outside elements is a common defense mechanism among professionals and likely a necessary one—in a game as tenuous as golf, it can be critical to use any tactic at your disposal to maintain confidence, including deflecting blame to outside causes. This is something even the very best golfers do, and in Finau's case, looking at luck or a caddie might be preferable to reckoning with some unflattering truths that would only make things worse.
If you're starting to get the sense that this is a conundrum with no easy answers, well, bingo. Golf is a sport where pressure affects different people in different ways, and Finau is obviously not the first player to struggle at the top of the leader board. That said, I'm not sure we've ever seen someone quite like him in terms of the pure, relentless quantity of his chances. Week after week, he's right in the mix, and week after week he fails to win. You could even frame the problem differently, and say that on Thursday through Saturday, he's actually fantastic at handling the innate pressure of competing against the world's best. If he's prone to a dip when the nerves hit, well, there are nerves every day when you're on the PGA Tour and fighting for your professional life, and it may be the case that he's mastered them in most situations but can't quite conquer the added demons of Sunday. From that angle, you might call Finau exceptionally resilient for the way he struggles against and mostly overcomes a mental block beyond his control. Or—get ready for another caveat—maybe that's just being an apologist.
As to the question of what comes next, a couple things are likely to be true. First, he's going to win again. He's simply too good and too consistent to be kept out forever. Second, patterns exist for a reason, they're hard to change, and it's likely that Finau will have to deal with some level of struggle on the verge of winning for most of his career. Whether he masters that struggle, it masters him or he persists in the fight with mixed results, his case is simultaneously fascinating and frustrating to watch from week to week—a bright, glaring question, asked over and over in a thousand different ways, with an answer that is impossible, for now, to grasp.