Voices
For Tony Finau, when does 'another near miss' become too big a burden to overcome?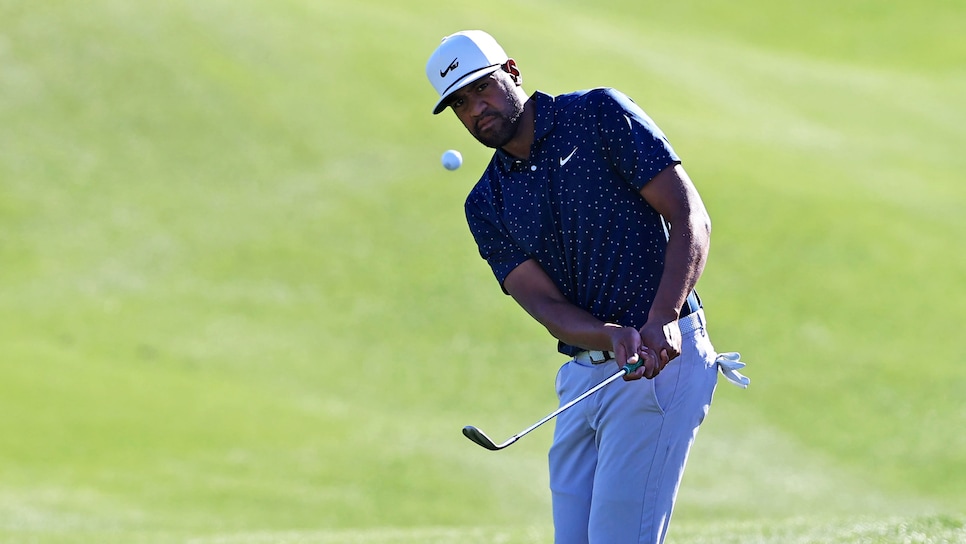 Because of his penchant for coming in second repeatedly early in his PGA Tour career, the late Payne Stewart earned the nickname "Avis," a reference to the successful ad campaign that the No. 2 rental-car company once embraced in its battle with industry leader Hertz.
Watching Tony Finau, the gentlemanly and naturally gifted American golfer, fall far short in his quest for a second PGA Tour title on Sunday at The American Express conjured memories of Stewart, who eventually deciphered the conundrum of tournament golf and won three major titles, including two U.S. Opens. Holding a share of the 54-hole lead, Finau played relatively well and finished relatively high—a circumstance of which he has become relatively familiar.
With a final-round four-under 68 on the Stadium Course at PGA West, Finau ended up fourth, four strokes behind South Korea's Si Woo Kim. Since the 2016-17 season, Finau has posted 35 top-10 finishes without a victory, more than twice the number that the next closest golfer, Tommy Fleetwood, owns in the same period. Six of those have been runner-up finishes, but we can't call Finau "Avis." Considering that he has earned $17.7 million in that stretch, "Dollar" seems like a strong alternative.
Ranked 22nd in the world, Finau hasn't been able to find a dance partner for his victory in the 2016 Puerto Rico Open, a tournament held opposite a World Golf Championships event. He certainly had his chances in the La Quinta, Calif., desert. After holding a share of the 54-hole lead, he opened with a pair of birdies to take a two-stroke lead. Later, thanks to a birdie on the 10th hole, he forged a tie at the top with Kim, Patrick Cantlay and Cameron Davis.
Up next, the 600-yard par-5 11th hole, which he began with a 333-yard drive. Going for the green in two, Finau then hooked a fairway metal into the water and compounded the mess by missing a three-footer for par. "That was a tough pill to swallow at the time because I just never thought I was going to walk away with 6 there," said Finau, who has yet to convert a 54-hole lead in four tries. "But as I know in this game, golf goes on, life goes on. After that hole, I got to keep playing and keep pushing, keep trying to make birdies coming in."
But three holes later, his hopes ended when he nuked a wedge from 65 yards over the green and failed to get up and down on the par-4 14th. He finished with a birdie on the last hole to get to 19-under 269 and was one of just three players with four rounds in the 60s.
On Saturday night, after responding to a double bogey with three straight birdies to shoot 67 and join Kim and Max Homa atop the leader board, Finau once again confronted the question of finding closure when trying to close. He never ducks it. "I've had a lot of opportunities, some lessons that I've learned from in the past, so maybe it will pay off."
After Finau missed from seven feet for that disheartening bogey at 14, Golf Channel anchor Terry Gannon said glumly, "Tony at some point will be thinking, 'I'm done learning from these close-but-not-quites.' "
Responded analyst Trevor Immellman: "Yeah, when he made the birdie at the 10th, I really thought he was going to be on his way."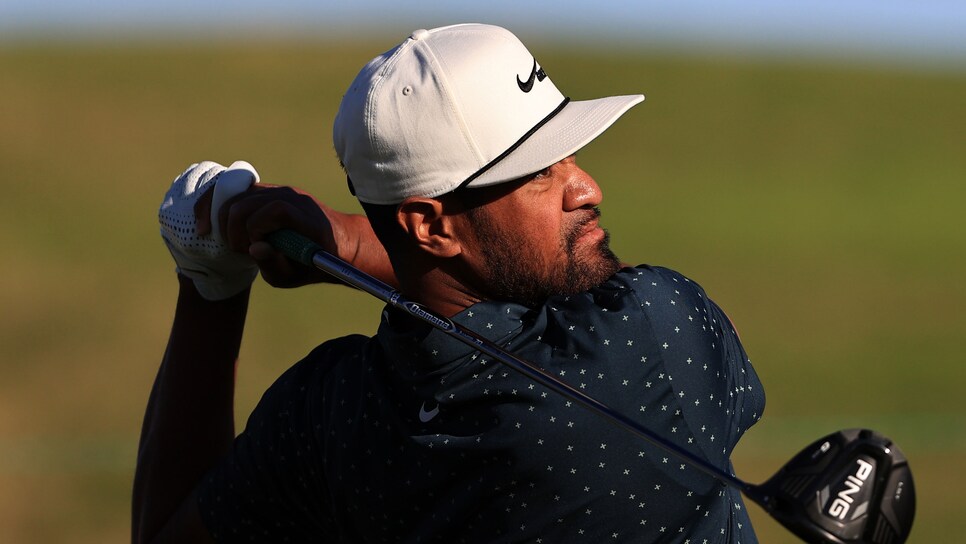 As the paychecks have piled up without hitting paydirt, the Utah native has endured a few unlucky finishes, including early last year when Webb Simpson birdied his last three holes, the latter in a sudden-death playoff, to deny Finau at the Waste Management Phoenix Open.
At PGA West, it appeared that Cantlay was going to serve the latest dose of disappointment, posting a bogey-free 61 and breaking the course record by two shots to seize the clubhouse lead at 22 under par.
Nothing you can do about that, right? Well, ahem.
A player who gets victimized by an opponent's low round always can console himself under the soft cover of a conspicuous bromide—you can't play defense in golf. Well, let's counter with a fact that, strangely, gets obscured by such cleverness. The opponent can't play defense, either.
Sure, Cantlay, who began the day four back, authored an unquestionably brilliant round to surge ahead. So go play offense. Which Kim did, making birdie on two of his last three holes for a bogey-free 64 and a one-stroke victory. Cantlay was on the driving range, unable to play defense, when Kim passed him for his third tour title.
That Kim and Finau began Round 4 tied serves to bring into sharp relief the difference in execution between the two men. Even Finau couldn't deny that. "Si Woo did a great job," he said.
Golf Digest colleague Joel Beall previously highlighted Finau's final-round struggles the past few seasons, and while 68 at PGA West was good, it was no more satisfying than trying to quench your thirst by gulping sand. A strong contender in majors as well as regular events, Finau hasn't yet found his higher gear in the clutch. Going into The American Express, he ranked 137th in final-round scoring average in 2020-21 at 70.17.
Having grown up in a family of modest means, Finau had to overcome plenty of obstacles to find his way to the tour, let alone thrive. The former mini-tour player needed six tries to make it through Q School to get his PGA Tour card, so he knows plenty about remaining positive and rebounding from disappointment.
He was not disappointed by his effort this time. "Usually when I walk off the 72nd hole I have a pretty good sense of how long it's going to sting. I'm pretty encouraged right now," he said. "I've been working on some things in my golf swing, and I was able to hit a lot of good shots this week. And so I know I'm heading in the right direction.
"I've said before, I feel like I've got to get a little bit better to win again."
With his talent and power, you figure, how can he not eventually win again? Then you catch yourself. It hasn't happened yet. The tour is deep. It's more a reflection of the strength of fields in professional golf rather than any real weakness in Finau's game.
And he gets that. And he long ago figured out how he feels about it. He already was thinking ahead to this week's Farmers Insurance Open at Torrey Pines.
"This is who I am. I try to have a proper perspective. I'm not going to kill myself over not closing golf tournaments," he said. "Golf's really, really important to me. If I claim it to not be the most important thing, then I'm not going to let it kill me."
In the case of Tony Finau, what doesn't kill him makes him hunger.