The Grind
Tiger Woods' familiar (and foreshadowing?) message, Rory McIlroy's ripped shirt and a Yankees star almost kills a golf writer
Welcome to another edition of The Grind, where we are extra thankful this year. Yes, for turkey, but also for Tiger. That's because as lucky as Tiger Woods is to be alive following his February car crash, now it appears golf fans will be lucky enough to see him attempt one more comeback!
Yes! What a beautiful sight! With two words and one three-second video, Tiger sent the sports world into an absolute tizzy. And if this feels a bit familiar, that's because it is:
We promise not to get (too) carried away, but that's the last time Tiger tweeted, "Making progress." And a year-and-a-half later, he won the freaking Masters. Just saying … Anyway, here's what else has us talking after a particularly wild week in golf.
Collin Morikawa: As if it wasn't enough for this guy to stomp on the Euros at the Ryder Cup, now he's gone ahead and taken over their tour. In winning the European Tour's season finale in Dubai, Morikawa also became the first American to capture the tour's season-long Race to Dubai title—despite the fact he played in three European Tour events this season not including majors and WGCs.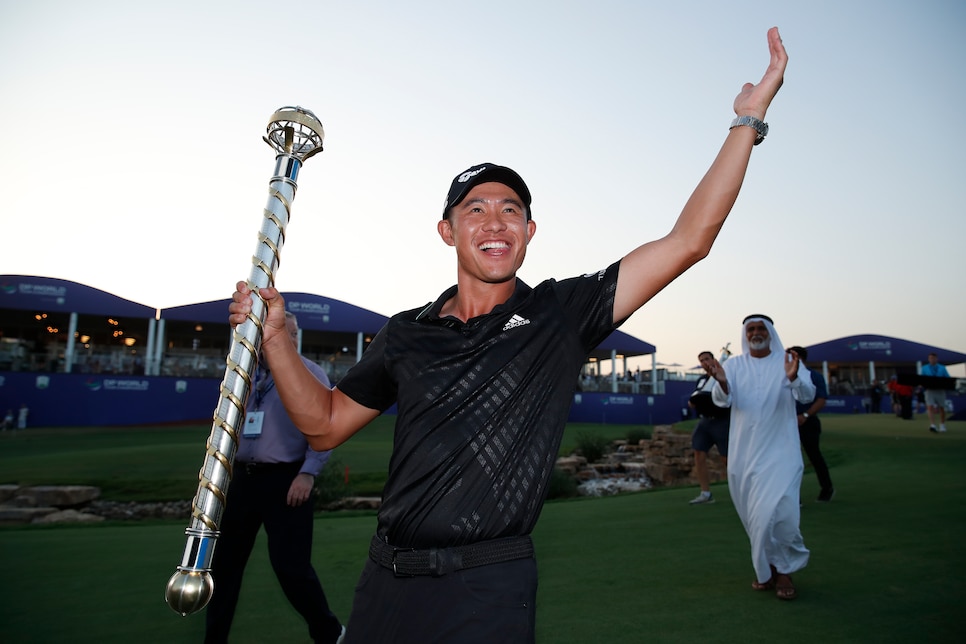 Jin Young Ko: The 26-year-old South Korean also won a season finale to earn her second LPGA Player of the Year Award. And she did it in mind-blowing fashion by hitting her final 63 greens in regulation to eventually pull away from Nelly Korda in both the tournament and the season-long points race. That's right, she hit SIXTY-THREE greens in a row! (The most on the PGA Tour in the 2020-21 season was Steve Stricker with 35.) Just absurdly good playing by Ko, who won five of her final nine starts of the season.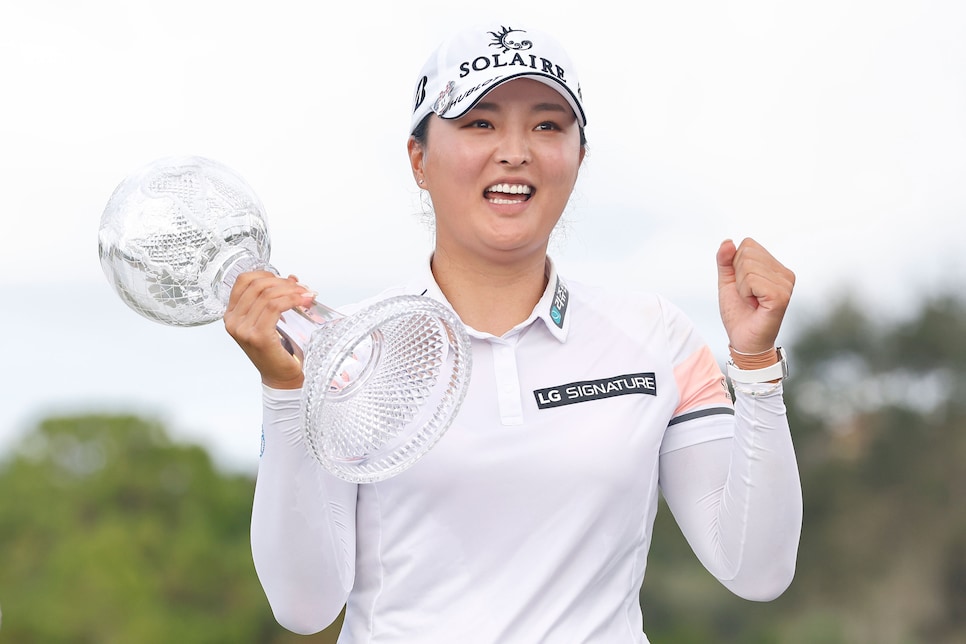 If the POY race were a GIF, Ko would be DK Metcalf chasing down that Arizona defensive back. What a run. And if you thought Morikawa's wins-to-cuts ratio was amazing, feast on this. Ko now has as many POY Awards as missed cuts since joining the LPGA in 2018. That might be more ridiculous than her 63 consecutive greens in regulation.
Talor Gooch: If you're plugged into the golf gambling scene like I am, you knew this was coming. Gooch has long been a fantasy darling, and his RSM Classic win was the culmination of him getting close a bunch of times before breaking through. Of course, I still didn't bet on the 30-year-old Oklahoma State alum to actually pull it off, but congrats, Talor.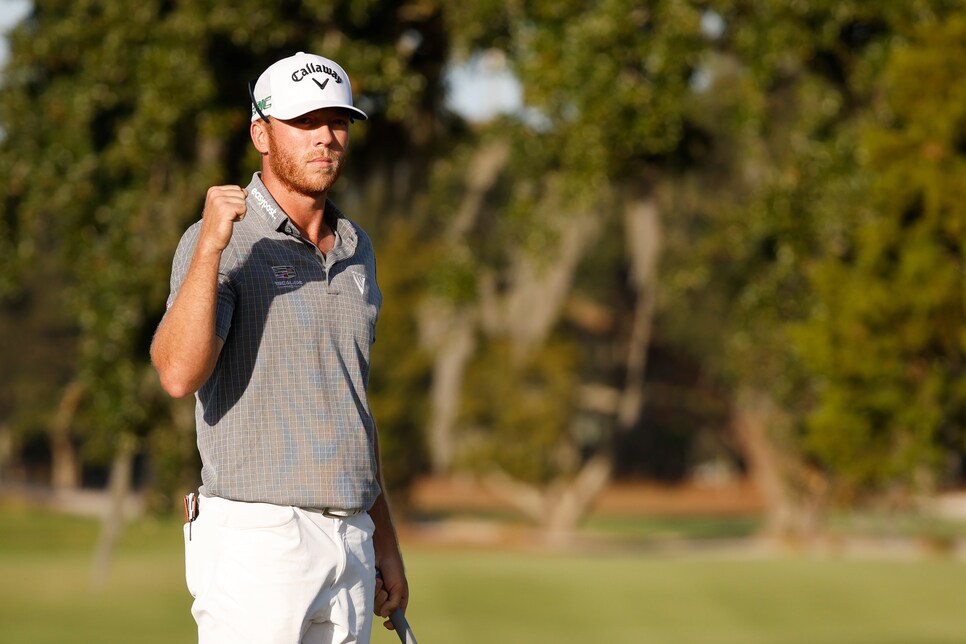 Like most people, I love his last name, but it's especially funny to me since I've always called my oldest daughter a "Grouchy GOOCH" when she's moping. Anyway, there won't be much moping from this Gooch as he heads into the off-season on a high.
Tiger Woods: Did we mention that this guy is BACK?!!!
OK, so he's obviously got a long way to go, but allow us Tiger fans to be excited. It's been a rough year.
Rory McIlroy: The four-time major champ has said in the past he could play Dubai's Earth Course blindfolded. On Sunday, it was nice of him to actually do that down the stretch to give his opponents a chance. Yes, McIlroy got a brutal break on the 15th hole, but a closing pair of bogeys on the 16th and 18th holes were all on him. And up to that point he hadn't done much else to maintain the 54-hole lead he carried into the day, either. Needless to say he was a tad frustrated when he went all Incredible Hulk on his golf shirt after:
Rory's shirt isn't quite Zion's shoe in the pantheon of Nike wardrobe controversies, but it's up there. Then again, if you had pecs like him, wouldn't you want to show them off?
People knocking Morikawa winning the Race to Dubai: Admittedly, I've come around on the notion of Morikawa claiming the European Tour's season-long points title despite the fact that, you know, he doesn't play on the European Tour. For one thing, it was a smart move by the tour because, no disrespect to most of the field in Dubai, but the event would have gotten a fraction of the attention if someone other than the World No. 2 won. For another, that bonus was "only" $1 million while the much bigger $3 million prize went to the winner of the tournament (again, you could say "But why should Morikawa be allowed to play?" and again, I'd say, "Eyeballs"). And finally, former European Ryder Cup captain Thomas Bjorn put me over the edge with this tweet:
Lifetime achievements, indeed. So let's focus on those three wins and not the three regular Euro Tour events this guy has played in. Technically, Morikawa had an incredible season on both tours. So I'm not going to get upset about him picking up some extra hardware—and earning some extra bucks.
Sabbatini's sticker penalty: The (silly) rules of golf struck again as Rory Sabbatini was DQ'd from the RSM Classic for having a sticker on his club. Yep, a sticker. "There are stickers, reflective stickers. [They are] tiny," John Mutch, the tour's senior tournament director equipment standards, told Golf Channel. "The players use them to track clubhead speed when they practice, and he just didn't take them off." If that's the case, what's the big deal?! And, as someone with young kids, I'm especially sensitive to this because I'm constantly finding stickers all over my stuff. In fact, I just noticed a Beauty and the Beast one on my sweatshirt. Anyway, good on Rory for turning himself in for this HEINOUS infraction.
The PGA Tour heads to … wait a minute … there's actually, finally no tournament this week! But don't worry, golf fans. There's still THE MATCH between Brooks Koepka and Bryson DeChambeau on Friday. And Brooks is coming off a pair of missed cuts. Something Bryson was happy to remind everyone of:
I know they've been pumping this thing up, but I really don't think they like each other. Both even called that viral Ryder Cup hug "forced." Not that anyone who saw it didn't think that already.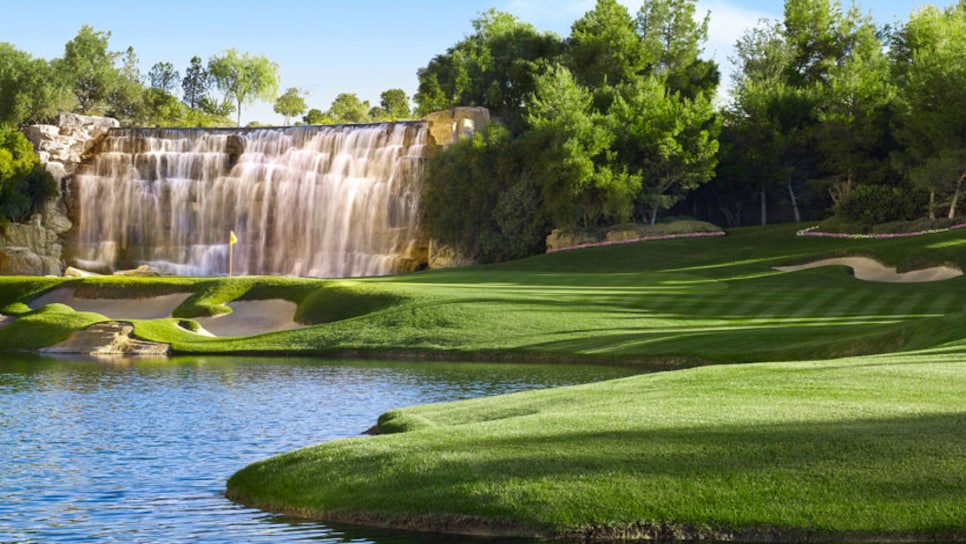 If they want to really spice things up, the loser should have to take a freezing dip into that waterfall.
RANDOM PROP BETS OF THE WEEK
—Tiger Woods doesn't win the top Player Impact Program bonus: 8 MILLION odds
—Tiger Woods will win the 2022 Masters: 35-to-1 odds (Actual odds!)
—Tiger Woods will be hailed a winner if he just tees it up in April: LOCK
PHOTO OF THE WEEK (NON-RORY-RIPPED-SHIRT DIVISION)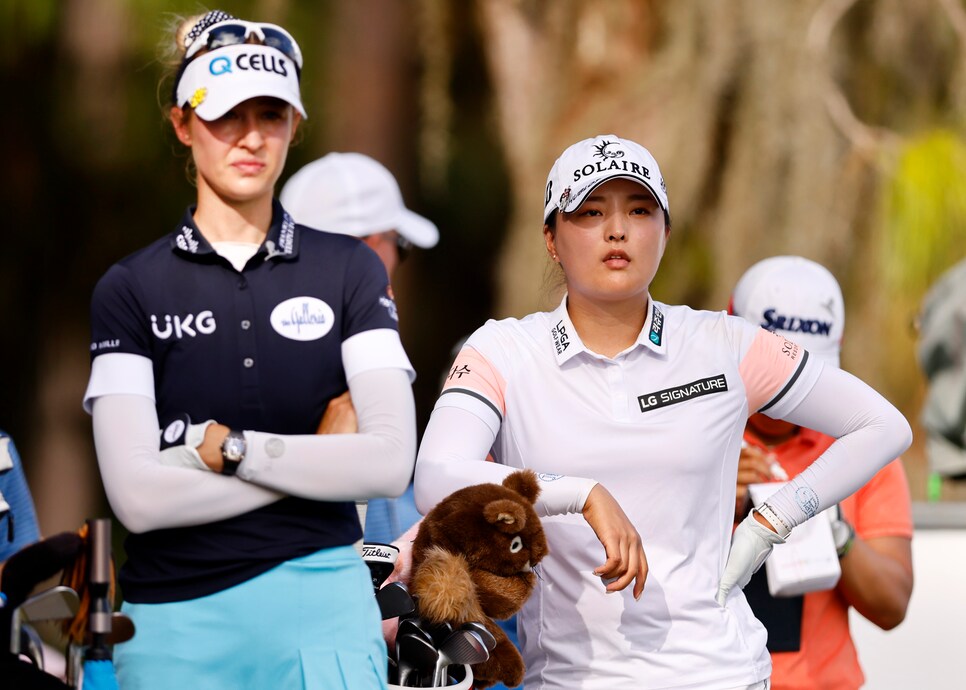 What a fantastic battle between these two. The LPGA is in great hands.
VIRAL VIDEO OF THE WEEK (NON-TIGER DIVISION)
We've all been there, kid.
VIRAL VIDEO OF THE WEEK (OLD-MAN DIVISION)
These are the reactions of the year:
As if we needed another reminder, golf is a LIFETIME SPORT.
THIS WEEK IN CELEBRITY GOLFERS
That's Yankees star outfielder Giancarlo Stanton posing with golf writer Robert Lusetich on the course. Why is he posing with him? Because this happened moments before:
Considering Stanton owns the list of hardest hit baseballs, we're guessing getting hit by one of his golf shots wouldn't be fun.
THIS WEEK IN PUBLIC DISPLAYS OF AFFECTION
Introducing Sammy Spieth!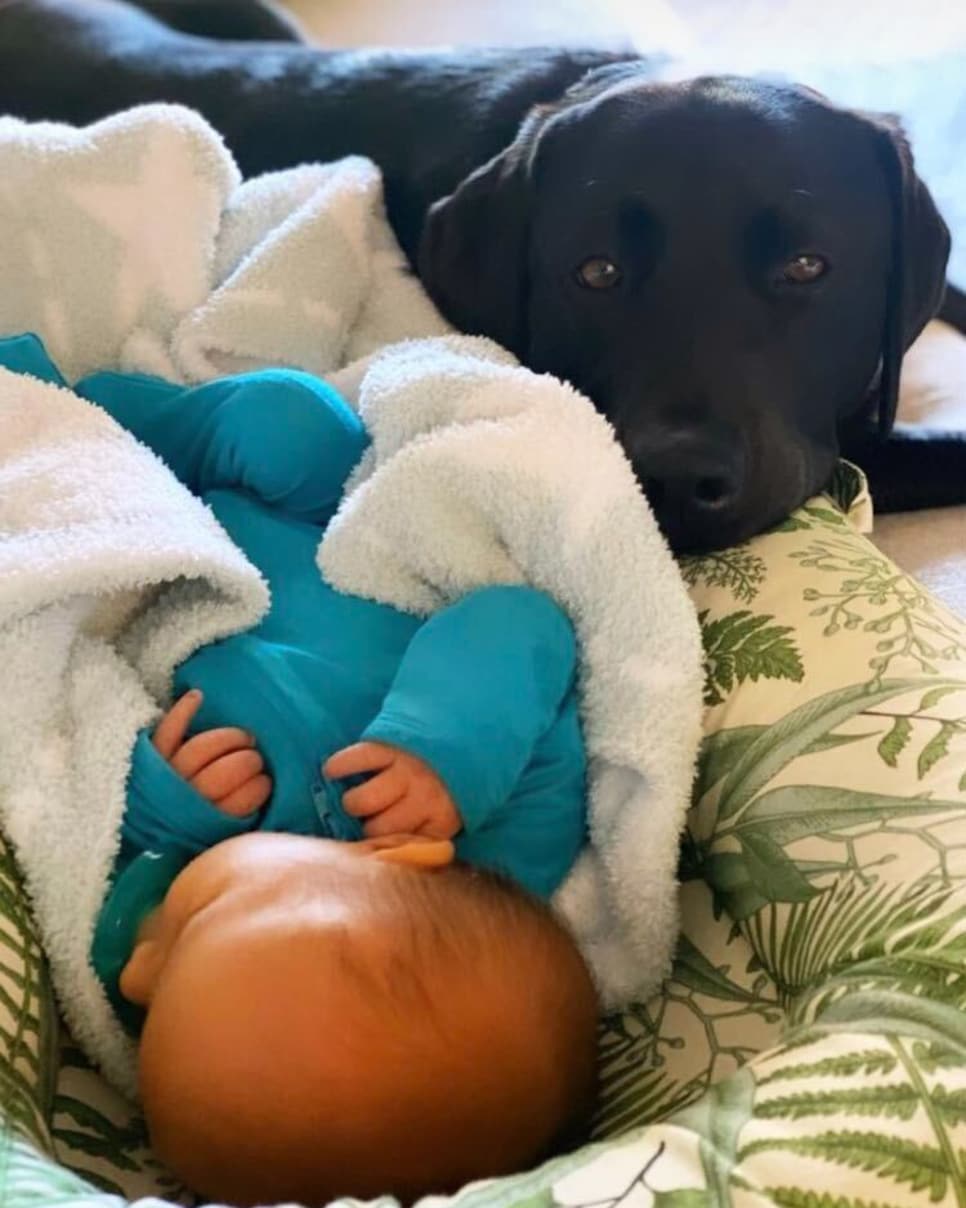 Awww. Congrats to Jordan and Annie. And good luck to everyone out there next season now that Spieth will have that fatherly PERSPECTIVE.
"Making progress." —The GOAT/PIP KING
The PGA Tour has informed players it's raising prize and PIP money for next year. Tour pros should feel pretty darn thankful to all these potential rival leagues. … Congrats to Davis Love III for making the cut while hosting the RSM Classic at 57. Now that's a course he could play blindfolded, but still, nice job. … Congrats to Srixon for signing big equipment free agent Brooks Koepka, and great timing ahead of "The Match"! Well, provided Brooks plays a bit better than he has of late. … And speaking of branding, I've added to my Costco-PUMA collection and now have this comfy sweatsuit in every color: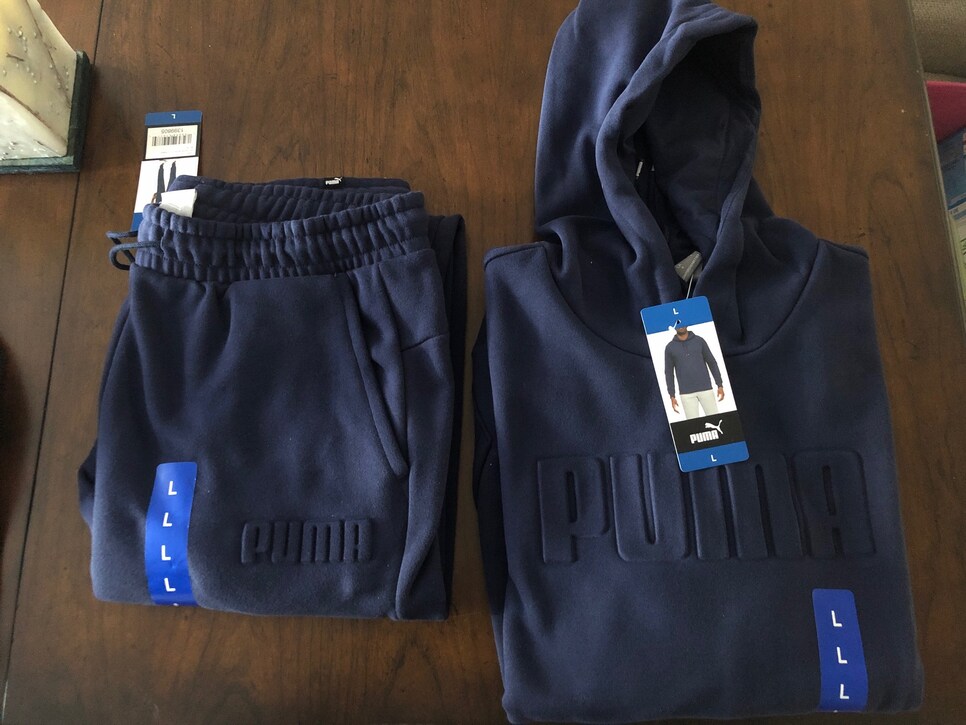 'Tis the season. And yes, I got a large. Let me live, OK?
RANDOM QUESTIONS TO PONDER
How many hours have I spent in sweats the past two years?
How many potatoes of mashed potatoes will I eat this week?
What odds can I get on Tiger to win the 2023 Masters?