Tiger in the booth
Tiger Woods reveals swing advice to Charlie: 'Don't copy my swing. Copy Rory's'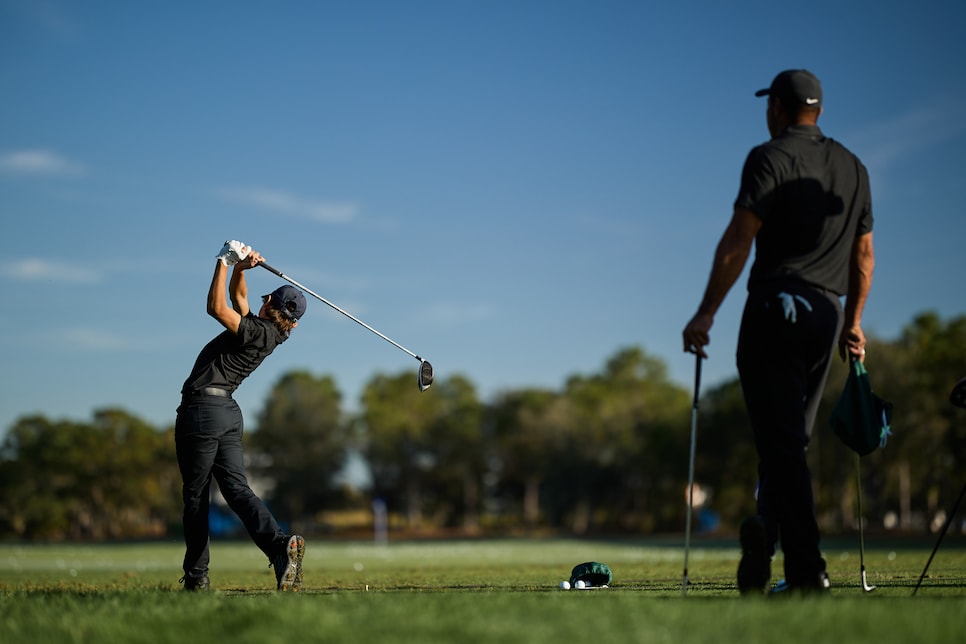 Jensen Larson for Golf Digest
Yes, it's a bummer Tiger Woods is not competing this week at the Hero World Challenge as we expected. Tiger cited Plantar fasciitis on Monday as holding him out from competing. Still, Tiger's on-site and has been a bit of a content factory all week long.
Each day he has joined the NBC Sports/Golf Channel broadcast team in the booth to help analyze the action as it unfolds. Dan Hicks and Paul Azinger have done a great job engaging Tiger on thoughtful subjects, and Tiger has delivered.
On Saturday, Tiger talked more about his son, Charlie, than perhaps other days. The most interesting takeaway to us is the fact that he's suggested to his son that he shouldn't study his dad's swing. Instead, Tiger apparently thinks more highly of Rory McIlroy's moves.
"I told [Charlie], 'Don't copy my swing. Copy Rory's,' " he said Saturday. "Have you ever seen Rory off balance on a shot? No. Not ever. You can swing as hard as you want, but you need to have balance."
This side-by-side put together by our Will Irwin further illustrates this revealing fact from Tiger:
Of course, Tiger's swing took on different forms over the years—not only as he changed instructors (see link below for how his swing changed under the eyes of each coach) but as he battled injuries as well. So perhaps it's understandable why he would hold Rory's swing in a higher regard.
The guys in the booth also asked Tiger when Charlie might start outdriving his dad. Well, Tiger said "it's already happening." Of course, after Tiger's accident, he has less pop than ever before. But for a kid who's not even in high school, that's pretty amazing.
Azinger also revealed that he was told that Charlie's clubhead speed gets up to 117 miles per hour. We're not sure how right that is ... the average clubhead speed on the PGA Tour so far this season is 114 mph.
Oh yeah, and Tiger also said he believes he can contend in tournaments again once he can walk. Which will hopefully be soon, since he originally committed to playing this week.
We'll be tuning in on Sunday to see if he's saved any more gold to reveal to Hicks and Azinger.