Swing Analysis
Tiger Woods' swing evolution
In examining Woods' swing at four different points in his career, a top teacher identified the subtle but important changes the 15-time major champion implemented in his persistent pursuit of excellence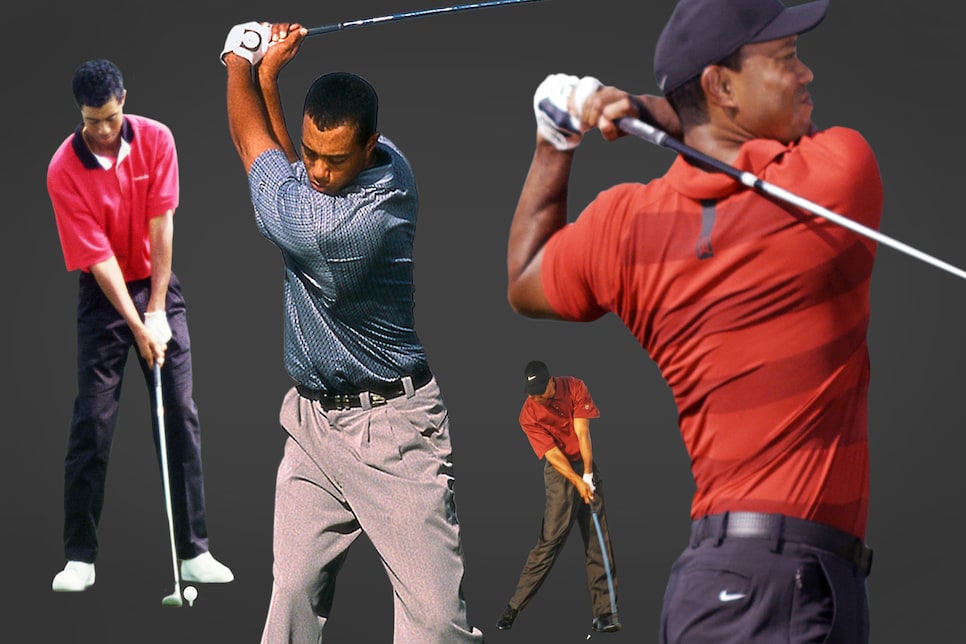 Editor's Note: Golf Digest is commemorating the 25th anniversary of Tiger Woods turning professional with a special collector's issue celebrating his career. Order your copy here.
Jim McLean will never forget the first time he watched Tiger Woods play in person. "He was 17 and playing a friendly round with Brad Faxon—who was already a three-time winner in his own tour career at that point," says McLean, who has been a Golf Digest 50 Best Teacher since the list's inception in 2000. "The first word that comes to mind is 'unreal.' He had this easy, fluid look—like a modern Sam Snead—and he hit it 100 yards past Brad. He just shrunk golf courses, and he was about to fundamentally change the way the game was played."
Tiger did, in fact, go on to change the game—all while substantially renovating his swing multiple times with multiple coaches through the years. Here, we've assembled all of Woods' high-speed swing sequences we've shot for Golf Digest through his career. McLean will take you on a guided tour through the different chapters of Woods' swing, highlighting one of the important (but often subtle) changes between eras, and explaining the impact on Woods' swing and game. "These images are so interesting to analyze because of what Tiger was willing to do to be great," McLean says. "The most amazing thing I've seen in all of my time as a teacher is a player getting to where Tiger was in 2000—which I consider to be the best swing of all time—and be willing to tear it down to get better. But even with all that change, every one of those versions of Tiger Woods could be hitting balls 200 yards away and you'd immediately know it was him. He's always been Tiger."
"This 1994 swing is essentially the one he won the U.S. Amateur with, and it had amazing flow," McLean says. "By 1996, he had started working with Butch Harmon. His swing got a little more compact—you can see that he's just slightly short of parallel at the top in the second image—but he still had a massive shoulder turn relative to his hips and a big move to the right side, but from a wider base. When Tiger was at the absolute peak of his powers, in 2000, I was walking with him as he played the 16th hole on the Blue Monster at Doral—a dogleg right at the time that usually played in a left-to-right wind. Most of the field struggled off the tee because they didn't know what to hit. You'd have to pick a line with the driver that would challenge the bunkers or be much more conservative with a 3-wood. Tiger stepped up and hit a 2-iron from the back tee that came out like a rocket. This was before the Pro V1, and this balata stinger came out and never moved—like it was on a rope. It went 280 into the wind and was so perfect it was startling. Nobody else on the planet could have hit that shot."
"The 2000 swing is the one everybody wants to copy," McLean says. "It is just technically perfect. He was a shot and a half better per round than the next player on tour per round at that time, which might be one of the most mind-blowing stats in the history of golf. Right now, Jon Rahm is two-tenths of a shot better than Louis Oosthuizen, as a basis of comparison. There's never been a combination of what Tiger had at that time—the physical strength to hit it as far as he did along with the technical perfection of his swing and the relentlessness to work and work and compete on every hole. I don't know if people remember this, but he bridged two very different eras in golf. He started with wooden clubs and steel shafts, and stayed with that equipment for a long time. Then he came into this new era of longer, lighter clubs and the Pro V1 ball. Maybe that's why he felt like he needed to make adjustments." You can see some of those changes coming in the 2002 swing, where he's exchanging leg drive for upper body rotation.
"It was shortly after this 2002 swing that Tiger moved on to Hank Haney. I know his goal at that time was to build a swing he could own completely, like Ben Hogan and Lee Trevino," McLean says. "He developed a much rounder look in his backswing, and he played some of his best golf from 2005 to 2009. With Sean Foley, he started working on lagging the club and getting the handle more forward through impact. You could really see it in the exaggerated practice swings he would take." Tiger has been relentless about trying to improve and retain the ball speed he needs to stay competitive. In the later swing, he's relying less on hip turn and more on the club to help him launch the ball. Even after back fusion, he was able to swing 117 to 120 miles per hour.
"When you compare the first swing with the latest one, you can really see he's come full circle," McLean says. "He was always a player with a free release, where he really started throwing the clubhead early in the downswing—and he's back to that now. There's no handle-drag in there anymore. Like a lot of professional athletes, he's gotten tighter as he has bulked up and gotten older. The later swing, in 2017, is the first one after the big back surgery. He's with Chris Como there, and you can see he's doing something that will let him compete with a restricted back—a higher right side and taller finish. The amazing thing about all of these swings? He played great with every one. Very few players can make substantial changes like this and come out on the other side and play successfully. He's had a magical career. To come back and win the Masters in 2019? Unreal stuff."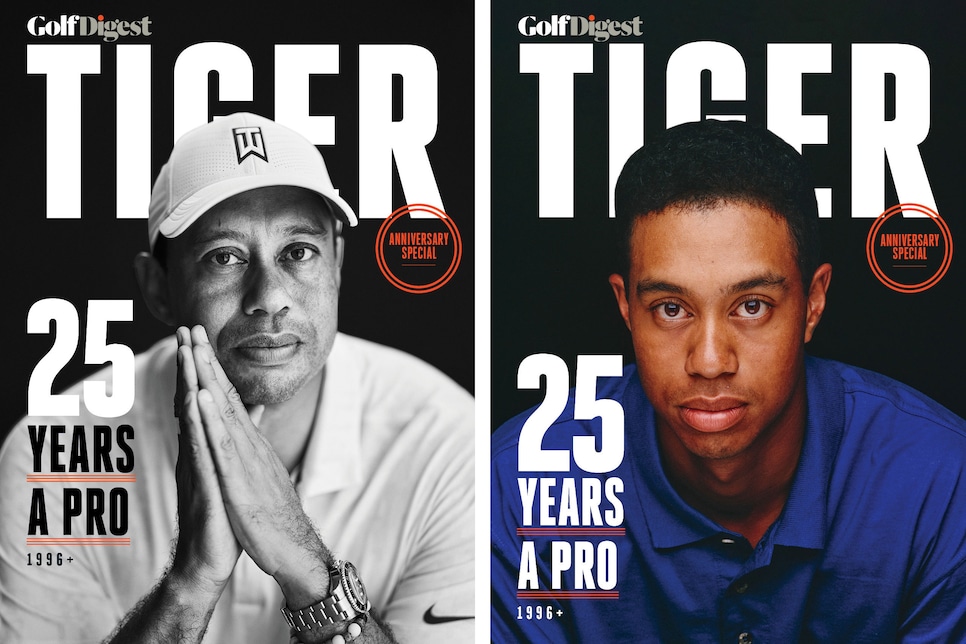 The front and back covers of Golf Digest's 'Tiger: 25 years a pro' special collector's issue.