Gamesmanship
Tiger Woods on mind games with son Charlie: 'It's non-stop'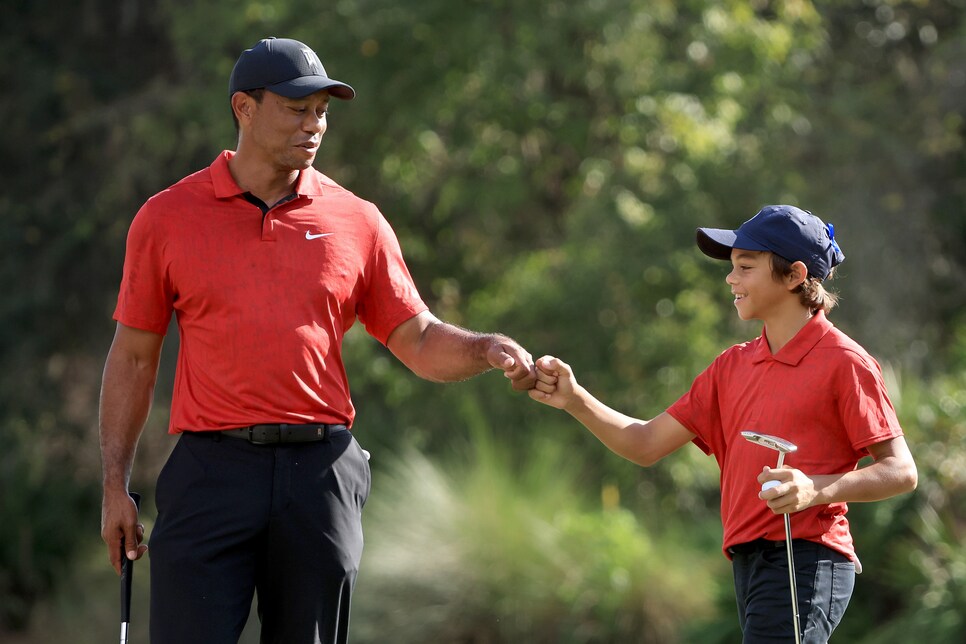 In perhaps the most famous Tiger Woods Nike commercial ever, Woods' late father Earl narrates, beginning the ad by saying "you don't really instill anything in a child, you encourage the development of it." He then adds, "but I would do all kinds of things to mess him up," explaining how he would play mind games with Tiger when the two would play together before Woods became the legendary figure he is now.
To the everyday golfer, this sounds like extremely poor golf etiquette. But there was obviously a method to Earl's madness - to make Tiger the most mentally tough golfer he could be. It seems fair to say 15 majors later that Earl succeeded on that front.
Woods, knowing how beneficial those mind games were to his future success, confirmed he plays similar tricks on his 13-year-old son Charlie, who he'll tee it up with in the PNC Father-Son Challenge later this month. During the first-round broadcast of the Hero World Challenge, which Woods is hosting but not playing in this week in The Bahamas, NBC's Paul Azinger broached that topic and Woods' answer was gold, Jerry, gold!
"It's non-stop, non-stop," Woods said of the purposeful distractions he throws Charlie's way. "It's trying to get him -- if I can get into his head, that means someone else can get into his head. It's going to get to a point where I can't get into his head, and then no one else can get in there either.
"That's what my dad believed," Woods added. "You've got to be willing to take it."
Woods continued, revealing that similar types of gamesmanship took place during the early portion of his career on tour. Earl was playing chess, not checkers.
"Zing [Azinger] can attest to this, he played in an era where certain players, and we're not going to mention anybody by name, but certain players would do certain things with clubs and shoes and timing and trying to get in your head, the early walk," he said. "That was still prevalent when I came out here, and a lot of these guys don't know about any of that stuff, but people did it."
By a lot of these guys, Woods is obviously referring to this generation of young players, who have fans tossed for less than what he's talking about here. One of those times where the old man yelling at the cloud is 100 percent right. Good news is, Charlie will be prepared for anything when the time comes.