Features
The untold stories of Tiger Woods
We spoke with those who've spent time with the 15-time major champion to share their favorite memory. The best exemplify what makes Tiger so great and fascinatingly complex.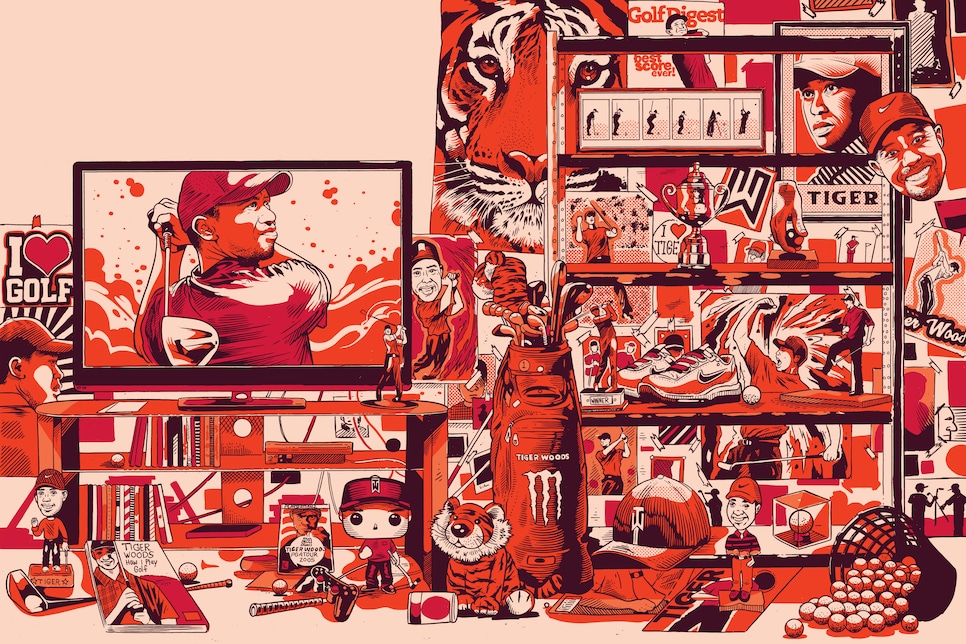 No other golfer elicits myth, legend and anecdotal storytelling like Tiger Woods. Usually the stories entail some lesser-known evidence of his golf genius—an unreal display of power here, a touch of imagination there and competitive fire everywhere. If the punch lines share a common theme, it's that Tiger does things with a golf club that ordinary humans can't do.
But it's not just his golf. Many stories provide a peek behind the curtain and reveal Tiger the person—his values, attitudes, lifestyle, simple likes and dislikes, and his relationships with family and friends. A lot of stories don't reveal everything, and instead are cryptic parables left to our interpretation. They only deepen the mystery of what Tiger thinks and how he sees the world.
The stories are numerous already and are so ubiquitous and oft-told, they've formed their own lexicon. But new ones are always surfacing, and we can count on more for as long as he's in view. With Tiger, golfers can't get enough.
Coached Woods from 1993 to 2004
In May 1997, I was in Houston for the NBA playoff s, and Tiger was in Dallas playing the Byron Nelson. A month earlier he had won the Masters by 12 shots. At halftime, I went up to the bar and began watching live coverage of the day's play. Tiger had shot 64-64 in the first two rounds, but his driving was off on Saturday. He was backing up on his tee shots and flipping his hands through. He missed a few drives left, which Tiger hated to do. I called him from the game and said, "I see something in your driver swing. Get me a room in Dallas, and I'll drive there tonight. I'll show you in the morning what I see."
Tiger said, "Just tell me. I want to know now." I insisted on showing him in person, and he finally agreed. We met after breakfast the next morning and started working on the range. After a while, he said, "Thanks, Butchie. I got it. I appreciate you coming."
That was it. I wished him luck, and he said, "Don't worry, I'll win today." And he did. But what amazed me was, from the first tee that day, he never made the mistake he was making the day before. He committed 100 percent to what we worked on that morning, and he drove the ball beautifully.
It proved again what I had seen before: When Tiger trusts something, he plays with it right away, no matter the situation. He knows the only real test of something is whether it works under pressure. He always wanted to keep getting better, and as a result, he has made changes—changes that nobody ever knew—while he was winning golf tournaments. That, to me, is one thing that has made Tiger great.
After Tiger had won the U.S. Open at Bethpage in 2002, he kind of laid low for a week before gearing up for the Open Championship at Muirfield, where he was going to be trying for the third leg of the Grand Slam. Mark O'Meara and I didn't see him much. One day Mark and I were on the back of the range at Isleworth trying to hit 3-irons down to this one green about 220 yards out. We had played Bethpage, and unlike Tiger, every hole for us was like a driver and 3-iron or 4-iron or even a wood. So we're trying to get the ball up higher with our 3-irons, just seeing if we can launch them.
All of a sudden here comes Tiger getting back from a six-mile run. He's got no shirt on, he's wearing sunglasses, his hat is turned backward and he's sweating like crazy. He sees us, and he stops to watch, but he doesn't say anything. Finally, he asks, "Hey, what are you guys working on?" We tell him we're trying to hit these longer clubs higher in the air. So he says to me, "Let me see your 3-iron." Now he just got back from a run, he hasn't hit a ball, he's got running shoes on. But without a practice swing he hits this 3-iron not at the green Mark and I were aiming at but at the next green, about 245 yards out. He flew it right into the middle of that green, handed the club back to me and said, "Just do that." Mark and I looked at each other like, We're trying to beat that? I put the club back in my bag and said, "I'm going to go over here and putt more; maybe that will help."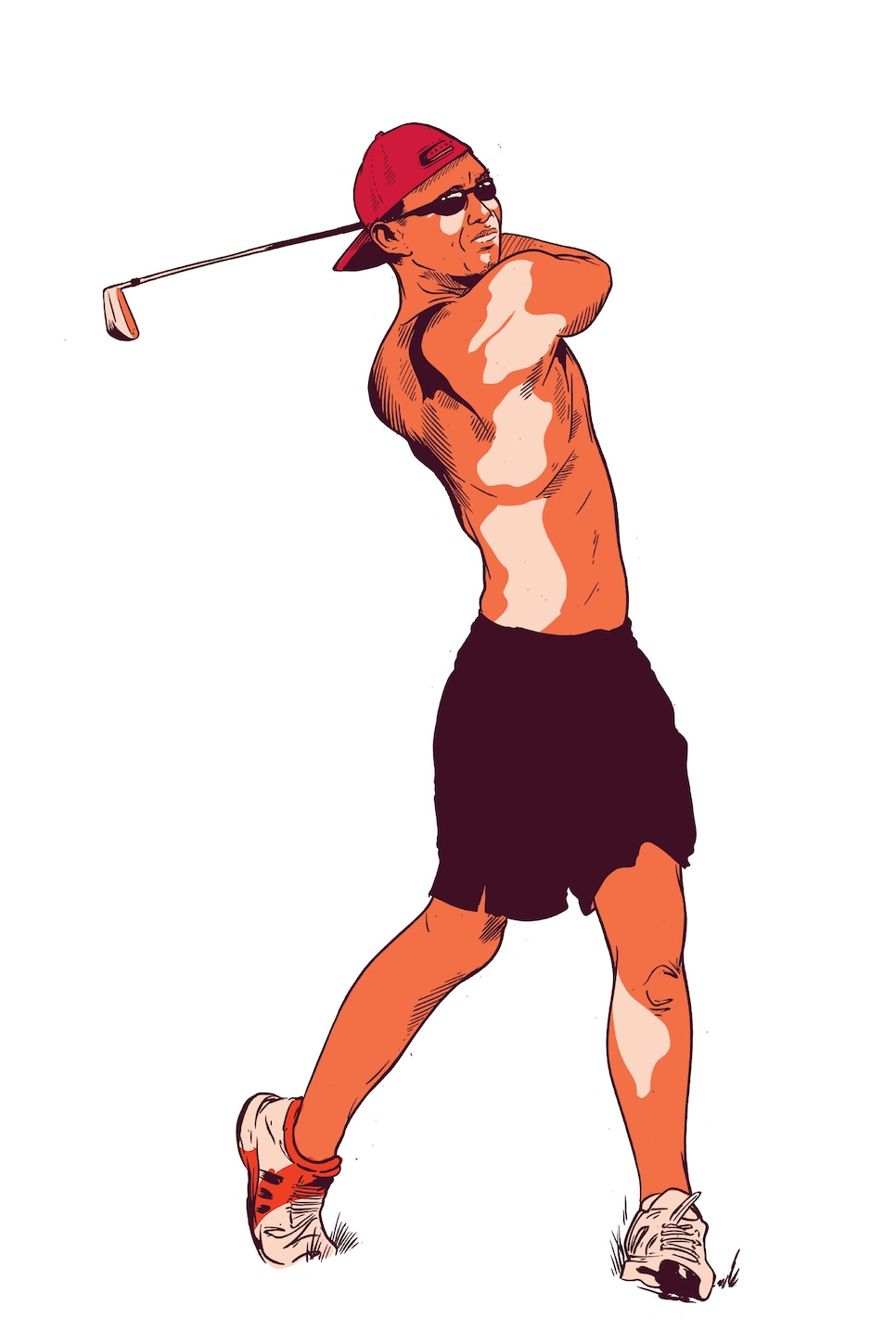 I can't remember what year it was, but I called him a few days after one of his knee surgeries to see how he was getting along and if he was up and moving and starting rehab yet. He answers, and I hear a lot of wind in the background, and he's out of breath. It turns out that he was on a 50-mile bike ride because he was not allowed to run or lift weights. I just had to laugh.
I was washing my hands and face in the locker room at Pinehurst, only minutes after holing the winning putt in the 2005 U.S. Open. My thoughts were all over the place as I tried to digest what had just happened. I thought I was alone until I heard a urinal flush behind me. Seconds later, Tiger appeared beside me. He had just finished second, having, I heard later, missed a few vital putts down the stretch.
Nothing was said as we both stood there in front of a big mirror. It was pretty intense. Then he walked away without a word, which I thought was a bit strange given that we knew each other reasonably well. But then he came back seconds later, tapped me on the shoulder, shook my hand and said, "Well done." He had just needed a little bit of time to get over the loss of a battle he had been expected to win. I understood that.
Bay Hill locker-room attendant
I've been at Bay Hill for 19 years, but my first year in the locker room was 2003, when Tiger won his fourth [PGA Tour event] in a row here. The weather was awful and rainy, and he was very sick from food poisoning, and every few holes he was throwing up. At the turn he came into the locker room and splashed water on his face. Then he put his head down on his arm, and his legs kind of buckled, and I thought there was no way he was going to finish. I asked if he needed anything, and he asked for a Gatorade. His voice was kind of weak, but he thanked me, headed out and shot 68 and won by 11. When it was over, a veteran player came in and said that there was no way anyone could shoot 68 that day, let alone Tiger as sick as he was. That's when I saw first-hand what Tiger Woods was all about. Sheer will.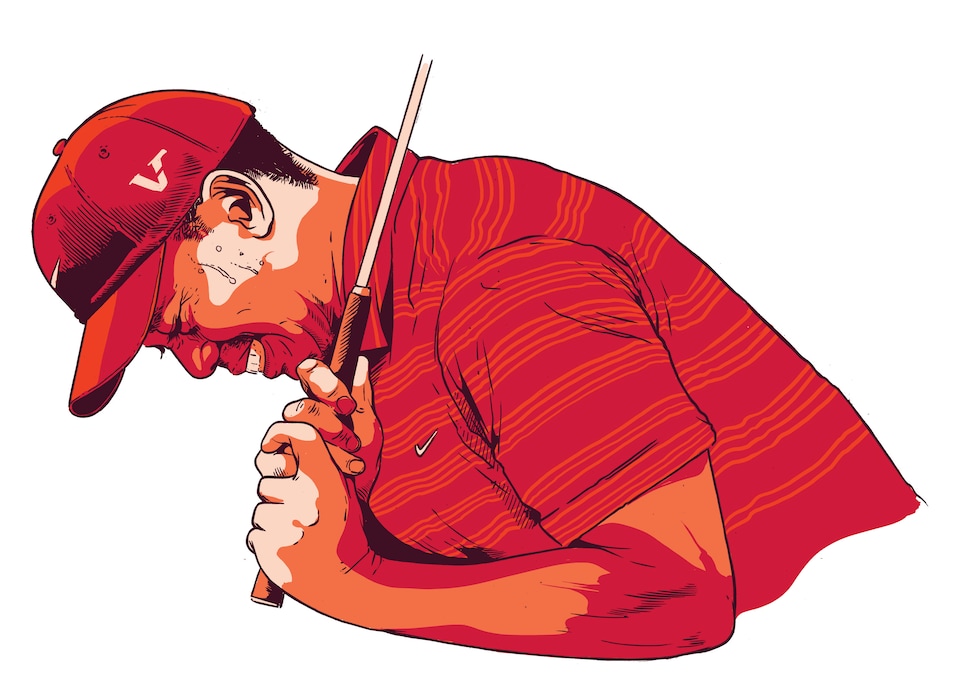 Golf Channel commentator, former PGA Tour pro
At the 1998 Sprint International, I got paired with Tiger in the third round. We've got 10,000 people at least lining the first fairway. There is no escaping the anxiety. On the first hole he hit a 4-iron that punched a hole in the clouds and stopped dead to the hole from about 250 yards. He made eagle. At the sixth, I hit it to 10 feet. He was just outside me, and he circles his putt, working his quiet into the crowd. He pures it, and the crowd goes nuts. He punches the air, does the whole big-putt celebration. I remember thinking that I've never been that excited on a golf course in my life. Next hole is a par 3, and he has the honor. Pin is tucked back right. Tough to get to. He makes it. Hole-in-one. Crowd erupts. He does his thing.
Finally, it's my turn to hit, and as I'm settling in, I hear him whisper to Fluff, his caddie, "God, I love this game." I stop, look up at him and said, "Well, of course you love it! You make $50 million a year and hole about every other shot you hit. You should try loving it from my perspective." The crowd laughs. He smiled. That was a transition year for Tiger. He was changing his swing to the one that would win four straight majors, but he did things that day I'd never seen before and haven't since. Except from him. I won my only tour event the next week, and I couldn't help but think the experience of playing with Tiger contributed to the calm I had down the stretch.
2011 Open champion, 14-time European Tour winner
I have never seen anything more impressive than the time I spent hitting balls alongside Tiger at a tournament in Germany. It must have been in the early 2000s. We were on the range, and there was some banter between us, as usual. But it didn't take long for me to notice what he was doing. I hadn't seen anything like it, and I haven't seen anything as good since. Every shot Tiger hit was perfect. He must have hit about 200—all pure.
When Tiger finished, I had a look at where he had been. What I would normally call his "divot pattern" was the size of a dinner plate, but there wasn't a bit of brown earth to be seen. Every blade of grass had been lightly brushed in the same direction. There wasn't even the hint of a divot. All of which is unbelievable, considering he had used about every club in his bag. It verged on impossible. And it remains the most impressive thing I've ever seen. Ridiculous.