Tiger
Tiger Woods explains why he's been so vocal against LIV Golf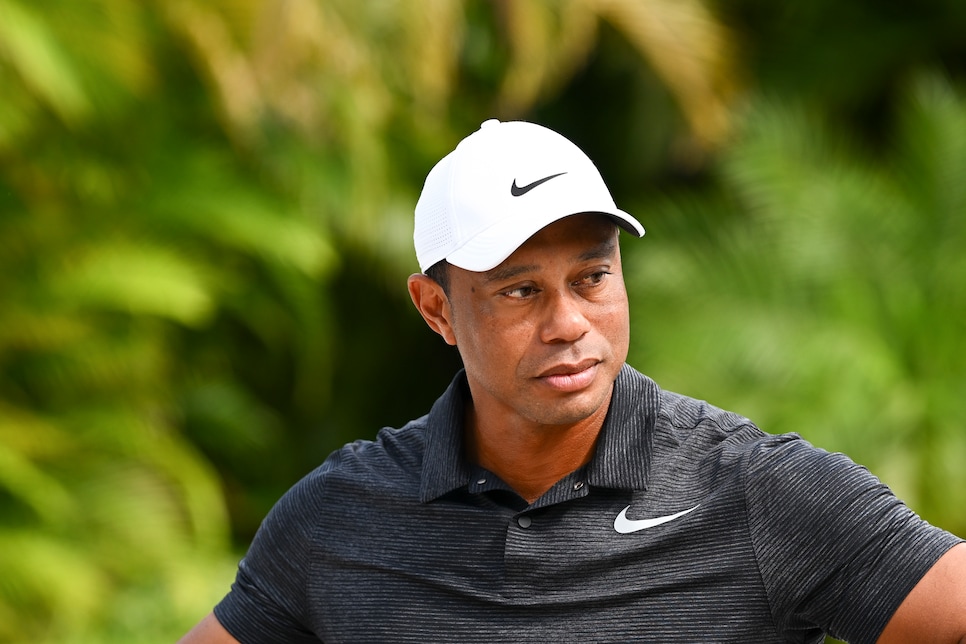 Tiger Woods was an instrumental voice in spurring the widespread, sweeping changes that have come to the PGA Tour, although most of that work was done behind the scenes. However, in his handful of public appearances in 2022, Woods has consistently been a defender of the tour in its battle against LIV Golf. That sentiment was on display this week at the Hero World Challenge, as Woods called out LIV Golf CEO Greg Norman and questioned why LIV members would risk participating in future majors by defecting.
There's no doubt that the Saudi-backed circuit's existence offends Woods' competitive spirit. Conversely, Woods himself has acknowledged he's not much of a regular competitor these days, and looking forward Woods hopes only to play in the majors and one-to-two other events per season. Given that station, coupled with his stature in the game and the divisive nature of professional golf's current schism, Woods would seemingly not have much to gain by taking a stance on the issue, which he why he was asked during a broadcast visit during the Hero's first round why it's important to him to be doing what he's doing.
"I'm not going to be a player for much longer, but I think it's more important that we recognize the past, and build a better future," Woods responded. "How do you do that? Us coming collectively together, what Jack and Arnold did and Gary, we're trying to do the same thing now. We're trying to leave the product better than what we came here with.
"There were less playing opportunities when I came out on tour, less access than there is now. We need to keep doing that, we need to keep celebrating and keep enforcing that there are top players and recognize their ability to play around the world, to showcase their skills. And the best place to play is the PGA Tour. That's where all the top players do play. And we all as players want to compete against one another and beat each other's brains in. That's the fun part about it. We just need to do that collectively together more often. How we do that is the challenge of it all."
Woods was referencing the roles of Jack Nicklaus and Arnold Palmer in forming the PGA Tour, although NBC Sports' Paul Azinger chimed in about Palmer's role in helping stop Norman's first attempt at a breakaway league back in the 1990s. Azinger also noted that Woods has been far from alone in this endeavor, with Rory McIlroy being the week-to-week voice of authority on the matter.
"Rory had the toughest assignment of all because he had to keep playing," Woods said. "I wasn't playing that much. He had to answer all these questions. We had all these meetings and conference calls together, and we were communicating, lockstep behind each other, but I wasn't out front having to deal with questions from the media. He had to do it. And not only that he had to go play and win events, which he was able to do.
"So hats off to him for doing what he did this entire year."
As Justin Thomas remarked earlier in the week, Woods' backing is not lost on the current crop of tour stars. Not only because of who he is, but that he's willing to put himself on the line for them. "As a player who's playing on this tour and having someone like him going to bat for you and speaking on your behalf and knowing that everything he's saying has myself and all of my peers' best interests in mind is pretty cool, because he's Tiger Woods, he doesn't need to do that," Thomas said. "Who knows how much longer he's going to play. Who knows, you know, what his future is going to hold, but he knows how much the PGA Tour has done for him and what the tour has meant to him and he wants to continue to see it be the best product and the best place to play in the world and he's put in a lot of work to make sure that's true."
The Hero World Challenge was supposed to mark Woods' return to competition since his possible goodbye to St. Andrews at this year's Open Championship in July. Woods, 46, played just three times in 2022, highlighted by making the weekend at both the Masters and PGA Championship, as he continues to recover from injuries suffered in a car accident in February 2021. Since the crash, Woods has had multiple surgeries to rebuild his right leg and has said that he'll never be able to play a full schedule because of on-going pain. Woods is expected to play next week in a televised exhibition with McIlroy, Thomas and Jordan Spieth, along with playing in the PNC Championship with his son Charlie in the middle of December.