News
Tiger Woods vs. Phil Mickelson the Match blog: Phil wins on fourth playoff hole, takes home $9 million prize at Shadow Creek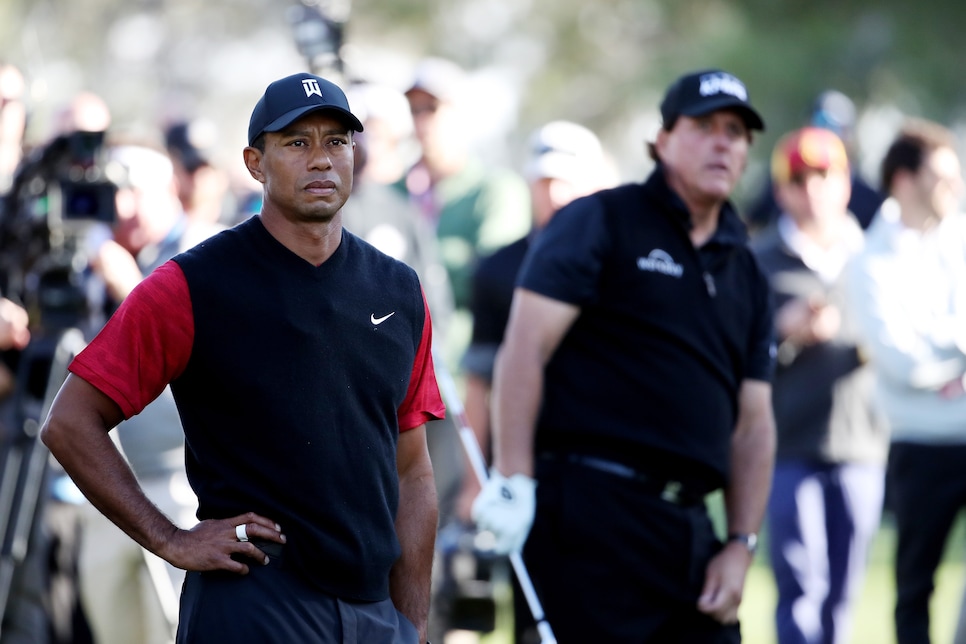 Enough of the hype. Enough of people saying how excited they are. And especially, enough of people spending even more time saying how NOT excited they are. THE MATCH between Tiger Woods and Phil Mickelson is here (Officially, "Capital One's The Match," because both golfers are getting PAID no matter who wins), and we're watching it in case you don't want to fork over the $19.95 to see it on Pay-Per-View. So keep it right here as we provide you with the latest scores, prop bets, and whatever else pops up during this $9 million winner-take-all Vegas showcase. (All times ET)
7:56 p.m.: Tiger, from 7 feet 8 inches, leaves his putt above the hole short. That seems like a dozen makable putts left short. And Phil cans his putt from 4 feet to win the $9 million. Finally —we have a winner.
Phil is "The Match" winner, taking home the insanely big jackpot. Lefty has made $88 million in his career with his 42 PGA Tour wins. He just made a tenth of that in a 4-hour playing of this match against Tiger Woods. Serious cash, and some entertaining golf when there otherwise wouldn't have been on the Friday after Thanksgiving. We'll see if this is the start of many "matches" for this big-time dough.
7:52 p.m.: On the third playing of this "20th hole," we have two great shots. Tiger first puts it to 7 feet, 8 inches. And Phil steps up and hits it 4 feet, 2 inches. We might finally have a hole halved with birdies here on the 22nd hole ...
7:49 p.m.: Anddd Tiger nearly holes it! He plays a great attempt to about 5 feet, so Phil will just be away.
Phil, who has been so solid on short putts all day, blasts his 5 foot, 11 inch putt past. And Phil gives Tiger his comebacker back. We're going to a 22nd hole ... on the "20th hole."
7:45 p.m.: Tiger has the honors again on this 93-yard "20th hole" (now the 21st hole, for those keeping score), and he hits his "tee shot" (off a putting green) long again. Phil steps up and knocks it to 5 feet, 11 inches.
Tiger's gonna have to try to hole this.
7:43 p.m.: Tiger hits an incredible wedge shot to about 3 feet, which is a conceded par. And Phil, about 23 feet away for the birdie, comes up JUST short for the win ... and $9 million. Ouch. We're heading to a 21st hole for sudden death ...
7:37 p.m.: Impressive work by the Shadow Creek greens-keeping staff, as they're literally cutting a cup on the front of the 18th hole and playing this "20th hole" from the front of the green.
Tiger has the honors, and his ball goes deep, and gets fortunate to hit a spectator and kick closer to the green. It's a couple yards in the rough from the green. Phil finds the green and has about 25 feet or so on the first "20th hole."
7:27 p.m.: Phil, with an all-time difficult bunker shot over the stream with his ball plugged in the bunker, hits a pretty decent shot ... clearing the water and rolling out to about 35 feet. He's in a similar spot to where he was in regulation.
Now, Tiger has a putt for birdie to win. $9 mill on the line! ANDDDD Tiger misses! Wow ... he misses from about 7 feet for birdie, to halve the hole again.
Now they move to this 93-yard 20th hole. They'll play the hole until conclusion. Not exactly how we saw this match ending. But it'll be different for sure.
7:23 p.m.: With $9 million on the line, Phil Mickelson, from 198 yards and a 5-iron, he finds the bunker to the left of the green. He didn't even clear the water—but he has a fried egg, over the creek ... WOW.
Tiger meanwhile, layed up to 93 yards and sticks his wedge to about 8 feet. Wow ... how quickly fortunes changed for Phil and Tiger there.
7:18 p.m.: Tiger, hitting first, goes long left with his tee shot—he's in the rough with his stance against the pine straw, as he approaches the green, and he'll be 236 yards out.
Phil hits a better tee shot, finding the fairway about 198 yards out, and has the definite advantage here. And he had an all-time response to hitting a nearly identical drive from the 18th hole in regulation.
7:12 p.m.: Phil runs his 32-footer just about 4 feet by, setting up Tiger needing to make his 5-footer for birdie. He does, then classily picks up Phil's mark to send this into extra holes.
The first playoff hole will be the par-5 18th hole again. And what happens if they halve the hole again? They'll play the "20th hole" at Shadow Creek, which is a 90-yard par 3. And they'll play that until there's a winner.
As the TNT broadcast points out, The Match brought out enormous light fixtures to provide light if they run out of sun, which it looks possible.
7:06 p.m.: Phil hits a great shot from 203 yards, just clearing the water in front of the green. It just rolls to the bottom tier with the pin in the back—so he'll have a tough 32-footer.
Tiger's 6-iron runs to the back of the green, so he'll have another downhill chip, this one a little faster than his previous chip, and a little longer than on the 17th hole. Tiger is 45 feet away.
7:00 p.m.: The par-5 18th hole isn't long (500 yards), but it's a great risk-reward hole. Tiger, with the honors after that courageous chip-in, finds the fairway with his tee shot. Phil finds the left rough. He'll hit first—with the pressure firmly back on Phil. What a 10 minutes ... this is getting good. We're all-square on the last hole for the $9 million? This will have their hearts pumping.
6:54 p.m.: Tiger bellies his wedge to chip in from behind the pin! WOW!!! Now Phil needs to make to keep his margin—and he misses. Unbelievable. We head to 18 all square for $9 million!
6:50 p.m.: Phil, with the honors, hits a fantastic shot to about 10 feet to put the pressure on Tiger, needing to avoid losing the hole to lose the match.
In the air, Tiger loved his shot—but it comes up long. He'll just be in the first-cut. That'll be a tough make from 21 feet to put the pressure back on Phil.
6:43 p.m.: Phil went for the prototypical Phil-flop shot ... and it backfires. He just misses the slope to get close to the hole, and it rolls out to about 40 feet. Tiger hit a very good bunker shot to about 8 feet. Phil misses. And with a chance to square the match from about 8 feet, Tiger misses.
We go to 17 with Phil still one up.
6:38 p.m.: Andddd here are the aggressive plays. Tiger hit a sweeping fairway wood from 318 yards out, and nearly got to the green. He finds the bunker, not a bad spot to be, but pretty amazing he hit it that far.
Meanwhile, Phil, with fairway wood from a similar distance (296), hits it over the green. These guys have some adrenaline. And they have a couple tough up-and-downs for a momentum-changing birdie.
6:33 p.m.: Tiger and Phil both hit big-time drives on the 16th hole. The 16th hole is a LONG par 5—so they'll both each have more than 300 yards out. We'll see who tries to be aggressive here with the match, and the $9-million, looming.
6:28 p.m.: Hitting first, Tiger hits his chip shot 8 feet by—a very sub-standard effort. Phil, meanwhile, shows his magic with his flop to gimme range.
And from 8 feet, Tiger misses, giving the lead back to Phil with three holes to play. The par-5 16th coming up here.
6:24 p.m.: We might have the nerves starting to show themselves. Phil tugged his approach from the fairway to the left side of the green. He doesn't have a lot of green to work with for his little chip.
But Tiger, from 151 yards out, surprisingly comes up way short. Slight advantage to Tiger coming from below the hole.
6:20 p.m.: Will we see some late-match jitters and nerves? There's been a little less talking. Tiger just now: "I'm trying to get a little more talkative ... but we're going back to our old selves, when we used to beat each other's brains in."
With the match all-square on the 15th tee, Phil hits iron into the fairway, and Tiger nails a fairway wood in the fairway, too.
6:15 p.m.: Following a long-drive bet on the long par-4 14th, both Tiger Woods and Phil Mickelson find the same fairway bunker to the right. Now 140 out, Tiger and Phil both hit solid approaches.
Phil JUST misses his birdie putt from about 13 feet that would've won the hole. Tiger, from 9 feet, just burns the edge as well. Two pars to halve. We're going to the 15th hole all-square.
6:05 p.m.: The two make a long-drive side bet. Both fail to find the fairway. That about sums it up.
5:55 p.m.: Wait a minute, we have signs of life! After a nice approach from Tiger Woods at the par-3 13th from 200+ yards, Mickelson sticks it inside. Woods misses the birdie, Phil answers. Tied with five to go. Hey, it's actually...
5:45 p.m.: Tiger breaks out the #smokewagon with a 320-yard plus drive, while Mickelson finds the right rough, his ball miles back. Woods proceeds to put his approach to tap-in range, with Mickelson facing a lot of work left for his bird. Woods looks to go 1 Up...and Mickelson's attempt comes up short. Hey, at least Phil didn't get Ames'd.
5:35 p.m.: On the short par-4 11th, Woods and Mickelson both go slightly long. Woods pulls off a nifty up-and-down, but Mickelson, the short-game savant, falls short. All tied heading to the 12th.
5:30 p.m.: Woods has a "tasty" chip shot to save par, while Mickelson two-putts from deep. Phil stays 1 Up heading to the 11th.
5:24 p.m.: Good news: both find the fairway at the 10th. Bad: Tiger goes far left on his second, and Phil's approach, though it finds the green, isn't much better. But Charles Barkley has clearly stopped G.A.F, so there's that.
5:20 p.m.: Has it been good golf? No. Has the presentation been experimental and revolutionary? Decidedly not. But Charles Barkley just called out Phil and Tiger for playing "crappy golf" so there's that.
5:15: Another great lag putt from Tiger, but it still rolled a bit away from the hole because of how quick the putt was. Phil hit next from the bunker, nearly flying it in the hole. They both made their testy par putts, giving Phil the lead after nine holes at 1 up.
5:09: We have our first official (extremely Dr. Evil voice) MILLION DOLLAR bet. On the ninth tee, Phil told Tiger he thought either of them could make a two on the par 4 because of the favorable hole location. Tiger said yes for $100,000, but Phil said "let's add a zero to that." As they walked to their balls in the fairway, Phil told Shane Bacon that he could "sidesauce" it into the hole, instantly creating a new favorite saying for every golfer watching. Classic.
Little problem with all this ... they both hit pretty woeful shots if we're being honest. Tiger hit his well past the flag, and was barely able to keep it on the green, while Phil came up short in the front bunker. Ugly results for two great wedge players.
5:00: Phil challenges Tiger to a game of "do-don't," which we think just means if you make the putt you win the bet. They each got odds, but it ended up not mattering as the both missed, Tiger's putt missing well short and Phil's well past the hole. On his next putt, Woods lipped out, and Phil gave him the bogey and then buried his short par putt to take back a 1 up lead through eight holes.
4:54: More action at the par-3 eighth, where Tiger said "200 for KP?" which, if you watched HBO's 24/7, is Tiger's odd abbreviation for "closest to the pin." Phil agreed, and Tiger hit a 7-iron that hit the green but came rolling back off the slope to about 40 feet. Phil followed with a similar shot that also took the slope, but stopped about a foot closer to the hole than Tiger's. Not exactly pin-seeking, but another win for Phil. He's won $300,000 on two bets, while Tiger's won $200,000 on one bet.
4:50: Tiger hits a perfect lag putt to tap-in range from long distance, making his birdie. This was right after Phil put his first bunker shot into another bunker just in front of the green. He needed to hole the next just to halve the hole, and he didn't even come close. We're all square heading to the eighth tee.
4:45: Tiger attempted to bait Phil into a "low score on this hole wins" bet, but Phil wouldn't bite without any odds. Even after Tiger said "with how you your swinging it?" to which Phil responded "it's intimidating, isn't it?" Finally! BANTER! And not forced, cringey banter. More of that please.
Phil ended up ripping 3-wood into the front bunker, while Tiger hit his just right of the green and on the fringe.
4:42: Charles Barkley provides the best trash talk of the day so far. After a tweet from Colt Knost flashed on the screen that said Chuck should have to hit a shot for each player, Barkley said he's neighbors with Knost, and said he's a "donut away from being a circle." Big guy on big guy crime.
4:38: Phil tries to hit a huge cut at the dogleg par-5 seventh and it runs through the fairway. Tiger steps up right after and BOMBS one right down the pipe. Big hole for Woods, bigger hole for anyone who threw a little taste on the "Will there be an eagle" prop bet at +500. Those folks are rooting hard for Tiger to knock one on the green here.
4:33: Two lame misses on the amateur side of the cup from Tiger and Phil. Mickelson remains 1 up.
4:30: Good approach shots from both Tiger and Phil into the sixth green. Phil's went right over the flag, off the back of the green, but then fed back toward the hole to 10 feet. Tiger's was short, but took a nice forward hop to 13 feet. Little bit of JUICE on this hole finally.
4:20: Tiger and Phil both hammer their drives down the fairway at the sixth, Tiger's 349 yards and Phil's 343. No side action on this whole yet. And once again, they aren't walking together. Not sure if they don't know what to talk about or they are both getting really serious. Perhaps a little of both.
4:17: Phil and Tiger halve another hole, but not without Woods having to coax in another knee-knocker from about four feet. Mickelson had a great chance to win, but someone left his downhill eight-footer short. Still, he's 1-up through five holes. And down $100K in side bets. C'mon, guys! Let's see some more ACTION!
4:10: The guys throw down an extra $100K for a closest-to-the-pin contest on the 137-yard par-3 fifth. Phil hits his shot and yells, "Be the right one today!" while it's in the air. It almost hops in, but rolls to about eight feet. Tiger hits a terrible (by tour pro, eh, low-handicapper standards) tee shot that winds up some 40 feet right. That's $100K back to Phil. And he'll likely have a good chance to go 2 up as well.
4:03: Now we're cooking! The fourth hole is halved with birdies and we even got a "good-good." Well, a delayed good-good. After Tiger stuffed a wedge to about 3 feet behind the hole, Mickelson chipped to about the same distance. Mickelson gave Woods his birdie putt, but Woods made Phil sweat a bit before telling him to pick it up. Through four holes, Mickelson remains 1 up.
3:56: As Phil walks to his tee shot, he discusses the new rules with the PGA Tour's Mark Russell and says the guys are going to need some help. One rule we know Phil is aware of, though, is hitting a moving golf ball. In other news, it's reported that "a lot of late action" came in on Mickelson the past few days. Beware of that SHARP money, folks!
3:54: Phil pummels another perfect drive on the par 5 fourth while Tiger misses right for a second straight hole. Not as much chatter between the two guys right now. . .
3:50 Wowwwww. Tiger juuuuust curls in a four-footer for par to remain 1 down after Mickelson misses his birdie attempt. Is it possible that Tiger is feeling more pressure in this match than in any of his 14 major titles?
3:47: After a terrible tee shot on the par-4 3rd, Tiger hits a nice punchout, but is still some 30 yards short of the hole. Mickelson hits a solid approach to about 20 feet. He'll have a great opportunity to grab a quick 2-up lead. Meanwhile, there haven't been any side bets broached since the press conference. . .
3:37: Neither hit great chip shots, but Phil's is worse as he blows it a good five feet past the hole. He drains his par putt, though, and Tiger rakes his in--NO!!! He misses from about three feet. WOW! THE MATCH! Phil takes a stunning 1-up lead after two holes.
3:33: Both Tiger and Phil miss the green with their approach shots, but more disturbing is the overhead view which makes it look like the green was just aerated. You can't play THE MATCH on punched greens! C'mon!
3:29: Tiger and Phil both find the fairway on No. 2, Tiger about 10 yards ahead after hitting a 3-wood to Phil's 2-iron. They enjoy another fun chat as they walk to their golf balls, but it was tough to understand what Phil was saying through all the heavy breathing. Guy hasn't been hitting the treadmill lately.
3:23: NO BLOOD on the first hole. Well, actually, a little blood since Tiger wins the $200,000 side bet for Mickelson not making birdie. Both walk away disappointed after missing makable putts. All square after one.
3:19: After Tiger hits a dart to about 10 feet below the hole, Phil answers with a nifty approach that spins to about the same distance. Keep in mind, these two have a $200,000 side bet on whether Mickelson can make birdie here. Both will have great looks coming up.
3:16: Mics on Tiger and Phil pick up their entire conversation as they walk to their first tee shots. They talk about Samuel L. Jackson (he's the "King of Cool"), their kids, and joke about Tiger's strategy to hit it shorter off the tee so he'd hit his approach first. There are some awkward silences mixed in, but overall, it's some decent CHATTER to start. And a lot of heavy breathing. . .
3:13: Phil Mickelson takes an iron off the first tee and hits a laser down the middle. Tiger follows him with an iron, but it just rolls into the first cut. Good news, though, if you bet the over on Tiger club twirls, because that's one already!
3:08: OK, folks, it's time. Tiger vs. Phil. Let's hope for some birdies and a lot of fun. Phil has the honors on the first tee thanks to winning that coin toss. Tiger says he's wearing Nikes with a gold swoosh in honor of Vegas and the Vegas Knights, which might be the most attention the NHL has gotten in decades. And. . . they still aren't teeing off. . . sorry for the false alarm. This will happen soon, though. . . I think. . .
3:03: While we wait for Tiger and Phil to arrive at the first tee, Turner Sports shows a montage featuring prize fighters, including. . . Mike Tyson! THE MATCH! LFG!
2:52: PGA Tour VP of Rules Mark Russell (this is getting serious) oversees the coin flip between Tiger and Phil, which involves a poker chip with their faces on it. Phil wins, opts to tee off first on No. 1, and snatches the chip for good measure.
2:30: Tiger and Phil are warming up side-by-side on the range. Tiger has an iPhone out showing him TrackMan stats. Neither are doing much talking. Are things getting serious with $9 million on the line?
2:22: Phil doesn't provide details on how he'll try to get inside Tiger's head, but says, "I feel like I have a few things ready. . . Hopefully, they won't cross the line." People who spent $20 on this probably hope otherwise.
2:05: If you bet on Tiger wearing red. . . you win! Woods is on the Shadow Creek putting green wearing a red sweater and black trunks. Sorry, make that black pants. We're in boxing mode here. Phil Mickelson, also not surprisingly, is dressed in all black as expected.
Phil says, "You decided to go with red today, huh? It looks good on you." Tiger responds by saying Phil's all-black getup is "very slimming." Let the games begin!
1:45: This might be the first THE MATCH between Tiger and Phil, but golf fans are/were used to watching big-money golf events during Thanksgiving week. A decade ago, the Skins Game went off the air, but it had a great run previously. And as you kill time before Tiger and Phil tee off at Shadow Creek, here's a look back at 11 things you probably don't remember about this former Thanksgiving golf tradition. And while you're at it, why don't you read up on today's venue.
1:15: We are less than two hours away from THE MATCH, and in case you are still thinking about watching, here's how. No, that's not a link to some magical code that will let you watch for free, but it still might be helpful info.