The experience of playing Shadow Creek, site for this week's Bank of Hope LPGA Match-Play, is unlike any other in golf. In some ways, over the top—but in all ways, unique.
How often, for example, have you been picked up in a limo for golf? We take that back: Have you ever heard of a golf course that requires you arrive in a limo? Welcome to Shadow Creek.
Intentionally, the North Las Vegas site of the 2018 match between Tiger Woods and Phil Mickelson match, and now the 2022 Bank of Hope LPGA Match Play, has remained a bit of a mystery since it was designed in 1990 by Tom Fazio and Steve Wynn. At first built as a private club for Wynn, the Vegas hotel and real-estate magnate, to entertain his clients and celebrity friends, Shadow Creek has been open to the public for roughly 20 years. And by saying it's "open to the public," we must clarify.
There are ground rules to being one of the best public golf experiences money can buy. First, your green fee will cost you $1,000 during peak season (March to May and September to October) and $750 during off-peak times. That's second only among public access courses to Pebble Beach (which charges $575, not including a $45 cart fee or a $95 caddie fee, before tip). But in other ways Shadow Creek is the high-roller's version of Pebble. For instance, you must stay at an MGM hotel to play Shadow Creek. Legend has it even Bill Clinton's request to play required the same rules. Only two foursomes of $600-paying MGM hotel guests get out on the course each day—taking the limo from the hotel to the course, which is a 20- to 30-minute ride from the Vegas Strip—and that's limited to Monday through Thursday. The rest of the time it's invitees only. If you're a real high-roller at a Vegas hotel, your concierge might invite you to play. But you gotta spend some serious coin to get that hook-up.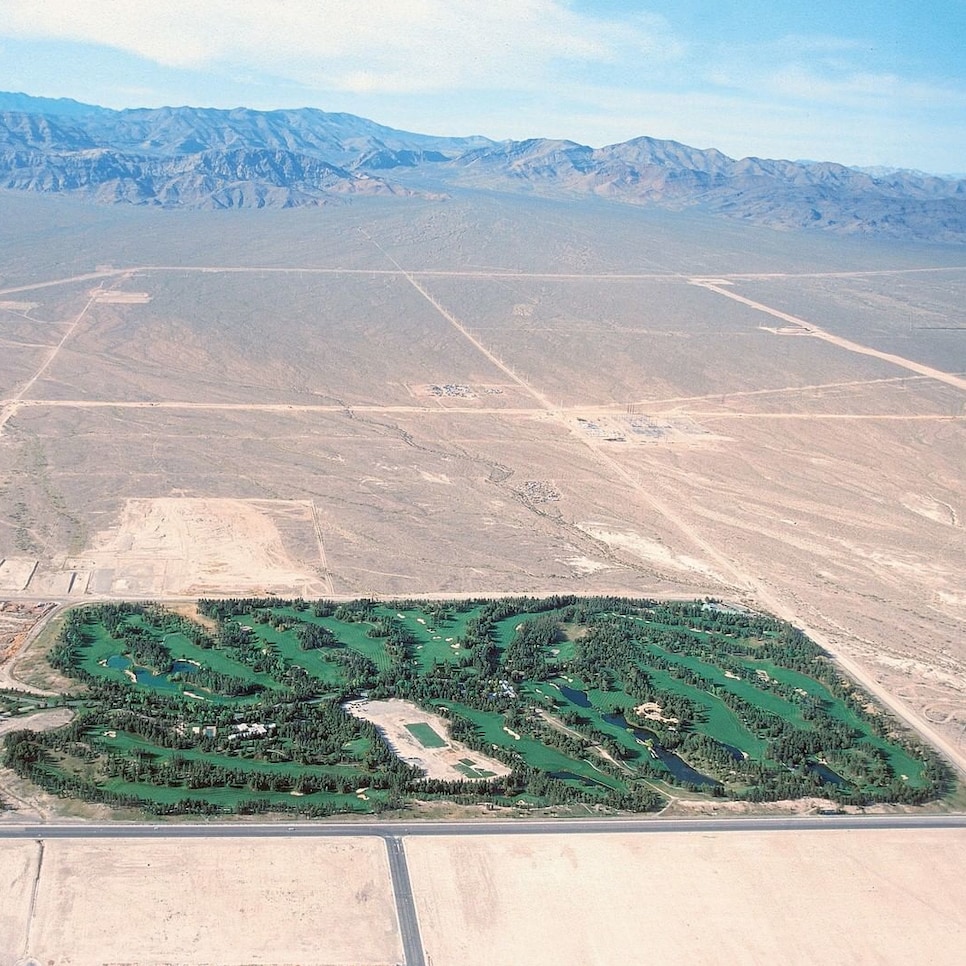 Being invited to one of the charitable events held at Shadow Creek is another way to play it. The annual Tiger Jam invitational is held at Shadow Creek, and if you donate enough money (between $17,000 and $30,000), you might even be able to play the course with Tiger's group. There are a select number of other charity or invitational events also held at Shadow Creek each year, so for those who aren't Vegas' richest visitors, you do have a chance to play it.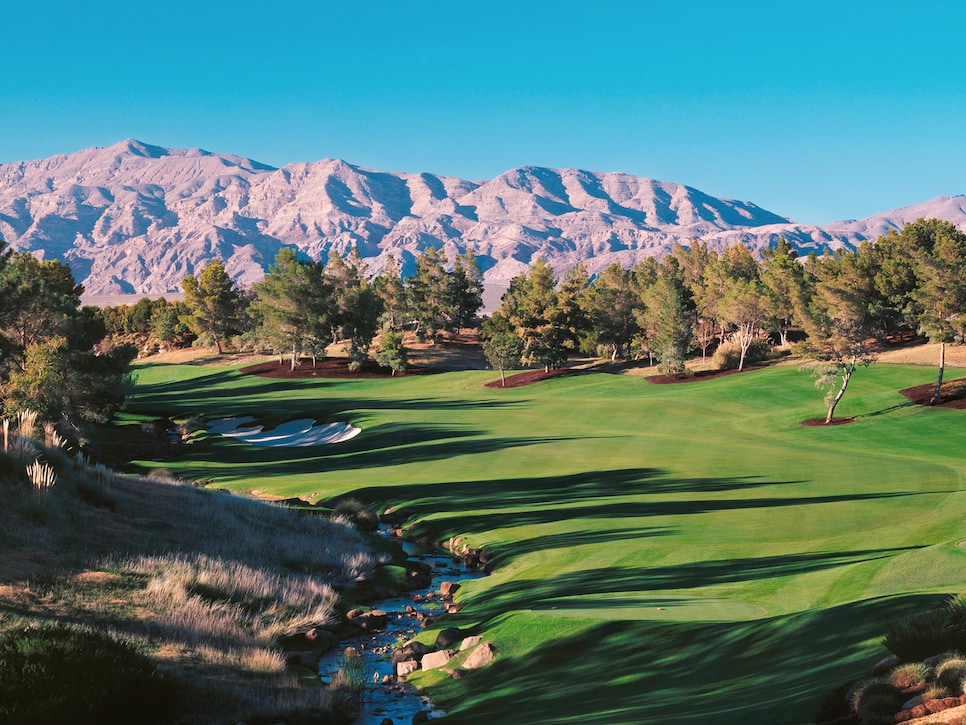 The Henebrys/Courtesy of Shadow Creek GC
Once you're on-site at Shadow Creek, the treatment is superior. I had the opportunity to play there recently, and my caddie kept saying throughout the round: "This is your golf club today. Whatever you want, you can have." That included drinks delivered to us on the course. For breakfast, order anything you want from the bar, and they'll make it for you. The veranda on the side of the clubhouse overlooking the 18th hole is an ideal spot to soak in the day.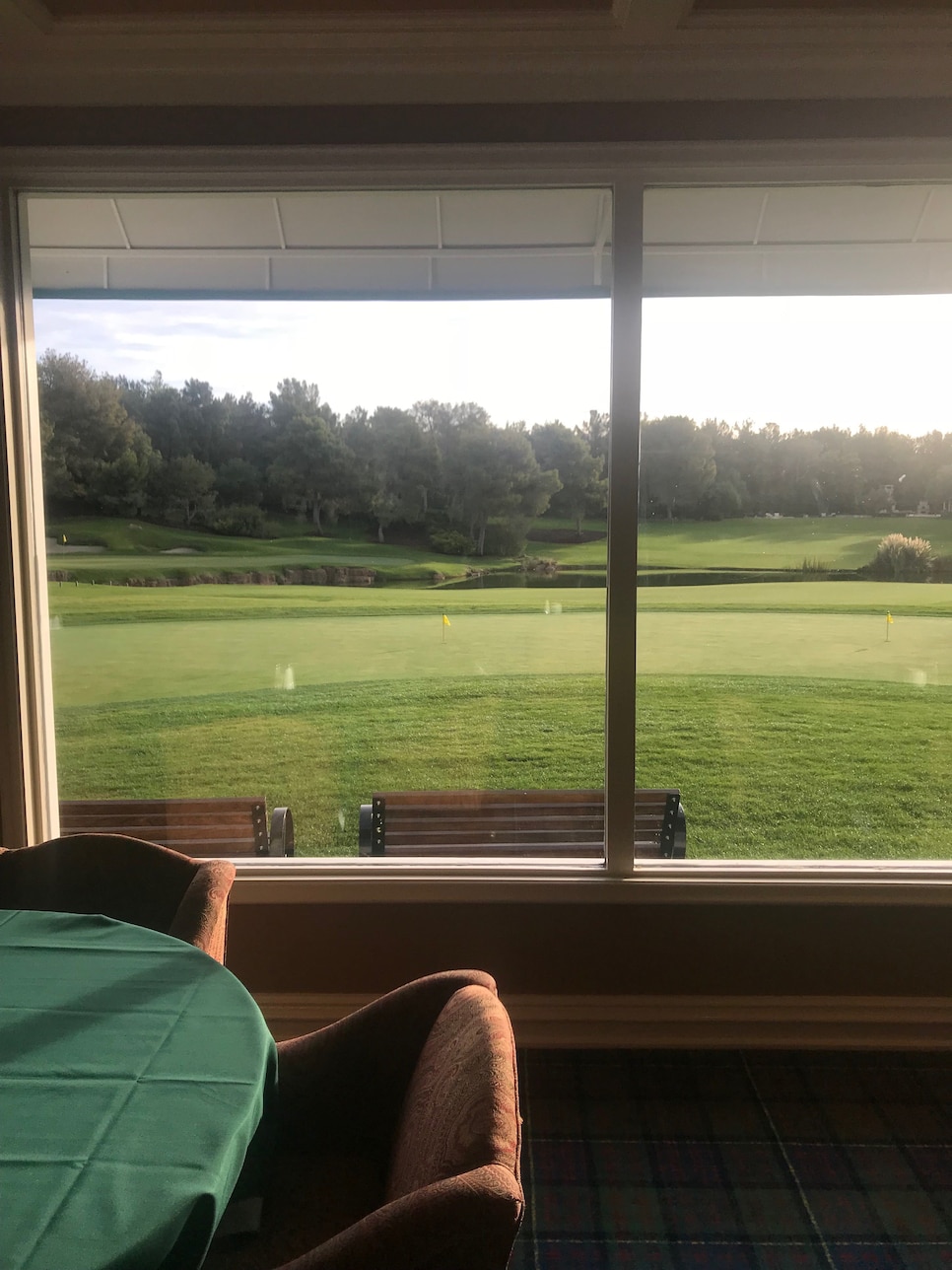 Shadow Creek debuted in 1993-'94 at No. 8 on Golf Digest's America's 100 Greatest, the highest appearance by a new course in our 50-plus-year history of the 100 Greatest. Its rank has fallen a bit since then, currently sitting at No. 26 on our most recent list. Shadow Creek currently sits at No. 5 on our 100 Greatest Public ranking, behind only Pebble Beach, Pacific Dunes, The Ocean Course at Kiawah and Whistling Straits.
The budget used to build this desert oasis was one of the biggest ever in golf. Our Ron Whitten has reported it at $37 million, but that number might even be low. Tom Fazio totally manufactured a lush, green setting for golf with serious elevation out of the desert floor, but he did so in a way that makes it seem like it was natural. Wynn wanted to create some sort of combination between Augusta National, Pine Valley and Sherwood Country Club in Los Angeles, where Wynn played a lot of his golf. To me, it was reminiscent of playing North Carolina's Quail Hollow Club with the incredible amount of pine straw and trees framing every hole. The elevation changes are incredibly impressive—when you consider this land was flat upon arrival.
At the par-3 fifth hole, in particular, massive trees were planted about 100 feet below the desert floor by Fazio's construction crew—to give golfers the feeling that you're hitting your shot above a canopy of trees. The tree line has been cut back over the years, but when Wynn still owned the club (MGM bought it from him in 2000), he'd have the trees replaced from his own nursery every couple of years. Imagine that cost? That's a normal question to ask on any given hole around Shadow Creek.
If you're in Vegas, have some money to spend and want to live like a high-roller, we'd suggest doing your best to play Shadow Creek. It's the type of place you should experience. And now after "The Match" with Tiger and Phil, there's definitely some added intrigue to this already mystical setting.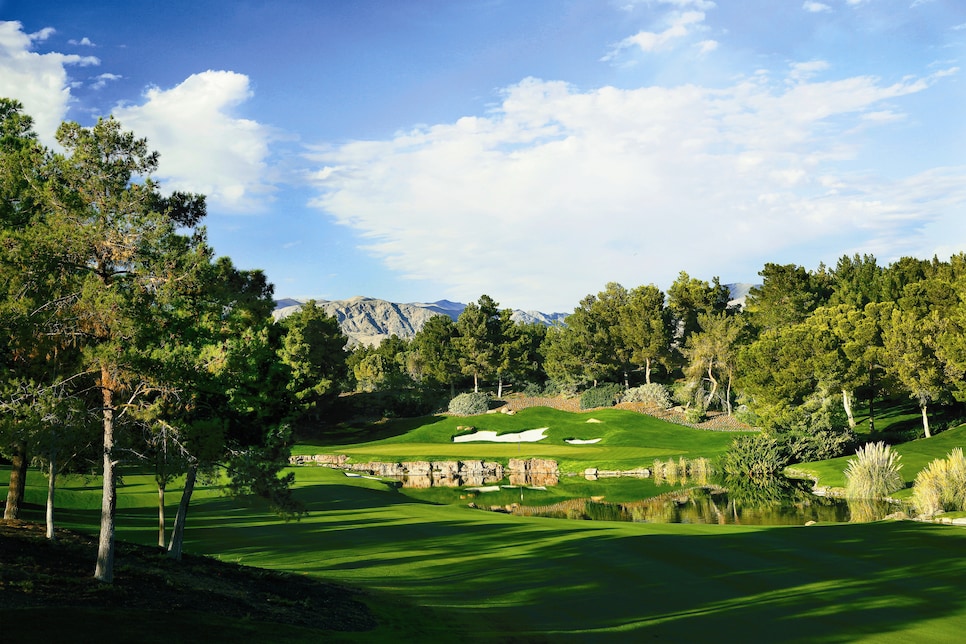 Courtesy of Shadow Creek GC