News
Phil Mickelson assures there will be "six-to-seven figure" side bets with Tiger Woods, starting with a $200,000 wager on first hole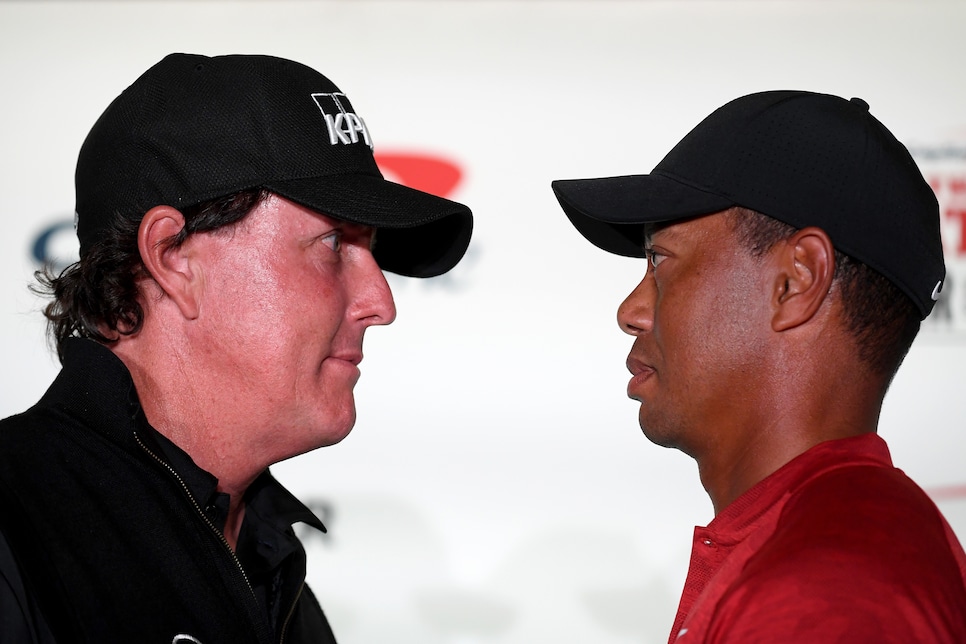 The match between Tiger Woods and Phil Mickelson held its press conference on Tuesday in Las Vegas. For those expecting a boxing-UFC fight-night fission in the air, Tuesday was decidedly not that, with the two legends trading cheesy jabs and generally doing their best impersonation of an open-mic comic.
However, the presser did deliver this piece of gold: Mickelson is so confident that he'll birdie the first hole at Shadow Creek that he's willing to bet $100,000 on the line.
"So I've thought a lot about this and there are spots out on the course that are some great spots for a little challenge and the challenges are coming directly out of our pockets, OK?" Mickelson said. "And I feel like the first hole is a great hole for me. And I believe – in fact I'm willing to risk $100,000 that says I birdie the first hole. So that's how good I feel heading into this match."
With some "oooohhhs" filling the room, Mickelson added, "You don't have to take it. You don't have to take it at all. But I'm going to throw that out there."
To which Woods replied, "Double it."
Congratulations to all those that took the over on the "There will be a $50,000 or more side bet" prop.
That's not all, as Mickelson later revealed other side wagers could be in the seven-figure range, all which is, ahem, coming out of their own pockets.
Give these cats credit. For $19.99, viewers are expecting a show. And if Tuesday is any indication, Woods and Mickelson are doing their best to set the stage.