News
11 things you probably don't remember about the Skins Game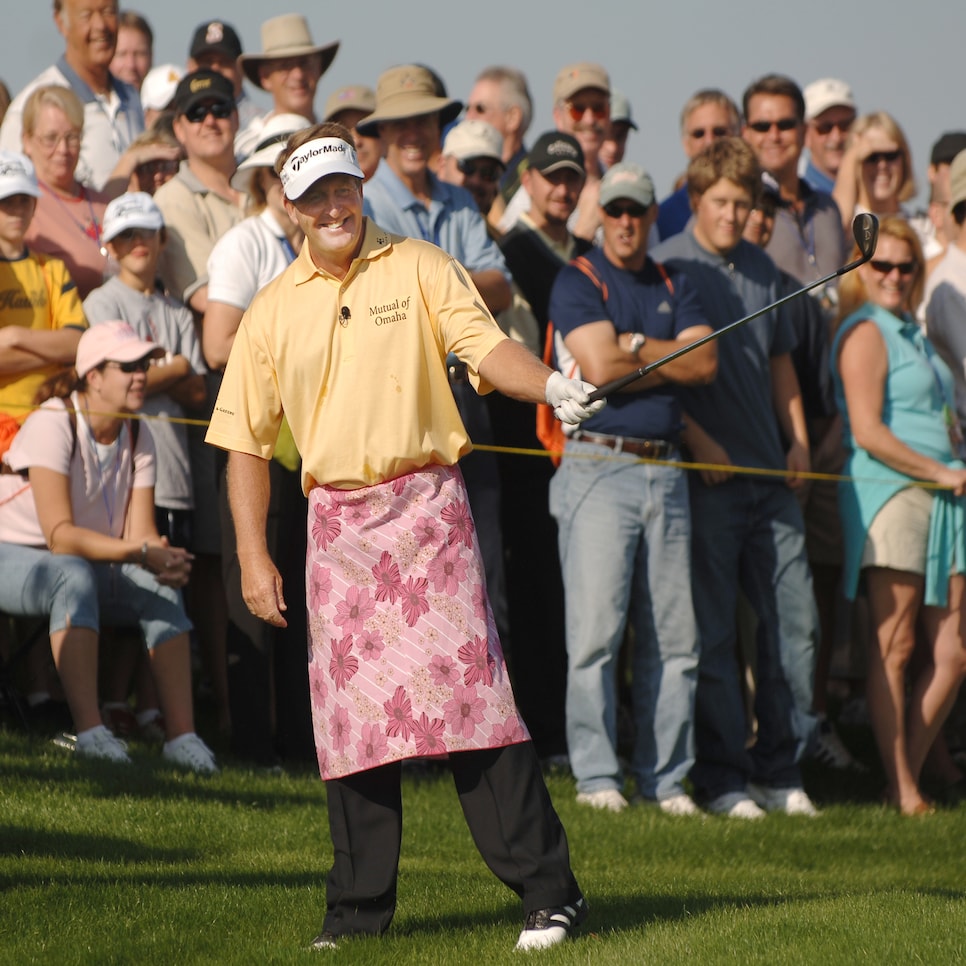 What are your favorite memories of the Skins Game? Ask around the Golf Digest office and you'll get a lot of different responses beginning, of course, with Lee Trevino's hole-in-one in 1987, Fred Funk putting on a skirt after being outdriven by Annika Sorenstam in 2005 and even the claim by one of our writers that Ernie Els once simultaneously uncorked a monstrous drive and fart that was picked up loud and clear by microphones. Sadly, we couldn't find audio/video evidence of the last one.
Anyway, a lot has happened in golf during the past decade, but none of it has happened at the Skins Game, which was last played in 2008. In the decade since—and with "The Match" between Tiger Woods and Phil Mickelson stuffing that Thanksgiving weekend golf void—much has been forgotten about this once-popular (and once incredibly lucrative) four-person event. But we're here to remind you about this pioneer of made-for-TV golf with these 10 things you probably don't remember about the Skins Game.
1. Tom Watson accused Gary Player of cheating
For the most part, the Skins Game epitomized hit-and-giggle golf, but things got a bit testy between two of the game's legends during the inaugural event in 1983. With $120,000 on the line on the 16th hole, Watson was overheard confronting Player about allegedly illegally improving his lie by patting down a root behind his ball. Here's what New York Times columnist Dave Anderson wrote:
"From 30 feet away, Tom Watson could be heard saying, 'I'm accusing you, Gary … you can't do that … I'm tired of this … I wasn't watching you, but I saw it.' Gary Player could be heard defending himself, saying at one point, 'I was within the rules.'"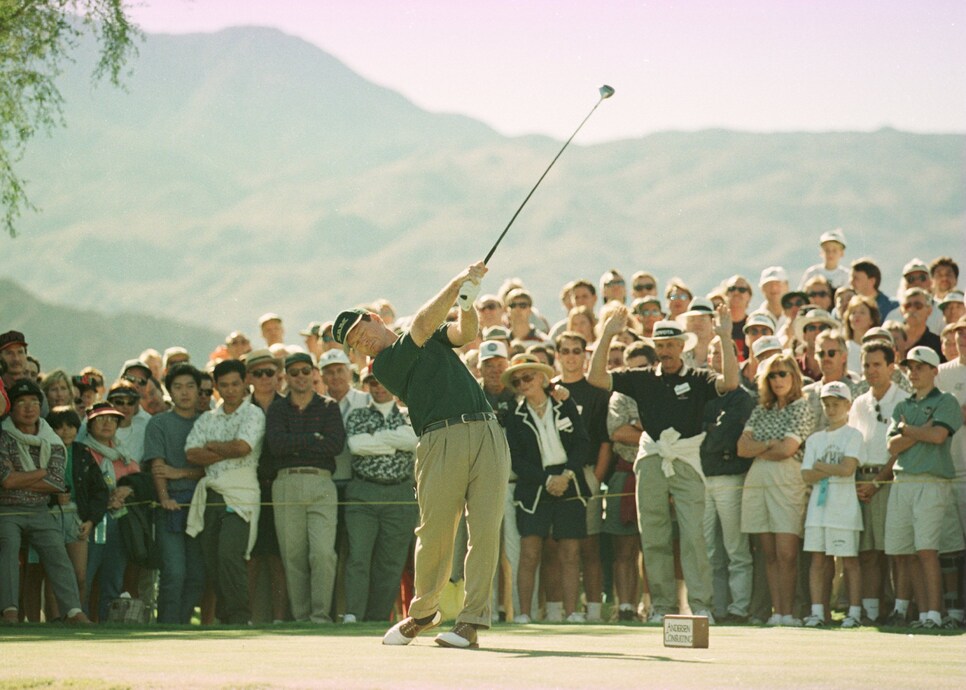 Watson maintained his belief that Player—knowingly or unknowingly—cheated and issued a statement the following day that said in part, "If we overlook the rules, then the game as we know it would become something much less than it is. My greatest regret, though, is that this private matter became a public incident."
It should be noted the two consider each other great friends today, but talk about awkward. And talk about an inauspicious start to this silly season event. Not that tournament organizers and broadcasters were upset about it. Speaking of …
2. The Skins Game was a TV ratings hit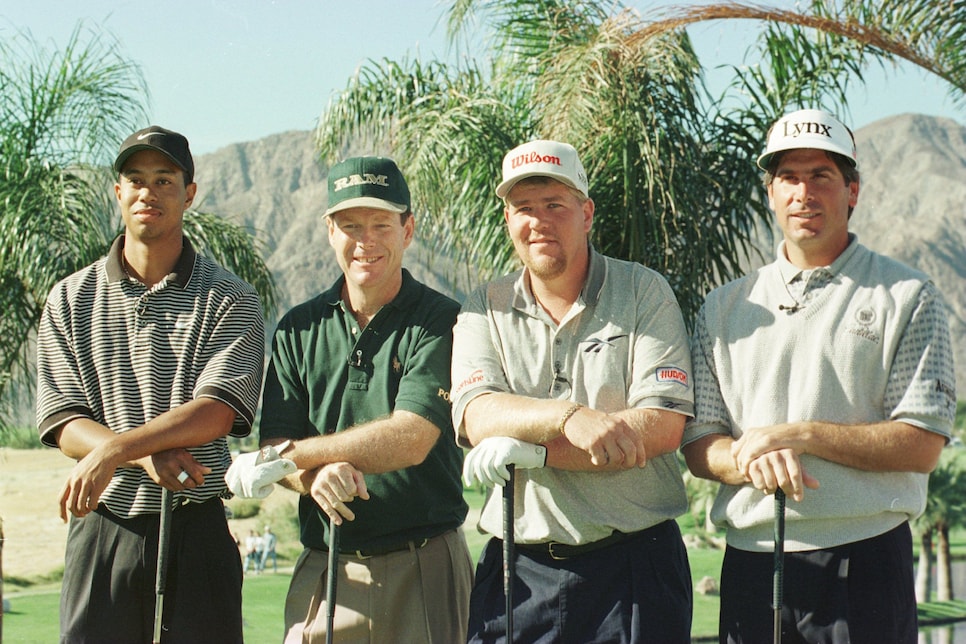 The Skins Game didn't just promise big bucks, it delivered big TV ratings. In fact, it was the highest-rated televised golf tournament in 1986. Yep, even higher than a certain sixth green jacket win by a certain Golden Bear that year at the Masters. And for its first 10 years of existence, the Skins Game's average weekend rating (5.65) topped that of the U.S. Open during that time. Why was this the case? Well, getting superstars to participate—Was that 1983 foursome of Jack Nicklaus, Arnold Palmer, Gary Player and Tom Watson any good?—was a start. But yes, there was also the money, which leads us to …
3. This was a HUGE purse back in the day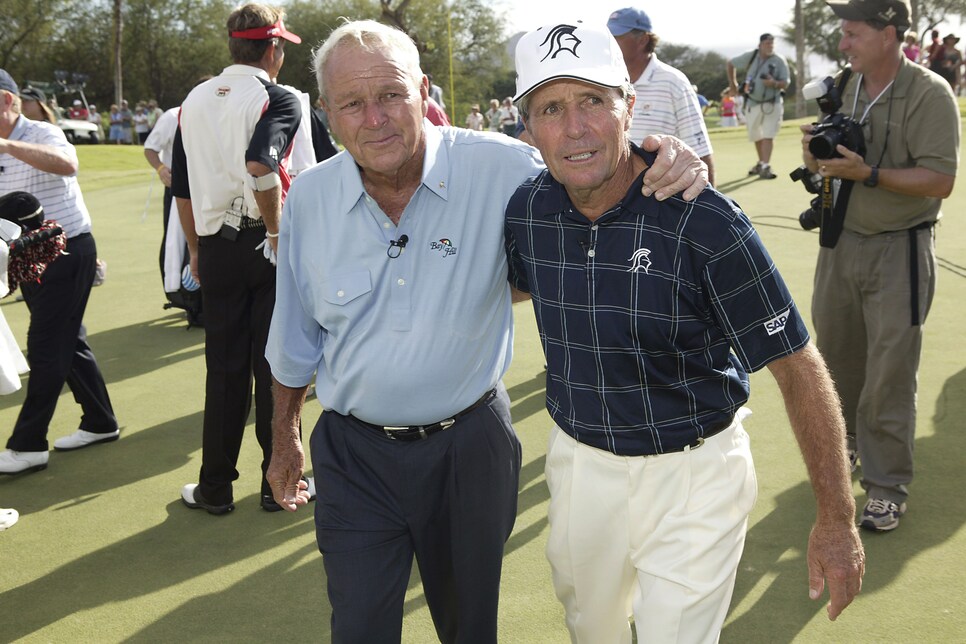 To put how much money was on the line when Palmer won $100,000 on the 12th hole of the first Skins Game, consider that was more than twice what he'd won in any tournament. Later that day, when Player converted a four-foot birdie putt on No. 17 to win $150,000, that was more than he'd made in all but one of his years on the PGA Tour. Skins Game founder Don Ohlmeyer once said in an interview with Arizona Golf that the nine-time major champ "was hyperventilating so bad on the 18th tee that he could hardly take the club back. He could not believe he'd won that much money." By 2008, the purse had swelled to $1 million for 18 holes, including $200,000 up for grabs on No. 18, but in an era with weekly $1 million paydays, it just didn't get the juices flowing like it used to.
4. Payne Stewart was the original Mr. Skins
Golf fans know Fred Couples was dubbed Mr. Skins (If you Google the nickname, don't forget the "s" or you'll find entirely different results) with his five wins and five runner-ups (Didn't he ever get in trouble at home for being away all those Thanksgivings?), but Payne Stewart had an impressive run first. Stewart pulled off the event's only three-peat from 1991-1993, topping a second-place Couples in two of those years while ratcheting up his sartorial flair (if that was even possible).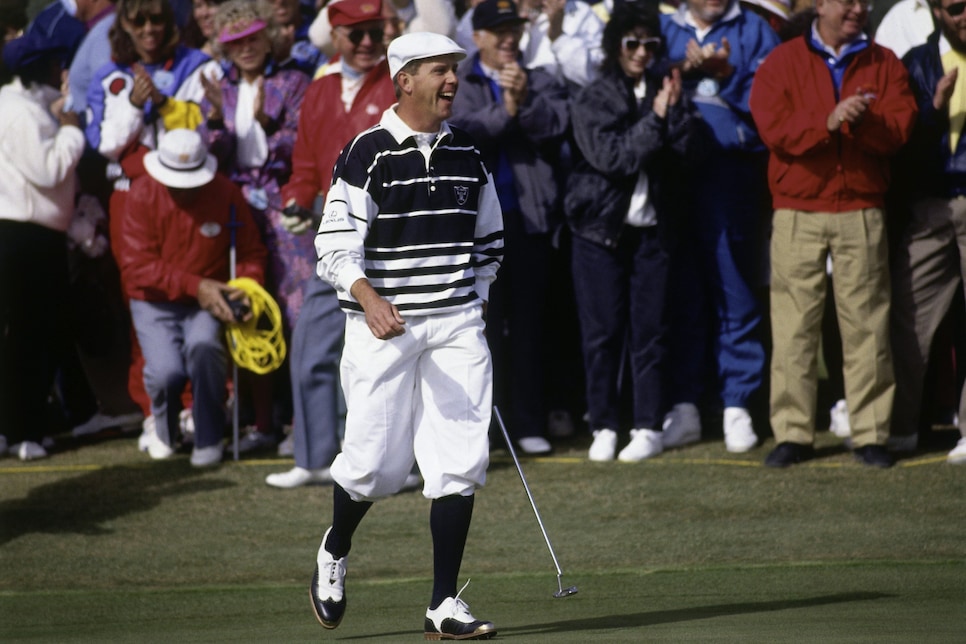 But yeah, there can only be one Mr. Skins.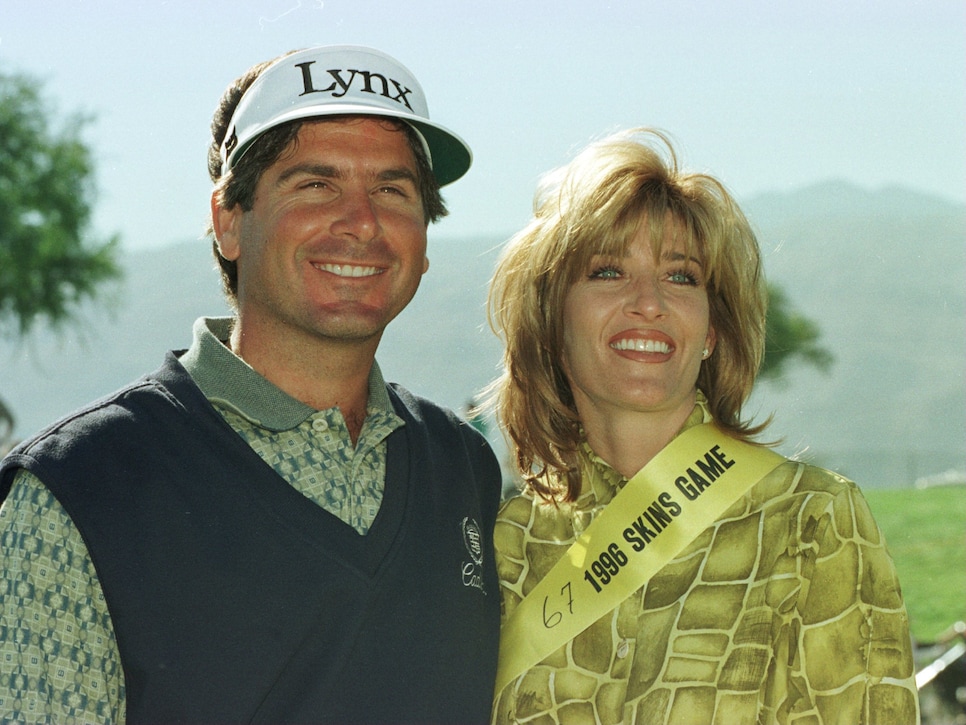 5. Tiger Woods (or Phil Mickelson) was never Mr. Skins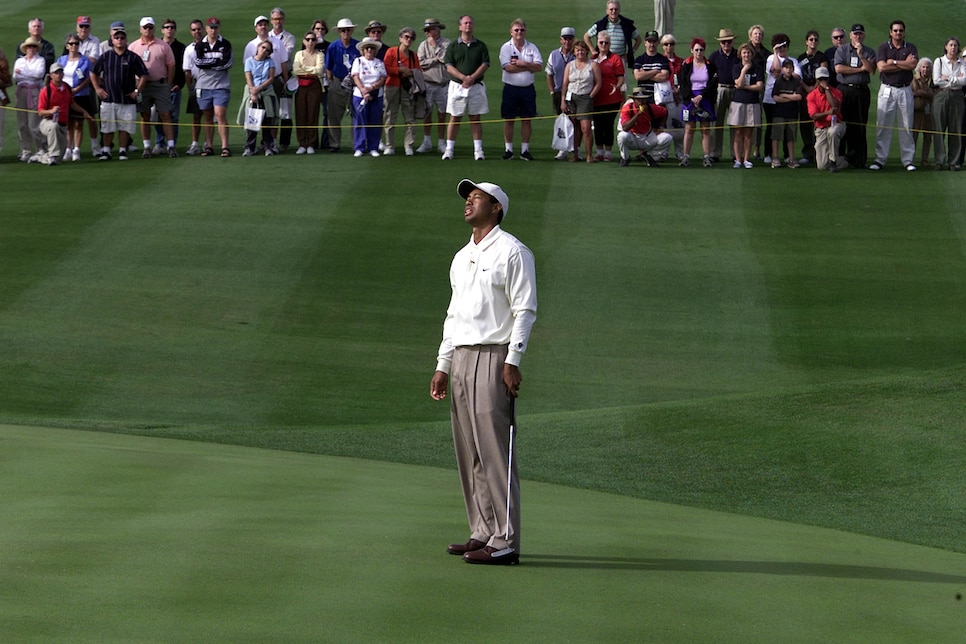 If you thought Tiger's Ryder Cup record was bad, wait until you hear about how he fared in the Skins Game. In seven starts, Woods never won, his closest call coming in 2004 when he hit it in the water on the fourth extra hole (No. 17 at La Quinta) to lose to (guess who) Fred Couples. Not that Phil fared much better. Mr. Money Games himself didn't win any of his three appearances (2002, 2003 and 2008). However, he did top Tiger for the final available skin in 2002 worth $200,000. And you can bet he remembers that when they start "The Match" with a side bet for the same amount. Speaking of that skin in 2002. . .
6. Steve Williams sent a camera to a watery grave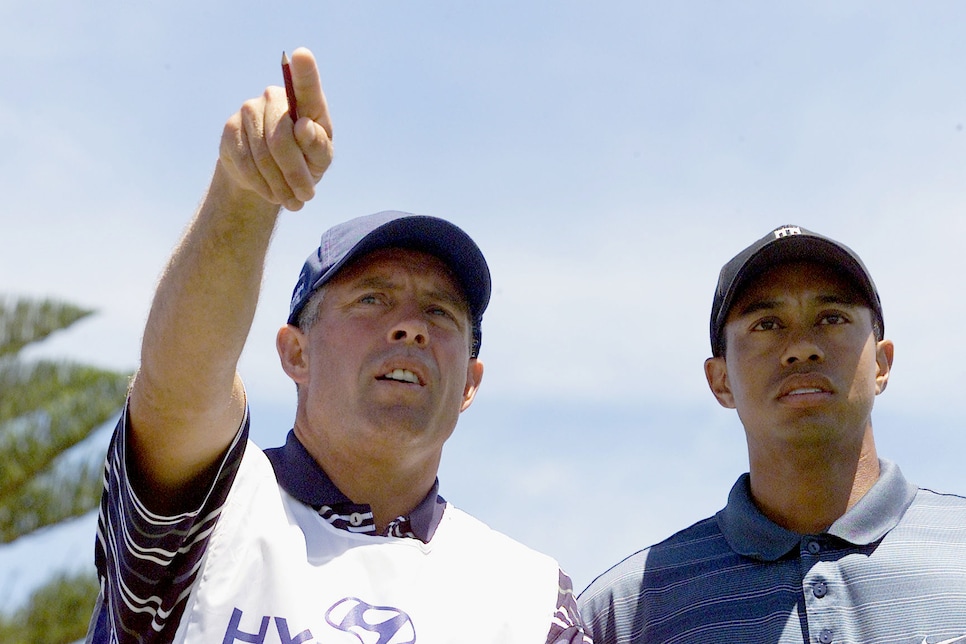 With $200,000 on the line, Woods "flinched" on a bunker shot as a camera clicked in his downswing. Williams, Woods' caddie at the time, had a more memorable reaction, eventually obtaining the camera from the fan and tossing it into a lake. Williams was known for not taking any crap from fans, officials and even his boss, but this was a bit extreme. Not that the New Zealander feels bad about the incident, which wound up costing Tiger even more than the lost skin to his rival.
"Do I regret tossing a fan's camera into the water at the 2002 Skins Game? No," Williams said in a 2015 interview with Golf Digest. "The fan was taking pictures on the players' backswings all day. I told him repeatedly not to do it, and he couldn't have given a damn. He just kept snapping. … As we walked across a bridge toward the clubhouse, I saw the fan and asked, 'May I have your camera, please?' For some reason he let me take it, and I stuck my arm out and dropped it into the water. I think Tiger wound up paying for the camera."
Hey, at least Steve said, "please."
7. Greg Norman swept in 2001 (thanks to dumbest rule ever)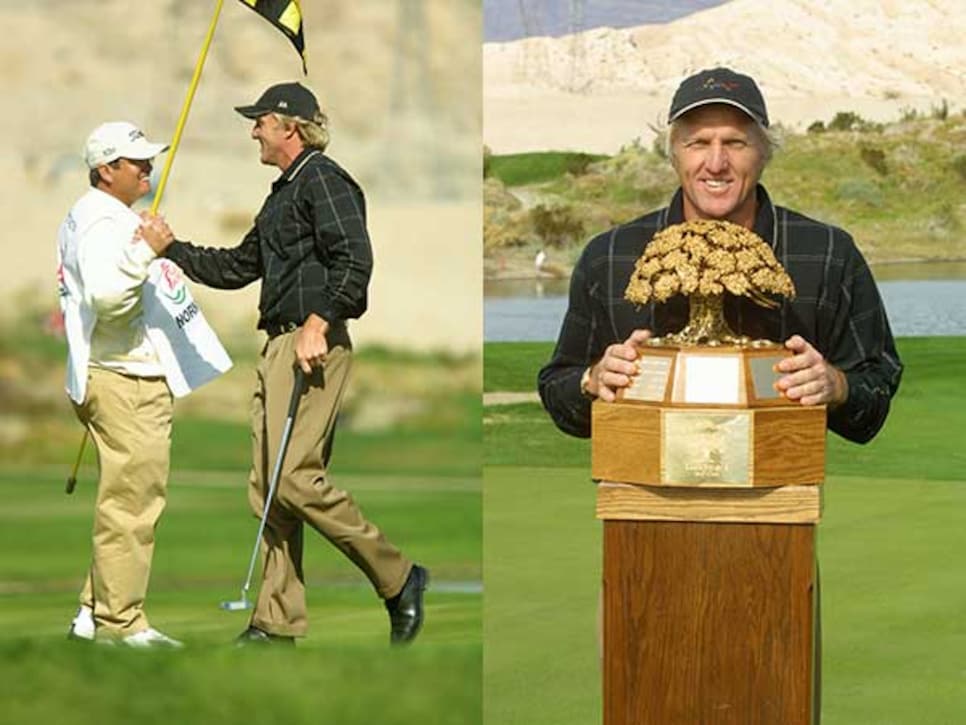 In 2001, The Shark became the first and only golfer to sweep all the money at a single Skins Game. One MILLION bucks for 18 holes? Not too shabby. But the Aussie's performance gets an asterisk. For some reason, event organizers thought it was a good idea to make players validate their skins that year meaning if you won a skin, you had to at least tie for the best score on the following hole. Yes, this defeats the whole purpose and randomness of playing a skins game. Thankfully, everyone (except maybe Norman) realized how dumb this rule was and it was done away with before the following year's event.
8. Notre Dame football played a big role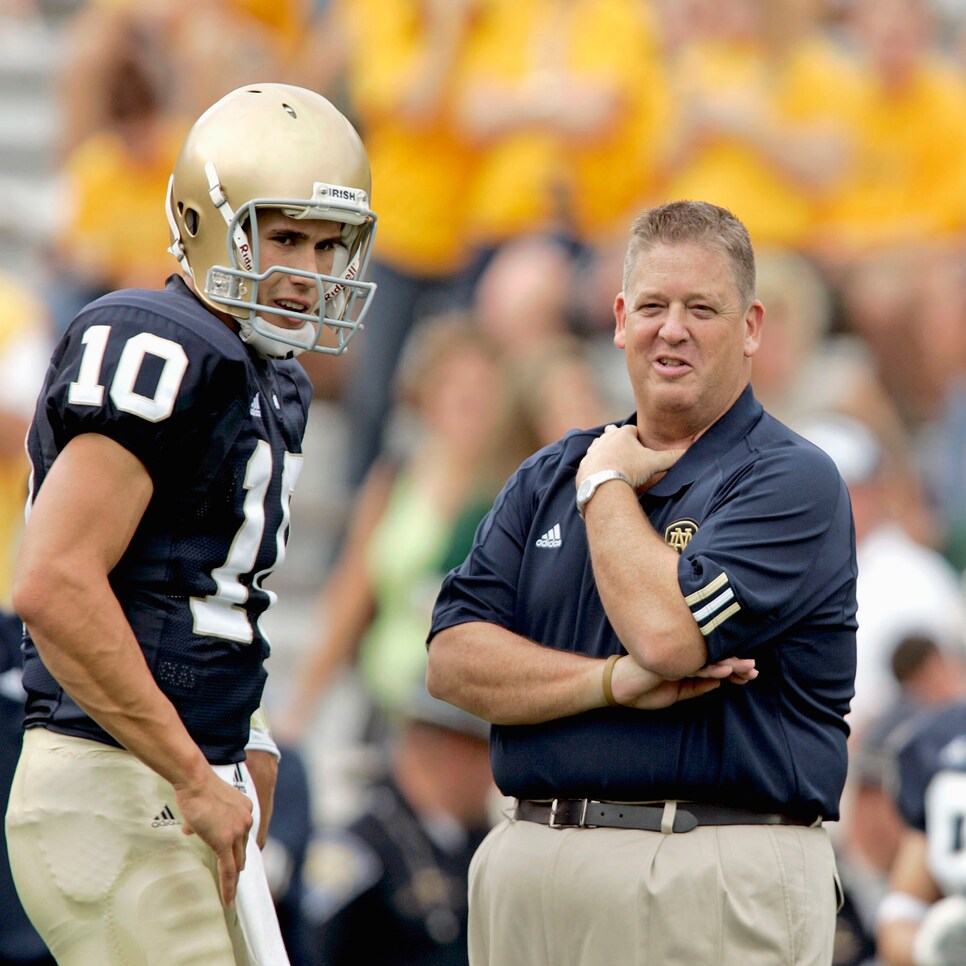 The Skins Game will be remembered mostly as an ABC production, but it was originally televised by NBC. What prompted the Peacock to pass on an event doing such good ratings? It acquired the rights to Notre Dame football in 1991. And considering it still has those rights and the Skins Game hasn't been around since the days of Charlie Weis leading the Fighting Irish, NBC probably made the right call.
9. Brent Musburger spoiled Lee Trevino's ace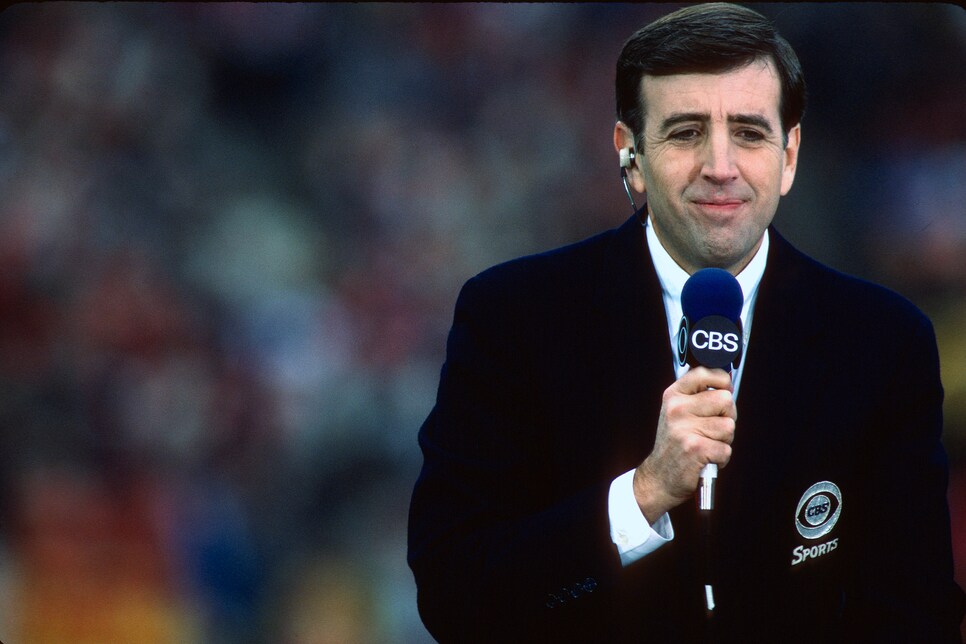 The announcer known for setting the stage at sporting events by saying, "You're looking live," did the exact opposite of that for the 1987 Skins Game. During a Sunday NFL halftime report on CBS, Musburger reported Lee Trevino had made a hole-in-one to win the Skins Game even though the event was being shown on tape-delay later that day on NBC. Funny story, right? Well, not to NBC Sports' executive producer Michael Weisman, who, according to the L.A. Times, accused Musburger of trying to sabotage the NBC telecast with "very selective journalism." In any event, here's a look back at Trevino's famed ace on the 17th hole at PGA West's Stadium Course (You also may not remember the legendary Vin Scully was on the call):
The hole-in-one earned Trevino a $175,000, part of a $310,000 payday. "I think that's the first time in my life I've heard him shut up," Jack Nicklaus joked. Of course, Trevino eventually found the perfect words to describe the shot. "It looked like a Rembrandt."
10. Jack Nicklaus played with John Daly
Talk about an odd couple: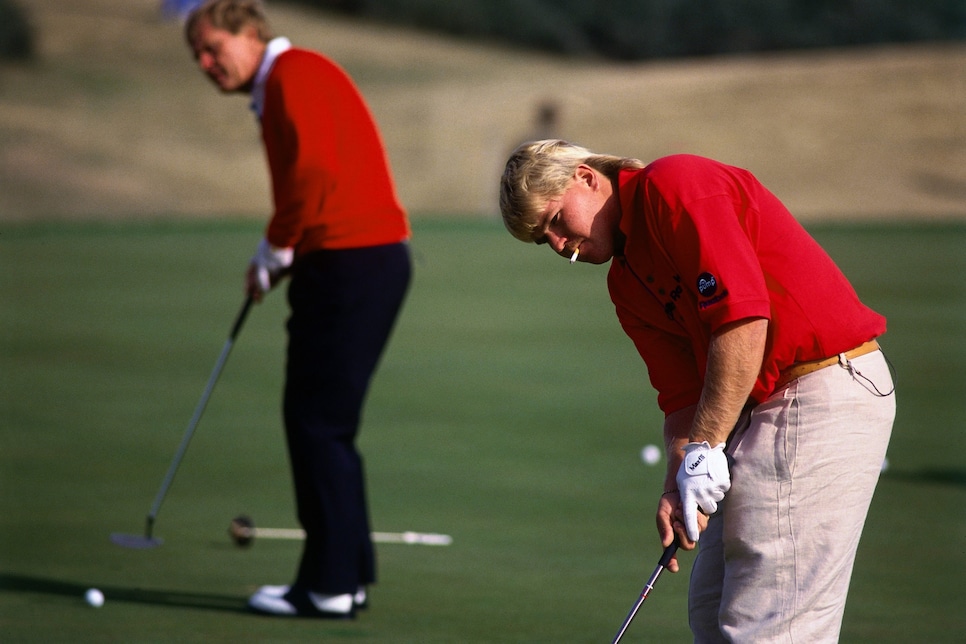 We'd love to hear these two playing 18 holes while mic'd up and chatting about everything from course management to fast food. Maybe Pay-Per-View could show that next for $19.95 …
11. Brett Wetterich played in 2007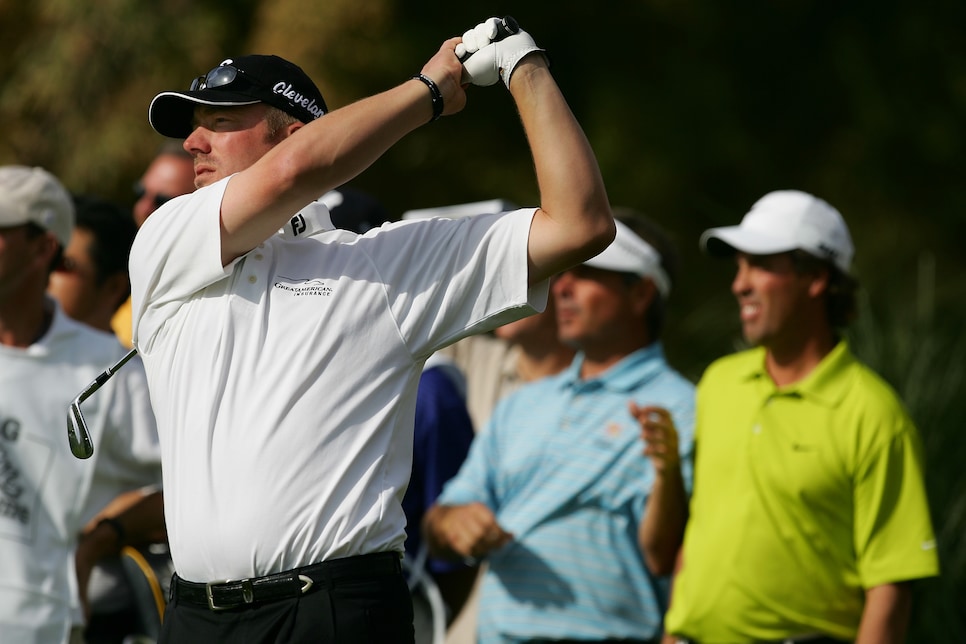 If Wetterich wasn't already the answer to the trivia question of "Who is the most obscure American Ryder Cup player in history?" he's definitely the answer to "Who is the most obscure American Ryder Cup player who also played in The Skins Game?" To be fair to the journeyman, when it comes to giving not-so-memorable examples of the Skins Game losing popularity, we also could have gone with Stephen Ames winning back-to-back titles in 2006 and 2007. Or how about the fact that K.J. Choi, a lovely man, but not exactly the type of star TV execs dream about, claimed the final Skins Game in 2008? You get the point. A quarter century after that Mt. Rushmore-esque foursome of Jack Nicklaus, Arnold Palmer, Gary Player and Tom Watson kicked things off, the event's time had clearly come and gone. At least, for now. Tiger and Phil could always decide to enlist a couple friends and change formats for next year.