News
Golf's Thanksgiving Turkey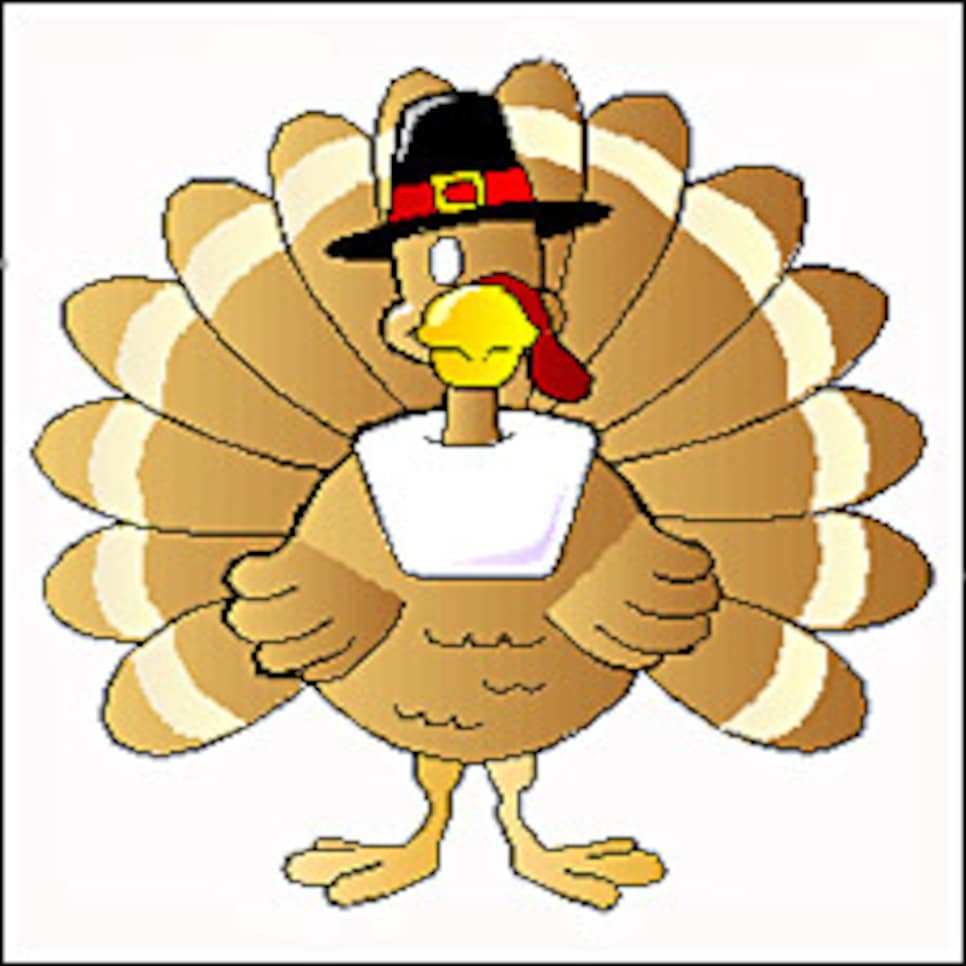 The Skins Game always has been one of pro golf's guilty pleasures, a conceived-for-TV event driven by a rather cheesy competitive premise: four of the game's wealthiest stars playing for nothing but more money. My mother used to wonder why the pot didn't consist of the participants' own cash, which only would have robbed this Thanksgiving tradition of its vast insignificance.
From its 1983 debut (Jack Nicklaus, Arnold Palmer, Tom Watson, Gary Player) into the mid-'90s, the Skins attracted huge viewing audiences. It was the highest-rated tournament in 1986, no small feat considering we had a pretty good Masters that spring. In its first 10 years, the Skins' average weekend rating was 5.65, better than the U.S. Open's 5.25 during the same period.
There never was any secret to the success of the formula. Four big names and a little bit of banter, which made Lee Trevino and Fuzzy Zoeller such valuable additions to the field, were all ABC needed to present an engaging telecast. By 1995, however, viewership had fallen by about 30 percent, a problem temporarily solved when Tiger Woods' first appearance in '96 produced the largest audience (6.2) in a decade.
That was then, this is now, and now is in awfully bad shape. Despite having Fred Couples and John Daly on the bill last November, the Skins Game's overall rating plummeted to 2.1, including 1.7 on Sunday. That second number is particularly galling -- a 35-percent drop from the first afternoon in a format designed to create suspense shows just how stale and uninteresting this game show has become.
In retrospect, one can see how the Skins began to hit the skids back in 2003, when Annika Sorenstam, fresh off her gender-blending PGA Tour foray that May, was invited to join Couples, Phil Mickelson and Mark O'Meara. You can't blame Sorenstam for a pair of sub-3.0 ratings because she had moved the public-interest needle so dramatically six months earlier.
Twenty years after kicking off the series with the Mount Rushmore of foursomes, ABC should have realized then and there the novelty had come and gone. Still, as co-owner of the Skins franchise with IMG, the network trudges on. Last year's field included Stephen Ames and Fred Funk, two guys who barely exist outside the world of avid golf fans and have no business appearing in such a star-driven showcase.
That said, get a load of this year's menu: Couples, the Sultan of Silly Season, will serve as the headliner despite not playing a competitive round since the Masters. He'll be joined by Zach Johnson, who won that green jacket but remains instantly unrecognizable in almost every airport he enters; Ames, who is back because he claimed nine skins last year; and Brett Wetterich, who got in because none of the nine guys ahead of him on the 2006 money list had any interest in participating. After all, it is the first official weekend of the holiday shopping season.
In 2004 the winner of the Players Championship began receiving an automatic berth in the Skins Game, a compromise of the product that defeats the event's purpose. "The spirit of this thing has been lost in these qualifications," says a knowledgeable observer. "Originally, the idea was to have four guys yuk it up, have some fun and, by the way, there's a million dollars on the table."
So without Woods, Mickelson and perhaps a half-dozen others, the off-season's grandest stage has become an ATM for the undeserving. People don't turn on the TV to watch Stephen Ames. In fact, the only decent ratings in the last 10 years were achieved in 2001, when Greg Norman and Colin Montgomerie teamed up with Tiger and Jesper Parnveik.
Perhaps Woods saw this thing moving in the wrong direction when he agreed to play in those Battle of Bighorn matches back in 1999. His commitment to a one-on-one, 18-hole duel on the last Monday night in August gave him a reason to skip the Skins but still flex his prime-time muscle. David Duval and Sergio Garcia were Tiger's first two foes, but when the format was expanded to four players and the concept failed to produce any final-hole heroics, made-for-TV golf had taken another step backward.
Woods pulled the plug on that venture after four years. His friendship with Sorenstam prompted his return to the Skins Game in '04, but he hasn't been back and probably won't be returning anytime soon, which doesn't so much guarantee the event's continued failure as it prohibits any measurable growth.
The irony of it all is that ABC ended its longtime relationship with the PGA Tour at about this time last year. Its ability to cross-promote the '07 Skins to a golf-specific audience really doesn't exist, so after ditching the tour and giving up that seemingly endless string of meaningless fall tournaments, it is left with the one that really, truly doesn't matter. 'Tis the Season to be Silly.