John Feinstein
Let's slow down declaring this the start of an American Ryder Cup dynasty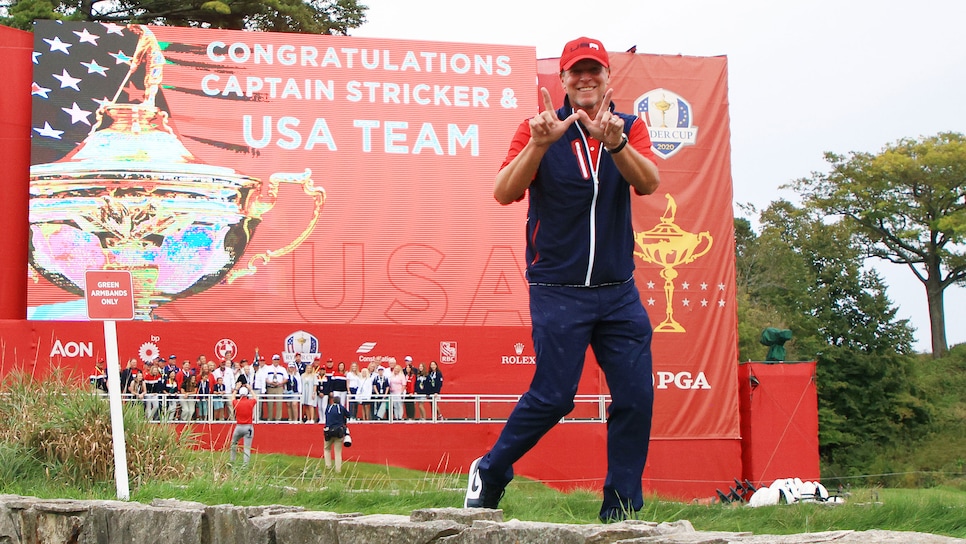 It was a remarkable weekend for the United States Ryder Cup team. The Americans bolted to a 3-1 lead Friday morning and never looked back, cruising to a dominating 19-9 victory. For once, the World Ranking turned out to be a harbinger: eight of the top 10 were on Steve Stricker's American team and only one—No. 1 Jon Rahm—played for Padraig Harrington's European lineup.
The euphoria was unbridled and justified. Europe had gone 7-2 since the turn of the century coming into the matches and almost always found a way to out-compete the U.S. when it mattered most. Stricker proved to be a perfect captain, calm and able to keep all the turbulence of the summer out of the team room and off the golf course. He went young and it paid off. He didn't select Phil Mickelson to put a wise old head in the team room, even though some (like me) thought the U.S. needed that. Instead, he put Mickelson in the team room as a vice-captain. He got that one right, too.
The U.S. team was full of young stars—eight of the 12 players were not yet 30; the oldest was 37-year-old Dustin Johnson. Four of the Euros were older than 40 while four were younger than 30.
Now, many of my colleagues—especially those who work in TV—are convinced the U.S. is about to embark on a new era of dominance.
It is worth perhaps going back to what was said and written after the U.S. beat Europe 17-11 five years ago at Hazeltine National. The vaunted Ryder Cup Task Force had turned things around after the Medinah meltdown in 2012 and the Gleneagles debacle in 2014. Phil Mickelson, who played a major role in that 2016 win on and off the golf course, declared that the U.S. had "cracked the code." In short, Team USA, by adopting many of the methods used by Europe, had gotten the best it possibly could from its players and the result had been an easy victory.
"I can't wait," Rory McIlroy said as he watched the Americans celebrate on that Sunday in Minnesota, "to get to Paris."
Two years later, when McIlroy and his teammates got to Paris, the result was almost identical—only in reverse. Europe won 17½-10½.
When projecting future victories now for Team USA, it is worth remembering how important playing at home has become in the Ryder Cup. Dating to 1997, when Europe won the matches in Spain, the home team has gone 10-2 and it would have been 11-1 if the U.S. hadn't blown what was once a 10-4 lead at Medinah. In fact, the last four Cups have been routs: Europe winning easily at Gleneagles and Le Golf National; the U.S. winning by wide margins at Hazeltine National and Whistling Straits.
Some of this has to do with course set-up. The home team always chooses the venue and has a good deal of say in how it will play. When the matches are in the U.S., the fairways are wider, the rough is lower and the greens are firmer and faster. Both Hazeltine and Whistling Straits played like average PGA Tour layouts—long-hitting Americans racking up birdies on all three days. Smash and dash was the Americans strategy, and why not?
In Europe, the fairways are narrower, the rough higher, the greens not nearly as quick. It wasn't a coincidence that Mickelson and Tiger Woods, who couldn't find fairways all weekend, were a combined 0-6 in Paris. Or that DeChambeau, not as long then but still a banger, went 0-3.
There's also this: Two years is forever in golf. So much can change in that time. Among the stars for that U.S. team in 2016 was Rickie Fowler, who was 27 at the time and billed as a lifelong Ryder Cupper. Where is he now? Patrick Reed, who was 26 then and already dubbed "Captain America," remains a solid player but as we saw this year he doesn't have a permanent place on the roster, either. If not for COVID delaying the matches this year, Jordan Spieth would not have been on this American team considering the prolonged slump he was in from 2017 until early this year.
Europe's highest point total at Hazeltine was turned in by 24-year-old Thomas Pieters, who went 4-1 in his Ryder Cup debut. Five other Euros on that team were in their 20s, all of them seemingly getting ready to be the next generation of Ryder Cup stars. Only two, however, Rory McIlroy and Matthew Fitzpatrick have played in the matches since then. Pieters is currently ranked 110th in the world.
Which is why Greg Norman always liked to say, "There's a reason why golf is a four-letter word."
It is entirely possible that the young Americans who looked so dominant in Wisconsin will continue to star the next two years—or more—and show up in Italy ready to win the Cup on European soil for the first time since 1993. Or, there might be injuries or personal issues or a loss of confidence for some. Europe's gotten old and needs to retool since so many of the youngsters from five years ago haven't lived up to the potential they flashed back then.
When I first brought all of this up on Monday on Twitter, a lot of people said, "Can't you just let us enjoy this win?"
Two years is forever in golf. Among the stars for the U.S. Ryder Cup team in 2016 was Rickie Fowler, who was 27 at the time and billed as a lifelong Ryder Cupper. Where is he now?
Absolutely. It should be enjoyed and embraced. I remember being at the RSM Classic in 2016, which is hosted by Davis Love III. Love spent most of the week walking around carrying the Ryder Cup, showing it to people, posing for photos and just basking in the moment.
No one ever deserved it more. Stricker deserves the same victory lap. As Stricker said himself tearfully after the win on Sunday, "I've never won a major, but this is my major." Winning a Ryder Cup as the captain IS a major victory, just different than the four majors played every year.
But thinking the code has been cracked—again—will only lead to another disastrous outcome on European soil. The U.S. needs to choose a captain and, while it's a safe assumption that Mickelson will captain at Bethpage Black on Long Island in four years, there are a number of candidates for Rome. Zach Johnson appears to be a front-runner, having been a Ryder Cup vice captain in 2018 and 2021 and an assistant captain for the 2019 Presidents Cup. If Tiger Woods can't play anymore, he might be the choice. Justin Leonard has been a Ryder Cup hero in the past, and David Toms is highly respected by everyone in the game. I'd throw in the name David Duval, if only because he's about as smart and tough as anyone in the sport.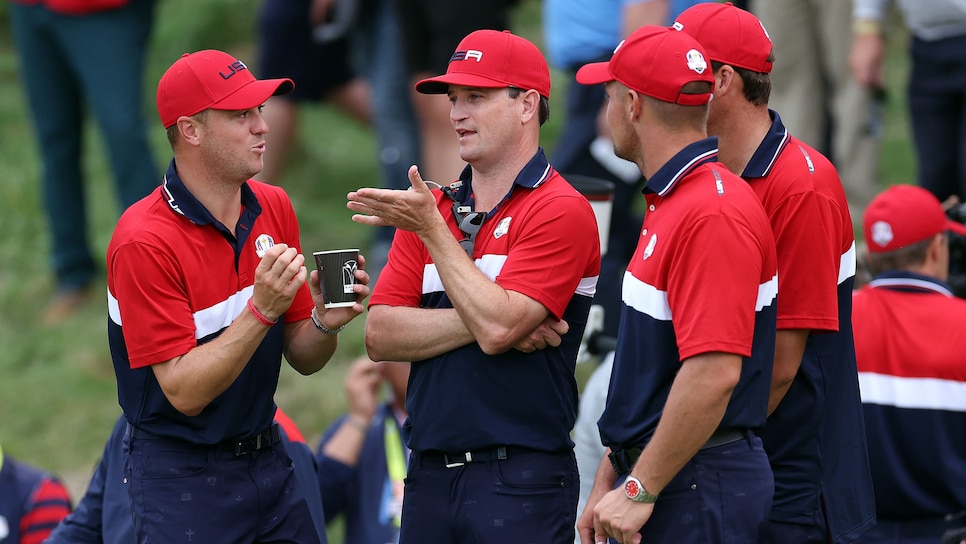 Zach Johnson, a vice-captain on the last two U.S. Ryder Cup teams, looks like a front-runner to captain the Americans in 2023.
Richard Heathcote
One of the good things for the Europeans about having four players who are 40-plus on this year's team, is it gives them plenty of choices for their next captain: A potential choice, given the venue, is Francesco Molinari, who was 5-0 in Paris but didn't play on this year's team. If Molinari, who will only be 40 when the matches are next played, decides to try to play instead, there's always Lee Westwood or Ian Poulter or Sergio Garcia—the latter pair being two of the great European Ryder Cuppers.
The larger point is this: The U.S. did what it was supposed to do this past weekend—and it did it emphatically, led by DJ brilliant 5-0 weekend. But the Americans haven't really come close to winning in Europe since Wales in 2010, so any notion that they will cruise in Italy is probably optimistic—at best.
My guess is McIlroy is already looking forward to Rome. He's 32 and, even though he had the worst weekend of his Ryder Cup career, anyone who thinks he's done is likely to be proven wrong.
The same is true of Europe. Meanwhile, the Americans should enjoy the victory … for a while.