The Ryder Cup narrative completely shifted in a matter of 57 hours. Before Friday morning's first tee shot at Whistling Straits, the Americans were a highly talented squad with chemistry issues and a distinct lack of success in the biennial matches. The Europeans were an aging but cagey side counting on a battle-tested core to once more conjure some match-play magic.
After Collin Morikawa holed the winning putt around 3:30 p.m. local time on Sunday, and the rest of his teammates polished off the biggest blowout (19-9) in modern Ryder Cup history, the U.S. suddenly looks poised for a dominant stretch for years to come. The Europeans, on the other hand, have a sobering post-mortem on their hands. These two teams will clash in two years in Rome at Marco Simone G.C., and while the U.S. team will likely look rather similar to the fiery 12 from Whistling Straits, the European side needs an influx of young talent to keep pace with the yanks.
With that in mind—and the caveat that two years is an eternity in sport (just ask Francesco Molinari)—here are our way-too-early predictions for who will represent both sides in Rome, starting with the new Cup holders (players age in 2023 listed).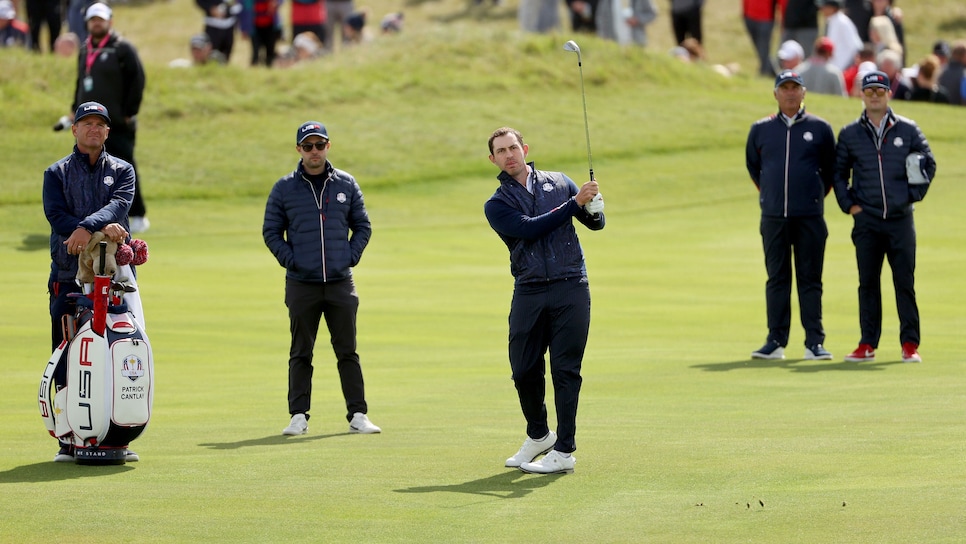 The breakout star of the late-summer has shed his underachiever level and asserted himself as a top-five player in the world. Did not lose a match this past weekend and has paired his rock-solid ball-striking with a propensity to hole every crucial putt. He told Golf Digest that his first Ryder Cup was the most fun he's ever had on a golf course. His body language concurred.
His first two team-play appearances were awful, but that was Bryson 1.0, and Bryson 2.0 was made in a lab for the Ryder Cup. He's an absolute weapon in best ball, and when he's wedging and putting as well as he did in Sunday's singles victory over Sergio Garcia, he's virtually unbeatable. Fed off the positivity from fans all week.
There's a ton of competition, but you have to think he'll qualify given his seemingly permanent residence on the first page of PGA Tour leader boards. He and English were the only Americans to leave Whistling Straits with a losing record. Finau will be hitting his prime golf years come Rome by pre-youth revolution standards, and his ability to rip off a string of birdies—as he did in Friday afternoon four-balls—makes him extremely dangerous in match play.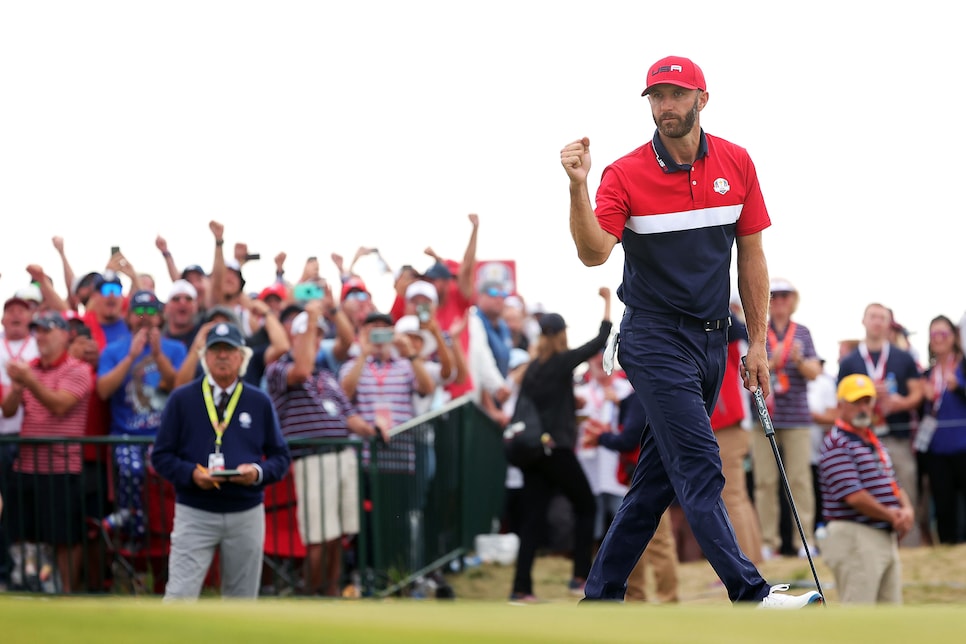 It was clear at the winners' press conference that the 20-somethings adore DJ, who is 37 but acts and plays like he's 27. Summoned his best golf of 2021 in becoming the first American in 42 years to go a perfect 5-0-0, and he's the lone holdover from a generation of U.S. players that suffered so much Ryder Cup heartbreak.
The only concern is health. As he put it, he's made of glass and has missed football-player levels of time over the past three years. When he's healthy, he remains one of the world's best, and he embraced Ryder Cup week after conveying some ambivalence coming in.
Still just two-plus years into his professional career, Morikawa has two major championships, five PGA Tour victories, a world No. 3 ranking and a 3-0-1 Ryder Cup record after a thoroughly impressive week in Wisconsin. Meshed seamlessly with his slightly older peers and has a personality that allows him to partner with anyone.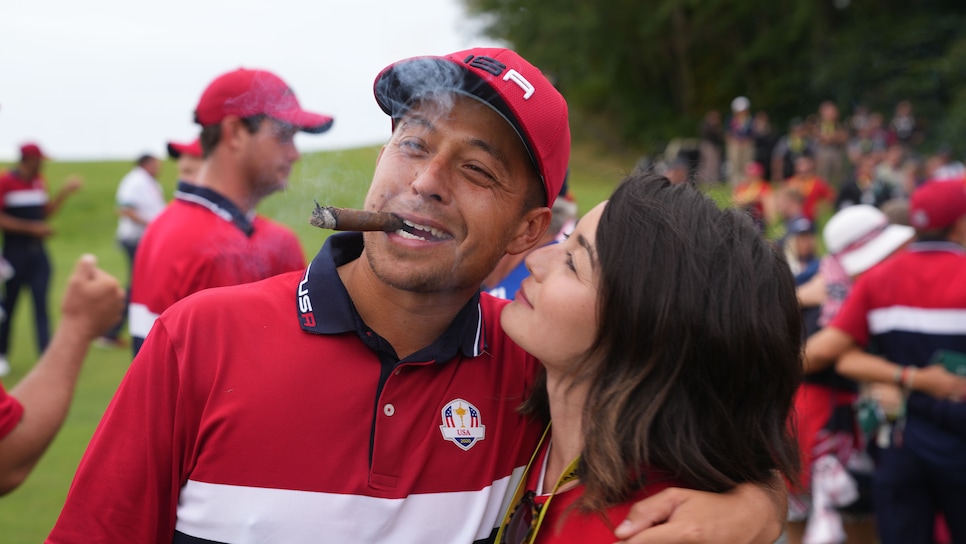 Darren Carroll/PGA of America
Had about a good a year as possible without winning a PGA Tour event, taking Olympic gold home from Tokyo and putting forth a very solid 3-1-0 performance at the Ryder Cup. That Stricker threw him out in the first singles match says everything about how the American golf cognoscenti feels about the mild-mannered Californian's game.
He was the last man into the squad, and plenty of people felt others were more deserving. He rewarded Steve Stricker's confidence in him with an undefeated week and a thumping of World No. 1 Jon Rahm in singles, a tone-setting victory that fired up his teammates. Something tells us he'll pick up that first PGA Tour win between now and Rome.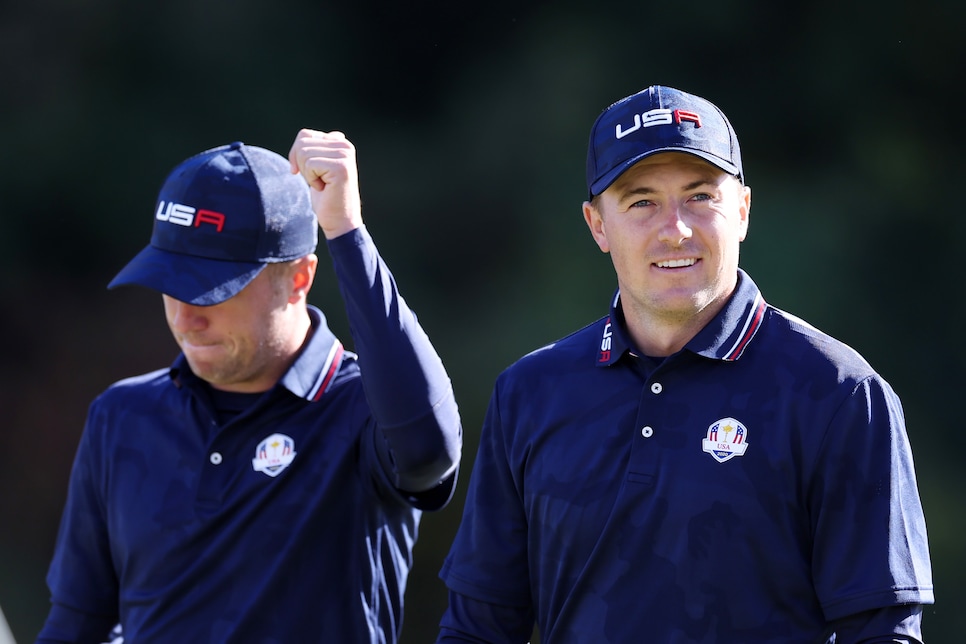 Let's hope the 2018-20 slump was an isolated event and not a red herring for an up-and-down career to come. He didn't have his best stuff this past weekend, but he's adored by his teammates and took on a elder-statesman leadership role in that he was playing in his fourth Ryder Cup. A hugely important team-room presence and looks to be almost all the way back to his world-beating ways.
Emerged as the emotional leader of this core of Americans. He relishes the attention, pressure and challenge and leans into the team dynamic at Ian Poulter-like levels. Hard to believe he'll be 30 by the time Rome rolls around.
It wasn't so long ago that he was spoken in the same breath as Morikawa and Viktor Hovland. Clearly going through some off-course struggles that have bled into his game, but he's an incredibly gifted player and finished top-five in his first two major appearances. He'll be back, and like Bryson, his electric game is that last thing you want to play against in four-ball.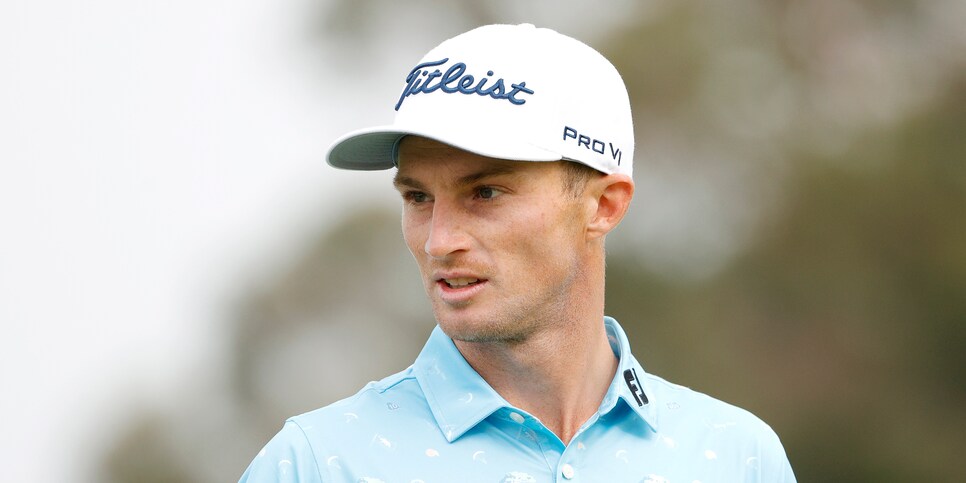 Incredibly, he almost made the team this year despite technically not having a PGA Tour card. He faded a bit toward the end of the season, mostly because he was ineligible to play in the FedEx Cup Playoffs, but he's proven a top-end talent and seems the type to relish the head-to-head nature of team competitions. He, Spieth, Scheffler and Bryson will form a Dallas clique to rival the Jup crew.
Snubs: Daniel Berger, Sam Burns, Harris English, Davis Riley
Outsider to keep an eye on: Sahith Theegala. Swept college golf's most prestigious awards at Pepperdine in 2020, elbowed his way onto the Korn Ferry Tour shortly after graduation and immediately earned promotion to the PGA Tour. Would be 25 when Rome rolls around.
We're predicting fellow 40-somethings Ian Poulter and Lee Westwood to ride off into vice-captainville, but Casey's been the more consistent player over the past couple years and will be keen to qualify and wash away an 0-4-0 showing at Whistling Straits.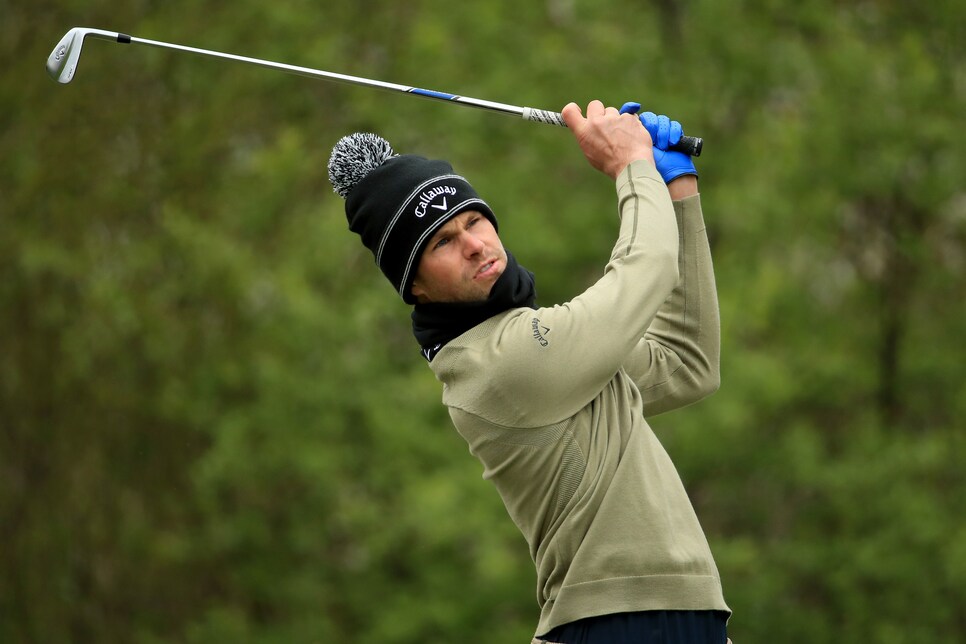 Was a first-team All-American at Illinois and swings it as well as anyone in the world. Has struggled to close when in contention, but he has the type of top-level talent that could go toe-to-toe with all the young Americans.
Might have to rely on auto-qualifying given his nightmarish start to his Ryder Cup career: He's the first player since the 1950s to play in two of them and not win even half a point. His chunk into the water on 18 to ensure a singles loss to Daniel Berger was difficult viewing.
Had a terrible season on the PGA Tour and missed the FedEx Cup Playoffs by a not-small margin, but he flashed better form in Europe and held his own at Whistling Straits. This team needs him to return to the form he showed in the 2018-19 range, when he was a constant presence challenging for huge titles.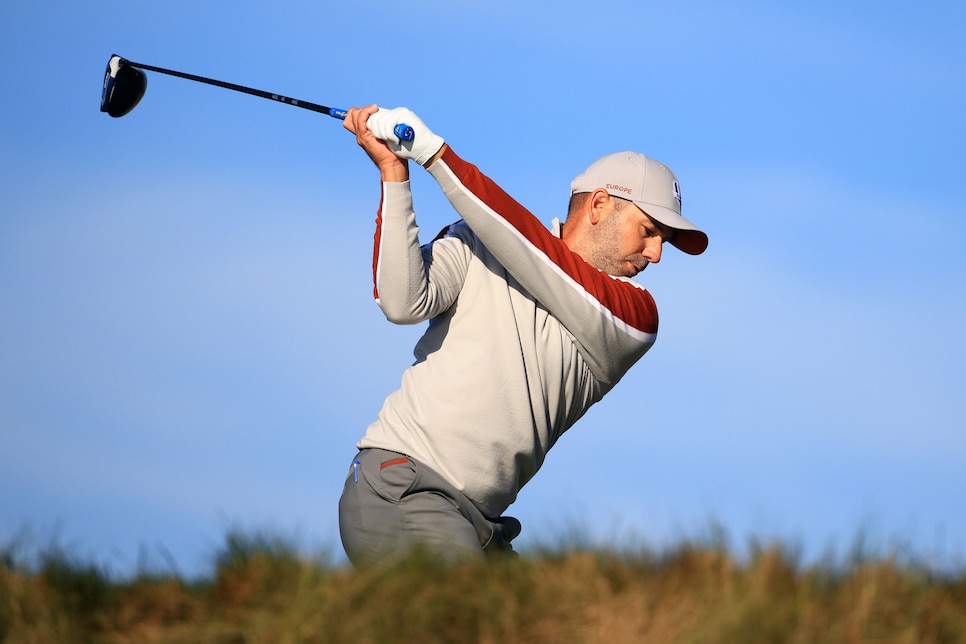 There was some belief his Ryder Cup magic would dry up this go 'round given his inconsistent past few years in regular events. Then he played brilliantly alongside Rahm in winning all three of their team matches, and all the sudden you wonder just how high he can run up his Ryder Cup points total.
Wasn't short on desire in Wisconsin, his game simply wouldn't cooperate. Still managed to piece together a memorable, match-tying birdie as the light faded on Friday evening. He's a proven winner, but he's been struggling for a few months now.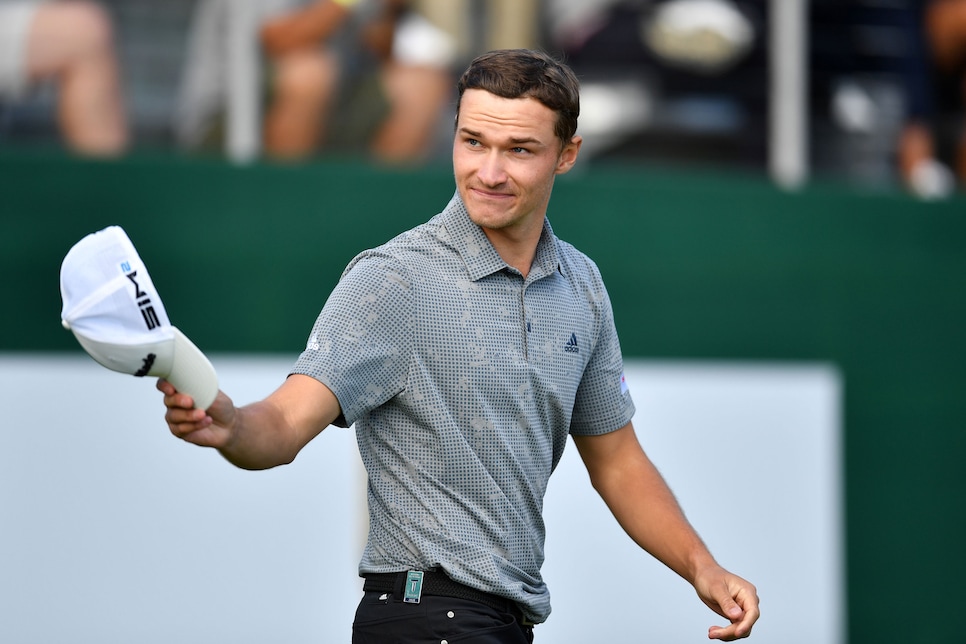 Already a three-time European Tour winner at 20, and the eye-test suggests top-10 potential for the Dane. The next step for him is to compete in the biggest tournaments, against the best players.
Fought hard all week but earned just one point from five matches at Whistling Straits. Already a world-class ball-striker but there is serious room for improvement in the short-game department. That should excite, rather than worry, European fans. He'll be a much more polished and well-rounded player, and smart money says he'll be comfortably inside the world top 10 in 2023.
Could be Ian Poulter's spiritual successor; he showed that much fire and passion in his first Ryder Cup despite his team getting dusted. Might be the most popular man in world golf, so he's always going to get the benefit of the doubt captain's pick-wise.
The Scottish lefty had a decent chance to make this team but ran into a wall in the Korn Ferry Finals. He's shown quite well in a handful of major championships and harbors the right kind of don't-mess-with-me fire that plays so well in Ryder Cups.
He's transforming from hot-shot youngster to grizzled veteran before our eyes. Was borderline hard-to-watch Friday and Saturday as he struggled with both his swing and his putting stroke. The emotion he showed in his interview after beating Schauffele on Sunday says everything you need to know about his team spirit and love for this event.
Carried Europe on his broad shoulders through two days at Whistling Straits before a deflating Sunday singles defeat. Cemented his status as the world's best player throughout this year and stands as the clear cut No. 1 as he enters his prime winning years. Many majors to come.
Snubs: Nicolai Hojgaard, Sam Horsfield, Guido Migliozzi, Alex Noren, Victor Perez, Thomas Pieters, Matt Wallace
Outsider to keep an eye on: Alex Fitzpatrick. Matt's little brother, a Wake Forest senior, has played on the last two Walker Cup teams and is an entirely different player from his big bro—put differently, he hits it miles and shows tons of emotion.