The Grind
Team USA's impressive win, Charlie Woods' Tiger-assisted career round, and an ode to Tom Kim
Welcome to another edition of The Grind, where we are playing hurt after Wake Forest's devastating double overtime loss to Clemson. Despite making big leaps in football the past couple decades, my beloved Deacs have now lost a seemingly impossible 63 consecutive games to top-10 teams dating back to 1946. In other words, they have a worse record in a big spot than the Internationals in the Presidents Cup. But you know what? Both teams are still going to keep trying, because, well, that's sports. And there will still be suckers like me out there watching and thinking there will actually be a different outcome at some point. In any event, let's press on and talk about what happened over the weekend. In golf, that is. I will not be speaking of the Wake loss again.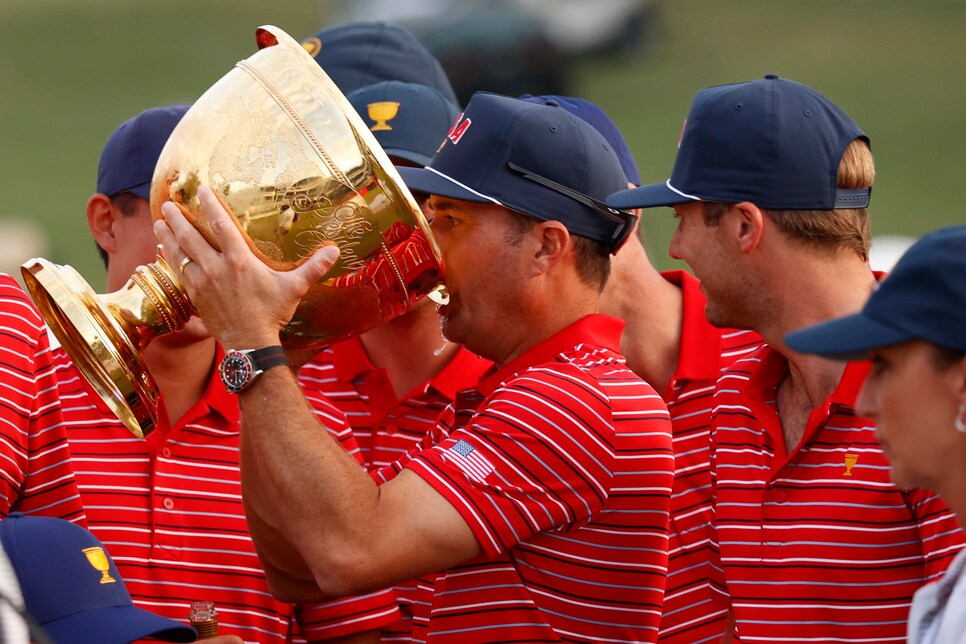 Jordan Spieth: A 5-0 week. A list of hole-outs as long as the beer lines at Quail Hollow. In propelling the U.S. to a 17½-12½ victory at the Presidents Cup, this is Spieth's finest moment since winning his last major five years ago.
Does that mean he'll carry it over into 2023 and finally win that long-awaited fourth major? Perhaps. But at the very least, even the possibility of that is exciting to think about.
Tom Kim: I can't believe all these Johnny Come Latelys. I've been on this guy since at least (*checks notes*) July! And now the Thomas The Train, well, Train is completely packed. Of course, it should be after what we all witnessed in Charlotte with this 20-year-old making eagles left and right and firing fist pumps and hats at a ferocity we haven't seen since a young Tiger Woods.
What a performance. You could argue that Kim was the only reason this event was even interesting over the weekend. And he was such an inspiration, I even penned a parody song for him, "The Ballad of Tommy the Kid." Apologies to Billy Joel:
Max Homa: Things just keep getting better and better for this guy, who finished the week a perfect 4-0 in his first time playing for Team USA as a pro. Like Kim, Homa brought a fresh energy to the event and flashed some serious celebrations of his own:
And he even took down Tom Kim in singles in what I hailed as the Battle for Golf Twitter's heart. Just kidding, Max. You still would have been No. 1 even if you lost. At least, until young Tom starts tweeting more.
Canadian golfers: Instead of "Oh, Canada," it was "0 Canada" as the Canadian pair of Corey Conners and Taylor Pendrith laid a goose egg by going a combined 0-8 for the week in Charlotte. And other than Day 1, they can't even blame it on hot weather!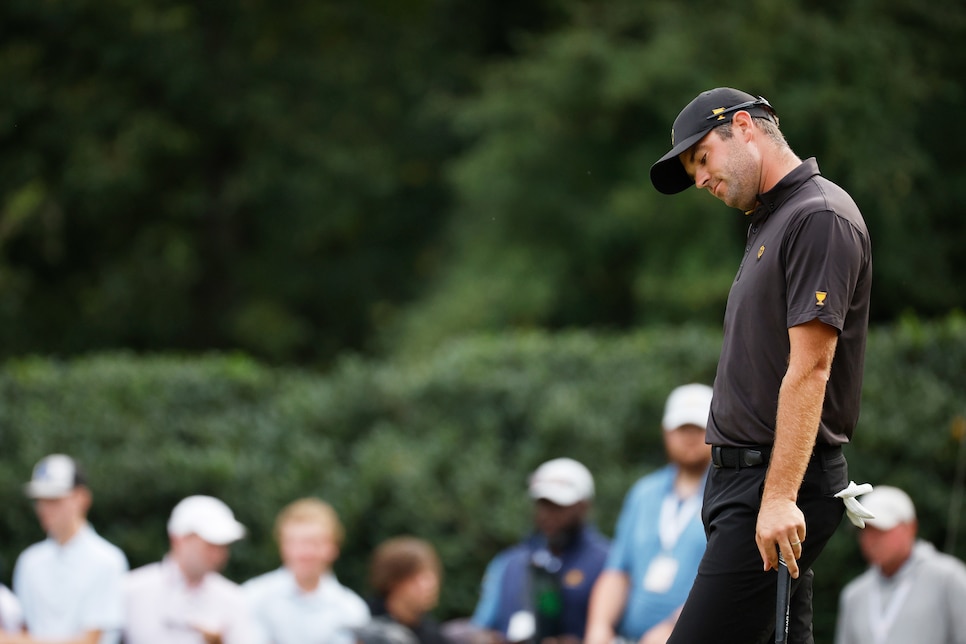 Take the Great White North out of the equation, and the Internationals may have had a chance. Here's hoping that if any Canadians make the team in 2024 when the Presidents Cup returns to Royal Montreal, their results are a little better.
Hitting your ankle with a golf club: It's good to know it's not just us weekend hacks who do this from time to time when we try to knock the sand from our shoes after hitting a bunker shot:
Ouch. Justin Thomas went on to lose his singles match, his only blemish on an otherwise perfect week. Talk about adding insult to injury.
Rope hats: Some people, including Sam Burns or even our own Chris Powers, can (kind of) pull these off.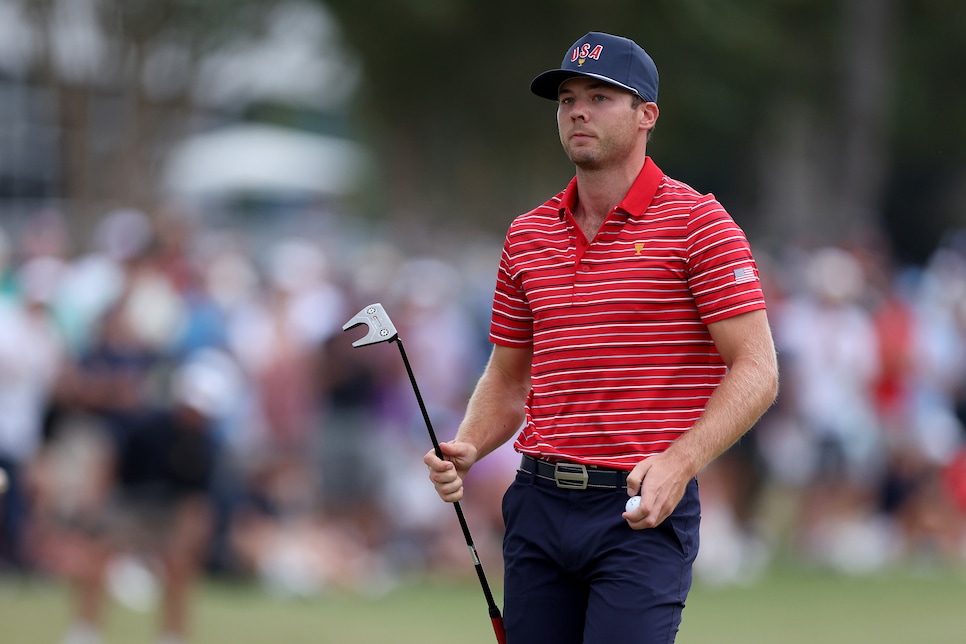 Other people, including me? Not so much. I've never worn one and I never will. I know my lane and I am simply not a rope-hat guy. If you think you are, godspeed. But just be aware, you probably look dumb, too.
The PGA Tour returns with the Sanderson Farms Championship, AKA that one that gives out that fun rooster trophy. Sam Burns beat Nick Watney and Cameron Young here in a playoff last year. Little did anyone know it would be one of Young's five runner-ups during an impressive Rookie of the Year campaign. Of course, it would have been even more impressive if he actually won a tournament, but my fellow Demon Deacon will get there.
Random tournament fact: This is also the site of Sergio Garcia's lone PGA Tour win after winning the 2017 Masters. Let's just say the proverbial "floodgates" didn't open for El Niño after claiming the green jacket.
RANDOM PROP BETS OF THE WEEK
—Sergio Garcia will win again on the PGA Tour: 1 MILLION-to-1 odds
—Sam Burns will win again this week: 10-to-1 odds (Actual odds; favorite)
—There will be fewer chest bumps this week: LOCK
This shot of Tom Kim and the rest of the Internationals going crazy on his winning putt on Saturday is amazing: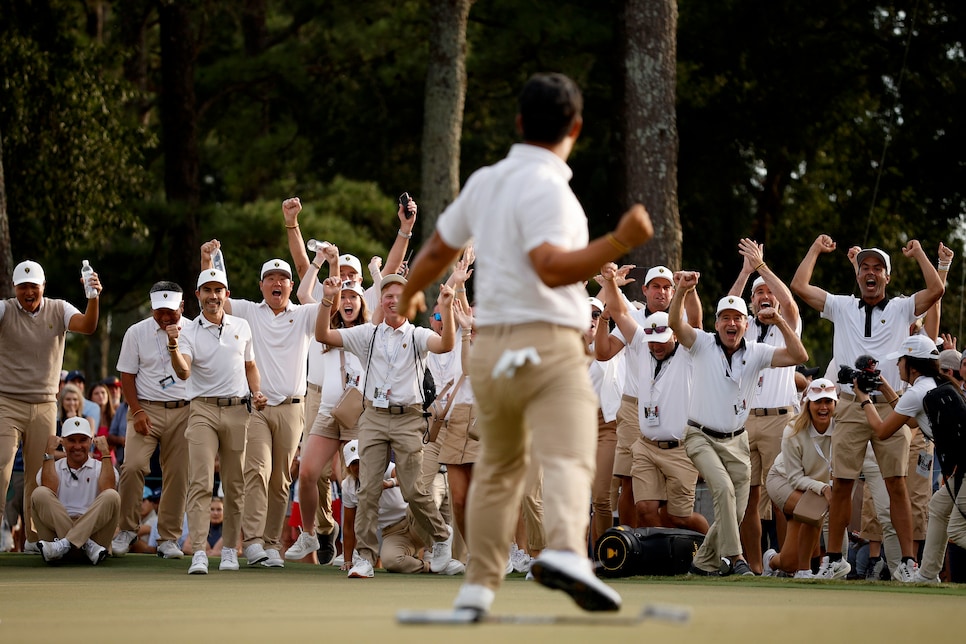 But as far as non-action shots go, it's going to be tough to top this:
Yep, the same guy whose bow at Augusta National went viral was walking around with "Sam Burns is your daddy" on his chest. How can you not like the Presidents Cup?!
VIRAL VIDEO OF THE WEEK (SUCCESS DIVISION)
Davis Love III handled a gallery rope with ease while driving a golf cart and Dan Hicks—and Golf Twitter–couldn't resist taking shots at Bryson DeChambeau:
Unfortunately for Bryson, this is going to be what he's known for until someone else has a gallery rope snag. Kind of like Dan Orlovsky was known for running out of the back of the end zone until Jimmy Garoppolo did it on Sunday Night Football. So, sorry, Bryson. It might be awhile
VIRAL VIDEO OF THE WEEK (FAILURE DIVISION)
This poor marshal fell on his ass on live TV at the Open de France:
That looks like me when I get off the couch after watching NFL Red Zone for seven hour straight.
THIS WEEK IN PUBLIC DISPLAYS OF AFFECTION
Awww. What a cute couple. (This was actually supposed to be that photo of Xander Schauffele resting his head on Patrick Cantlay's shoulder, but I can't find it now. Just trust me, it was cute.)
THIS WEEK IN PUBLIC DISPLAYS OF ANIMOSITY
We take it Trevor and Greg weren't exchanging strategies during the week.
OTHER GOLF MOMENTS THAT WERE AWESOME (NON-PRESIDENTS CUP DIVISION)
We've concentrated on the Presidents Cup to this point, but there was some other exciting golf being played as well. Let's start on the LPGA, where Danielle Kang, playing for just the third time since announcing she has a spinal tumor in June, jarred this pitch shot for eagle on the final hole of regulation at the Walmart NW Arkansas Championship to take the lead:
Kang eventually lost in a playoff by Thai teen phenom Atthaya Thitikul, but she declared it a win for her in an emotional Q&A after. Great stuff, Danielle, and we hope to see more of you out there.
Of course, we also hope to see more of Charlie Woods, who played in a Notah Begay III junior event and shot a career-low 68 to finish T-4 in his 12-13 age group—with his pops on the bag! Here's Charlie talking about his round and near albatross(!):
This young man might be the only person more popular on Golf Twitter than Tom Kim and Max Homa these days.
"I have never seen a better display of golfers and a worse display of partiers. … That's why they picked me. I got half a point, but I brought the fun." —Kevin Kisner. Well put, Kiz. Although, some of those golfers may have been regretting your inclusion come Monday morning.
Congrats to Guido Migliozzi, who overcame a 13(!)-shot deficit to Rasmus Hojgaard through 36 holes to win the Open de France for his third career DP World Tour title. Never give up, kids. Never give up. … It was a fun week for Joe Skovron, Rickie Fowler's former caddie who was on Tom Kim's bag for the first time at the Presidents Cup. No offense to Rickie, but talk about an upgrade. … Max Homa revealed his AIM username was NextTigerWoods59. Max, on behalf of Trigga3Myers, don't feel too bad. … Congrats to Nathan MacKinnon, who signed the biggest contract in NHL history while on a golf course. So it wasn't all bad for Canadian golfers last week after all. … And, finally, I rediscovered Pop Chips thanks to a sale at Costco:
Damn, those things are good. And dare I say not that bad for you!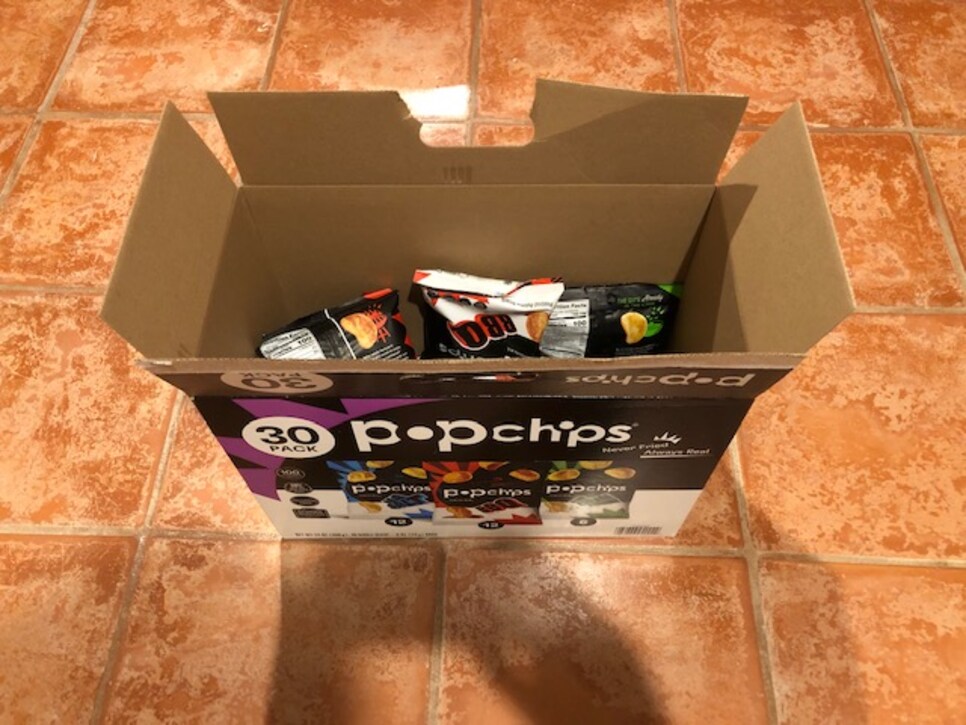 RANDOM QUESTIONS TO PONDER
Will Charlie Woods ever play in a Presidents Cup?
Will Tiger Woods ever play in a Presidents Cup again?
What was Tiger Woods' AIM username?