CHARLIE WOODS GOES LOW
Charlie Woods shoots career low at Notah Begay junior event alongside caddie Tiger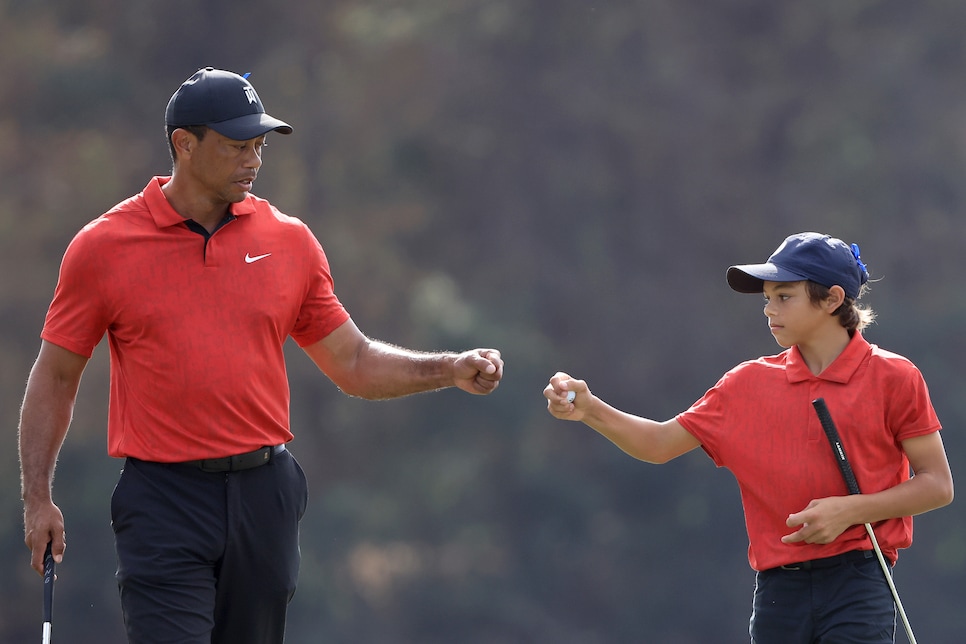 American Presidents Cup captain Davis Love III was in touch with Tiger Woods via phone all week. Woods was a de facto assistant, although he did so from his South Florida home while relaying information to Love that he would notice from television coverage.
On Sunday, it was time for Woods to change hats and pick up the bag. He had some looping to do.
Woods' son, 13-year-old Charlie, shot a career-low four-under-par 68 on Sunday at Mission Inn Resort in Howey-in-the-Hills, Fla., and tied for fourth place in his age division (12-13) during a 36-hole qualifier for the Notah Begay III Junior Golf National Championship. After shooting an opening 80 on Saturday, Charlie rebounded and collected an eagle, four birdies and two bogeys to vault up the leaderboard in Round 2 with Tiger serving as caddie.
The highlight of the day came on the par-5 14th when Charlie lipped out his approach shot for albatross and tapped in for an easy eagle.
"I knew it was going to be close," Charlie said. "But not that close."
Charlie's skills have been on display the past two years as he and Tiger have competed together at the PNC Championship in Orlando, Fla. Just last year Team Woods finished second by two shots to John Daly and his son John II. They were a team again on Sunday, but this time it was Charlie who had the ultimate say, although he was quick to give kudos to his 15-time major champion caddie, lauding Tiger for keeping him calm in key moments down the stretch.
"Dad told me to stay patient and just play steady golf," said Charlie, who finished 11 off the lead in his age division and was unable to earn a spot into the national championship event held in November in Louisiana. "I couldn't have done it without him. Some shots, I would've been so off. He steered me on the right course."
The story, detailed on Golf Digest's website, chronicled Golod's situation in Ukraine and how the golf industry came together to help bring him to the United States so he could pursue his golf career.