PNC Championship
Watch Charlie Woods hit a trio of crazy-good back-nine approach shots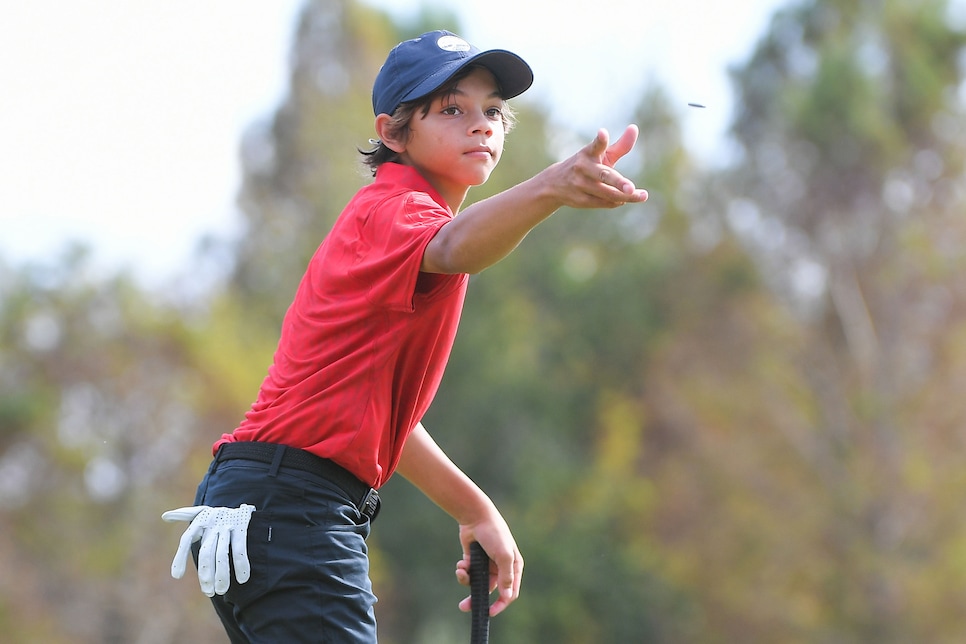 Charlie Woods is only 12 years old. It's important to just keep saying that to yourself every time you start to get overly excited about watching him hit impressive shot after impressive shot at the PNC Championship. It's one of the few ways to protect against raising expectations too high on a kid who is just in middle school. Again, let's not get too far ahead of ourselves.
And yet, it's also what you kept saying, with a whole lot of awe, after watching what he did on Sunday at the Ritz-Carlton Golf Club in Orlando. Charlie and Tiger Woods started the round three shots off the lead, Tiger's return to golf for the first time since his February car accident off to a nice start but not likely to put them on top of the leader board come Sunday. But Team Woods didn't seem to see it that way. On Sunday, they proceeded to make 13 birdies and an eagle over the opening 17 holes, including a tournament-best 11 straight, to soar to a share of the lead coming down the stretch in the exhibition event.
Watch: Tiger and Joe LaCava Together Again
That 11th straight birdie, meanwhile, was all Charlie's doing. On the par-3 17th hole, all players no matter their age teed it up from 169 yards. Charlie proceeded to hit the best shot of any competitor on the hole.
This came after Charlie hit his approach shot equally cozy on the 16th hole:
Oh, and this approach on the 12th hole:
OK … let's all say it together. Charlie Woods is only 12 years old. Charlie Woods is only 12 years old. Charlie Woods is only 12 years old.
Team Woods finished Sunday with a 15-under 57, one off the all-time tournament record. The team of John Daly and John Daly II would ultimately pass Charlie and Tiger to take the title, but the image of a club-twirling Charlie Woods will be one fans won't forget for a while.