It was a good day for Mykhailo Golod, because he has lived to see another.
It is deep into the night of March 3 when Mykhailo, 15, videoconferences from Kyiv. The town has just suffered its fiercest bombardment since the unprovoked assault by Russian forces began and reports vary if the 40-mile long convoy of tanks and troops heading towards Ukraine's capital has stalled or is progressing. It is sort of unbelievable, the boy says, the invasion of his country and the siege that threatens his city, but the constant shower of artillery, the deserted streets and crowded undergrounds, the sounds he does not want to discuss yet cannot forget … it is very, very real.
"We hear, it seems like, 50 explosions a day," Mykhailo says, speaking in fluent English. "You never know where they are, but they always sound close. The air sirens, letting us know something is coming, are always blaring." Earlier in the day, after one of the blasts, Mykhailo looked out his balcony window and saw smoke down the road, the closest danger has come to his door.
Mykhailo relays that the past week has been a nightmare and there is fear the worst is just beginning. Because the hours and days have started to blur as one, Mykhailo—one of the best golfers in Ukraine—recounts his recent past, if only for a sanity check. In January he was competing in the United States. Two weeks ago he lapped a field in Turkey. He remembers he was supposed to be competing in an event this weekend. Now, well, now he is planning on sleeping in the basement, given the expected ramp-up of fire from the sky.
"Yeah, we hear it might be bad tonight," Mykhailo says. "Kharkiv has been getting shelled. It's probably coming this way too."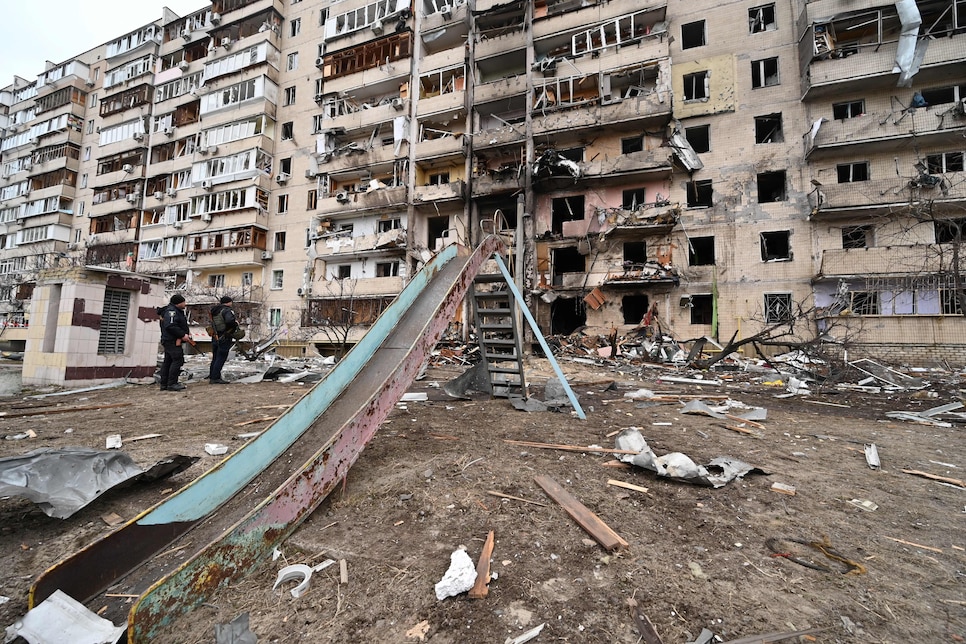 Police officers stand guard at a damaged residential building in a suburb the Ukrainian capital Kyiv.
GENYA SAVILOV
But enough worrying, he says. There's been plenty of that already and there will be time for worry tomorrow. Right now, he wants to talk about something else.
"It just came on over here, the Arnold Palmer," Mykhailo says. "Rory played well, got off to a good start. He plays well there."
Right now, Mykhailo would like to talk about golf.
GOLF IS RELATIVELY new to Ukraine. The game was forbidden under the former jurisdiction of the Soviet Union, as the sport was viewed as an English sport and thus a pastime of the enemy. But following Ukraine's independence in 1991 the consumptions and cultures of the Western world trickled in, with the Ukrainian Golf Federation established in 1997.
For decades the national team was composed of the country's best golfers but golfers who were in their 40s and early 50s. That changed when Ruslan Garkavenko, 33, took the reins of the national team in 2019. A four-time national champion who enjoyed a few starts on the European Tour's feeder circuits, Garkavenko overhauled the roster to make it a junior-based program, believing the best way to foster the game in a sustainable way was through Ukraine's youth. In just two years Garkavenko has made the Ukrainian national team one of the best junior programs in Eastern Europe. The country boasts seven players inside the World Amateur Golf Ranking's top 1,000, a remarkable number considering there are less than 4,000 golfers in all of Ukraine. Children's academies have been established across the country, boasting close to 500 youngsters who are under active instruction from PGA of Ukraine teachers.
Among that elite class is Mykhailo, ranked 434th in the world. He was introduced into the game by his father at 6 and began taking it seriously around 10. Asked what it is about the sport that calls to him, Mykhailo blushes, knowing there aren't enough words for a proper response.
"First of all, just being on the range and hitting golf balls, I could just be there for like five, six hours just hitting golf balls without getting tired," Mykhailo says. "It's sort of like a meditation to me. I'm there all day, every day.
"Then there's competing. You're going against the course, others, yourself. Most tournaments don't have leader boards so you don't know how others are scoring. So you're playing against them, but you don't know what you're playing against. You're playing against your own thoughts. Not many games offer that."
What can you say, the kid is a poet. And apparently 15 going on 50.
In that same breath, Mykhailo is also a performer. Not long after becoming infatuated with the sport, Mykhailo began winning, and winning, and winning some more. Four times he's claimed his country's junior national championship. He and his family have traveled the world seeking the competition Mykhailo couldn't get at home. He has visited the U.S. often to play against some of the game's best amateurs, and last summer, at 14, he became the first Ukrainian to compete at the USGA's U.S. Junior Amateur at the Country Club of North Carolina.
"That might have been the best experience of my life," Mykhailo says. "I'm going against kids four years older than me, kids who are the best in the world. It was tough for me to concentrate—it was a good lesson, actually—because I was so blown away by everything. Even the locker rooms were nice."
It wasn't his best showing and he missed the match-play cut, but the trip wasn't a total loss. Mykhailo received a letter of encouragement from Webb Simpson and he got to play almost every course at Pinehurst, including No. 2. Questioned how he fared on the infamously tough Donald Ross course, Mykhailo replies with conviction, "Well … tough from the tips, all the way back, sure, then it's tough."
Now a sophomore in high school, Mykhailo was hitting his stride at the onset of 2022. He finished T-6 at the prestigious Junior Orange Bowl in Miami, followed by a T-3 at a Doral event. Two weeks ago he won the Superior Winter Cup in Turkey and followed with another victory at the Golf Mad Junior Open, capturing the under-16 division by 14 strokes and the entire under-21 event by three shots. He was receiving interest from big-time colleges in the United States.
Mykhailo returned from the Golf Mad Junior Open in late February. It was supposed to be a short stay, another trip to Turkey scheduled for early March. But on Feb. 24, Mykhailo received a phone call at 5 a.m. from his dad.
"He had left to go visit my grandparents who live south of Kyiv," Mykhailo says. "He said, 'War has started.' I turned on the news and saw it, everything. It was horrible. It was the worst morning of my life."
Mykhailo and his mother went to the grocery, trying to stock up on food. The line was 70 people deep. They tried their luck at another store; it was closed. They saw another huge procession at the ATM and finally decided to go home.
That was seven days ago. It was the last time Mykhailo has been outside.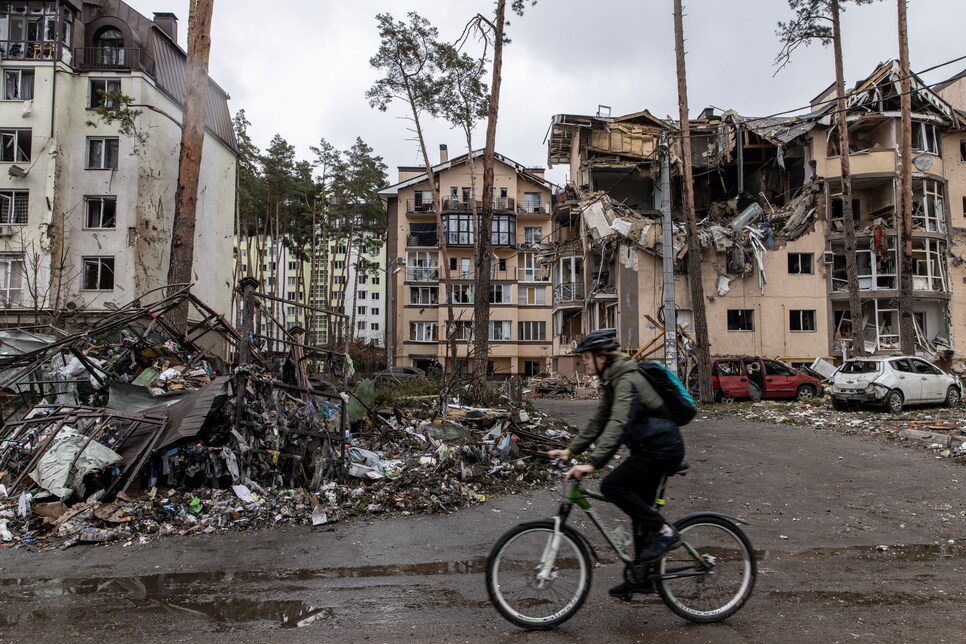 A man rides his bike past destroyed buildings in Irpin, Ukraine, on March 3. Russia continues its assault on Ukraine's major cities, including the capital Kyiv, a week after launching a large-scale invasion of the country.
Chris McGrath
MYKHAILO'S FATHER SAFELY returned to Kyiv. However the family, like millions in the country, is in limbo. For the moment they remain at their house. From afar Mykhailo gets why the world might not understand why many are staying put. But it's hard to leave when you don't know where to go or what comes next.
"Right now, we have power, we have electricity, we have Wi-Fi," Mykhailo says. "I have friends who have left to Hungary and Poland. Right now, my family doesn't think it's wise, because we don't know how long this will last, because how long are you going to be gone?"
The house has running water, and his mother and father make short runs to the grocery to keep the group fed. Mykhailo is still attending school, albeit remotely, to try and maintain a level of normalcy. "The teachers aren't giving us the same amount of homework, and if we don't turn it in on time, they have been nice about letting it slide," he says.
You don't get used to the air horns or ensuing booms, Mykhailo says, despite their frequency. Sometimes the silence is just as scary, waiting for when it will break. As for looking outside, Mykhailo keeps it to a minimum.
The news is on, constantly. Mykhailo and the family try to stay informed, gathering anything they can from television or social media or text threads. There is so much information, including misinformation, it's hard to know what's real and what's not.
There is one piece of intel Mykhailo passes along, and the hurt on his face is clear when the words tumble out.
"My golf course, Kyiv Golf Club, my home club, the Russians have occupied it. They're inside the clubhouse and sort of making a camp for themselves," Mykhailo says. "It's one of really only two good golf courses in the country, the other is in Kharkiv. And there, half of the city has been blown up. It's horrible. I have friends there, I message them five times a day asking if they're alright. I'm not even asking about the course because it doesn't seem to matter at this point. But it's tough to think about."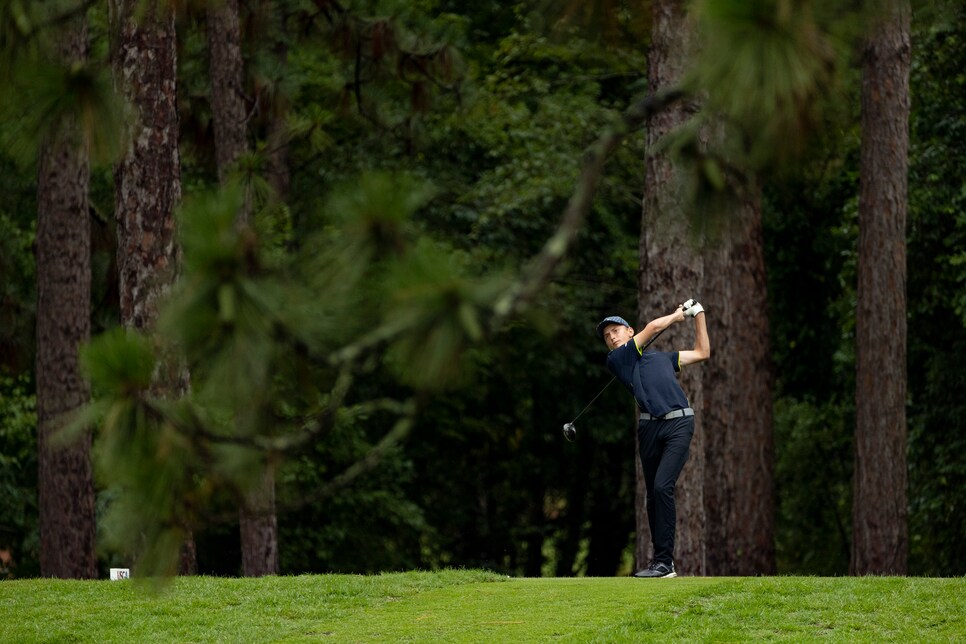 Golod has won Ukraine's junior national championship four times already. His favorite golfer is Rory McIlroy: "He plays great—seven under today, that's good for that course—but he always says the right thing and stands for what's right."
Chris Keane
There is a respite to be found, Mykhailo says, hard as it is when a military superpower is surrounding his town. He can't play golf at the moment. That hasn't kept him from the game.
He's used the past week to begin memorizing player statistics and old major schedules. He's reading every piece of golf content there is to find. Already an avid consumer of live PGA Tour coverage, Mykhailo has done a deep dive into old rounds and films of past major championships. He feels like he's watched every bit of U.S. Open tape that exists on the Internet, and he's lost count of how many Masters and Opens he's marked off. As he videoconferences in he mentions he recently finished the 2005 Masters. "The one where Tiger Woods puts away Chris DiMarco," Mykhailo notes. "Fun finish. Tiger usually wins, doesn't he?"
The tournaments, dated as they may be, are fresh to Mykhailo. Any port in the storm, sure, but also interesting because he didn't watch most of those majors live. Heck, he wasn't alive for most of these tournaments. He's taking notes on how the champions compete, how they attack, how they carried themselves to victory, how they carried themselves in defeat and what could be learned from both. He's continuing to improve his game without picking up a club.
Conversely, he's not just receiving an education. The bright colors and dazzling landscapes on his screen juxtaposed with the hell outside his window resonate deeper than any lesson could.
"All these tournaments, they are played at beautiful places. Peaceful places," Mykhailo says. "It's a dream, but it's also real what you're watching, which means it's a dream that you can achieve."
One of the things that filled Mykhailo's computer on Thursday was first-round coverage from Bay Hill. Mentioned above, Rory McIlroy had the early lead. Rory is Mykhailo's favorite; he likes his style, digs his play, loves the man. "Rory seems like a great guy," Mykhailo says. "He plays great—seven under today, that's good for that course—but he always says the right thing and stands for what's right."
Should the Wi-Fi make it through the weekend, be it in his bedroom or basement, Mykhailo plans to watch the closing action from the Arnold Palmer Invitational. However, it is getting late, and it is well past time for Mykhailo to find a safer place. He has lost track of time, which happens to all golfers when they start talking about the game they love. Before he leaves, Mykhailo wants to say two things.
The first: "I hope the world sees what is happening. We did not ask for this. Russia, they are attacking civilians, not just military. They're actually killing people. They're destroying homes, they're destroying government buildings. I hope the world hears and sees us and helps us out."
The second? Mykhailo is not obtuse. He's aware his present is ambiguous, frightening, weird, hard. He's not sure what's on tap for tomorrow. But Mykhailo Golod believes this will eventually end, and he knows where he wants to be.
"I want to play in the U.S. Junior Am coming in July. It's at Bandon Dunes. I've never been," Mykhailo says. "I'm much better than I was last year. This year, I will be able to concentrate. This time, I will be ready."