Takeaways
Rory McIlroy (unknowingly) drums up the Augusta hype train, Jon Rahm struggles and Bay Hill bites back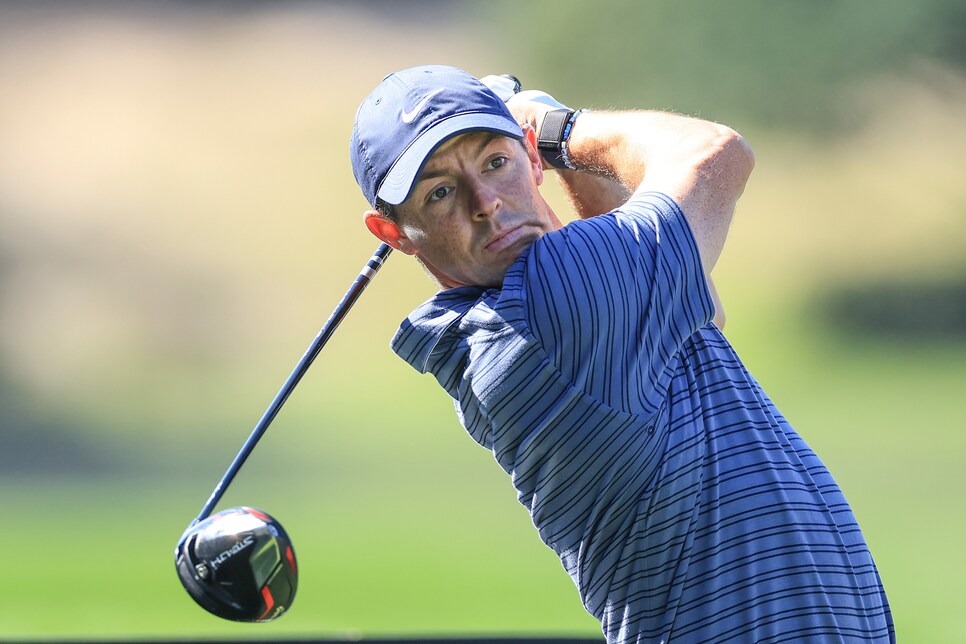 There are days when Rory McIlroy makes this most vexing game look impossibly easy, when he's swinging freely, putting like a kid and bouncing around like he owns the place. Thursday was one of those days. McIlroy opened the Arnold Palmer Invitational with a seven-under 65 on a Bay Hill track with juicy rough and ever-present water hazards, and he finds himself in a familiar position after one round: alone, on top of the leader board. Here are four takeaways from the first round of Arnie's event.
Start the Rory-Augusta hype train
Any time McIlroy plays well in February or March, the temptation is to judge his form vis a vis Augusta National. Rory and the Masters are star-crossed lovers; it remains the lone major championship he has not won, the last checkpoint he must pass to complete the career Grand Slam and stake his place among golf's immortals. We're still more than a month away from that ceremonial first tee shot, but McIlroy's play will absolutely have his fans dreaming of a green jacket.
Loosening COVID travel restrictions have allowed McIlroy to fly his longtime coach, Michael Bannon, out to the U.S. from Northern Ireland. (You may recall he had a brief stint working with Pete Cowen, a stint that now appears to be over). Bannon and McIlroy have been hard at work trying to get his clubface more neutral at the top and to feel like the left arm is driving the backswing, not the right. It might sound like gibberish to you but it's clearly clicking for Rory, who's quietly putting together a pretty tasty stretch here. Dating back to his victory at last year's CJ Cup, McIlroy has had official finishes as follows: WIN/T-6/T-12/3rd/T-10.
McIlroy began Thursday's round on the 10th tee and bogeyed his second hole of the day, only to bounce back with back-to-back birdies and a 41-foot eagle putt on the par-5 16th. Per the Golf Channel broadcast, it's the longest eagle putt McIlroy has made in his entire PGA Tour career, and he played Bay Hill's four par 5s in five under par. He turned in three-under 33 and played his back nine in bogey-free 32 to put himself in ideal position to add a second API trophy (he won it in 2018) to his mantle.
McIlroy said he's felt more comfortable putting as of late—he has a tendency to get a bit loose with his reads and setup—despite losing a weapon in his arsenal when the calendar turned to 2022.
"I've actually really enjoyed not having a green book. I feel like it's got me more into the putts. I feel like I'm more … I'm not consulting a green book as much. Honestly, I feel like it's benefited me these last few weeks, and that's been a nice thing."
You know who also doesn't allow green books? Augusta National.
Don't be fooled by one round—Bay Hill can bite
McIlroy's score may give the impression that Bay Hill played like a normal PGA Tour setup. That would be incorrect. The rough is always longer than average at Arnie's place, but this year's lettuce seems to be extra thick—and the grainy Bermuda greens already have that slickness.
"They're already baking out," said Will Zalatoris, who shot 68. "Scottie [Scheffler] and I were joking about how we were having a tough time getting our putter heads solid on the green because there's so much grain and so glassy. This is the best I've ever seen it, too.
"It's going to be fun. The weekend's going to be tough."
"The rough is incredibly thick," the Aussie said. "It's a half-shot penalty almost every time you hit it in it. I didn't think it was that easy because I didn't hit every fairway either."
Sepp Straka, who won the Honda Classic four days ago, shot 76. Tom Hoge, who ranks third in the FedEx Cup, shot 78. So did Cameron Tringale, the PGA Tour's ATM machine, and Garrick Higgo, the promising young South African. Seamus Power, who's been terrific for the past six months or so, couldn't break 80. Should the wind pick up at all over the weekend, we could be in for a repeat of the 2020 API, when Tyrell Hatton won at four under and just one player broke 70 on Sunday.
For Rory and Adam, the feeling is mutual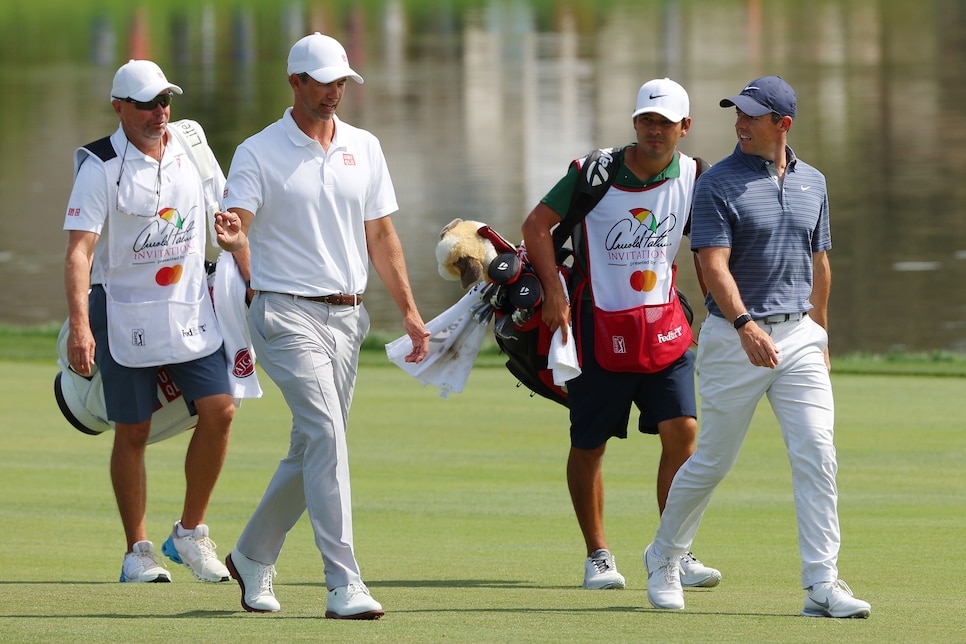 Ask around about the best golf swings on tour and you'll hear a whole lot of two names: Rory McIlroy and Adam Scott. The two happened to play together on Thursday, and both played quite well, as we just discussed.
"I like playing with Rory," Scott said. "I really enjoy watching him play. He's a guy I can watch play and get positive swing thoughts for myself. I love watching him swing a golf club. I think almost everyone in the world would say that. But he's a guy I like watching play. Generally, he can lift my level of golf, especially when he's playing the way he did today."
McIlroy was then made aware of Scott's glowing review.
"Yeah, any time I play with Adam, it's a good pairing," McIlroy said. "We chat about all sorts of stuff. I feel like we've got quite a bit in common. Yeah, anyone could watch Adam Scott swing the club all day long. He's got a nice rhythm. Yeah, it's nice. If he feeds off me, I certainly think I feed off him a little bit too."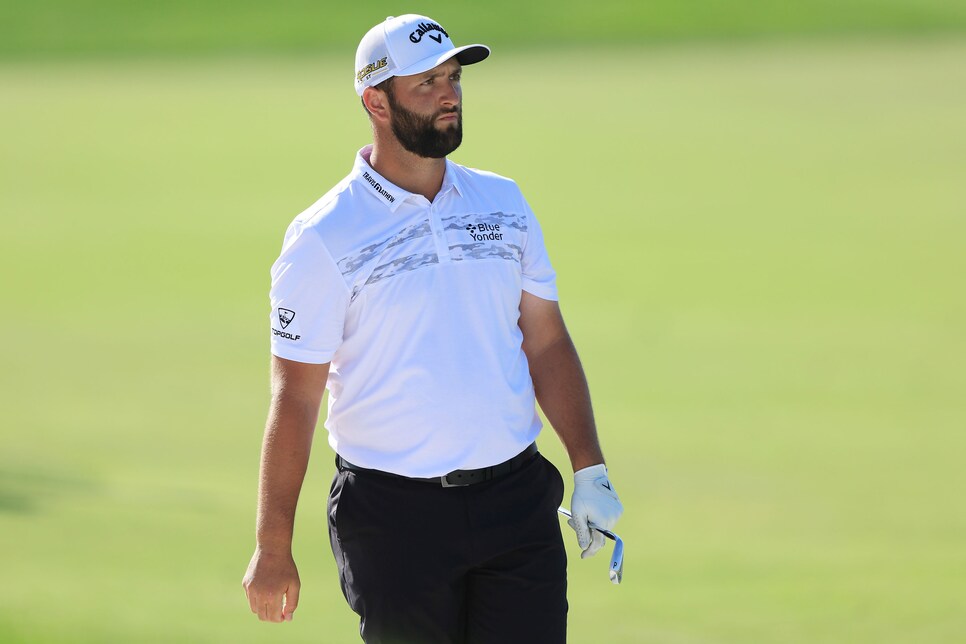 It's a patently ridiculous question to even ask, but Rahm has been on a patently ridiculous run of consistency … until the last few weeks. The World No. 1 saw his streak of 34 straight rounds of par or better end on Friday at the Genesis Invitational and needed a nervy five-footer on his last hole just to make the cut. A six-under final day crept him up to T-21, but that's still a disappointing week for a guy who's been living on the first page of leader boards.
Rahm would've shot one-under 71 on Thursday at Bay Hill had he not stubbed a putt that couldn't have been more than eight inches. No, seriously, that actually happened.
"I really couldn't tell you," Rahm said of the mishap. "I wish I could give you all the excuses in the world, but no, it's as simple as … you know, it just didn't feel good in my hands, and I tried to stop, and I didn't. I just simply didn't stop. I don't know. It was very odd."
But the six-inchers count the same as the 300 yarders in this game, and so Rahm stands at even par and could conceivably find himself in another battle with the cut. That would make Collin Morikawa's path toWworld No. 1 a bit more straightforward. Now that we wrote that, Rahm shoot six under tomorrow. Book it.