Players Championship
Players 2021: Rory McIlroy reaches out to instructor Pete Cowen for 'opinions' on his swing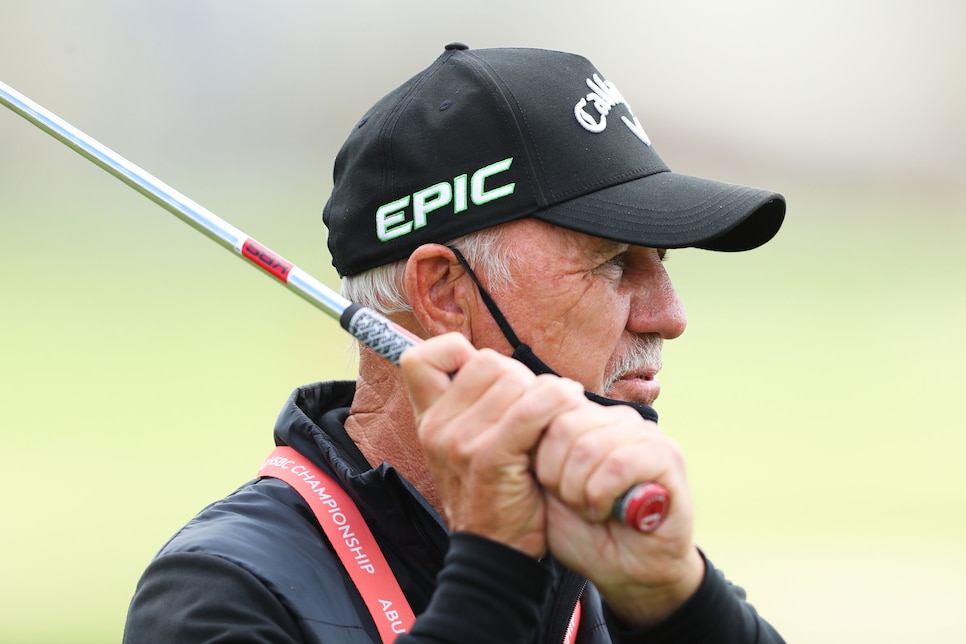 Swing coach Pete Cowen is seen on the driving range earlier this year at the European Tour's Omega Dubai Desert Classic.
Warren Little
PONTE VEDRA BEACH — Amid some of the worst ball-striking of his career, Rory McIlroy has sought the opinion of a legendary swing coach with a penchant for turning around struggling players.
"Opinions, that's all," Cowen told Golf Digest. "They are only my opinions."
Cowen, 70, has worked with a number of major champions, including Brooks Koepka, Graeme McDowell, Louis Oosthuizen, Danny Willett, Darren Clarke and Henrik Stenson.
McIlroy and Cowen have worked together before, as Cowen was once the head coach of the Irish men's golf team, which McIlroy was a member of when he was as young as 14 years old.
Still, seeing the two work together at a tour event is a notable development given McIlroy's longtime relationship with Michael Bannon, who has coached McIlroy since he was a young child in Northern Ireland. Bannon has not been able to travel to the U.S. much given COVID-19 restrictions.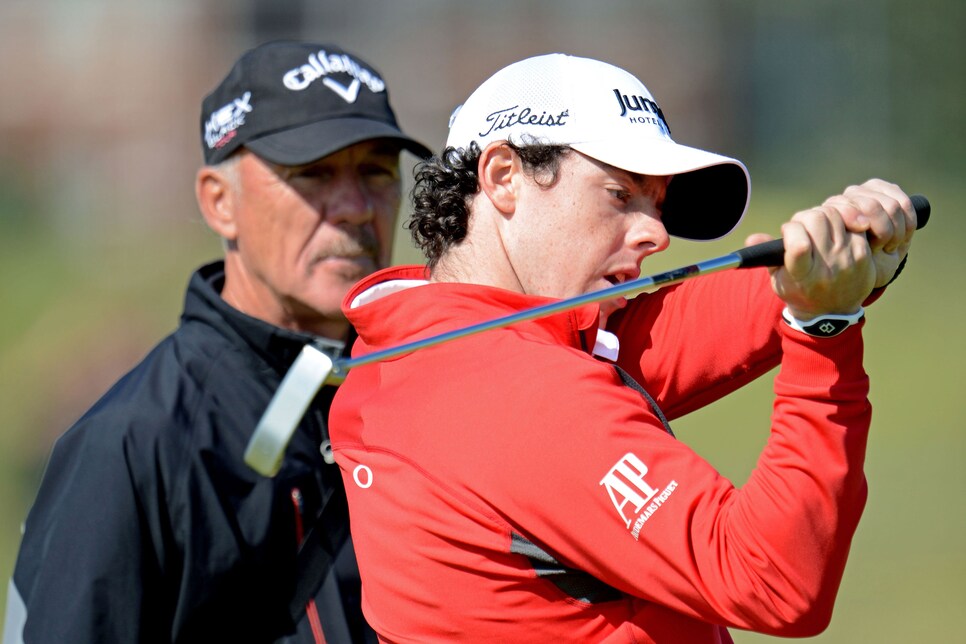 McIlroy, chatting with Pete Cowen on the practice ground during the 2012 Open Championship, has known the instructor since his teenage years.
Stuart Franklin
It is not clear whether McIlroy wants to go a different direction with his swing or if he simply wants another opinion from a fresh set of eyes, but one thing is clear: McIlroy's ball-striking—particularly with his short irons and wedges—has been off since he returned from the tour's three-month pandemic hiatus last June.
He ranks third on tour in strokes gained/off the tee but 87th in strokes gained/approach, 137th in approach play from 50-125 yards and 174th in approach play from 125-150 yards. McIlroy says he has struggled with getting the club "stuck" behind him in transition, which forces him to manipulate the clubface to deliver a square strike. In their session on Thursday afternoon, Cowen repeatedly encouraged McIlroy to get his hands more in front of his body on the downswing.
"I think that's where I'm sort of struggling to come to terms with it and sort of trying to figure out what I need to do because the good stuff is there," McIlroy said Tuesday. "It always will be. I'll always be able to figure it out and find a way.
"But it's when it goes slightly off, how do you manage that and how do you—I feel like over the last few years, I've been really good at when my game hasn't been fully there still be able to shoot 69, 70, still being able to get it under par, where I feel like the last few weeks when it hasn't felt quite right, I'm sort of treading water and I'm just trying to shoot even par, and that was sort of what it felt like last week."
McIlroy's play wasn't much better on Friday. A three-over 75 left him missing the cut by 10 strokes and becoming the first defending Players champion not to play on the weekend since Rickie Fowler in 2016. After the round, McIlroy zeroed in a little more on when and why his swing started to get shaky.
"The swing issues and where it all stems from, probably like October last year, doing a little bit of speed training, started getting sucked into that stuff," McIlroy said. "Swing got flat, long, and too rotational. Obviously, I added some speed and am hitting the ball longer, but what that did to my swing as a whole probably wasn't a good thing. So I'm sort of fighting to get back out of that. That's what I'm frustrated with."
Why last October? Well it was a month after Bryson DeChambeau's statement win at the U.S. Open. "I'd be lying if I said it wasn't anything to do with what Bryson did [at Winged Foot]. I think a lot of people saw that and were like, whoa, if this is the way they're going to set golf courses up in the future, it helps. It really helps."
McIlroy continued: "I sort of look back at Winged Foot and I look at my swing there, and I would be pretty happy with that again [he tied for eighth at the U.S. Open]. And then after Winged Foot I had a few weeks before we went to the West Coast and I started to try to hit the ball a bit harder, hit a lot of drivers, get a bit more speed, and I felt like that was sort of the infancy of where these swing problems have come from. So it's just a matter of trying to get back out of it."
With four weeks until the Masters, McIlroy has time to get things right before the most important tournament on his schedule. But it sounds like he doesn't just have to overcome some physical issues, but some mental ones as well.