Live Blog
Players 2021 live updates: Lee Westwood takes the lead on Day 2 at TPC Sawgrass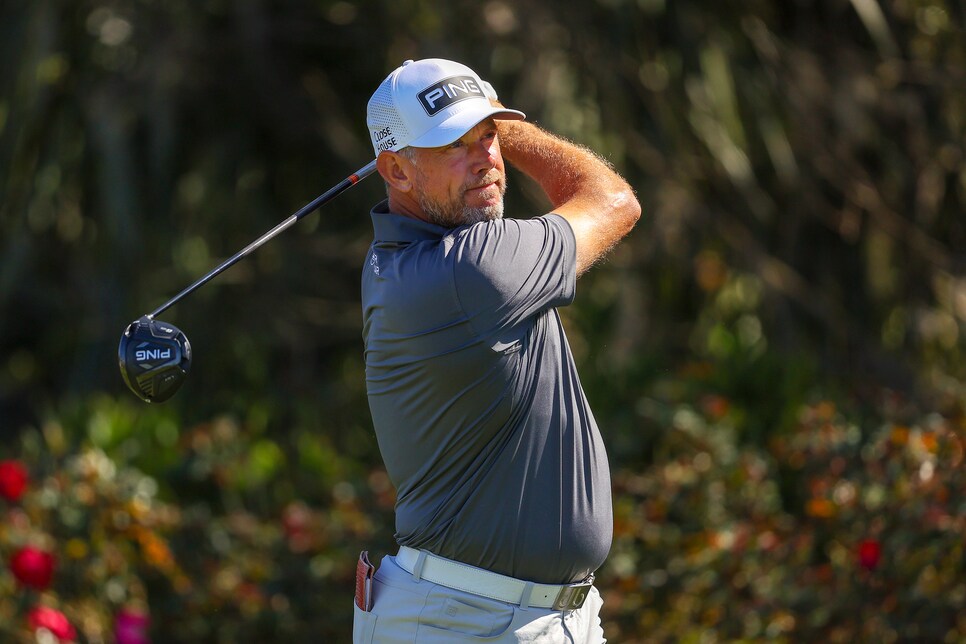 After an eventful Day 1 at the 2021 Players—so eventful, in fact, not everyone finished their first round—play has resumed on Friday morning at TPC Sawgrass. And that's a pretty big deal considering how abruptly last year's tournament ended.
Will we see more rules imbroglios like the two Viktor Hovland found himself involved with on Thursday? Probably. Will we see more golf balls in the water on 17? Most certainly. But no matter what happens, we'll be here to let you know.
(Scroll down for the latest updates)
Sergio Garcia leads after an opening 65, but he'll have a long wait until his Friday afternoon tee time. By then, even the limited crowds at the Stadium Course will be well primed. Should be fun!
Other things to watch for? Can 54-year-old Steve Stricker keep it going after flying in at the last minute? Can defending champ Rory McIlroy turn things around to stick around for the weekend? And can Jordan Spieth possibly keep up this stellar driving? Keep it here all day to find out.
Live updates from the Players (all times eastern):
6:50 p.m.: OK, play has officially ended for the day. Harry Higgs faced a long birdie putt while sitting at even par—so rather than putting out in the dark to make the cut, he marked his ball and will come back in the morning. Just a two-putt and he'll have a tee time later in the day.
That was a fun afternoon at TPC Sawgrass. Keep scrolling down for all the updates and highlights!
6:43 p.m.: The last players sweating the cut: Adam Long, at even par, just hit his approach to 16 feet on the 18th hole, so it looks like Long will make the cut. Indeed he two-putts for his necessary par. Harry Higgs hit a decent tee shot at 18, but he's just off the fairway needing to par the hole to make the weekend. We'll see if there's enough sunlight for him to be able to finish.
Victor Perez, now on the 16th hole, is also at even par, and his group will definitely not finish. They'll just be a couple groups who will need to complete their round tomorrow. Pretty annoying for guys like Sam Burns, who is 11-over, and still has to finish two holes. That's an annoying early wake-up just to finish the inevitable.
6:26 p.m.: Brendon Todd rolled in a long birdie putt at the 17th hole to quietly get to 2-under, just seven back of Westwood. It was a great day for Todd—he made a hole-in-one at the eighth hole. Harry Higgs, at even par, just parred the par-5 16th hole—so Higgs needs two more pars to lock up the weekend.
Russell Knox just birdied his last hole of the day, the par-5 ninth hole, to get inside the cut line at even par. Good stuff from the Scotsman. And Lanto Griffin just made a nice up and down from the moguls right of the 18th green to lock up even-par, letting him make the cut on the number.
6:16 p.m.: Though TV coverage is done, the beauty of having "Every Shot Live" is the ability to watch some of these guys fight to make the cut. One of those players is Tyrrell Hatton, who was at 1-over and needed to birdie 18 to make the cut. Wow, he left it short, so Hatton will pack his suitcase and head home.
Interestingly, Hatton now has four MCs in his past 18 events—and they're all the biggest tournaments: the Players, the Masters, the U.S. Open and the PGA Championship. He's been consistent around the world, but he's been bad at the biggest events.
In the same group, Paul Casey flew his birdie try 9 feet past the hole at 18, but he makes the comebacker to card a Friday 5-under 67, getting him to 4-under for the event. Impressive considering Casey had a quadruple-bogey 7 at the par-3 17th on Thursday ... Casey could even be closer to his fellow countrymen at the top of the leader board if it wasn't for that!
6:03 p.m.: Matthew Fitzpatrick looks like he'll finish his day with a birdie at the par-5 ninth after a fabulous bunker shot for his third. Humble brag: Our co-worker, Daniel Rapaport, gave me a quick bunker tip once that was courtesy of Fitzpatrick. I've been great out of the bunker since ... so no surprise Fitz hit a good one there (the tip, by the way, is to take the club back a little more on the inside. I'm no pro but it's worked).
And there it is, Fitz gets up and down to card his second consecutive 68—putting him at 8-under and one back of Lee Westwood. He'll be paired his fellow countryman on Saturday in the final group.
5:54 p.m.: Matthew Fitzpatrick hits a big-time foul ball on the par-3 eighth hole, and that leads to a bogey for the Englishman. He falls back to 7-under, which means Lee Westwood currently leads by two. Fitzpatrick has the par-5 ninth upcoming, where he chipped in yesterday for eagle.
5:47 p.m.: WOW! Sergio nearly holed his approach shot at the 18th hole, which would've been his fourth eagle of the tournament already—so that'll get Sergio back to 7-under, so two back of Westwood. We think Sergio can make that one, despite all the bad short misses today...
That'll be nice some momentum for Sergio to end his day after a tough stretch during his second round. It was a really tough putting day for Sergio, after he picked up more than 3.5 strokes on the greens on Thursday.
After all's said and done, Sergio ends the day where he started it.
5:45 p.m.: Justin Thomas birdies two of his last three holes (16 and 18), including a great shot at the 18th hole, to get to 2-under, now seven back of the lead of Lee Westwood, but definitely within striking distance of the lead.
5:41 p.m.: Wow—Fitz lips out his birdie putt at No. 7, so he'll stay at 8-under and one back of the lead with two holes to go..
5:35 p.m.: Matthew Fitzpatrick just hit a fantastic fairway-bunker shot at the seventh hole (his 16th of the day) to 19 feet—giving him an opportunity to tie Lee Westwood at 9-under.
Sergio Garcia navigates a two-putt at the 17th hole to remain at 6-under, three back now of Westwood's lead.
5:25 p.m.: Good for Sergio Garcia. After a slew of short misses—including what might be the shortest putt in PGA Tour history (see below)—he recovered to make a six-footer for birdie on No. 16. So after all that, he's still only one under for the round, and just three strokes off Lee Westwood's lead. Of course, he's still got a couple treacherous holes to get through. . .
5:18 p.m.: Kudos to Henrik Stenson. After posting 85 yesterday, he showed up for his second round tee time and despite another tough day, he kept battling to the end. At 17 over par, Stenson hit his second shot on the par-5 ninth, his final hole of the day, to three feet and made the putt for a closing eagle. To get to 15 over. Now that's a pro's pro right there.
5:05 p.m.: Sergio Garcia may have just missed the shortest putt in PGA Tour history. I'm not kidding. Seriously, look at this screengrab: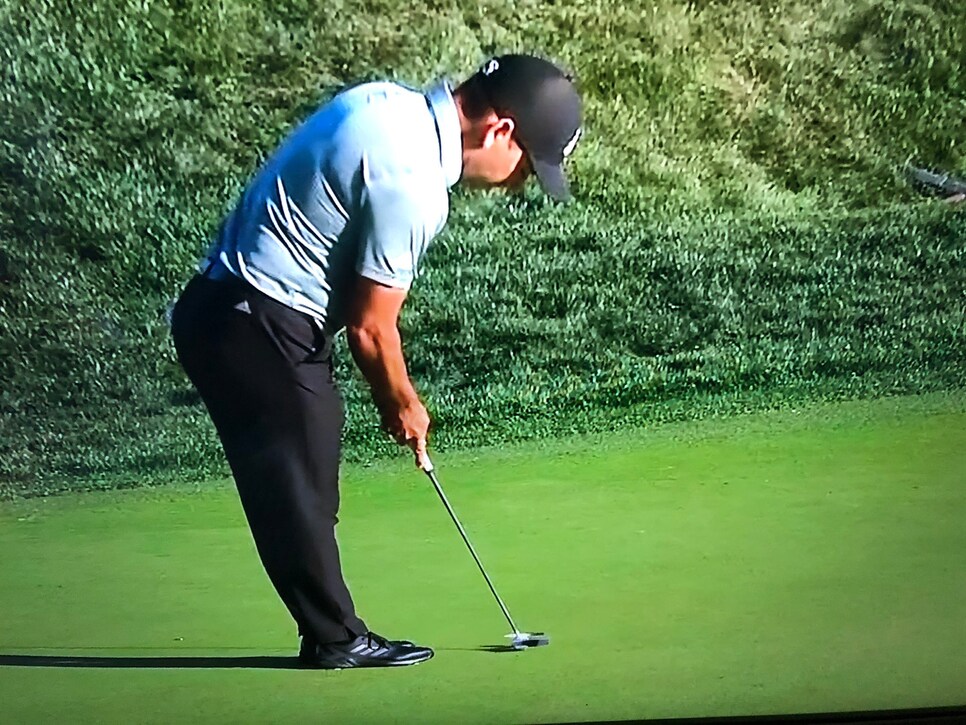 Needless to say, Sergio isn't having as good of a round today. The shocking bogey drops him back to five under for the tournament.
5:00 p.m.: Lee Westwood rolls in one final birdie on No. 9 and kisses his fiancee and caddie, Helen Storey. It would be an understatement to say the 47-year-old is enjoying his time on the golf course these days. After a runner-up at Bay Hill last week, Westy will likely have the 36-hole lead at TPC Sawgrass after rounds of 69 and 66.
4:52 p.m.: The good news for Scottie Scheffler? He just chipped in for birdie on No. 17. The bad news? He'll probably need another birdie on No. 18 to make the cut. Meanwhile, Lee Westwood is finishing up his round on the par-5 ninth, where he just striped another drive. The dude is on cruise control right now.
4:37 p.m.: Tyler McCumber gets the crowd going on No. 17 by rolling in a long putt for birdie. This, just a bit after Golf Channel showed an old clip of his dad, Mark, winning this tournament in 1998. You love to see it. You also love to see Tyler looking like he recovered from that gruesome sounding fingernail injury he suffered at Riviera last month. The younger McCumber is making his Players debut, and barring a total disaster on No. 18, he'll make the cut.
4:31 p.m.: Lee Westwood just misses another birdie on the par-4 seventh. He remains at eight under and in the lead with two holes to go. Check that, he's now tied for the lead after Matthew Fitzpatrick rolls in an eight-footer for birdie on No. 2. If this holds up, the two Brits would make a really comfortable final pairing on Saturday.
4:19 p.m.: Sungjae Im finally cools off a bit with a bogey on No. 5. He's still six under on the day and for the tournament, but he now trails Lee Westwood by two. In other news, Nick Faldo just did an Ace Ventura "Alrighty then" impression after talking about Kris Ventura's hole-in-one last week. Alrighty then, indeed.
4:02 p.m.: Forget about an ace alert, we almost just had an albatross alert on the par-5 11th. Sergio Garcia just missed holing his second shot for that rare bird. But for a guy who is surprisingly struggling on Day 2, he'll take a tap-in eagle. Just like that, Garcia moves back to where he started the day at seven under.
3:47 p.m.: ACE ALERT! Brendon Todd just jarred a 5-wood from 213 yards out on the par-3 eighth hole. It's just the seventh hole-in-one there in tournament history (Actually, I'm surprised it's that many on that brute) and the first in eight years. Have a look:
Todd joins Denny McCarthy in the Friday ace club. The shot also moved him back to even par, which is currently the cut line at TPC Sawgrass.
3:44 p.m.: Sungjae Im just misses in his attempt to make a Players record seventh consecutive birdie, but what an effort it was. After missing the green at that par-3 third, Im nearly holes his chip shot. He'll happily settle for par and six straight birdies to tie the tournament mark. At seven under, the Korean is one off Lee Westwood's lead.
3:40 p.m.: Lee Westwood has a birdie streak of three in a row now—and he captures the lead all by himself. That was an 11-footer for the Englishman ... Westy is rolling them in from all distances right now.
3:34 p.m.: Sungjae Im's heater keeps going. That's now six straight birdies after a great up and down at the par-5 second hole. That puts the 22-year-old in a share of the lead with Fitzpatrick, Westwood and Kirk.
Sungjae's approach shot with a metalwood got really unlucky to run through the back of the green, so it's nice to see the stellar shots rewarded with a birdie. Another one! He's now only the 10th player at TPC Sawgrass to ever birdie six holes in a row ... very stellar stuff.
3:29 p.m.: Sergio Garcia had a chance to rejoin the group at 7-under with a birdie look at the par-5 ninth hole, but his attempt comes up shy. He'll make the turn in 1-over for his round and one back of the leaders. His tee shot at 10 is in some trouble left, so our 18-hole leader is not having nearly as good of a day.
3:25 p.m.: Make that two in a row for Lee Westwood! The Englishman just rolled in a 30-footer to tie Matthew Fitzpatrick and Chris Kirk atop the lead ... if Westy's making 30-foot bombs, the entire field might be in trouble.
The birdies seem to be coming in bunches today, as TPC Sawgrass is playing quite easier than yesterday. Dylan Frittelli has one of the best rounds of the afternoon, with six birdies over his first eight holes after burying a birdie at the famous peninsula-green 17th.
3:18 p.m.: Lee Westwood rolls in his third birdie of the day to get to 6-under—now just one back of the lead. The 47-year-old is playing such stellar golf for a second straight week—we supposed it shouldn't be a surprise the ball-striking maven is contending here.
Speaking of ball-striking mavens, Sungjae Im is on an absolute TEAR right now. He just made his fifth birdie in a row—FIVE—to move within one of the lead of Matthew Fitzpatrick and Chris Kirk.
3:07 p.m.: Sergio Garcia manages to avoid dropping another shot by holing a 10-footer for par at the eighth hole. Sergio remains one back of Chris Kirk and Matthew Fitzpatrick.
3:03 p.m.: Sungjae Im is firmly in this golf tournament after four straight birdies to complete his front nine. The 22-year-old star is now at 5-under and just two back of Chris Kirk's lead.
2:51 p.m.: Wow! Sergio Garcia almost holed another long birdie putt, but his 28-footer on the seventh hole just rims out with a bit too much pace. Sergio's been good from long distance—holing the 15-footer at No. 2—but not so good from short distance.
2:39 p.m.: Some luck for Sergio Garcia ... for a second straight hole, his perfect tee shot ended up in a divot. Man, it's tough when that happens once in a round, but twice—and on back-to-back holes? Sergio navigates the situation well again ... finding the green but 48 feet away.
Anddd that's another three-putt for Sergio Garcia. That's two through his first six holes. The ball-striking maven has struggled mightily with his putting this season—ranking 205th on the PGA Tour. And now we're seeing that come back to bite Sergio. The eyes-closed method worked well on Thursday, but it's been shaky at times Friday.
That means Sergio (-6) no longer has a share of the lead—that's Chris Kirk's at 7-under all alone.
2:20 p.m.: Lee Westwood—who is still two back of Sergio Garcia's and Chris Kirk's lead—just burns an edge on his birdie look at the par-3 17th hole. He cleans up the par and remains near the top of the leader board, helped by two birdies at 10 and 11 that started his day. This is a continuation of his stellar play that had him contending last week at Bay Hill.
Sergio two-putts for par at No. 5, so he remains even for the day and tied with Kirk for the lead.
2:15 p.m.: Sergio Garcia hits a stellar approach at the long par-4 fifth hole, from a bit of a filled-in divot, to 29 feet for birdie. That was a really nice long approach from 197 yards.
2:04 p.m.: Sergio Garcia now has company atop the leader board. Chris Kirk matched Sergio's low round of the tourney from yesterday with a second-round 65 today, What an absolutely stellar day from Kirk—he had seven birdies and a hole-out eagle from 147 yards out at No. 1 (his 10th hole).
You might remember that Kirk held the 54-hole lead here back in 2015 when Rickie Fowler won. And he also won on the Korn Ferry Tour last summer ... down the road in St. Augustine. Kirk clearly likes playing here in North Florida.
1:57 p.m.: Matthew Fitzpatrick keeps showing up on leaderboards—he has four straight top-20 finishes in the last four weeks here in the United States. Fitz opens his day with birdies on his first two holes, two-putting for birdie at the par-5 second hole. Fitz is now one back of Sergio.
Sergio holes his par putt from just inside 10 feet at the fourth hole for an impressive par save, after his third shot nestled in a gnarly lie in front of one of the bunkers. Sergio remains at 7-under and in the lead by one.
1:53 p.m.: And now Sergio's in a bit of trouble at the short par-4 fourth hole. After driving into the rough, his approach comes up well short and he'll have a thick lie around the green. He'll need to muster up his best short-game stuff to save par here.
By the way, we told you about Hubbard and his hot stretch ... well, he couldn't par the last hole, so it looks like he'll miss the weekend, with a bogey on 18 giving him a 5-under 67, at 1-over for the tournament, which looks like it'll be one shy of the cut line.
1:45 p.m.: Ohhh boy, Sergio's eyes-closed approach didn't work so well there at the par-3 third hole. From just over four feet for par, Sergio bricks it—negating that nice birdie at the second. Sergio still has the lead by himself at 7-under, but now it's just a one-shot lead.
1:37 p.m.: Sergio Garcia's continuing his stellar eyes-closed approach to putting. The Spaniard just roled in a 15-footer at the par-5 second hole to extend his lead to two shots, being the first to hit 8-under.
1:30 p.m.: We have a couple impressive moves up the leader board worth telling you about. James Hahn has been on an absolute roller-coaster around TPC Sawgrass.
Hahn started his day at +4 today after a back-nine 43 on Thursday derailed what had been a good start to his first round (he went out in 33). But Hahn took it low on Friday, shooting a second-round 67 thanks to six birdies against one bogey. Hahn will be safely inside the cut in one of the biggest moves up the leader board.
Then there's Mark Hubbard, who shot a 6-over 78 on Thursday (he was T-134 starting the day). Hubbs has five birdies on his Friday round—plus a hole-out eagle at the seventh hole—to move all the way back inside the cut line. His latest birdie came at the 17th hole, so a par at 18 and he'll be inside the cut line.
1:21 p.m.: The latest twist in Viktor Hovland's odd rules situations on Thursday comes with some news about who informed him of his rules infraction. It was someone who's used to following Hovland's moves very closely ... it was his mom. Moms always will keep you honest.
1:14 p.m.: Charley Hoffman continues his surge up the leader board with a birdie at hte eighth hole (his 17th) to get to 6-under, one off Sergio's lead—he was 3-over through his first 12 holes of the tournament, but went on a red-hot run, playing his final six holes 5-under par.
With the par-5 ninth upcoming to end his day, Hoffman might have a chance to tie the lead before he's done.
1:04 p.m.: Sergio Garcia tees off in his second round, and his opening drive (at the 10th hole) has pulled way left into the trees. But you know Sergio has skills from the trees (tired old golf writer cliché, we know), and the Spaniard hits a nice rope punch onto the green about 15 feet away. That's a strong way to start his second round, as his lead is still one shot at the moment—over Bryson DeChambeau, who shot another 3-under 69 today, Denny McCarthy and Brian Harman.
Sergio's birdie bid comes up shy but he remains at 7-under as he heads to the par-5 11th hole.
12:49 p.m.: Louis Oosthuizen will jump up from 1-over to 1-under with an eagle on the eleventh hole. His eagle is then promptly followed up by a birdie by Lee Westwood on the tenth to get to 5-under for the tournament.
12:39 p.m.: With the Spieth and Morikawa drama taking center stage over the last half-hour, let's not forget Bryson. DeChambeau finished his day with a 3-under 69 and is now 6-under overall. He's one shot back of leader Sergio Garcia, who will be starting his day in 20 minutes or so. After a win at Bay Hill, DeChambeau has a legitimate shot at back-to-back victories heading into the weekend.
12:37 p.m.: Clutch (again)! Collin Morikawa hits a BIG putt for birdie to get to even par and make it into the weekend. Impressive putts from both Spieth and Morikawa to make the best of a tough last few holes. We're exhausted just watching this.
12:26 p.m.: Clutch! Spieth makes a massive bogey putt to survive into the weekend at TPC Sawgrass, It wasn't pretty, but it will do. Morikawa will be hoping for a similar conclusion to his Friday.
12:24 p.m.: Like Morikawa, Jordan Spieth finds himself in dire circumstances, needing to make a bogey putt on the ninth to have a chance to continue at the Players. It's been a rough last few holes for Spieth who has been very self-critical and seems to be having trouble finishing strong.
12:20 p.m.: Collin Morikawa will bogey his second-to-last hole and will need to birdie the par-5 9 in order to make the weekend. It's been a rough back-nine for him.
12:09 p.m.: A damper on an impressive day, DJ double bogeys the seventh hole to drop back to 1-under. Johnson is now at 2-under for the day and T-29.
12:01 p.m.: Let's look at the chaotic leader board now that we've hit the early afternoon. Sergio Garcia still has sole control of the lead and he'll tee off in an hour. Denny McCarthy, 3-under for the day, and Brian Harman are both heading into the weekend at 6-under. And Bryson DeChambeau, Patton Kizzire, Charley Hoffman and Chris Kirk are all at T-4. Other notables include Will Zalatoris at 4-under and 2-under for the day, and Jon Rahm and DJ at 3-under. DJ has stormed back after a hit-and-miss Thursday.
11:51 a.m.: Bryson, DJ and Morikawa all have chances for birdies on the sixth hole. Johnson goes first and nails yet another putt from quite the distance. Morikawa misses a slighlt shorter birdie putt and settles for par. Then, Bryson converts to get to 5-under for the day and within two shots of the lead.
11:39 a.m.: "Oh, boy." After the aforementioned birdie putt, Spieth misjudges the wind on the seventh hole and misses wildly on his drive. The ball goes far right. He'll have a lot of work to do to stay at 2-under.
11:35 a.m.: Jon Rahm just misses a chance for birdie on the par-4 6. Easy par. Then, on the same hole, Jordan Spieth nails a long birdie putt to get to 2-under. Again on 6, Patrick Reed, at 1-over, finds the bottom of the hole and gets back to even. An eventful trio of shots there.
11:26 a.m.: Bryson DeChambeau stays at 4-under after a par save on the fourth hole. He is 1-under for the day. and is one of five at the T-5 spot including Jason Kokrak and Charley Hoffman (both 2-under for the day).
11:17 a.m.: Rahm was three over at one point on Thursday, but he's now in the mix at two under. Not a guy his competitors want to see on the leaderboard come the weekend.
11:04 a.m.: DJ bounces back with a birdie at the second. His four-under score is the best on the day so far, tied with Mark Hubbard. Denny McCarthy is hanging in right behind at three under with two holes left (the eighth and ninth).
10:52 a.m.: Dustin is losing a bit of steam. He bogeys the first and now founds himself in a scramble position at the par-5 2nd. Bryson is able to run up his second just short of the green, while Morikawa's layup is caught by the right bunker. Not a great performance from the reigning major champs at one of the easiest holes on the course.
10:45 a.m.: Spieth rights the ship with a birdie at the second to get back to red figures, and hits his approach at the par-3 third to 15 feet. Behind Bryson goes with an iron off the second but duck hooks his tee shot into the pine straw.
10:33 a.m.: While most of the field is going low, there are a few guys going south aside from Spieth. Most notably Patrick Reed, who is three over through 10. Also at three over is Tommy Fleetwood (six over for the event) with Steve Stricker coming back to earth (four over) after a strong opening round.
10:24 a.m.: Bryson saves par from the pinestraw at the 18th, making the turn at one under for his round and four under for the event. Ahead at the first, Spieth's birdie from 60 feet comes up six feet short, leaving him a testy chance for par...which he misses. Spieth needs to tighten things up over the next few holes to make sure he sees Saturday.
10:04 a.m.: Uh-oh. The Big Man is on the move. Bryson makes birdie at the 17th thanks to a beautiful approach to five feet, moving DeChambeau to four under.
10:00 a.m.: There's a new man in solo second: Denny McCarthy, who is now three under on his day and six under for the tournament after acing the par-3 third hole. Fantastic news for Denny...but you know whenever he tells people he made a hole-in-one at Sawgrass, they're going to ask if it happened at the Island Green, and there will be just the slightest of sighs.
9:50 a.m.: Dustin is FEELING it. Rolls in a birdie from 44 feet at the 16th, his forth birdie of the day to move him to three under. Bryson also goes to three under as he puts his eagle to tap-in range. Things are happening, people.
9:42 a.m.: After sailing his approach in the water on Thursday, Collin Morikawa plays it conservatively at the par-5 16th, bailing out well to the left and leaving a tricky up-n-down. In the same group DJ, who pushed his drive into the trees, punches out short into a bunker, while Byrson—WAY up there after a bombed drive—finds the middle of the green, leaving a 40-footer for eagle.
9:39 a.m.: Spieth cuts into the double by making a testy 7-footer for bird at the 16th, pushing him to one under for the tournament. Is playing partner Jon Rahm also makes birdie to get to even.
9:35 a.m.: Now in a tie for 2nd: Jason Day! The 2016 Players Champ, who turned in a 70 on Thursday, is two under to start his round Friday. Day hasn't won since the Wells Fargo Championship in May of 2018. Would be good to see him in the mix this weekend.
9:25 a.m.: Jordan bounces back from the double with a solid drive at the par-5 16th, setting up a good look to get home in two. A quick check at the rest of the board, Dustin Johnson and Cam Champ are both three under in the early going, while Steve Stricker is going the opposite direction after a good day on Thursday, three over thru five.
9:14 a.m.: Shout-out to Denny McCarthy, who is currently tied for second place at four under after making the turn (playing the back nine first) in 35. Statistically the best putter on the PGA Tour the past two seasons, the 28-year-old is still in search of his maiden victory. This wouldn't be the worst place to do it.
9:01 a.m.: And just like that, Jordan Spieth's PGA Tour-best 412 holes without a double bogey streak is snapped. The three-time major champ made an absolute mess of the par-4 14th after being in a greenside bunker in two. Spieth blasted to the back fringe then three-putted—his second three-putt of the day already—for a 6 that drops him back to even par for the tournament. Spieth has a notoriously poor track record at TPC Sawgrass with missed cuts in four of his past five appearances. Still, many had high hopes for him—in fact, he was the most heavily bet golfer before the tournament—coming off three top fives in his past four starts.
8:53 a.m.: The featured group of Dustin Johnson, Bryson DeChambeau and Collin Morikawa are all at two under through four holes on Friday. DJ and Morikawa get to that number thanks to nifty birdies on the par-3 13th, which DeChambeau lips out his attempt from about eight feet to a tricky front-right pin. Still, a very solid start for this trio of 2020 major champs.
8:39 a.m.: Don't forget about the World No. 1! Dustin Johnson has quickly moved into red numbers by birdieing his first two holes on Friday. However, he narrowly misses another one on the short, par-4 12th. Surprisingly, DJ only has one top 10 in this event in 11 previous starts. However, that T-5 came in his last trip to TPC Sawgrass.
8:15 a.m.: Jordan Spieth begins Friday with an unforced error as he three-putts from 50 feet on the 10th hole. The good news, though, is that his first two drives of the day are a continuation of what we saw yesterday. And the second helps set up a birdie on the par-5 11th. Spieth remains at two under, five behind Sergio Garcia.
7:55 a.m.: With a birdie on No. 11, his second hole of the day, Brian Harman has cut Sergio Garcia's overnight lead down to one. The two-time PGA Tour winner who opened with 67 is now at six under for the tournament.