Takeaways
Players 2021: Sergio Garcia's 'running' start, Viktor Hovland's honorable penalty and Steve Stricker's last-minute flight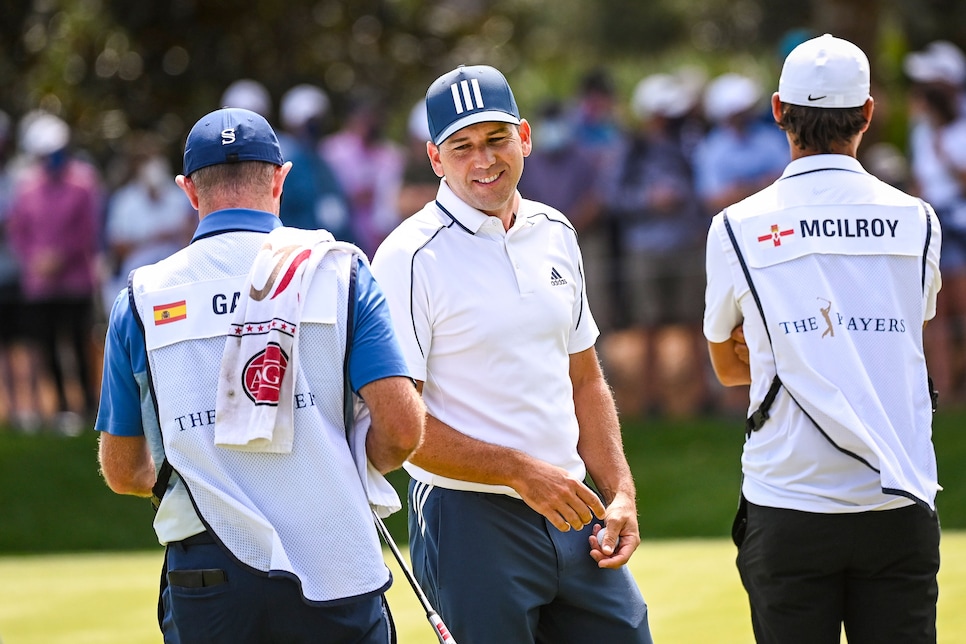 Sergio Garcia smiles with his caddie after making an eagle putt on the ninth hole to close out an seven-under 65 on Thursday at the Players.
Keyur Khamar
Welcome to the 2021 Players Championship. Hopefully, you brought enough golf balls.
The Stadium Course at TPC Sawgrass was playing angry on Thursday, collecting golf balls like it was trying to make up last year's lost tournament. No one was safe as the scoring average of nearly two over par was the highest opening round in 14 years. And we mean no one.
Rory McIlroy? The defending champ put two in the water on No. 18 on his way to a 79. Tony Finau? He was four over though three, but rallied to a 78. Rickie Fowler, the 2015 Players champ, nipped him with 77. Xander Schauffele? 76. Henrik Stenson? 85!
Anyway, here are four other takeaways from Day 1 at the Players.
Sergio Garcia is still the King of TPC Sawgrass
This is the most unpredictable golf tournament on the calendar—unless you're betting on Sergio Garcia getting into the mix at some point. The 2008 Players champ made two eagles on his way to an opening 65 to grab a two-shot lead on Brian Harman. Garcia looks like he'll have no problem making the cut here for a 17th straight time and the 19th time in 21 tries, an amazing accomplishment when you see some of the Jekyll-and-Hyde performances of other stars through the years. It's no wonder that with another high finish, Sergio can overtake Tiger Woods for the most Official World Golf Ranking points earned in the event's history.
The only thing that almost stopped Sergio was him nearly being late for his tee time after misjudging the time. But after how things turned out, he may want to try jogging before every opening tee shot. We know the guy enjoys running on a golf course.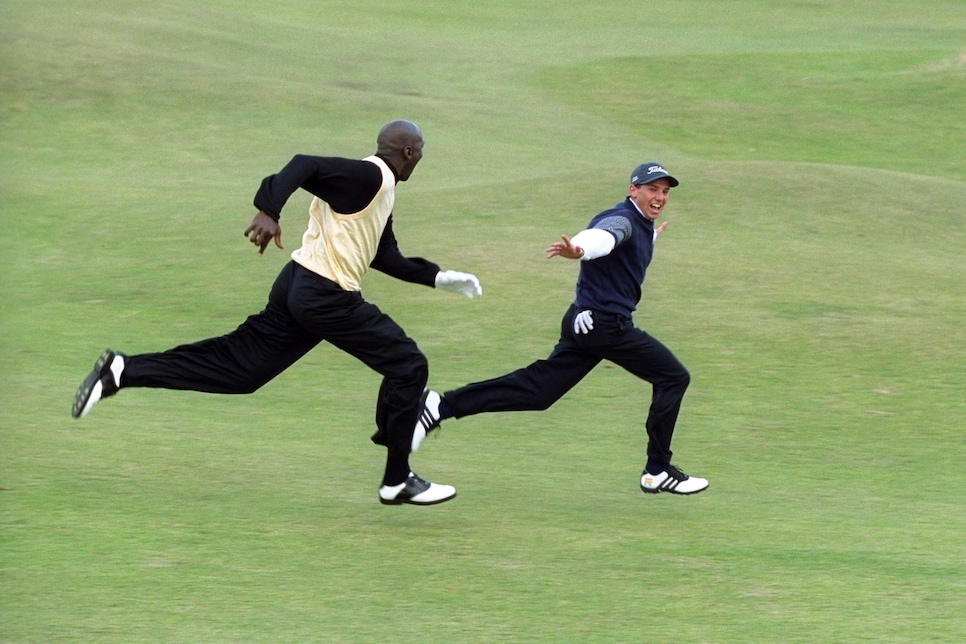 Of course, Sergio will still need three more good rounds at TPC Sawgrass. And he'll have to survive a certain island hole at least three more times. Speaking of being in a rush before his tee time …
Steve Stricker doesn't need much time to prep
The 54-year-old wasn't even in Ponte Vedra Beach on Thursday morning, but after Justin Rose's late WD—and thanks to Rose having an afternoon tee time—Stricker was able to take a last-minute flight to get to TPC Sawgrass on time. His experience at the Pete Dye course paid off as Stricker shot an opening 70 to find himself in a tie for 12th place when play was suspended due to darkness.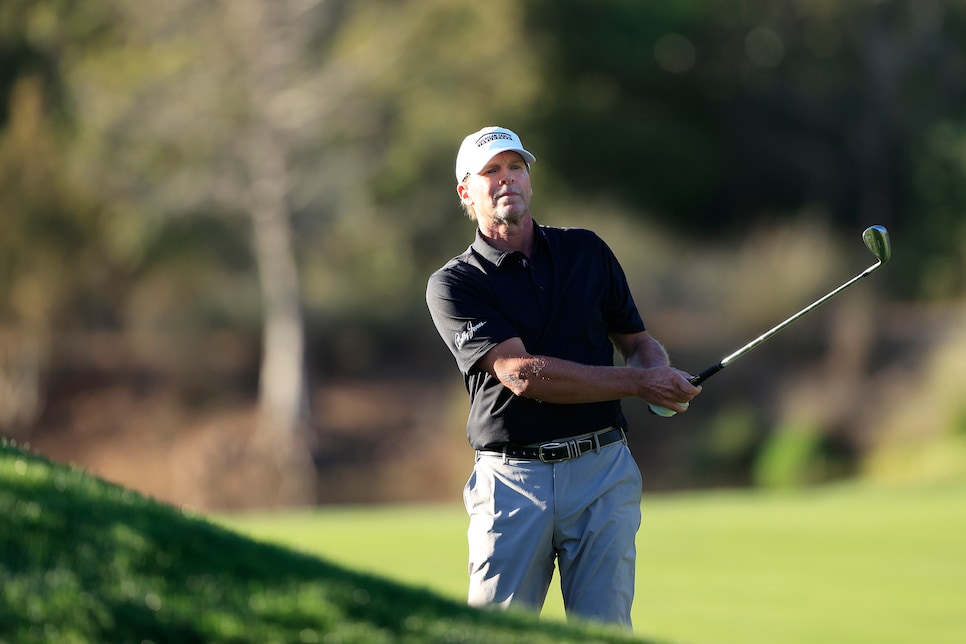 Oddly enough, Stricker has never won a PGA Tour event in Florida, something I asked him about at this very event a few years ago. Not surprisingly, he didn't like that question too much. Anyway, the U.S. Ryder Cup captain has another chance to end that Sunshine State drought, and so far, so good. He even had no problem with No. 17, rolling in a 15-footer for birdie. As for the rest of the field on the infamous par 3? Well, not so much …
No. 17 is playing harder than ever
Literally. Did you see the bounces on that new green? It's like there's cement under there.
Before the tournament, SportsBetting.com listed the over/under for balls in the water on the 17th at 43.5. LOL. That number nearly hit on Day 1 with 33 finding the drink, the second-most of any round in tournament history. So if you bet the over, congrats, because you're not going to have to sweat that one out.
It made for great entertainment if you were watching, but what a nightmare if you were playing. Even seemingly great shots like the one Jim Herman hit well short of the back pin were bouncing into the pond behind the green. "That green is substantially firmer than the rest of them," said Justin Thomas, who suffered a similar fate and made double bogey. "For obvious reasons." Hmm …
Kevin Na needed to chip in for an 8 after depositing a sleeve of balls in the water. Na withdrew shortly after due to a bad back, but could you have blamed him if he was simply too embarrassed to buy more golf balls in the pro shop?
And he didn't even have the toughest time on this treacherous hole. That distinction went to Byeong Hun An, whose 11—yes, 11!—came within one shot of tying Bob Tway's record for futility on the par 3. At least An showed a good sense of humor (as always) after:
Viktor Hovland is the most honest man in golf
Well, he's up there, at least, after calling a penalty on himself after his first round had concluded. What was the rules infraction? The ol' moving your ball in the wrong direction when you're trying to move it back on the green after moving out of the line for a playing partner. And it's a TWO-stroke penalty!
Just brutal. But what a stand-up guy, huh? Crazy enough, this turned out to be his second rules imbroglio of the day. Love that word, imbroglio. And I feel like it's only used with rules stuff. Imbroglio! As fun as using that word is, though, actually being involved in a rules imbroglio is not so fun.
And yet, through all that, Hovland still shot even par. And he handled himself with total class. As if we needed another reason to root for the current Golf Digest cover boy. Keep doing what you're doing, Viktor. But yeah, you probably want to avoid any more rules imbroglios if you want to win this week.