True Grit
Tyler McCumber is the toughest guy on the PGA Tour for playing through this horrific hotel injury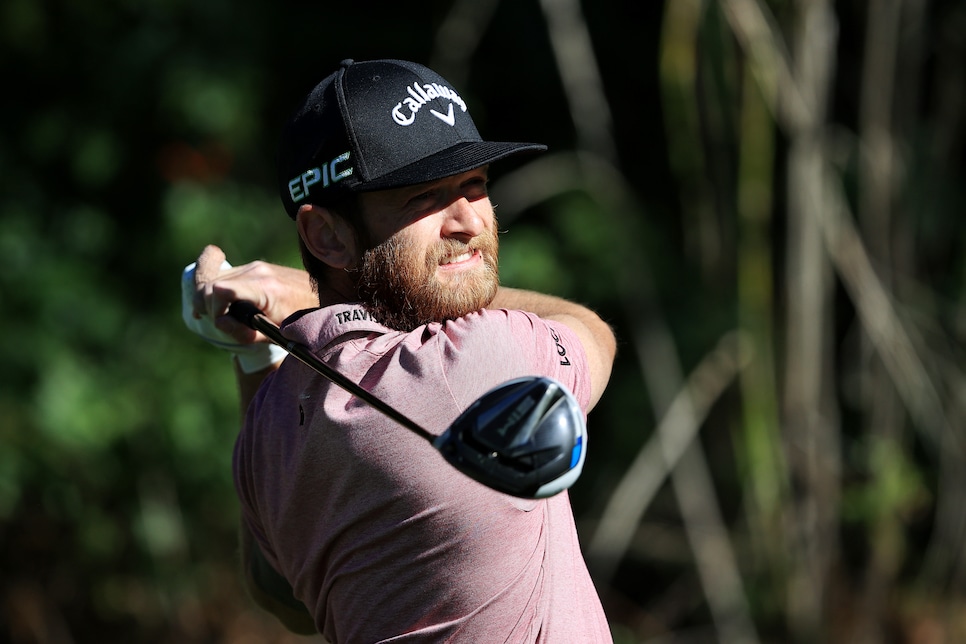 A golf announcer who shall remain unnamed said on Thursday that Brooks Koepka "looks like a football player." But no matter how many times this comparison is made, it won't be true—unless this announcer was referring to a high school football player. Professional golfers don't look like professional football players and it's not even close. However, one PGA Tour pro is displaying the type of toughness that's usually associated with the contact sport this week.
Tyler McCumber shot an opening 67 at the Genesis Invitational on Thursday to put him among the leaders after Day 1. Considering it was the 29-year-old's first competitive round at Riviera, it was an impressive score. But the performance was downright heroic when you factor in what McCumber has been through this week.
Look closely at the above photo and you'll notice McCumber's left index finger is heavily bandaged. So obviously he was asked about that after his round. And just reading his response involving a hotel accident followed by a gruesome-sounding fingernail surgery on the eve of the tournament is enough to make you squirm.
"Yeah, Tuesday morning I was coming out to the course and I went to open the windows to cool off the hotel room before I left, and I smashed [the finger] in a sliding window door right in the crevice. It went underneath the back of the nail bed and lifted half of the back of the nail up," McCumber said. "The next day I came in. I slept on it … it was pretty torn up, but fortunately the surgeon on site, the emergency surgeon is a hand specialist. Dr. Modabber. So he gave me the option, he said we can bandage it up, obviously you can't play because it's just too painful, or we can do a procedure where we just rip off the nail, but half of the nail is still intact. So he numbed the finger and ripped off the nail. Basically I was able to kind of see if I could hit balls that next day and I was. I just kind of altered my glove and kept this [bandage] on all day and putted with it on."
McCumber added he had the surgery on Tuesday and hit five balls on the range right after. He figured he'd have to WD, but obviously he's pretty glad he didn't.
"I was surprised I could play, honestly," said McCumber, who had to alter his glove, but not his grip to keep playing. "When I did it, I pretty much booked a flight back home and changed it once he ripped it off. … Maybe there's some truth to [having no expectations because of the injury], going out and being pretty fortunate to tee it up."
Seriously, that kind of toughness deserves a medal. McCumber has to be an early favorite to win the 2021 Golf Writers Association of America's Ben Hogan Award. What an effort.
"Yeah, it's pretty gnarly," McCumber said of his finger. "I got a good video out of it. It's pretty bad."
We'll take your word for it, Tyler.
UPDATE: After a Friday 68, McCumber will be even closer to the top of the leader board heading into the weekend. The finger is still bandaged, but it sounds like he's getting more used to it.
"I think it was a little bit better," said McCumber, who finished runner-up at the Corales Puntacana Resort & Club Championship in September. "You just kind of adapt a bit. It's pretty wild how quickly the body does adapt to things. I thought it was a little better today just to kind of focus on the golf and not really worry about the finger. I made the call to leave my glove on so you don't have that hassle of pulling it on and off over the stub thing. That was good."
You know what they say: Beware the injured golfer.