Takeaways
Joaquin Niemann puts on a laser show, DJ gets Riv'd and Spieth & Scheffler keep cooking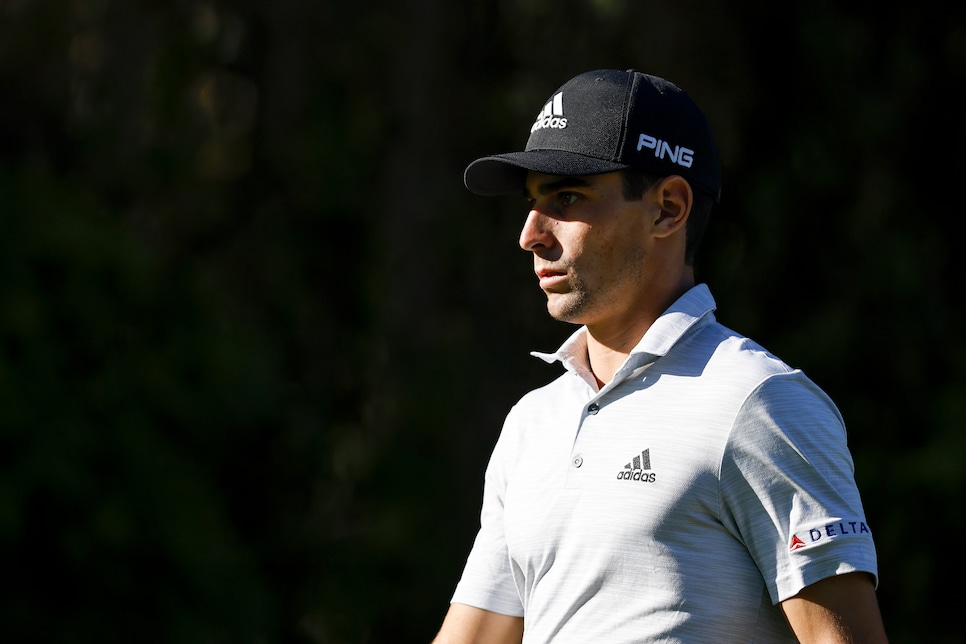 Over in the world of professional darts on Thursday, a man by the name of Gerwyn Price threw two nine-darters, which is the equivalent of shooting a 59 in golf (sort of). Joaquin Niemann didn't quite shoot 59 in the opening round of the Genesis Invitational, but he put on a dart-throwing performance that would make Price blush.
Riviera Country Club has always been a place where premium ball-strikers reign supreme, and Niemann struck the hell out of his golf ball on Thursday. His eight-under 63 came without holing a single putt from outside nine feet, his longest conversion coming at his opening hole, the par-4 10th (8 feet, 9 inches). From there, he let his irons do the work, hitting approach shots to eight feet at the par-3 16th, two feet at the par-5 17th, four feet at the par-3 fourth, two feet at the par-4 fifth and five feet at the par-4 seventh. The phrase "laser show" comes to mind, shoutout Dustin Pedroia.
Oh, he did chip in for one of his birdies at the par-4 13th after missing the green short left, which we assume was his only bad swing of the day.
"This is why we play golf, this is why I practice," said Niemann, who gained nearly seven strokes tee to green in the first round. "It's to have one of these days where everything goes your way. I was hitting it beautiful, putting it good. Pretty happy with the round."
At day's end, Niemann's round, which matched the lowest opening round in the event's history, was good enough for a three-shot lead, a considerably large gap at a course that will only get tougher by the day. So long as he doesn't go backwards, the guys chasing will have some work to do to catch him. Those "guys" are pretty good, though ...
Here's everything else you missed from Day 1 of the Genesis Invitational.
Jordan Spieth, Scottie Scheffler keep on cookin'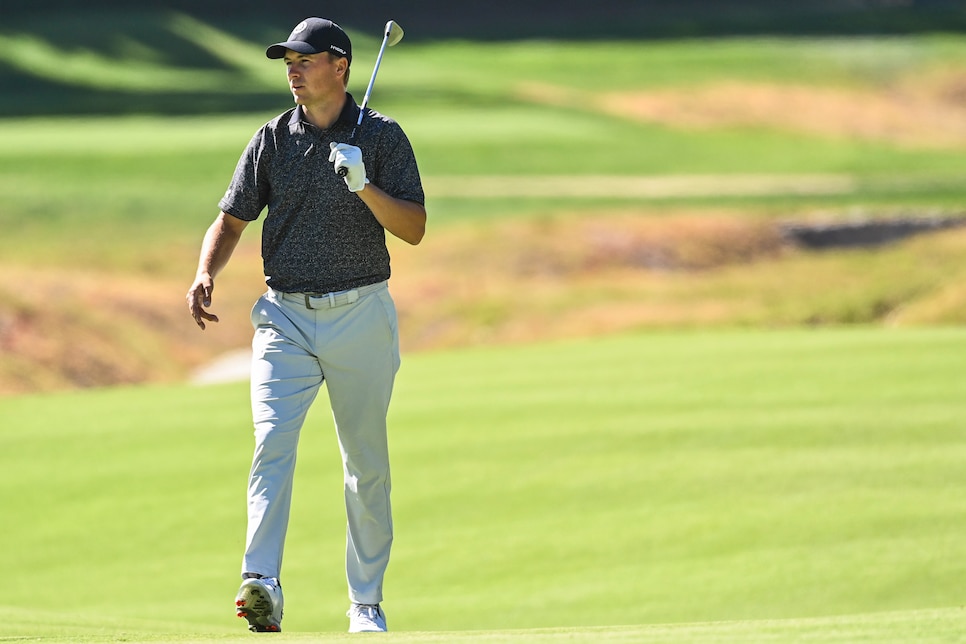 If being in contention and/or winning in the few weeks prior to an event is the sign of a coming letdown, Jordan Spieth and Scottie Scheffler bucked that narrative in a big way on Thursday.
Technically, Spieth did have a mini-letdown last week, finishing 60th at the Waste Management Phoenix Open after posting a runner-up at Pebble Beach. But he looked more like his Pebble self in his opening round back in California, shooting a five-under 66 with some strong approach play and even stronger putting (Spieth gained 2.719 strokes with the flat stick). Scheffler, coming off his win in Scottsdale, matched Spieth's round of 66, as the Texas Longhorns duo fed off each other in the same group, along with Jon Rahm, who gutted out a 69.
"We've played a lot of rounds together," Spieth said. "Obviously, super happy for [Scheffler] last week, what a cool finish that was. The way he played on the weekend, I think he was at three under through two rounds and went and won the golf tournament. So it's nice when you know players are playing well and Jon Rahm is always playing well, so I figured we'd be able to feed off each other today and that seemed to be the case."
Scheffler, who started off a bit slow, playing his first six holes in even par, admitted it was a little tough to get the energy level up in the morning. But things changed when he made birdies at 16 and 17, then eagled the par-5 first after making the turn.
"I think it took me a couple minutes to get going," he said. "I struggled a little bit out of the gates, wasn't driving it great, but I hung in there and made some good pars and stayed patient and then got rolling a bit there."
These two will play together Friday and then possibly again on the weekend if they keep up the strong play and hang around the lead. Don't think either of them would complain if such a situation were to play out.
Dustin Johnson gets Riv'd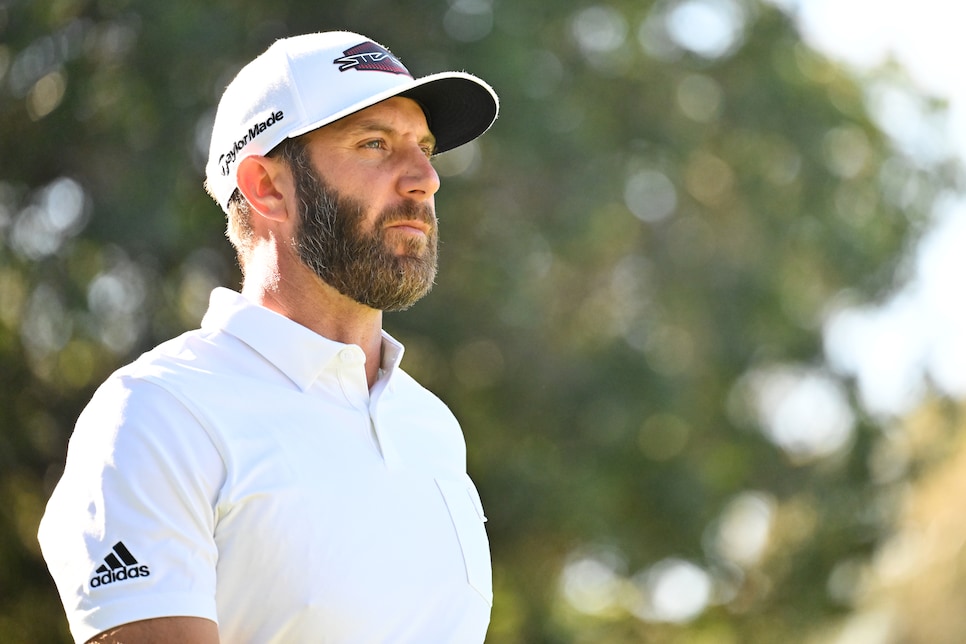 Bad days at Riviera happen to everyone ... except Dustin Johnson. That's why it was so surprising to see him struggle for much of Thursday, especially coming off solid performances at Torrey Pines (T-25) and the Saudi International (T-8).
But if you're not golfing your ball at Riviera, it'll bite ya, which was evident from the start of Johnson's round. He actually hit two solid shots into the par-5 first, a "three-shot" hole that's a two-shooter for a player of Johnson's caliber, but a missed three-footer for birdie ended up being a sign of things to come. He still managed an even-par 35 on the front, but the 10th hole chewed him up, Johnson finding a fairway bunker from the tee, then sailing his second into the back right bunker that often makes tour pros look like 15-handicappers (remember Spieth a few years ago?). Johnson had to play his plugged third shot lefty, leaving it in the bunker, then he rushed his fourth and left it in the bunker again. Somehow, he still got up and down for double, then played the final eight holes in even par for an ugly two-over 73.
We'd say there is a lot of golf left, especially for DJ at this course, but his -2.189 strokes-gained (er, lost) performance doesn't appear to portend well for the weekend. It's nothing a six-under 65 on Friday can't fix, but starting your second round 10 strokes off the lead is never a place you want to be.
Cameron Young = The real deal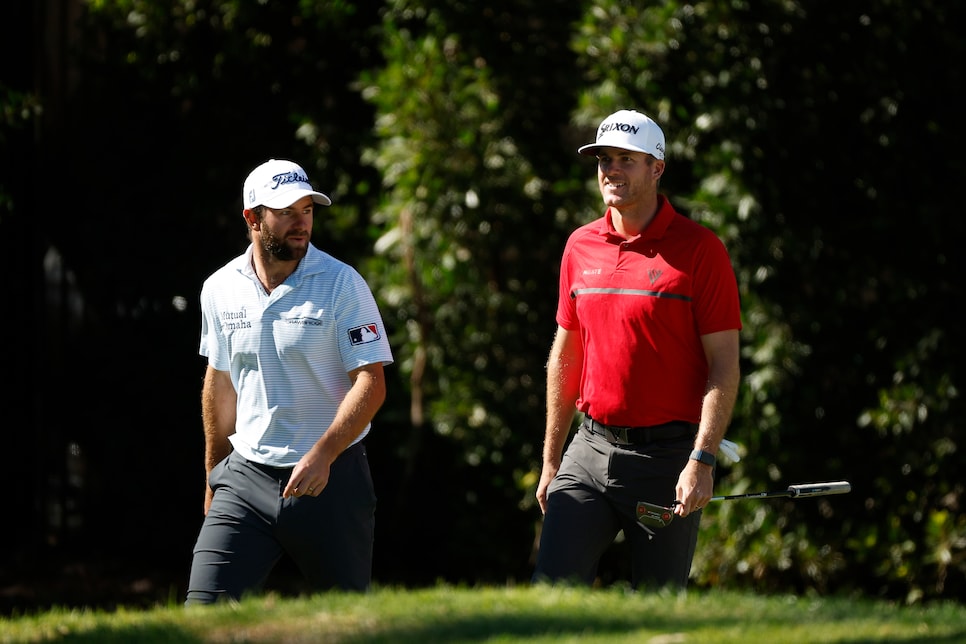 Not to be the "I knew this band before they hit it big!" guy, but I literally knew this band before they hit it big, the band being Cameron Young. I used to cover events for the Metropolitan Golf Association, and Young was a fixture in the MGA junior events. To see him start to blossom like this is pretty wild.
Young opened with a five-under 66 on Thursday, in his first career round as a pro at Riviera. That's serious stuff. But not all that surprising, as the 24-year-old rookie has been balling all season, already picking up a T-2 at the Sanderson Farms in the fall and now consecutive top-26 finishes at the Farmers and the WMPO. As of right now, the kid is 34th in the FedEx Cup standings, a couple more good finishes, or a win, away from actually being in the discussion to make it to the Tour Championship. That's not an exaggeration: He's that good, and I discovered him first (kidding).