Saudi golf league
Justin Thomas calls Phil Mickelson's Saudi comments an 'egotistical statement'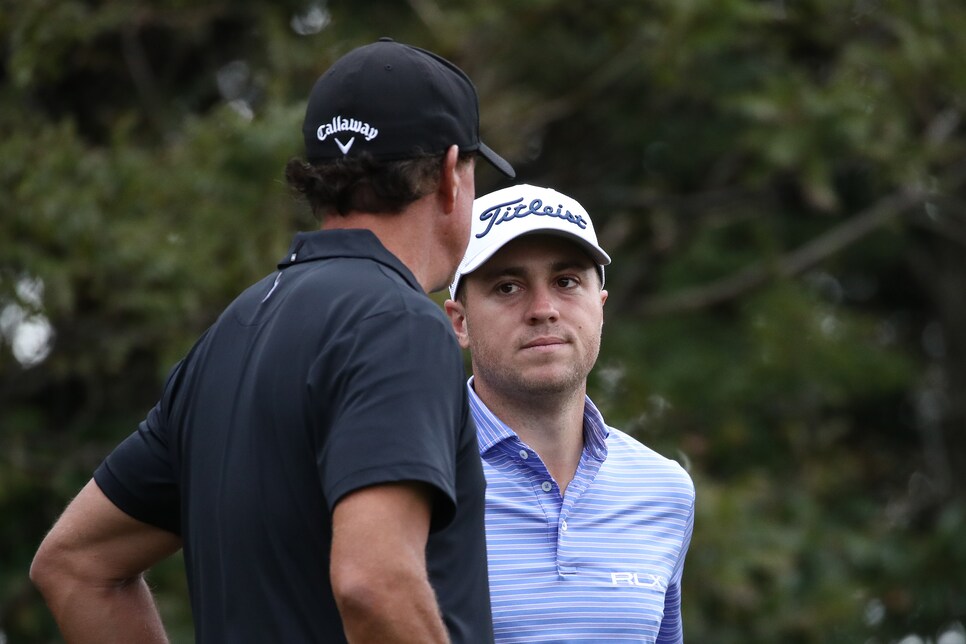 PACIFIC PALISADES, Calif. — Justin Thomas hadn't heard Phil Mickelson's comments. To be fair, not everyone lives online. Plus, Thomas had business to attend to—an early morning tee time at Riviera Country Club for the first round of the Genesis Invitational. He handled that business well, shooting an easy-breezy four-under 67 to put him in great position to contend for a growingly prestigious title.
After the round, Thomas was made aware of Mickelson's wild interview with The Fire Pit Collective's Alan Shipnuck, where Lefty called out PGA Tour commissioner Jay Monahan and said he and his lawyer helped construct the proposed Super Golf League's operating agreement. Mickelson said he did so, in part, to use the threat of a rival tour to make the PGA Tour better. Upon hearing about this, Thomas chose his words carefully.
"Seems like a bit of a pretty, you know, egotistical statement," Thomas said. "I don't know. It's like he's done a lot of great things for the PGA Tour, [he's] a big reason it is where it is. But him and others that are very adamant about [exploring the SGL], if they're that passionate, go ahead. I don't think anybody's stopping them."
The rumored league has been percolating since the 2020 Genesis, when officials with ties to the Saudi government held a meeting with agents to pitch their visions. The league's momentum has ebbed and flowed since then but has been a hot topic of conversation of late after tour player Kramer Hickok claimed that players had committed to the league and that tournaments would begin in the summer
Mickelson has been a hugely outspoken critic of the PGA Tour recently, telling Golf Digest that the tour's "obnoxious greed" when it comes to media rights has him looking elsewhere. It's worth noting that Mickelson is the presumed winner of the inaugural Player Impact Program, which is designed to reward players for the attention they bring to the game, and the $8 million prize that goes with it.
"I've heard way too much talk about a lot of players that are so done with everything, but they keep hanging around, so clearly they're not too done," Thomas said.
A number of tour players feel that way—that it's time for guys to either make the leap, or don't. Rory McIlroy, who has been perhaps the most vocal opponent of the rival circuit, said Wednesday that he is "so sick of it," while Thomas has tried to avoid conversations on the topic.
"I've never really gone down that road. I have a lot of things I'm focused on accomplishing out here and I'll be the first to say that, yeah, there's plenty of things that I would love to see improve with the PGA Tour. But that's a part of the process, you know? All you want to do is better the product and one by one, if we can improve this here, this there and keep getting better, then everybody wins.
"I'm very, very content with what's going on. I mean, the reason I play golf is to create a legacy and win as many times as I can on the PGA Tour. So that's why I would like to say I've had the distraction and that's maybe why I've played poorly the last year, but that unfortunately was not the reason why."